Royals face elimination after Game 5 shutout loss
Shields allows just two runs over six, but bats can't solve Bumgarner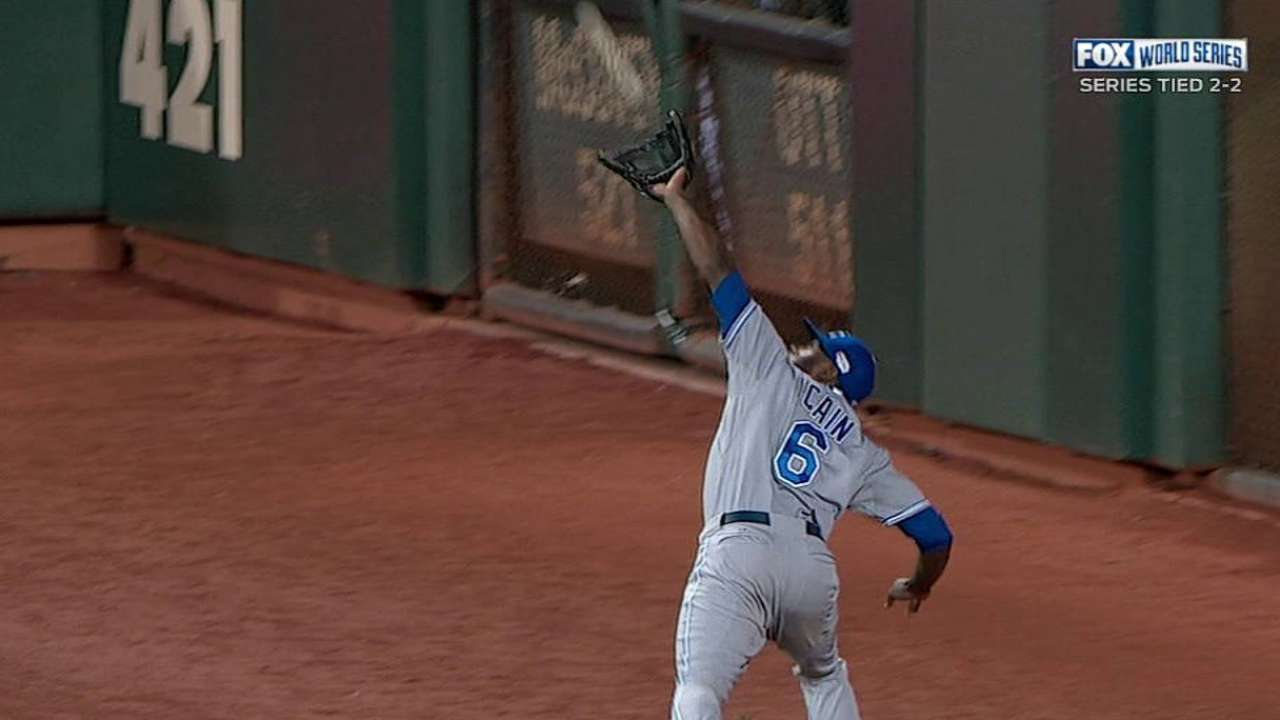 SAN FRANCISCO -- With a dominant Game 5 outing, Madison Bumgarner has shifted the World Series lead to the San Francisco Giants' favor, 3-2. But the World Series site is also shifting, to the Kansas City Royals' home field, and after a 5-0 loss on Sunday night, the Royals will have to sweep the final two games at Kauffman Stadium to win their first crown since 1985.
"We've got to walk the tightrope now without a net," said Royals manager Ned Yost. "But our guys aren't afraid of walking the tightrope without a net. We fall off and we're dead. But if we win Tuesday, nobody's got a net. It's going to be winner-take-all."
Bumgarner, a left-hander, stifled the Royals on four hits in a shutout at AT&T Park. Bumgarner also won the Fall Classic opener, 7-1, at Kansas City, so credit him with two of the Giants' three wins in the Series, with both coming against Royals ace James Shields.
"The guy's phenomenal," said Mike Moustakas, who was 0-for-3 against Bumgarner. "He commanded all of his pitches and when you thought you knew something, he did the exact opposite. That's what makes him good right now. He was throwing his fastball in there for strikes and his slider was sweeping all the way across the zone. Just tough at-bats."
Only one batter, Omar Infante with a fifth-inning double, got as far as second base against Bumgarner. He threw the 16th World Series shutout without a walk and the first since the Royals' Bret Saberhagen dispatched St. Louis, 11-0, in Game 7 on Oct. 27, 1985.
So now the Royals, after Monday's off-day, return home for Game 6 on Tuesday night, and Yost feels good about that.
"We're looking forward to getting back to our home crowd, where it's going to be absolutely wild and crazy," Yost said.
Bumgarner, though, saw a plus for the Giants regardless of the venue.
"It's a whole lot better that we have to win one now instead of having to win two," he said.
HOW THE ROYALS LOST
It was all Bumgarner, who marched through nine scoreless innings in 117 pitches in what was the first shutout in World Series history that featured at least eight strikeouts and no walks.
"He was just firing strikes," said Eric Hosmer, 1-for-4 against him. "Even when he got behind 1-0 or 2-0, he was still coming with that cutter. … He's a tough guy to crack."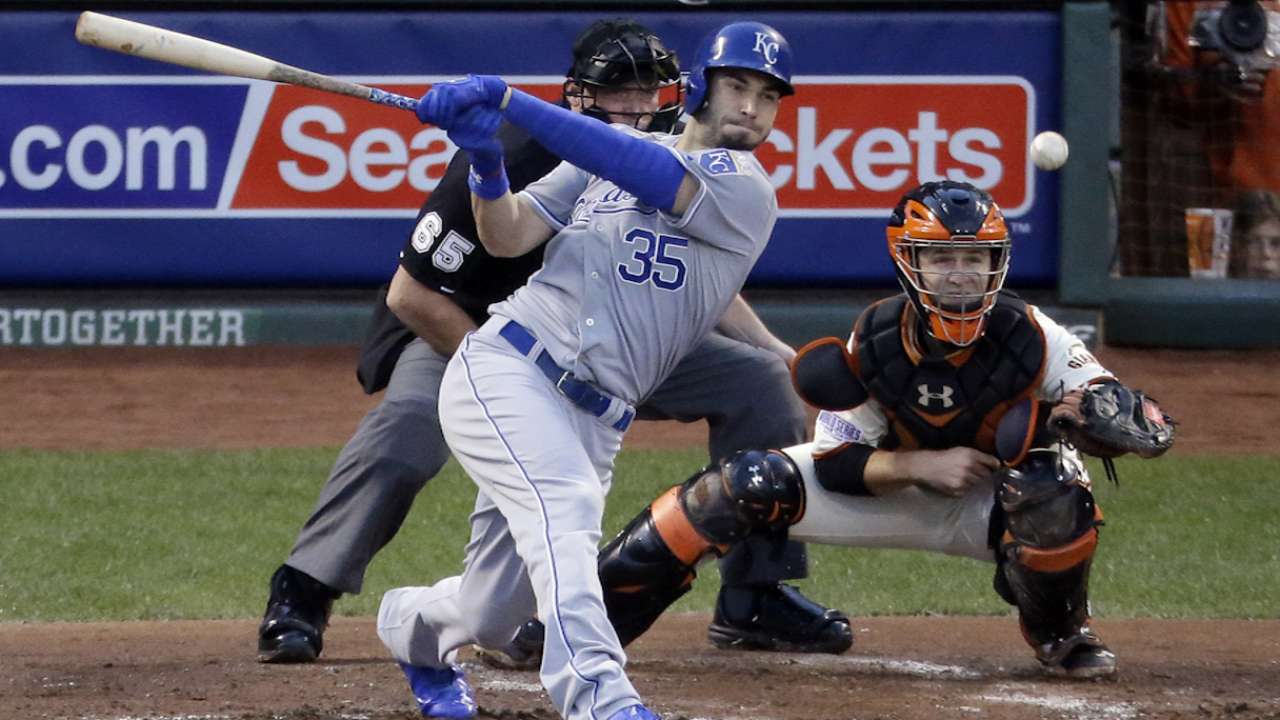 Bumgarner spaced out his hits -- Lorenzo Cain singled in the first inning and Salvador Perez did so in the second. Infante had his double in the sixth and Hosmer led off the seventh with a single and never moved. The Giants' ace never faced more than four batters in an inning and went 1-2-3 five times.
No wonder the crowd of 43,087 erupted in chants of "MVP! MVP! MVP!" as Bumgarner finished up his business. In this postseason alone, he's 4-1 with a 1.13 ERA in six starts. There wasn't much doubt in Bumgarner's mind that Giants manager Bruce Bochy would let him finish the game. Two of the three batters due up in the ninth were left-handed.
"When I came in after the eighth, with [Alex] Gordon coming up and then Hosmer, I figured I would get a shot," said Bumgarner, whose shutout was the first in the World Series since the Marlins' Josh Beckett blanked the Yankees in Game 6 of the 2003 Fall Classic.
THE MOMENTS THAT MATTERED
Escobar caught in the middle: Alcides Escobar, the Royals' defensively superb shortstop, had a tough time as the Giants took a 2-0 lead against Shields. Hunter Pence led off the second inning with a single past Escobar.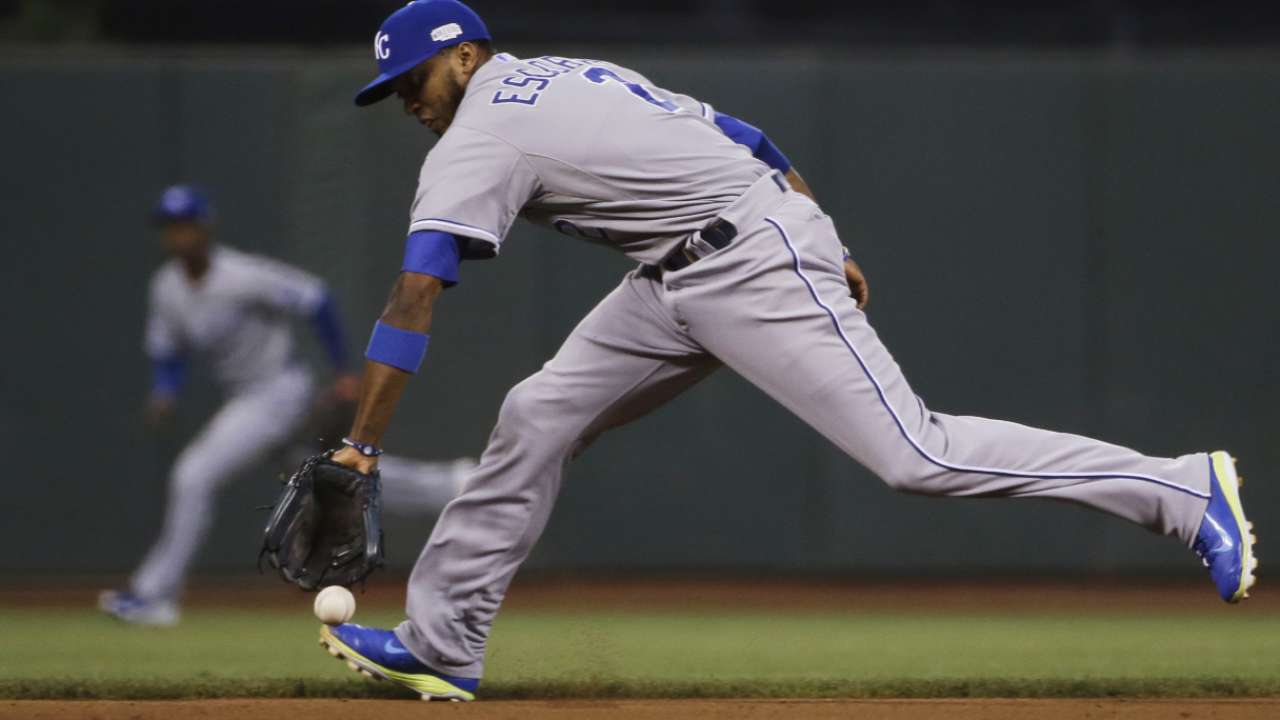 "Not so close. Maybe I could get that one, but that's not easy," Escobar said. "Every ground ball that guy hits is like a hundred miles an hour."
Then, with an extreme shift to the right side, Brandon Belt put down a bunt on the left side that Escobar had to rush in and field. But Belt beat his throw for a hit.
"I know I've made that play before, but it's tough because I'm playing toward the middle and running to the other side," Escobar said.
Pence wound up scoring on a Brandon Crawford groundout to give San Francisco the only run it would end up needing.
Escobar's fielding trials continued in the fourth. With Pablo Sandoval on first with two out, Travis Ishikawa's grounder skimmed under Escobar's glove and he was safe with a single.
"That one I could've gotten," Escobar said.
Brandon Crawford's single brought Sandoval home for a 2-0 lead.
Cain roams deep for drive: The Giants threatened in the fifth with two on against Shields with two out. Pence hit a long shot toward Levi's Landing in right field, but Cain tracked it down and made the catch near the wall to end the inning.
"He's an amazing athlete," Shields said. "He's been doing that all season long. Nothing surprises me because I've seen him do that on a daily basis. It's always impressive to watch him."
Shields gets through six: As hoped, Shields put in six solid innings -- giving up just two runs -- to get the game to the back end of the bullpen.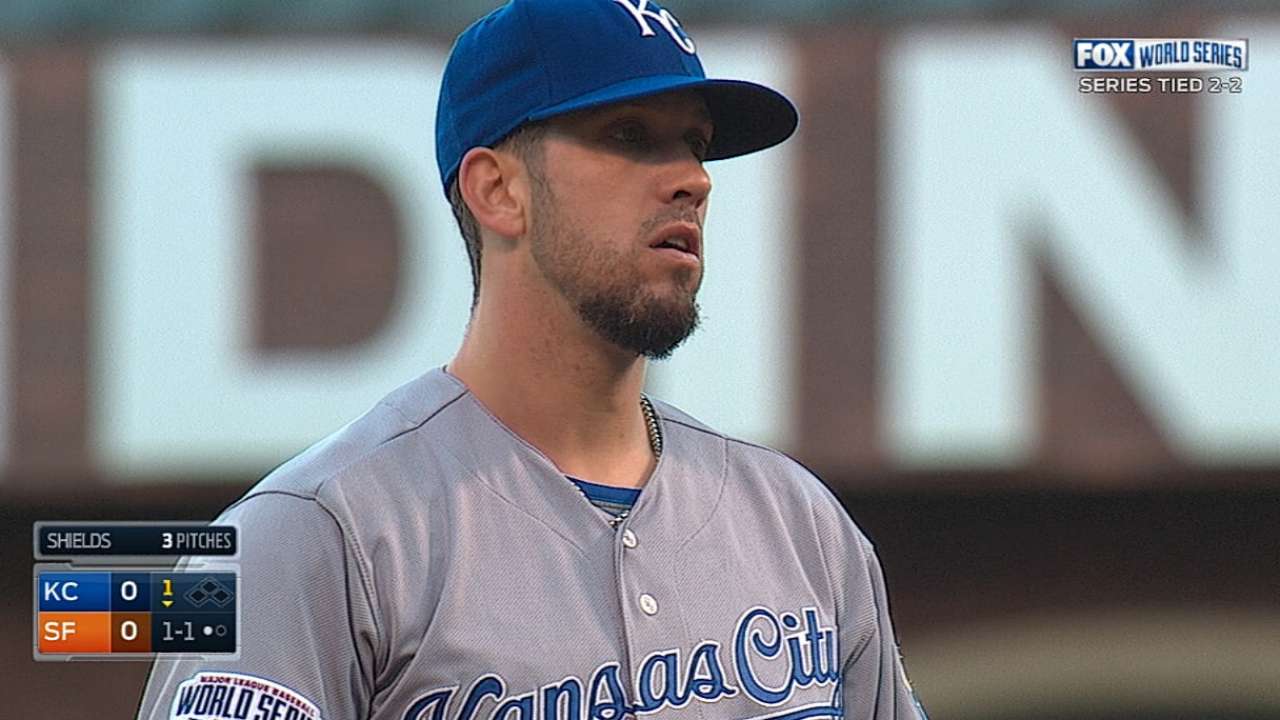 "I felt good, I felt like my stuff was there and I made my pitches when I needed to and unfortunately they found some holes," said Shields, who was touched for eight hits. "They probably had one hard-hit ball all night and that was the Hunter Pence deep fly ball. They didn't hit the ball hard, they just found a lot of holes and they did what they needed to do to win."
Back-end boys prove vulnerable: In five straight postseason games dating back to the American League Championship Series, the bullpen trio of Kelvin Herrera, Wade Davis and Greg Holland had combined for 16 2/3 consecutive scoreless innings.
That came to an end in the Giants' eighth inning. Herrera gave up two singles. Davis came in and surrendered a two-run double, high off the center-field wall by Juan Perez, and a single for Crawford's third RBI.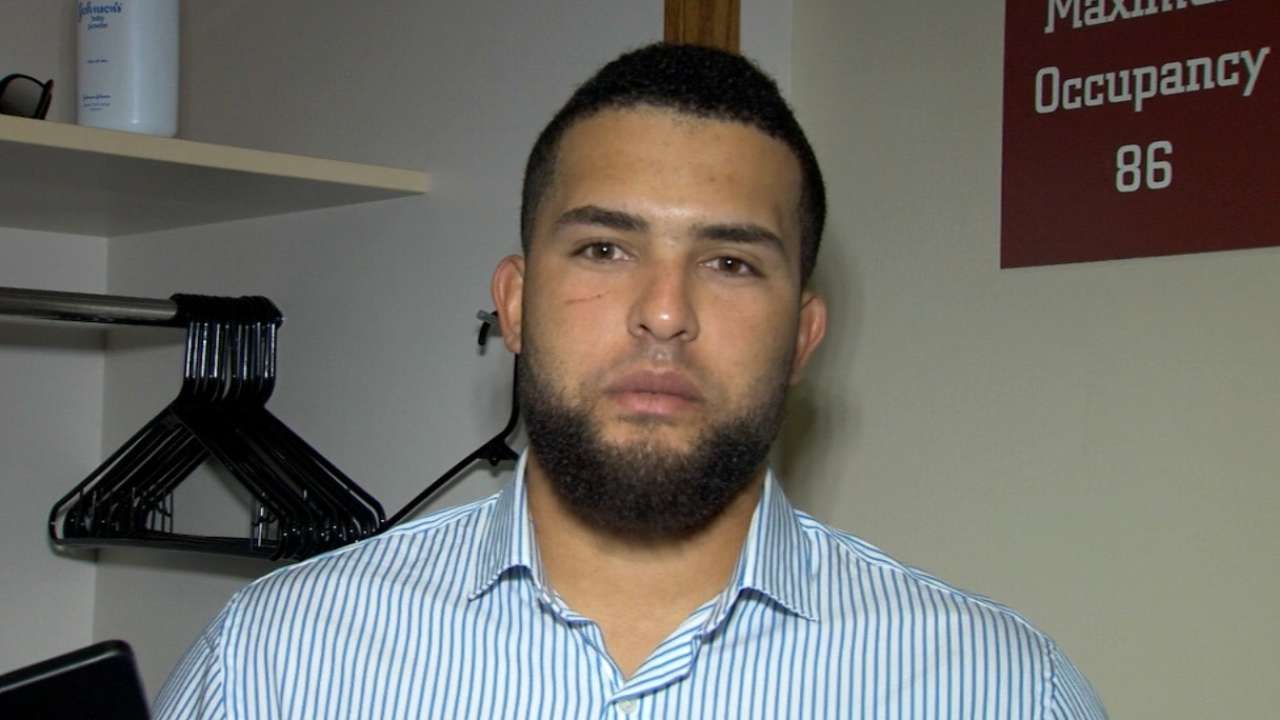 ONE FOR THE HISTORY BOOKS
Bumgarner improved to 4-0 with a 0.29 ERA over his four career World Series starts. The 0.29 ERA is the best for any pitcher with at least two World Series starts and he is the first pitcher to win each of his first four Fall Classic starts since Lew Burdette turned the trick from 1957-58 for the Milwaukee Braves.
Despite falling behind 3-2 in the series, the Royals are far from out of it. In fact, eight out of the last 10 teams to return home down 3-2 in the World Series have rallied to win it all. This is the third time the Giants have held a 3-2 lead in the World Series. In each of the previous two instances -- 2002 against the Angels and 1924 against the Washington Senators -- the Giants went on to lose in seven games. As for the Royals, they won their only title in franchise history in 1985 by winning back-to-back games after returning home down 3-2 to the Cardinals.
Game 5 marked the third straight contest in which neither team hit a home run. This is the first time since Games 1-3 of the 1948 World Series between the Indians and Braves that neither team has left the yard in three straight World Series games. The two clubs have combined to hit just four home runs overall this series, which would match the lowest total since 1985, when the Royals and Cardinals also combined to hit only four.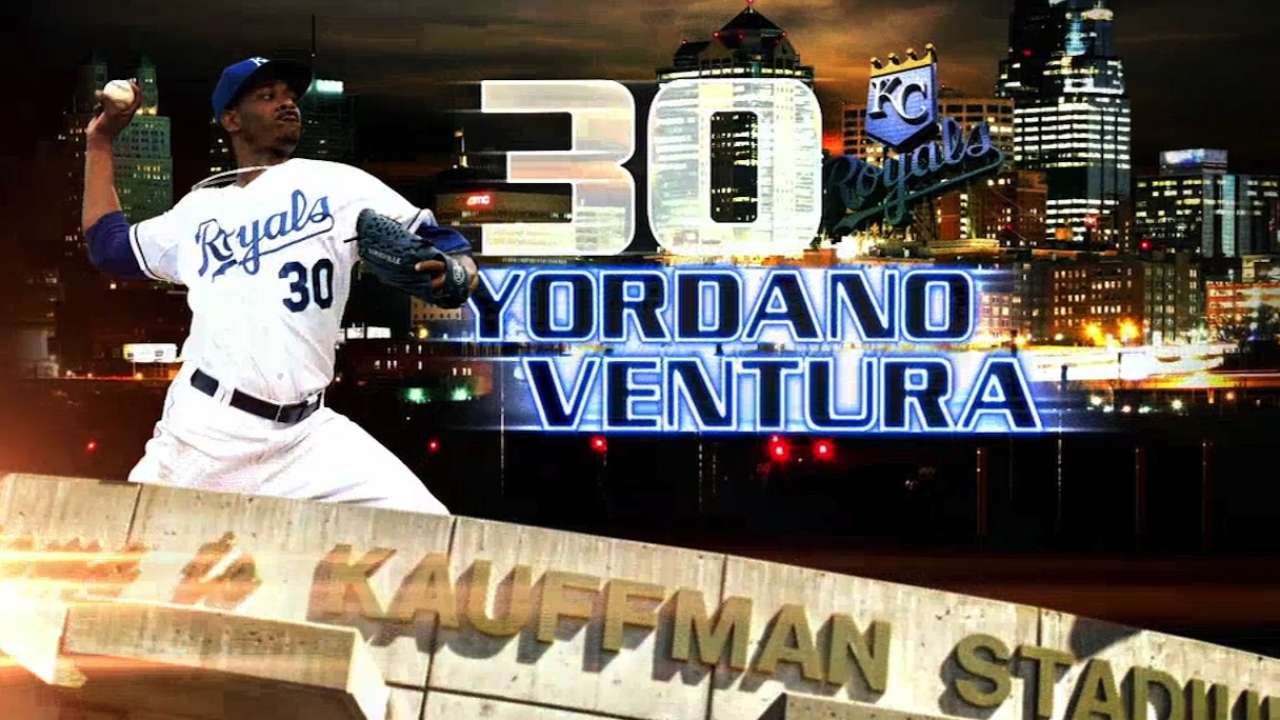 After an open date on Monday, Game 6 will be played Tuesday at 7:07 p.m. CT/8:07 p.m. ET at Kansas City's Kauffman Stadium. The Royals will send the rookie Ventura against Giants veteran right-hander Jake Peavy, a rematch of Game 2 won by the Royals, 7-2. FOX's TV coverage will begin at 6:30 p.m. CT/7:30 p.m. ET.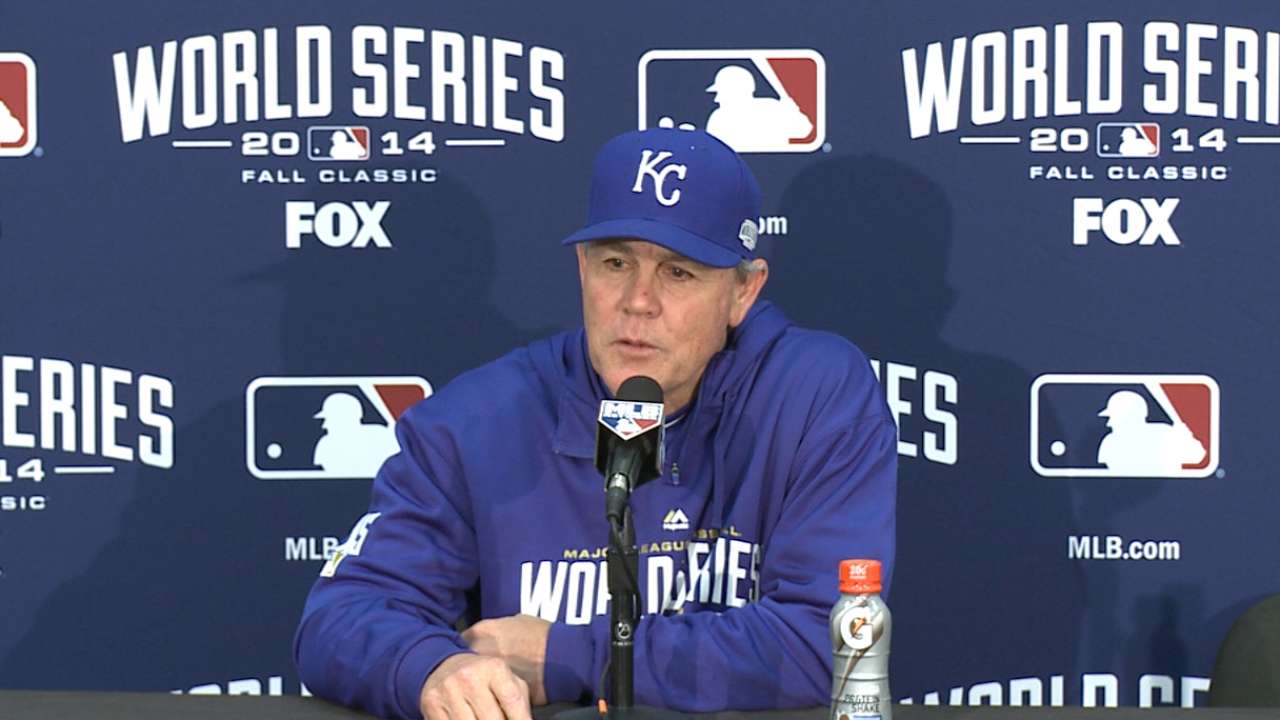 Dick Kaegel is a reporter for MLB.com. This story was not subject to the approval of Major League Baseball or its clubs.