V-Mart leads the way in Tigers' GIBBY nominees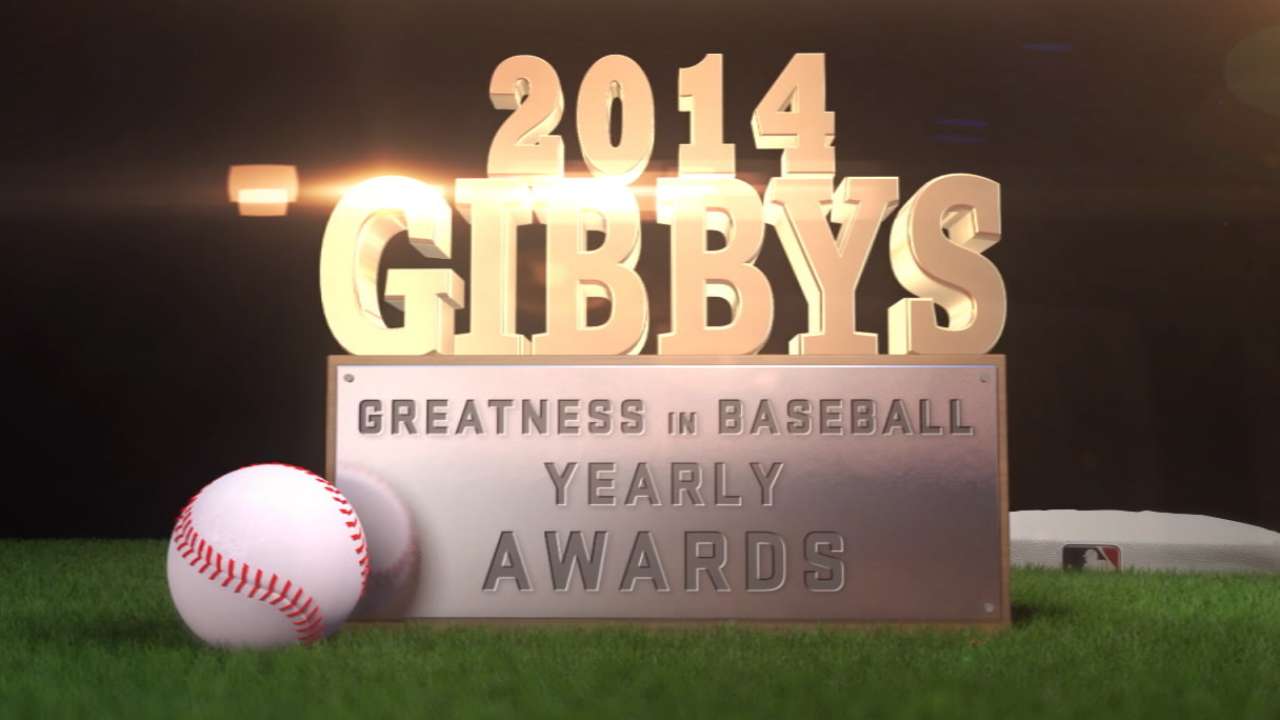 DETROIT -- Victor Martinez lost out on the Hank Aaron Award this year, and he could end up being passed over for several others. He could, however, get some well-deserved respect from fans for his incredible season in voting for the MLB.com GIBBYs.
After Miguel Cabrera, Justin Verlander and Max Scherzer collected their share of honors over the past few years, it's now Martinez's turn when voting begins for the Greatness in Baseball Yearly Awards presented by MLB.com.
Major League Baseball's A-listers will take home 2014 GIBBY trophies -- the ultimate honors of the industry's awards season -- based on votes by media, front-office personnel, MLB alumni, fans at MLB.com and the Society for American Baseball Research.
This year's GIBBY Awards feature nominees in 25 categories. Individual honors will go to the MLB MVP, in addition to the year's best starting pitcher, hitter, closer, setup man, rookie, breakout hitter, breakout pitcher, bounceback player, defensive player, manager, executive and postseason performer.
GIBBY trophies also will be awarded for the year's top regular-season play, outfield throw, storyline, hitting performance, pitching performance, oddity, walk-off, Cut4 topic, regular-season moment, postseason storyline, postseason walk-off and postseason play. Fans can watch these and more by accessing MLB.com's Must C highlight reels.
In the past several seasons, fans have cast millions of votes across the GIBBY categories, none of which is restricted to individual league affiliation. That's how you know the GIBBYs consider the best of the best.
All 30 clubs are represented among the award candidates, a fact many consider to be a testament to the competitive balance around the game.
Several categories -- Play, Oddity, Walk-Off and Cut4 Topic -- will each open balloting with at least one nominee per club. After a week, the four lists will be pared to 10 finalists per group by an expert panel.
Fans can vote as many times as they want through Nov. 21 at 11:59 p.m. ET by visiting mlb.com/gibbys, and winners will be announced live on the MLB Network and MLB.com on Dec. 6.
Cabrera has had a lock on MVP and top hitter awards, winning both in each of the past two years. He won't repeat, but V-Mart has a chance to keep both in Detroit's hands. In both cases, his competition includes Angels superstar Mike Trout, a widely regarded favorite for several top American League honors, as well as Marlins slugger Giancarlo Stanton, AL batting champion Jose Altuve, White Sox slugger Jose Abreu, Pittsburgh's Andrew McCutchen and Cleveland's Michael Brantley.
None of them could match Martinez's .974 OPS, and only Altuve could top Martinez's .335 batting average. With 33 doubles, 32 home runs, 103 RBIs and a 70-to-42 walk-to-strikeout ratio, Martinez made a strong case as the toughest hitter in the game this season.
Martinez became the first Major Leaguer since Albert Pujols in 2006 to hit 30 or more home runs in a season while striking out 50 times or fewer. At age 35, he became the oldest hitter to post his first 30-homer season since Edgar Martinez did it at age 37 in '00.
Victor isn't the only Martinez from the Tigers who's up for awards. J.D. Martinez, who went from Spring Training castoff with the Astros to middle-of-the-order slugger in Detroit, is one of 10 nominees for Breakout Hitter of the Year, a field that includes Brantley and Altuve.
All of them had seasons that marked their emergence among the elite hitters in the game. None of them had as far to get there as J.D. Martinez, who opened the regular season at Triple-A Toledo on a Minor League contract before getting his shot in late April as an extra outfielder. He went on to bat .315 with 30 doubles, 23 home runs and 76 RBIs in 123 games.
The Tigers' nominees aren't all for their bats. Ian Kinsler, whose 20 Defensive Runs Saved tied for second among all Major League infielders and led all second basemen, was nominated for Defensive Player of the Year. Ezequiel Carrera's diving catch at Yankee Stadium in August, meanwhile, was nominated for Play of the Year. First-year manager Brad Ausmus was selected among the nominees for Manager of the Year.
Carrera was one of four Tigers highlights receiving nominations. Rajai Davis' game-winning grand slam to beat the A's June 30 at Comerica Park is up for Walk-off of the Year. Verlander's kicking motion at Asdrubal Cabrera's bunt single down the third-base line earned him a spot among the best oddities of the season. Likewise, Verlander being buzzed by a bee Sept. 8 was among the top Cut4 topics for the year.
Jason Beck is a reporter for MLB.com. Read Beck's Blog and follow him on Twitter @beckjason. This story was not subject to the approval of Major League Baseball or its clubs.