Oct. 26 Eric Hosmer pregame interview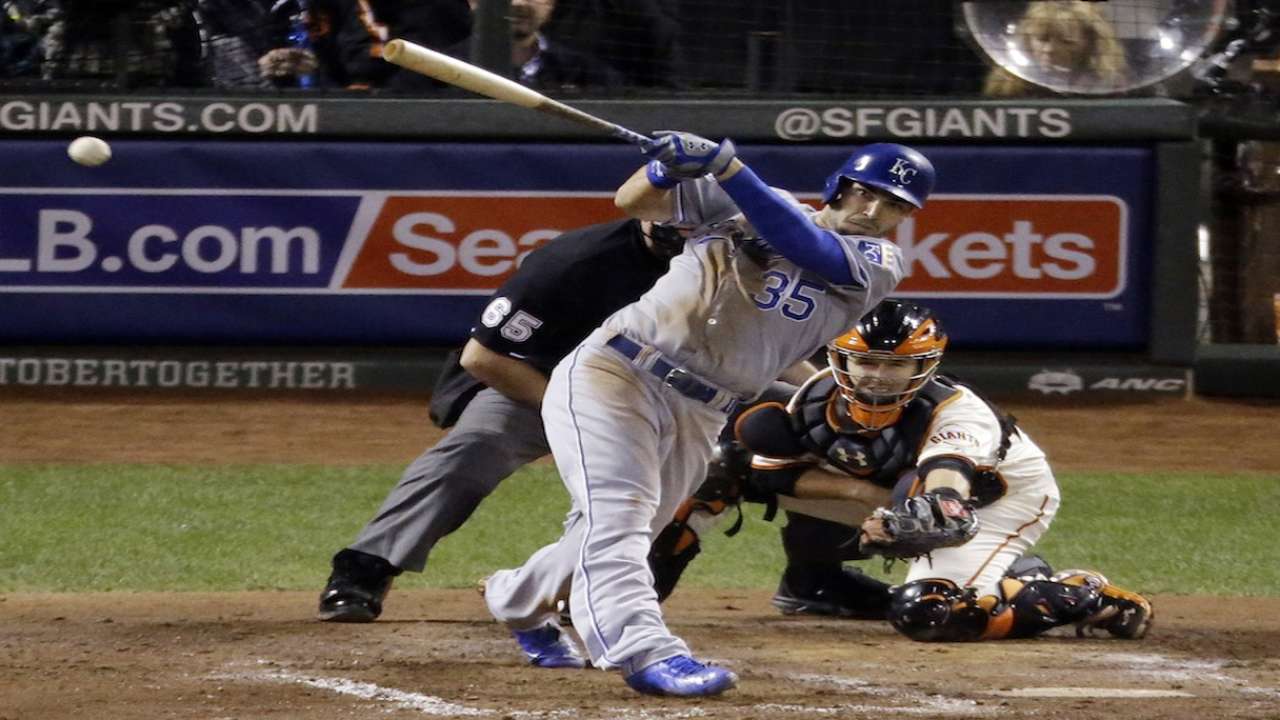 Q. Can you just talk about the difficulties of facing a pitcher like Bumgarner.
ERIC HOSMER: Yeah, he's a great pitcher. He's obviously proven himself in postseason baseball. You know, we know it's going to be a tough assignment tonight. But the guy we've got going tonight is pretty good, as well. So we know it's going to be a pitcher's duel. It's probably going to be a low‑scoring game, so we've got to get some guys on base and try to cause some havoc on the basepaths, and try to use our legs a little bit, and see if we can scratch some runs offensively.
Q. What makes his fastball difficult? He throws 93, 94 like, that's hard, but not super hard. Is it the motion or what is it about his ability to throw that many fastballs at kind of average speed?
ERIC HOSMER: Yeah, he really has his arm motion and his whole ‑‑ basically his whole motion is effortless, so the ball really explodes out of his hand. He's got that kind of cross‑body, which is tough on lefties. But he's got that cutter. He throws that cutter. That's his out pitch. Even when he gets behind and in hitter's counts, he can change speeds off that cutter and really bails him out of a lot of counts.
But like I said, he's a competitor out there. He's got the numbers to prove it in postseason baseball, so we know it's going to be tough. But we're a tough group. We welcome the challenge, and we know it's going to be tough, but we're ready for it.
Q. People when they talk about your team say that they have to score in the first six innings and not get to your bullpen. But what about the Giants' bullpen? Do you guys kind of have the same mentality that you're going to have to score early before it gets to the 7th inning against them?
ERIC HOSMER: Yeah, definitely. That's the mentality you always have in baseball, especially postseason baseball. To make it this far, you have to have that bullpen, especially the back end of the bullpen. You've got to have the guys down there that when you have a lead, that you feel really comfortable with. They obviously got the guys down there. They've got good guys that can match up well against lefties, and guys that are really tough on righties.
So we know that if you get behind against a team like this with their ability to match up, and it's not just one lefty, one righty, it's plenty of guys they've got coming down there. They've got Petit coming in last night, their long guy. They've got a great bullpen.
But, yeah, you can't get behind against a team like this. But you imagine a game like this tonight with Bumgarner on the mound, you think he's going to be eating up the majority of the innings.
Q. When you talk to other players about you, they say that they like talking with you at first base. What are some conversations you're going to take away from this series that you've had with some of the Giants?
ERIC HOSMER: Just enjoying every moment of it. I really enjoy it when Hunter Pence is over there and just talking to him pregame and stuff. He's got the right mentality about stuff. He said it yesterday before the game, it's a blast when you're competing against the best, and that's what you want to do, and that's how you want it to be, especially in the World Series.
Two of our teams have grinded the whole year, we've battled. To make it this far is pretty special. It's always fun when you're competing against guys that, especially these guys, who have proven themselves and have multiple championships under Bochy here in San Francisco. So it's a blast coming into this park and coming into this environment with the fans, and how much energy they have here and seeing just around the town during the days, and seeing all the orange out there. It's the same way in Kansas City.
So it's been a fun experience.
Q. Ned said, and a lot of veterans say, you need to appreciate the moment because you don't know if you're ever going to get back. Have you done anything in terms of collecting anything or talked to anybody that you might not have talked to or done anything beyond what you would normally do for game preparation?
ERIC HOSMER: No, nothing before the games, but you just try to enjoy every minute of it. You realize there are guys in our locker room that are 32, 36 years old that this is their first time experiencing this. So you realize how lucky and how fortunate you are as a player to be in this position. So you want to enjoy every moment of it.
This group of guys, we're obviously really close. A lot of us came up through the Minor Leagues together. We're having fun with it, and enjoying every moment of it. Obviously, in the beginning, I think the Wild Card game, there are definitely some nerves going in. It's your first postseason game. It's why you play the game. It's the reason why you work so hard to get yourself in this position.
So most of us, everybody on the team pretty much has really had a good attitude with this. We want to enjoy every moment of it, and we're going to leave it all out there.
Q. You answered basically the question that I had, being that you guys have had so much continuity coming up through the minors together and even guys like Escobar and Cain, who came from other teams but they've been there four or five years, how much fun has it been going through the process of maturing together to get to this point?
ERIC HOSMER: It's a blast. It's a lot of fun. Minor Leagues is tough. It's a tough grind to get to this level. But now when you mix in postseason baseball with this level, and you're sitting in the locker room with guys that you were sitting in a low‑A locker room with in Burlington, Iowa ‑‑ I always say it, I remember when Salvador Perez got sent down to rookie ball and we were in low‑A, and it seems like a blink of an eye, and we're in the World Series now playing together.
It's really special. Our families have gotten really close with each other. It's one giant family now. This whole experience, getting to have the families with us and experience this with everybody on the team has truly been a dream come true. I think everyone is really loving the postseason baseball. It really brings out the true colors in players. Guys like Moose and Esky are really making a name for themselves now, and stepping up in big‑time situations.
That's what postseason baseball is all about, lot of excitement, and you always find different guys that are stepping up every year.
Q. Tell us a little bit about what Raul Ibañez has meant to you this year, considering he's not playing but he still seems very involved.
ERIC HOSMER: Yeah, he has a reputation around the league as obviously being one of the nicer guys in Major League Baseball. I think it's huge to have a guy like him just be around the younger offensive players. He can very easily come to the field every day and just kind of mind his own business and go along with it. He's not on the roster, obviously, but he's always spending some time with somebody in the video room or walking to the cage with somebody.
I think if you look at development and when guys get to the Big Leagues, it makes it so much easier for a younger player coming up and having a guy like Raul, who has experienced pretty much everything there is to experience in this league, and kind of give you a head's up on stuff that's going on and stuff that you don't have to experience yourself and kind of learn from it.