Lineup breakdown: Royals vs. Giants, Game 5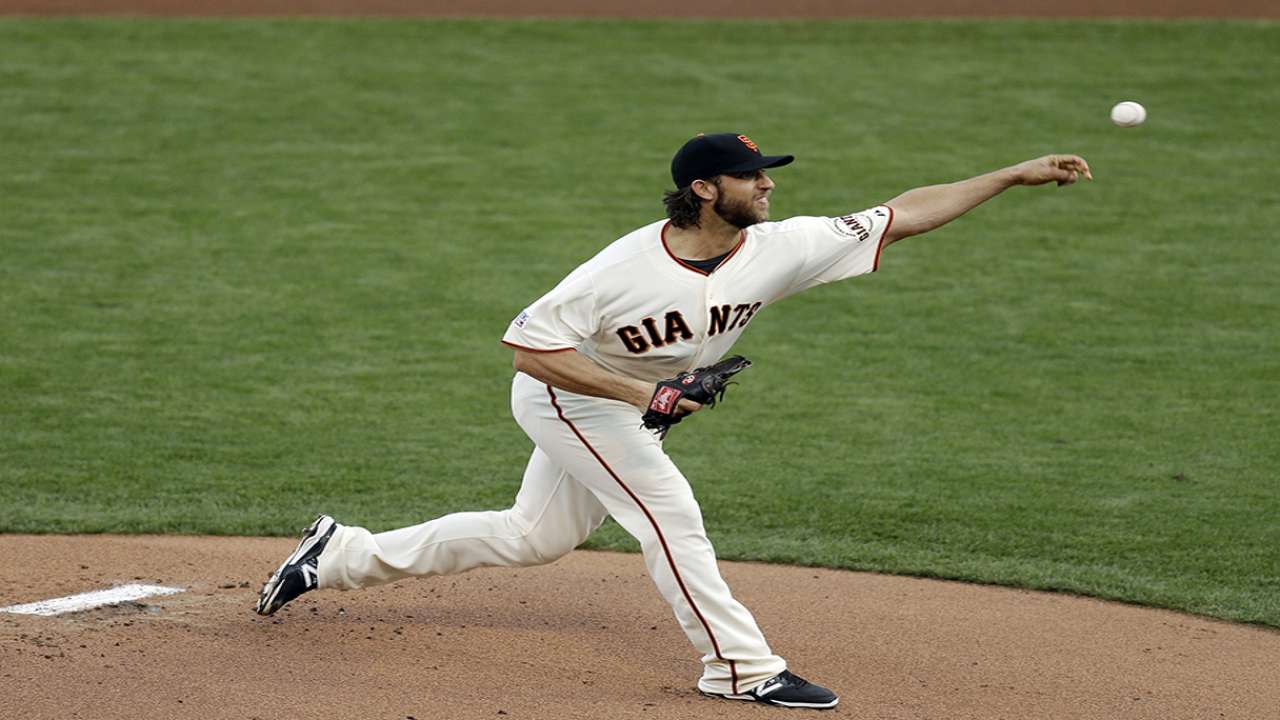 When the World Series was tied at one game apiece, it was the Royals who got a leg up by winning Game 3. Now that the series is tied, 2-2, who will be the team to take the 3-2 lead? Here is a breakdown of the starting lineups for Sunday's pivotal Game 5 (7 p.m. ET on FOX; 8:07 first pitch) at AT&T Park.
ROYALS
Royals manager Ned Yost continues to go with speed and defense, with Jarrod Dyson remaining in center field and Nori Aoki on the bench. With Lorenzo Cain in right field and Alex Gordon in left, it's as good of an outfield as you will see in the Majors, and a lineup filled with speed.
Catcher Salvador Perez, whose one hit in seven career at-bats against Madison Bumgarner is a solo home run, moves into the No. 5 spot, while third baseman Mike Moustakas is batting sixth. Omar Infante is batting seventh, Dyson eighth and starting pitcher James Shields is batting ninth. Shields is a .213 career hitter after going 2-for-7 this season.
Bumgarner, who held the Royals to one run on three hits in seven innings in Game 1, had made just one prior regular-season start against Kansas City in his career. He gave up three earned runs on seven hits in eight innings in that outing.
While the top four hitters in the Royals' lineup are a combined 2-for-22 against Bumgarner (Alcides Escobar and Alex Gordon have one hit apiece), Moustakas is 2-for-5 lifetime and Infante is 6-for-19 against the San Francisco ace.
1. Alcides Escobar, SS
2. Alex Gordon, LF
3. Lorenzo Cain, RF
4. Eric Hosmer, 1B
5. Salvador Perez, C
6. Mike Moustakas, 3B
7. Omar Infante, 2B
8. Jarrod Dyson, CF
9. James Shields, P
GIANTS
Manager Bruce Bochy is sticking with his regular lineup, hoping it can deliver the same results against Shields that it did in a Game 1 victory.
The Giants tagged Shields for five runs on seven hits in three innings to open the World Series, and the Royals' ace struck out just one batter. Hunter Pence's first-inning two-run homer helped give San Francisco an early lead in that game.
In four postseason starts this year, Shields has managed to complete six innings only once -- against the Angels in the American League Division Series. But in one career regular-season start against the Giants, Shields tossed a four-hit shutout.
The Giants' starters with the most career success against Shields are Gregor Blanco (5-for-9 with three RBIs) and Pablo Sandoval (2-for-6). Buster Posey is 1-for-6 lifetime against Shields, Pence is 2-for-13 and Travis Ishikawa is 0-for-4.
1. Gregor Blanco, CF
2. Joe Panik, 2B
3. Buster Posey, C
4. Pablo Sandoval, 3B
5. Hunter Pence, RF
6. Brandon Belt, 1B
7. Travis Ishikawa, LF
8. Brandon Crawford, SS
9. Madison Bumgarner, LHP
Joey Nowak is a reporter for MLB.com. Follow him on Twitter at @joeynowak. This story was not subject to the approval of Major League Baseball or its clubs.