Stanton leads pack in Marlins' GIBBY nominations
McGehee, Hechavarria, Ozuna also among those cited on the ballot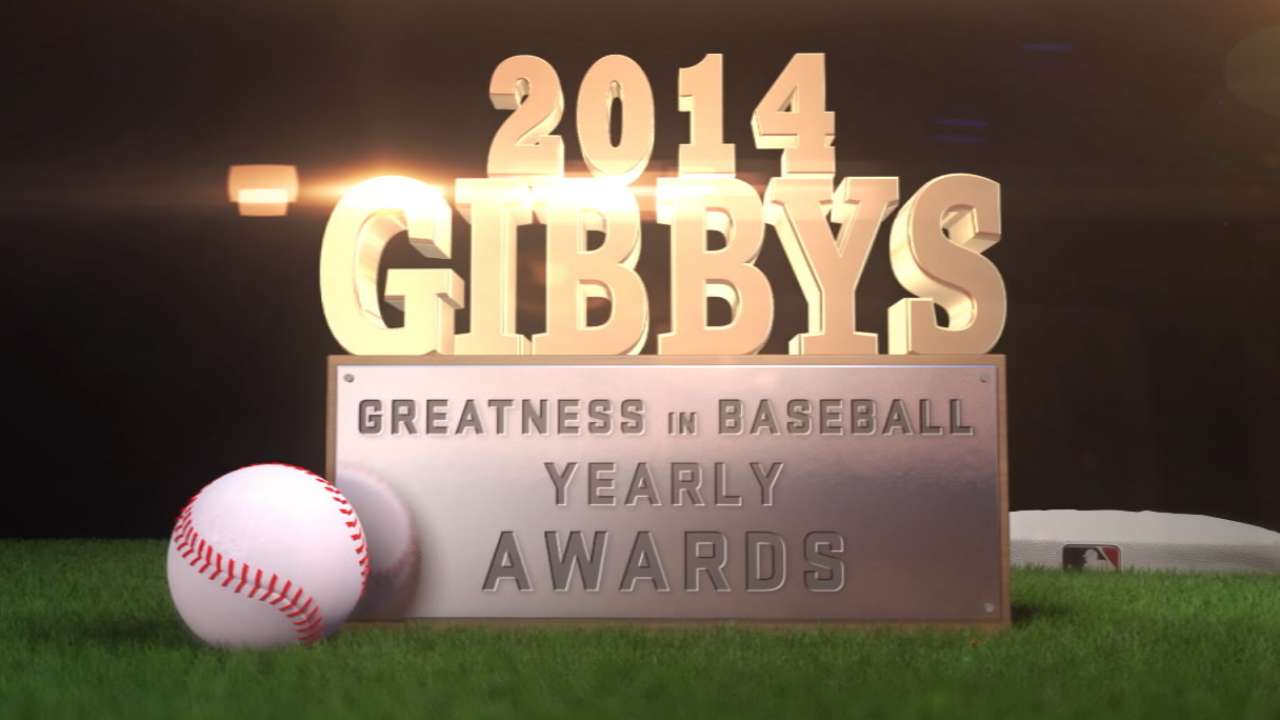 Although an errant fastball brought his season to a painfully premature end, Giancarlo Stanton spent most of 2014 putting a hurting on opponents. That damage was enough to earn the slugger three nominations for MLB.com's Greatness in Baseball Yearly (GIBBY) Awards out of the eight collected by the Marlins.
Stanton, who suffered multiple facial fractures and dental damage when he was hit by a Mike Fiers pitch on Sept. 11, is one of 10 Major Leaguers nominated for the MLB MVP GIBBY. He's also up for honors in the Hitter and Walk-Off categories.
Meanwhile, Stanton has teammates in contention for Bounceback Player (Casey McGehee), Play (Adeiny Hechavarria) and Outfield Throw (Marcell Ozuna).
Major League Baseball's A-listers will take home 2014 GIBBY trophies -- the ultimate honors of the industry's awards season -- based on votes by media, front-office personnel, MLB alumni, fans at MLB.com and the Society for American Baseball Research.
This year's GIBBY Awards feature nominees in 25 categories. Individual honors will go to the MLB MVP, in addition to the year's best starting pitcher, hitter, closer, setup man, rookie, breakout hitter, breakout pitcher, bounceback player, defensive player, manager, executive and postseason performer.
GIBBY trophies also will be awarded for the year's top regular-season play, outfield throw, storyline, hitting performance, pitching performance, oddity, walk-off, Cut4 topic, regular-season moment, postseason storyline, postseason walk-off and postseason play. Fans can watch these and more by accessing MLB.com's Must C highlight reels.
In the past several seasons, fans have cast millions of votes across the GIBBY categories, none of which is restricted to individual league affiliation. That's how you know the GIBBYs consider the best of the best.
All 30 clubs are represented among the award candidates, a fact many consider to be a testament to the competitive balance around the game.
Fans can vote as many times as they want through Nov. 21 at 11:59 p.m. ET by visiting mlb.com/gibbys, and winners will be announced live on the MLB Network and MLB.com on Dec. 6.
Stanton certainly did plenty to earn some votes. In 145 games, he posted a .288/.395/.555 slash line to finish fourth in the Majors in on-base percentage, slugging percentage and OPS. In an era of reduced power, he tied for second with 37 homers -- despite playing half his games at cavernous Marlins Park. Seven of his blasts at home had a true distance of at least 450 feet, according to ESPN Home Run Tracker. Stanton also drove in 105 runs to tie for sixth in MLB, and added 13 stolen bases in 14 attempts.
More than just a slugger, Stanton also is a finalist for an NL Gold Glove Award in right field. Baseball Prospectus' wins-above-replacement stat ranked him second in the Majors in value (8.18) behind Mike Trout, while versions used by FanGraphs and Baseball Reference also placed him among the top 10 position players.
"[Stanton] is a special player," Marlins manager Mike Redmond said at the end of the regular season. "He's a huge part of our team. I think we all realized how big a part -- especially over the last few weeks without him. He had a tremendous year. I saw a lot of growth in him -- not only as a player, but as a guy in the clubhouse. I think he really enjoyed himself."
Stanton showed what kind of season Miami was in for on April 18, when he authored his walk-off moment with the bases loaded and no outs in the ninth inning of a game against the Mariners at Marlins Park. After falling behind 1-2, he got a hanging breaking ball and crushed over the left-center-field wall for his second career walk-off grand slam and his sixth homer of the season.
But Stanton wasn't the only Marlins player to come up with a spectacular play in '14. Hechavarria, a slick-fielding shortstop, earned his nomination with a game-saving catch on Aug. 23 at Coors Field. The Rockies had runners at first and third with two outs in a 4-4 tie in the 12th inning, when Justin Morneau hit a blooper to shallow center field. Hechavarria turned and raced way out there, looking over his left shoulder before making a leaping, backhanded grab.
"That's Hech right there," Redmond said after the game. "He comes out of nowhere to make a huge play, a game-saving play.
"I don't know how he got to that ball."
Ozuna also saved a game on defense, in this case with his arm. The Marlins led the Mets by a run in the ninth inning on June 20 at Marlins Park, and New York had Kirk Nieuwenhuis at third base with one out and Chris Young at the plate against closer Steve Cishek. Young lofted a fly ball to deep left field that ordinarily would have been enough to bring home the tying run. But Ozuna got his momentum behind him as he made the catch, then unleashed a rocket to the plate. Catcher Jarrod Saltalamacchia caught the ball on the fly and got the tag down in time to end the game.
The first regular-season, game-ending outfield assist at home in Marlins history was also Ozuna's second assist of the game. He already had thrown out David Wright trying to score the tying run in the eighth.
"Definitely an exciting finish," Saltalamacchia said at the time. "Ozuna made two game-saving throws -- probably two of the best throws I've ever been a part of as a catcher."
As flashy as those plays were, the Marlins' signing of McGehee last December was the opposite. The third baseman, four years removed from his last productive Major League season, had spent 2013 in Japan. Yet, McGehee's return to the States solidified the hot corner for Miami, as he played 160 games and posted a .287/.355/.357 line with 76 RBIs to earn Bounceback Player consideration.
"It's a testament to the people I have around me -- my family, my agent, my parents, everybody," McGehee said recently, after winning Sporting News NL Comeback Player of the Year honors. "When I would talk about wanting to come back, they supported me. There were probably a lot of people outside that circle that still had their doubts -- and they probably still have their doubts. But that close circle, for me, was a good support system. I didn't feel like I was doing it alone."
The Marlins also have the chance to be recognized in a couple of more lighthearted categories.
Henderson Alvarez was nominated for best Oddity, thanks to an unusual routine. For the first pitch of a start, such as during his June 20 outing against the Mets, the right-hander goes through an elaborate windup in which he slowly bends himself forward, then back, before delivering. Then, he proceeds with his typical delivery for the rest of the game.
Meanwhile, a Marlins fan was nominated for the year's top Cut4 topic -- thanks to his balancing act during a July 20 game against San Francisco at Marlins Park. On a fourth-inning pitch by the Giants' Tim Lincecum, Hechavarria ripped a foul ball that hopped into the seats down the third-base line. A fan in a Marlins jersey was standing in the line of fire, holding his young son in his left arm. But the man had the quick reflexes to reach out with his right hand to snag the souvenir, which he gave to the youngster.
Several categories -- Play, Oddity, Walk-Off and Cut4 Topic -- opened balloting with at least one nominee per club. After a week of voting, the four lists were trimmed to 10 finalists per group by a panel.
Andrew Simon is a reporter for MLB.com. Follow him on Twitter @AndrewSimonMLB. This story was not subject to the approval of Major League Baseball or its clubs.