Lucroy and K-Rod highlight Brewers' GIBBY nominations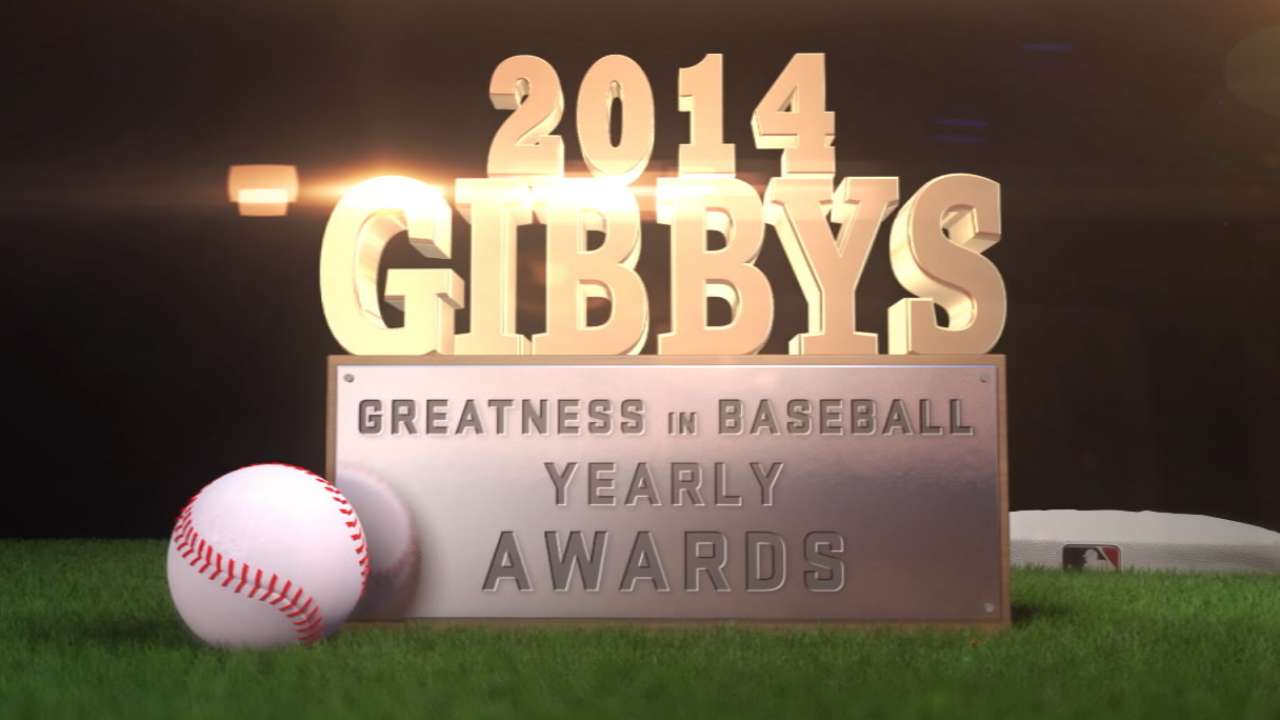 Jonathan Lucroy, Francisco Rodriguez and Wily Peralta are among a number of Brewers who have been nominated for MLB.com's Greatness in Baseball Yearly Awards this year, not to mention the lovable Hank the Dog.
Lucroy received a GIBBY nomination for Defensive Player of the Year, Rodriguez was nominated for Closer of the Year and Peralta earned a nomination as Breakout Pitcher of the Year.
Lucroy showed his durability by starting 133 games behind the plate, the most by any catcher in the National League, and finished tied for fifth in the Majors with 29 caught stealing. He made just four errors all year.
Rodriguez enjoyed a bounce-back season and saved 44 games, which tied for fifth in the Majors. It was the most saves for K-Rod since he recorded 62 in 2008. Rodriguez was an All-Star for the fifth time in his career, his first since 2009.
Peralta led the Brewers with 17 wins and continued to improve in his third season in the big leagues. The right-hander started 32 games and set career-highs across the board with a 3.53 ERA, 154 strikeouts and 198 2/3 innings pitched.
Other Brewers nominated for individual GIBBY awards include Carlos Gomez, Martin Maldonado and Yovani Gallardo.
Major League Baseball's A-listers will take home 2014 GIBBY trophies -- the ultimate honors of the industry's awards season -- based on votes by media, front-office personnel, MLB alumni, fans at MLB.com and the Society for American Baseball Research.
This year's GIBBY Awards feature nominees in 25 categories. Individual honors will go to the MLB MVP, in addition to the year's best starting pitcher, hitter, closer, setup man, rookie, breakout hitter, breakout pitcher, bounceback player, defensive player, manager, executive and postseason performer.
GIBBY trophies also will be awarded for the year's top regular-season play, outfield throw, storyline, hitting performance, pitching performance, oddity, walk-off, Cut4 topic, regular-season moment, postseason storyline, postseason walk-off and postseason play. Fans can watch these and more by accessing MLB.com's Must C highlight reels.
In the past several seasons, fans have cast millions of votes across the GIBBY categories, none of which is restricted to individual league affiliation. That's how you know the GIBBYs consider the best of the best.
Fans can vote as many times as they want through Nov. 21 at 10:59 p.m. CT by visiting mlb.com/gibbys, and winners will be announced live on the MLB Network and MLB.com on Dec. 6. All 30 clubs are represented among the award candidates, a fact many consider to be a testament to the competitive balance around the game.
Gomez was nominated for top play thanks to a spectacular, leaping catch to rob Reds slugger Joey Votto of a home run in a May game at Great American Ball Park. It's the second straight season Gomez has taken a homer away from Votto.
Maldonado hit the cover off the ball -- literally -- in an April game against the Pirates, earning him a nomination in the Oddity category. The Brewers have another nomination in that same group, the result of a wild play against the Rockies in June that saw Aramis Ramirez, Mark Reynolds and Jean Segura score on the same wild pitch.
Gallardo may be known as the Brewers' No. 1 starter, but the right-hander received a nomination for a walk-off hit. He ended a 10-inning affair against the Orioles in May with a pinch-hit double. Who says pitchers can't hit?
Milwaukee has two additional nominations in the Cut4 category. Hank the Dog was supposed to take part in the Sausage Race at Miller Park, but he wanted no part of it during a September game against the Reds. Before an April home game against the Cubs, Gomez shared a special moment with a young fan, bringing a tear to her eye after a hug.
Several categories -- Play, Oddity, Walk-Off and Cut4 Topic -- opened balloting with at least one nominee per club. After a week of voting, the four lists were trimmed to 10 finalists per group by a panel.
Austin Laymance is a reporter for MLB.com. This story was not subject to the approval of Major League Baseball or its clubs.