MLB.com Columnist
Tracy Ringolsby
Game 5 starter Bumgarner is a proven workhorse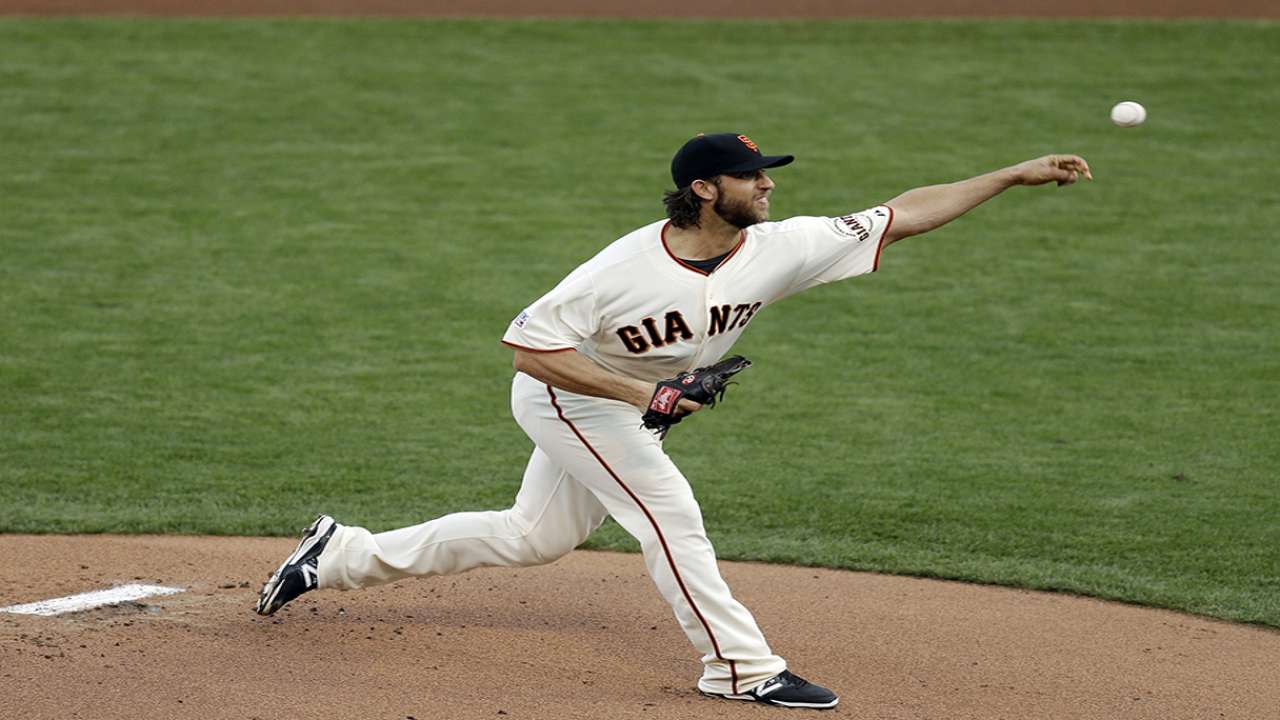 SAN FRANCISCO -- Thanks to Giants manager Bruce Bochy avoiding knee-jerk temptation, the World Series is tied 2-2, and Madison Bumgarner will start Game 5 today at AT&T Park (4 p.m. PT air time on FOX, 5:07 p.m. first pitch) on normal rest.
Bumgarner is a proven workhorse, but he also turned 25 in August, a young age for a pitcher to carry the workload and produce with the consistency of Bumgarner.
Since he stepped into the Giants' rotation on a permanent basis on June 26, 2010, Bumgarner has pitched 1,017 innings, including the postseason, which is sixth among big league pitchers. Justin Verlander of the Tigers has worked a Major League-leading 1,118 2/3 innings during that span, and James Shields, who starts for the Royals against the Giants in Game 5, is second at 1,065 1/3.
Bumgarner's workload has produced results. He has won 73 games in that stretch, tied for fourth with Jered Weaver of the Angels. Verlander is the leader with 85 victories, followed by Max Scherzer of the Tigers (82) and Clayton Kershaw of the Dodgers (79).
Bumgarner's 74 1/3 postseason innings since 2010 are second to Verlander (76 2/3).
Bumgarner and Shields, who turns 33 in December, will both be making their 159th start since June 26, 2010. They will be tied for third behind Verlander (163) and C.J. Wilson of the Angels (161).
Bumgarner's 2.61 postseason ERA is the sixth lowest among starting pitchers since 2010. Doug Fister leads starters with a 1.78 ERA in that stretch. In the World Series, Bumgarner is 3-0 with a 0.41 ERA, lowest among starting pitchers since 1995 with at least 22 innings pitched.
JAMES GAME
Shields has proven to be durable, but the postseason has not been a highlight for him. His 5.74 ERA is the fourth highest among pitchers with at least 50 innings of work. Jaret Wright has the highest ERA at 7.07, followed by Tim Wakefield (6.75) and Todd Stottlemyre (5.91).
Shields is 3-5 in 10 career postseason starts, and he has had his challenges this postseason. The Royals have won three of his four starts -- the exception being a Game 1 World Series loss to Bumgarner and the Giants -- but he has a 7.11 ERA. Shields has given up 28 hits, walked six and hit a batter in 19 innings.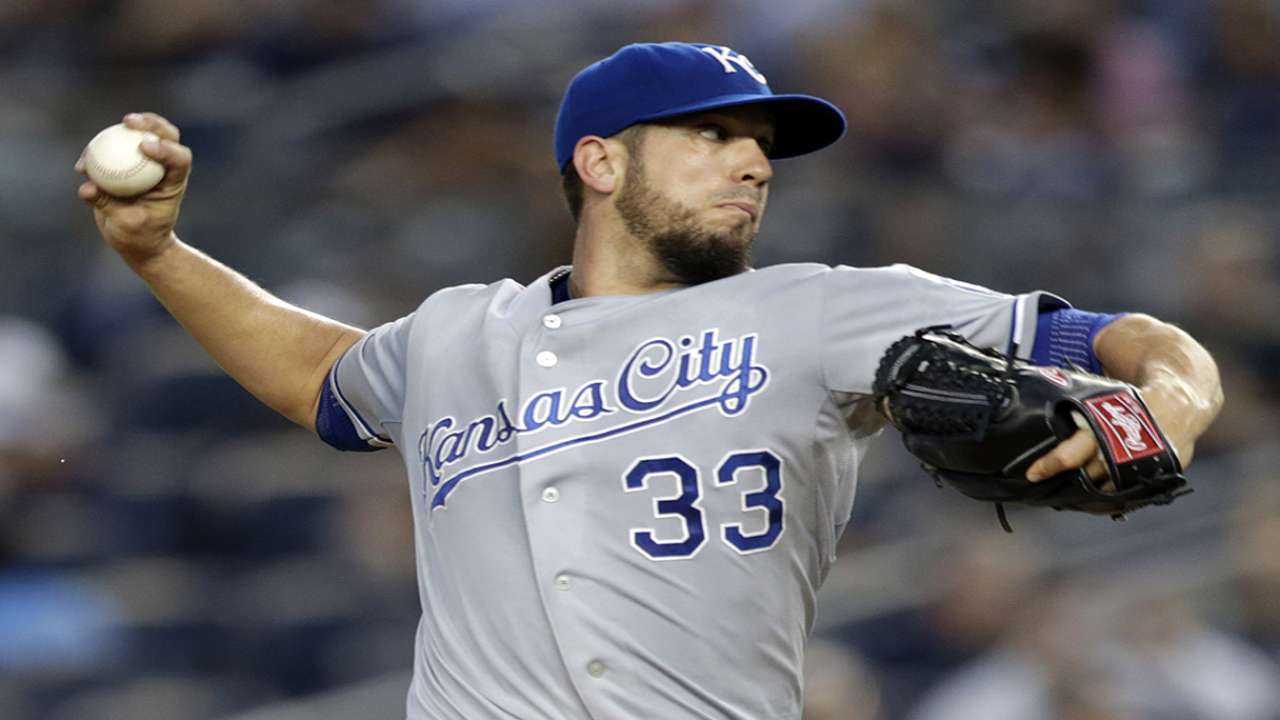 MIDDLE MAN
Yusmeiro Petit has provided a vital middle-inning link for the Giants' pitching staff in the postseason. He had made one appearance in each of the three rounds and has earned the win each time.
Francisco Rodriguez with the Angels in 2002 set a postseason record of five wins as a reliever, but he did suffer a loss in his 11 appearances.
Petit is one of seven relievers tied for second with three postseason wins, and one of six who is 3-0. Petit, however, is the only one who is 3-0 while making just three appearances. Sparky Lyle came the closest, going 3-0 in six appearances for the Yankees in 1977.
Petit has not only worked 12 shutout innings in his three appearances, but he has allowed only four hits and four walks and has struck out 13.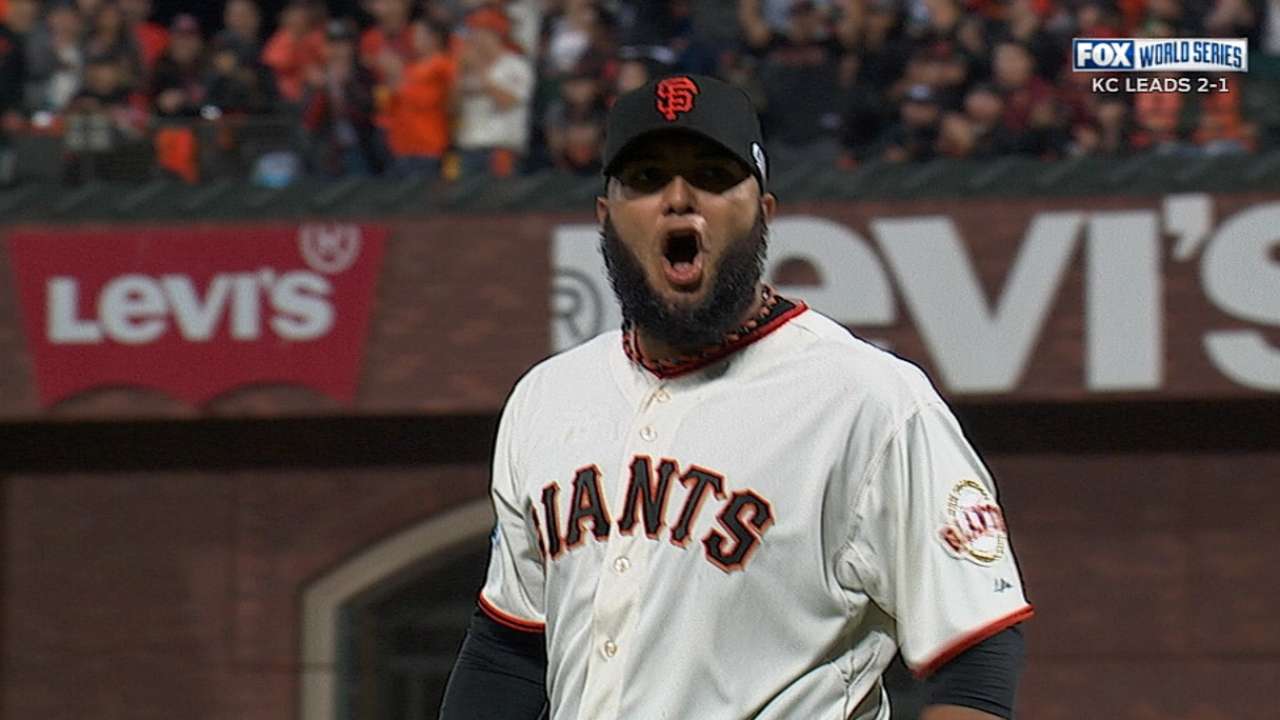 TEAM EFFORT
The Royals' bullpen is 7-1, tied with the 2003 Marlins for the best record in a postseason, and the 6-1 Giants' bullpen is one of five teams with six wins. The 1996 Yankees, 2002 Angels, '11 Cardinals and '11 Rangers also had bullpens with six wins.
The Royals' bullpen ERA is 2.91, compared to 3.73 for the 2003 Marlins; the Giants' bullpen has a 1.80 ERA, compared to 1.81 for the 1996 Yankees.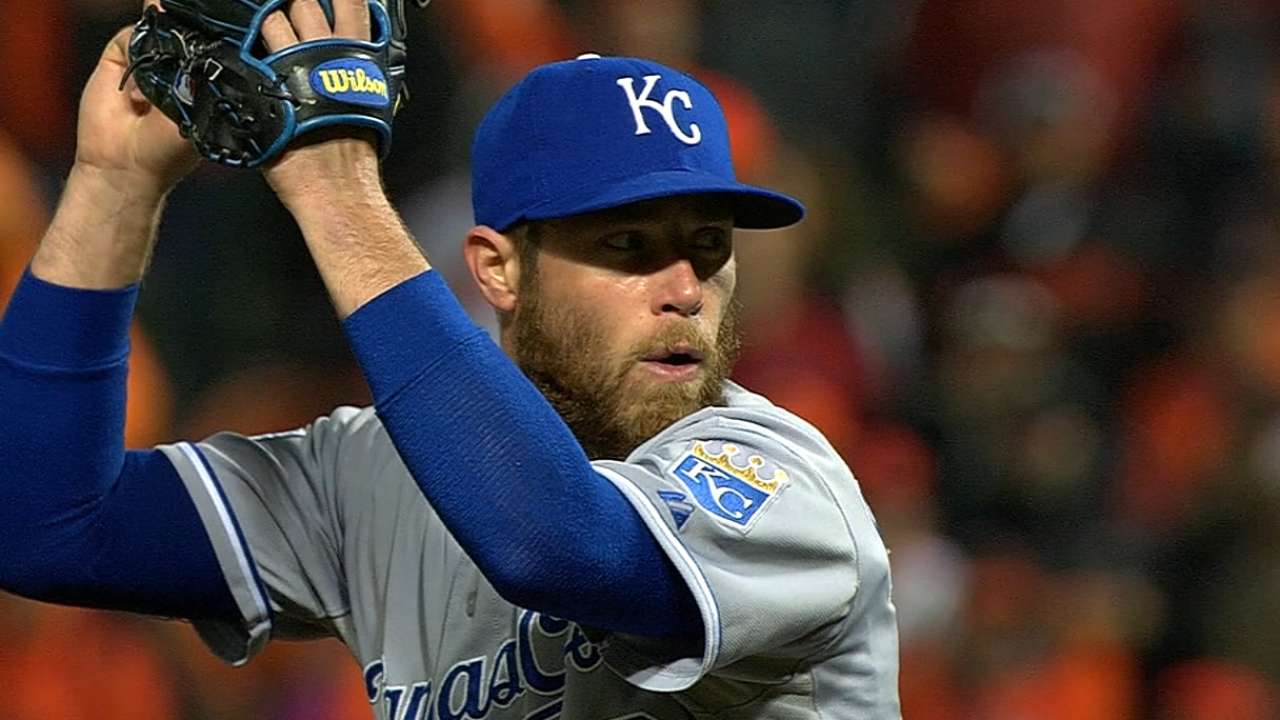 MEMORY
It was in Game 5 of the 1956 Fall Classic that Don Larsen of the Yankees threw the only perfect game in World Series history in New York's 2-0 victory over the Brooklyn Dodgers. Mickey Mantle homered in the fourth, and Hank Bauer singled in a run in the sixth, scoring Andy Carey, who had singled and been sacrificed to second by Larsen.
Larsen was given the start despite the fact that the year before -- when the Dodgers beat the Yankees for the first World Series championship in franchise history -- Larsen gave up five runs in four innings of an 8-5 loss in Game 4, and then he struggled in Game 2 of the 1956 World Series. Given a 6-0 lead going into the bottom of the second in Game 2, Larsen retired two batters in the frame before being forced to exit. Larsen was charged with four runs, all unearned because of an error, but he did walk four batters and gave up a hit in a game the Yanks lost, 13-8.
That made the perfect game even more perfect for Larsen.
"When it was over, I was so happy I felt like crying," said Larsen. "I wanted to win this one for Casey [Stengel, Yankees manager]. After what I did in Brooklyn, he could have forgotten about me and who would blame him? But he gave me another chance and I'm grateful."
Larsen threw 97 pitches in the perfect game, the last one a called third strike to pinch-hitter Dale Mitchell. Larsen had a three-ball count once -- to Pee Wee Reese in the first inning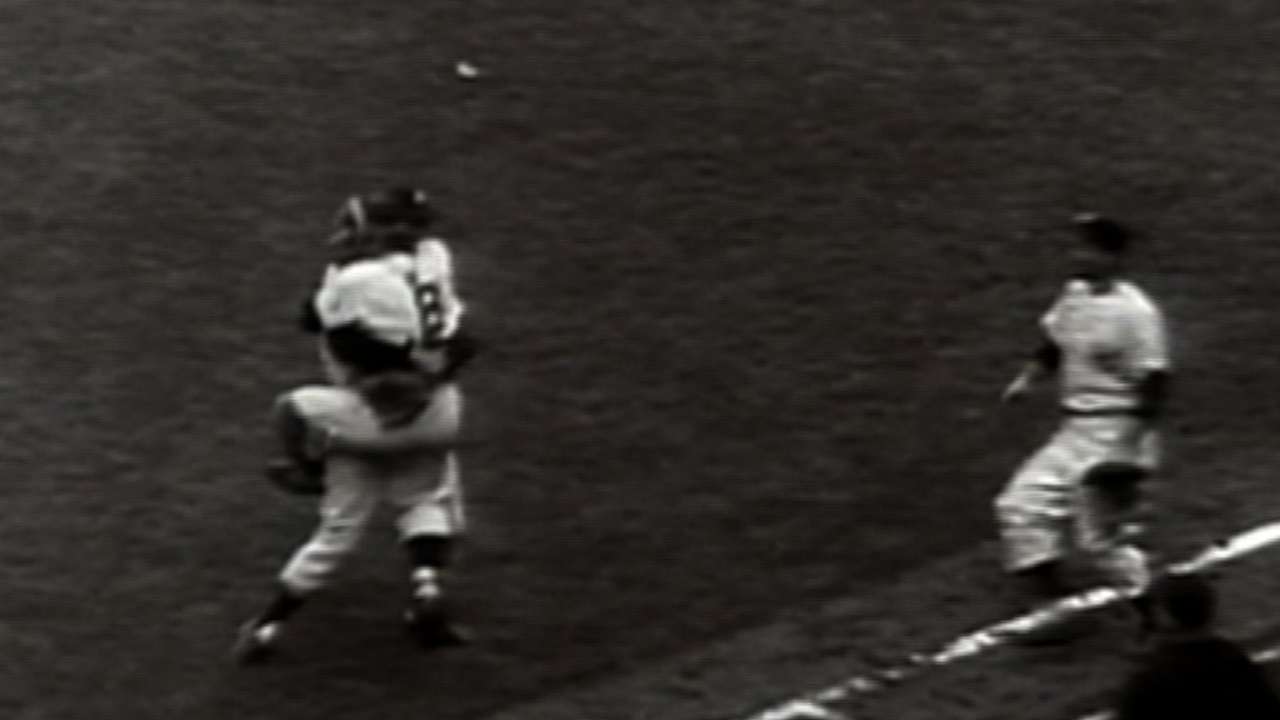 Tracy Ringolsby is a columnist for MLB.com. This story was not subject to the approval of Major League Baseball or its clubs.