Kiermaier's leap among Rays' GIBBY nominations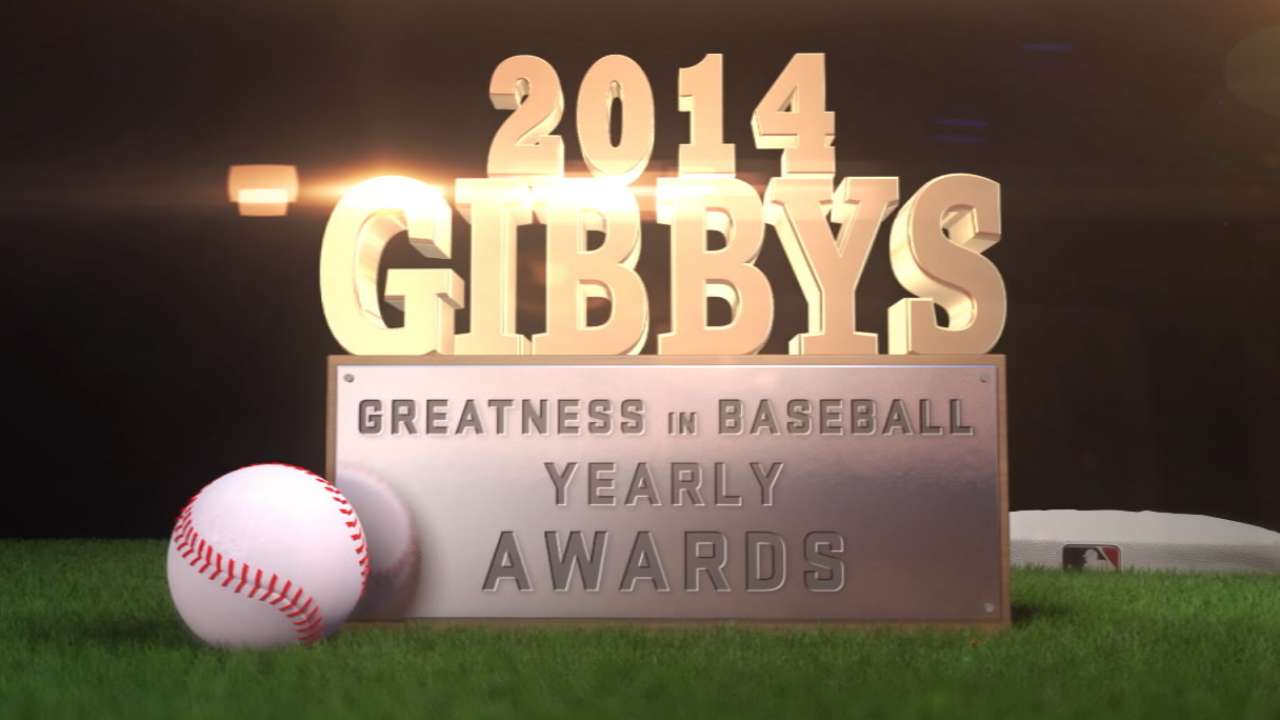 ST. PETERSBURG -- Kevin Kiermaier, Desmond Jennings, Jose Molina and Sean Rodriguez of the Rays are among those nominated for MLB.com's Greatness in Baseball Yearly (GIBBY) awards.
Major League Baseball's A-listers will take home 2014 GIBBY trophies -- the ultimate honors of the industry's awards season -- based on votes by media, front-office personnel, MLB alumni, fans at MLB.com and the Society for American Baseball Research.
This year's GIBBY Awards feature nominees in 25 categories. Individual honors will go to the MLB MVP, in addition to the year's best starting pitcher, hitter, closer, setup man, rookie, breakout hitter, breakout pitcher, bounceback player, defensive player, manager, executive and postseason performer.
GIBBY trophies also will be awarded for the year's top regular-season play, outfield throw, storyline, hitting performance, pitching performance, oddity, walk-off, Cut4 topic, regular-season moment, postseason storyline, postseason walk-off and postseason play. Fans can watch these and more by accessing MLB.com's Must C highlight reels.
In the past several seasons, fans have cast millions of votes across the GIBBY categories, none of which is restricted to individual league affiliation. That's how you know the GIBBYs consider the best of the best.
All 30 clubs are represented among the award candidates, a fact many consider to be a testament to the competitive balance around the game.
Several categories -- Play, Oddity, Walk-Off and Cut4 Topic -- will each open balloting with at least one nominee per club. After a week, the four lists will be pared to 10 finalists per group by an expert panel.
Kiermaier's "incredible leap" is nominated for Play. On June 11 against the Cardinals, a bases-loaded shot to the gap looked certain to result in runs for the Cardinals before Kiermaier left his feet for a full-extension, inning-ending diving catch -- complete with a somersault at the end.
Jennings is nominated for the Oddity of the Year after scoring in a rarely seen way on April 28, when he made it home from second on a sacrifice fly. In doing so, he became the first big leaguer to cross home in such a fashion since 2012.
Molina and his brother Yadier of the Cardinals are nominated for Cut4 Topic. The moment occurred July 23 in St. Louis. Jose was catching for the Rays, and while setting up for the start of his day on defense, he found a stack of crackers left courtesy of his sibling and fellow backstop.
Finally, Rodriguez is nominated for Walk-off. On May 22 against Oakland, he finalized a four-run rally after two outs in the 11th inning with a three-run homer. Rodriguez's blast gave the Rays their first of three straight wins that ended in walk-off fashion.
Fans can vote as many times as they want through Nov. 21 at 11:59 p.m. ET by visiting mlb.com/gibbys, and winners will be announced live on the MLB Network and MLB.com on Dec. 6.
Several categories -- Play, Oddity, Walk-Off and Cut4 Topic -- opened balloting with at least one nominee per club. After a week of voting, the four lists were trimmed to 10 finalists per group by a panel.
Bill Chastain is a reporter for MLB.com. This story was not subject to the approval of Major League Baseball or its clubs.