Rizzo, Castro, Arrieta earn GIBBY nominations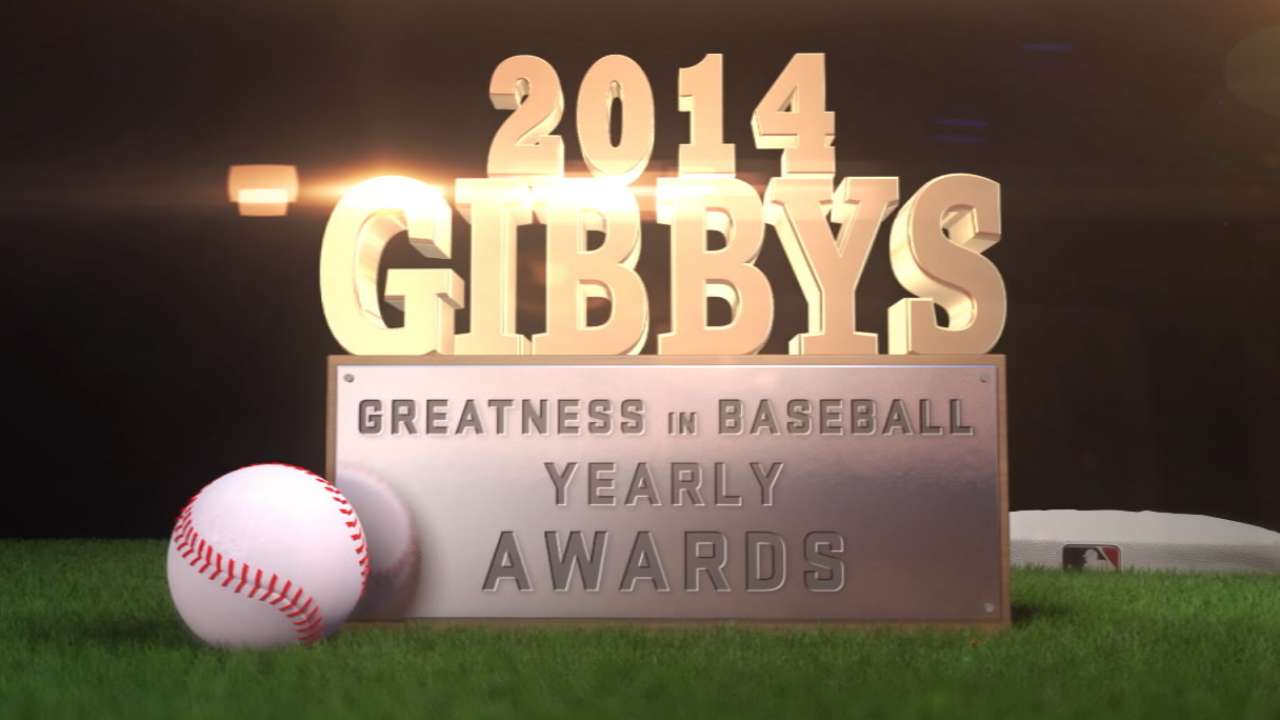 A number of Cubs players are being honored with MLB.com's Greatness in Baseball Yearly (GIBBY) award nominations for their exemplary individual performances this season, and more yet for outstanding and peculiar plays that took place over the course of the year.
Shortstop Starlin Castro is a nominee for Bounceback Player, Anthony Rizzo -- a first-time All-Star this season -- is nominated for Breakout Hitter, and right-hander Jake Arrieta is nominated for Breakout Pitcher.
Additionally, Luis Valbuena and Rizzo are nominated for Best Play, while John Baker and Castro are nominated for Best Oddity and Best Walk-Off for their heroics in Chicago's 16-inning victory against Colorado in late July.
The Cubs also have two Best Cut4 Topic nominees -- one for Rizzo's heartwarming homer/get-well wish to a 22-year-old leukemia patient, and one for a stellar fan catch from the back row of the Wrigley Field bleachers.
Major League Baseball's A-listers will take home 2014 GIBBY trophies -- the ultimate honors of the industry's awards season -- based on votes by media, front-office personnel, MLB alumni, fans at MLB.com and the Society for American Baseball Research.
This year's GIBBY Awards feature nominees in 25 categories. Individual honors will go to the MLB MVP, in addition to the year's best starting pitcher, hitter, closer, setup man, rookie, breakout hitter, breakout pitcher, bounceback player, defensive player, manager, executive and postseason performer.
GIBBY trophies also will be awarded for the year's top regular-season play, outfield throw, storyline, hitting performance, pitching performance, oddity, walk-off, Cut4 topic, regular-season moment, postseason storyline, postseason walk-off and postseason play. Fans can watch these and more by accessing MLB.com's Must C highlight reels.
The other Bounceback Player nominees are Johnny Cueto (Reds), Justin Morneau (Rockies), Matt Kemp (Dodgers), Casey McGehee (Marlins), Edinson Volquez (Pirates), Chris Young (Mariners), Tim Hudson (Giants) and Pat Neshek (Reds). After batting just .245 with a .631 OPS last year, Castro hit.292 with a .777 OPS this season for Chicago, making his third All-Star team.
Rizzo is competing for his award with Devin Mesoraco (Reds), Michael Brantley (Indians), Corey Dickerson (Rockies), J.D. Martinez (Tigers), Jose Altuve (Astros), Dee Gordon (Dodgers), Lucas Duda (Mets), Josh Harrison (Pirates) and Anthony Rendon (Nationals). The Cubs first baseman hit .286 this year with a career-high 32 home runs and 78 RBIs.
Arrieta is up against Zach Britton (Orioles), Corey Kluber (Indians), Carlos Carrasco (Indians), Dallas Keuchel (Astros), Danny Duffy (Royals), Garrett Richards (Angels), Wily Peralta (Brewers), Phil Hughes (Twins) and Tanner Roark (Nationals) for the Breakout Pitcher award. Arrieta, 28, was traded to the Cubs from the Orioles in July 2013. In his first full season with Chicago, the righty went 10-5 with a 2.53 ERA in 25 starts.
In the past several seasons, fans have cast millions of votes across the GIBBY categories, none of which is restricted to individual league affiliation. That's how you know the GIBBYs consider the best of the best. All 30 clubs are represented among the award candidates. All 30 clubs are represented among the award candidates, a fact many consider to be a testament to the competitive balance around the game.
Fans can vote as many times as they want through Nov. 21 at 10:59 p.m. CT by visiting mlb.com/gibbys, and winners will be announced live on the MLB Network and MLB.com on Dec. 6.
Several categories -- Play, Oddity, Walk-Off and Cut4 Topic -- opened balloting with at least one nominee per club. After a week of voting, the four lists were trimmed to 10 finalists per group by a panel.
Joey Nowak is a reporter for MLB.com. Follow him on Twitter at @joeynowak. This story was not subject to the approval of Major League Baseball or its clubs.