Giants garner 20 GIBBY Award nominations
Posey, MadBum among those cited in 12 different voting categories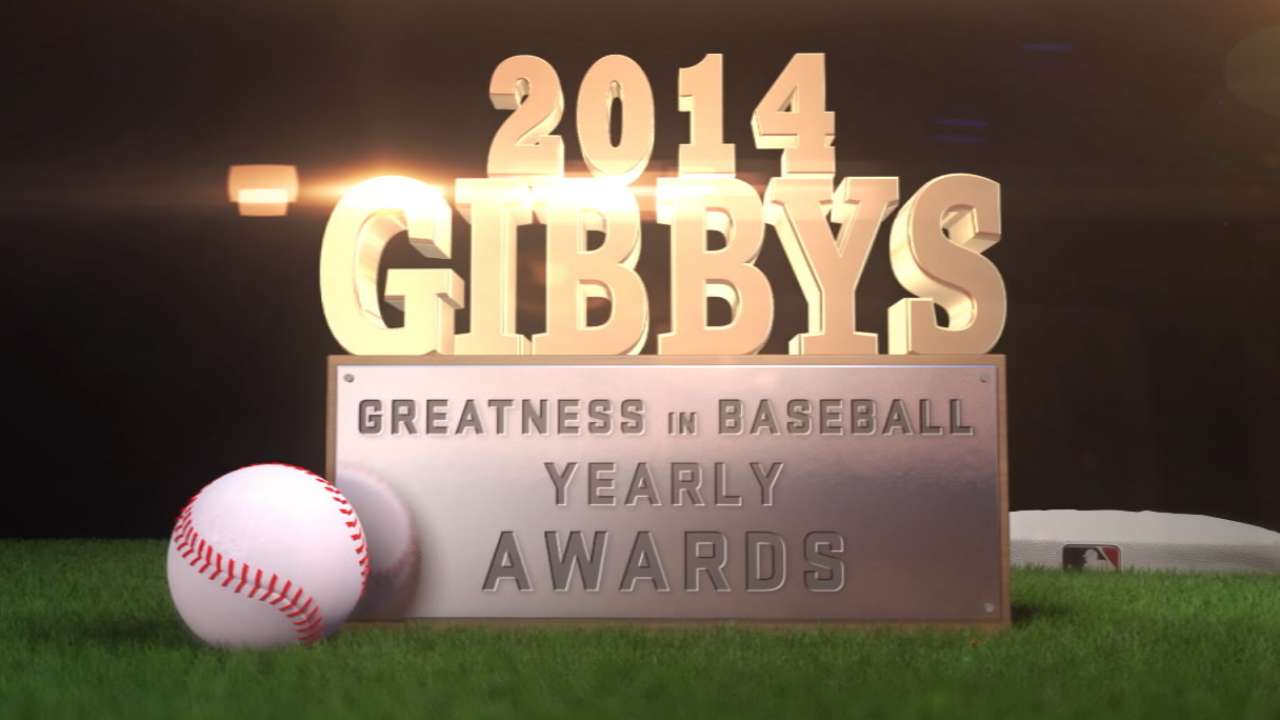 You don't make a run to the World Series without a few spectacular hitters, pitchers, leaders, performances, moments and storylines along the way. That was certainly the case for the Giants this season, which is why they're so well represented in this year's nominations for MLB.com's Greatness in Baseball Yearly (GIBBY) Awards.
The Giants have 20 nominations overall in 12 different categories, and they're one of only three teams with a candidate for MLB MVP (Buster Posey and Madison Bumgarner), Hitter of the Year (Posey) and Pitcher of the Year (Bumgarner). But, in true San Francisco fashion, it's not just about those two stars.
The Giants' rock-steady leadership is accounted for, as Bruce Bochy is up for Manager of the Year and general manager Brian Sabean is a nominee for Executive of the Year. Starter Tim Hudson could be this year's Bounceback Player, and he's not even one of the two Giants nominated for the Pitching Performance of the Year. No, that would be Tim Lincecum for his no-hitter and Bumgarner for a one-hit gem.
Of course, the Giants' masterful work in the postseason is represented well. They have three nominees for Postseason Play of the Year, three for the best Postseason Storyline and two for the greatest Postseason Walk-Off.
The Giants had a few wacky moments off the diamond, too, so it's no surprise their woefully lost dugout invader is up for Oddity of the Year.
Oh, and this: "Hunter Pence gets nominated for GIBBYs #HunterPenceSigns."
Major League Baseball's A-listers will take home 2014 GIBBY trophies -- the ultimate honors of the industry's awards season -- based on votes by media, front-office personnel, MLB alumni, fans at MLB.com and the Society for American Baseball Research.
This year's GIBBY Awards feature nominees in 25 categories. Individual honors will go to the MLB MVP, in addition to the year's best starting pitcher, hitter, closer, setup man, rookie, breakout hitter, breakout pitcher, bounceback player, defensive player, manager, executive and postseason performer.
GIBBY trophies also will be awarded for the year's top regular-season play, outfield throw, storyline, hitting performance, pitching performance, oddity, walk-off, Cut4 topic, regular-season moment, postseason storyline, postseason walk-off and postseason play. Fans can watch these and more by accessing MLB.com's Must C highlight reels.
In the past several seasons, fans have cast millions of votes across the GIBBY categories, none of which is restricted to individual league affiliation. That's how you know the GIBBYs consider the best of the best.
All 30 clubs are represented among the award candidates, a fact many consider to be a testament to the competitive balance around the game.
Fans can vote as many times as they want through Nov. 21 at 8:59 p.m. PT by visiting mlb.com/gibbys, and winners will be announced live on MLB Network and MLB.com on Dec. 6.
Posey certainly seems worthy of some of those votes for both MLB MVP and Hitter of the Year. While he didn't match his 2012 National League MVP campaign, Posey put together another strong season at and behind the plate. Posey compiled a .311/.364/.490 slash line, with 89 RBIs -- good for an adjusted OPS of 143, or 43 percent better than the league average. According to FanGraphs.com, Posey ranked 12th among all position players with 5.7 Wins Above Replacement.
It's hard to imagine anyone beating Clayton Kershaw for Pitcher of the Year, but Bumgarner at least merits a second look. Already among the game's best pitchers, the 25-year-old lefty continued to improve in 2014. He finished the season with an 18-10 record and a 2.98 ERA -- his second straight year under 3.00 -- in 217 1/3 innings. He struck out 219 batters and only walked 43 in 33 regular-season starts.
And it was those numbers that also garnered the Giants' ace a nomination -- alongside Posey -- for MLB MVP.
Bumgarner has two nominations for Pitching Performance of the Year. The first came in his finest start of the season when he was six outs away from a perfect game against the Rockies on Aug. 26. He had to settle for a one-hit masterpiece, his second career one-hitter. He struck out 13 and walked nobody in the 3-0 win, throwing 80 of his 103 pitches for strikes.
The other nominee is his relief appearance during Game 7 of the World Series. Bumgarner etched his name into baseball history, finishing up what might have been the greatest postseason performance in Giants history. After winning Games 1 and 5, he saved Game 7 with five shutout innings to preserve the Giants' 3-2 win over the Royals.
Hudson, Bumgarner's rotation mate, earned his Bounceback Player of the Year nomination. The 39-year-old veteran suffered a horrific season-ending right ankle injury in July 2013, while with the Braves. But he didn't miss a beat with the Giants this season. Hudson recorded a 3.57 ERA in a 189 1/3-inning, All-Star season -- ultimately getting to pitch in the World Series for the first time in his 16-year career.
It's difficult to discuss Bochy without talking about Sabean, and vice versa. Those two, up for Manager and Executive of the Year, respectively, led the Giants back to the World Series for the third time in five seasons. Sabean made several shrewd moves -- like signing Hudson and slugger Michael Morse and trading for starter Jake Peavy -- and his work over the past few years is evident everywhere you look on this Giants roster.
What's left to be said about Bochy? He's seemingly on a course for Cooperstown, and he proved why once again this season. Nobody manages a bullpen better, in terms of strategic deployment and how he handles his relievers when changing their roles. Don't forget, the Giants did all of this without a pair of recent aces: Matt Cain managed only a 4.18 ERA in 15 starts before his season ended, and Lincecum finished with a 4.74 ERA.
Lincecum had his moments, though, and one obviously stood out during the Giants' other nominee for Pitching Performance of the Year. That would be his no-hitter against the Padres on June 25, his second career no-no and a reminder of the electric young right-hander who took the NL by storm while winning back-to-back Cy Young Awards in 2008-09.
There were plenty of unusual moments, too. The Giants have a nominee for Oddity of the Year and, perhaps, the season's most memorable meme up for Cut4 Topic of the Year.
The Oddity took place in the NL Wild Card Game, when a woman -- a credentialed employee -- found herself a prime standing-room seat right behind Bochy. Clearly lost, the woman wound up in an animated conversation with a security guard in the dugout during the second inning. Are you lost or getting ready to pinch-hit, ma'am?
And finally, who can forget the #HunterPenceSigns, up for Cut4 Topic of the Year. They started out as a joke by a couple of kids at Citi Field in New York, a good-natured jab at Pence -- stuff like, "Hunter Pence can't parallel park" or "Hunter Pence puts ketchup on his hot dog." Naturally, it became a Twitter sensation, and the signs followed Pence wherever he went the rest of the year.
Finally, the Giants' epic run to their third World Series title in the last five seasons produced a number of worthy nominees. They have a trio of Postseason Play candidates, starting in the Wild Card Game. With nobody out in the bottom of the seventh and the Giants leading by seven, Russell Martin popped a ball up and watched as it glided above the Pirates' dugout. Pablo Sandoval watched, too, as he ran over, stuck out his arm, balanced with the other and did a full cartwheel into the dugout as he caught the ball for the out.
Moving on, to the sixth inning of Game 4 in the Division Series, when Nationals outfielder Jayson Werth ripped a ball toward the right-field wall at AT&T Park. Pence ran back, jumped, slammed into the fence and reeled in the ball with his outstretched right arm. He banged up against the fence with his arm in front of the soft padding, further adding to the degree of difficulty. Ryan Vogelsong pumped his fist on the mound, a hard-earned sign of respect for Pence.
And finally, the odds-on favorite in terms of the stage and maybe even the degree of difficulty: Joe Panik's incredible double-play-starting dive and flip to Brandon Crawford in Game 7 of the World Series. That kept the game tied, 2-2, in the third inning, and you may have heard about what Bumgarner did after that. How great of a reaction play was it? Statcast measured Panik's reaction time at negative-0.03 seconds and his release time in less than a second. Crawford was just as good on that play, with a split-second release and a bullet of a throw.
Two more plays Giants fans will cherish are up for Postseason Walk-Off of the Year. The first was Gregor Blanco's bunt-turned-error against the Cardinals that allowed San Francisco to win Game 3 of the NL Championship Series. The second was Travis Ishikawa's historic walk-off homer in Game 5 of the same series, a three-run blast with one out in the bottom of the ninth that sent the Giants back to the World Series.
Finally, there's the Giants' Postseason Storyline candidates. Let's start with NLDS Game 2, an 18-inning marathon the Giants won, 2-1, on Brandon Belt's walk-off homer. The Giants scored in the ninth just to force the game into extras, then Yusmeiro Petit pitched six incredible relief innings. San Francisco's bullpen gave up all of two hits in 10 2/3 innings.
Then there's NLCS Game 5, capped off by Ishikawa's walk-off. Morse hit a dramatic home run of his own to tie it in the eighth, 3-3, and set up Ishikawa's heroic shot -- one that evoked memories of Bobby Thomson's "Shot Heard 'Round the World" for the New York Giants in 1951.
Bumgarner's amazing performance in Game 7 also made the cut. Those five shutout innings he threw secured the team's third championship in five seasons.
Several categories -- Play, Oddity, Walk-Off and Cut4 Topic -- opened balloting with at least one nominee per club. After a week of voting, the four lists were trimmed to 10 finalists per group by a panel.
Adam Berry is a reporter for MLB.com. Follow him on Twitter at @adamdberry. This story was not subject to the approval of Major League Baseball or its clubs.