Indians' Kluber, Brantley up for multiple GIBBY Awards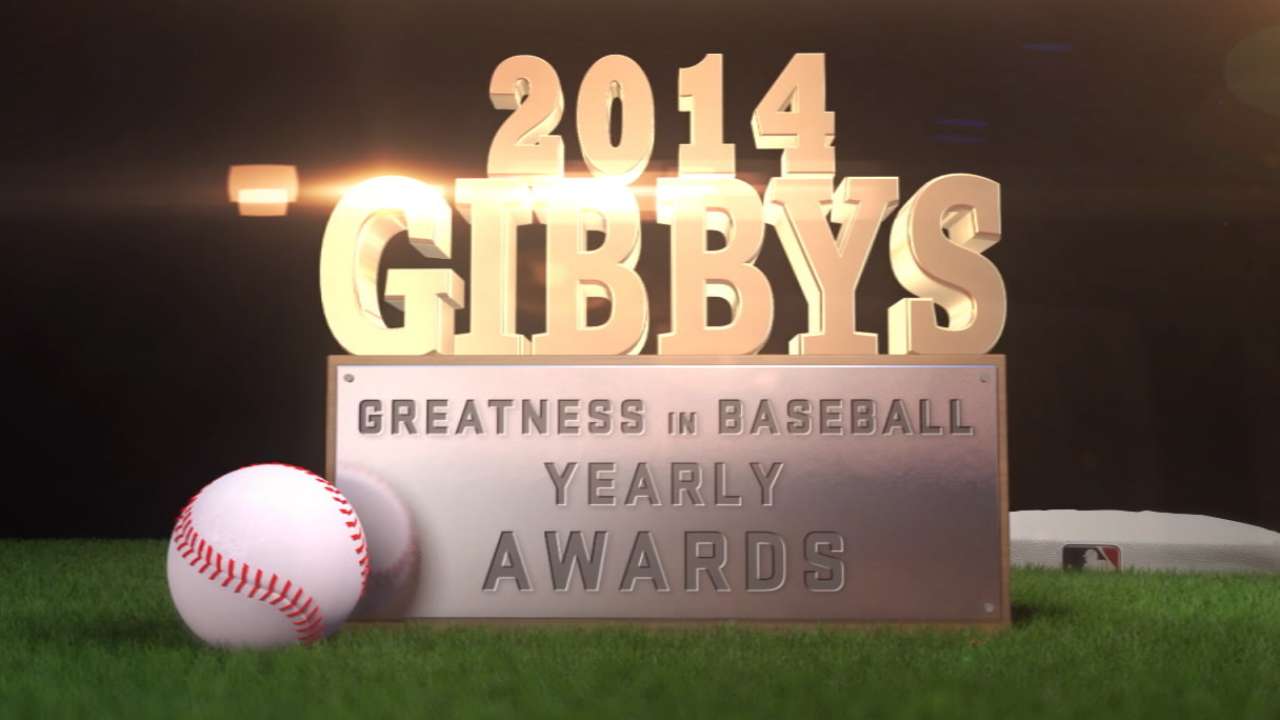 CLEVELAND -- Corey Kluber and Michael Brantley were not only leaders for the Indians this past season, but two of baseball's breakout stars. Their respective campaigns merit consideration for Major League Baseball's major awards this offseason.
Besides being in the conversation for the American League Cy Young and Most Valuable Player Awards, respectively, Kluber and Brantley lead Cleveland's list of nominees for MLB.com's 2014 Greatness In Baseball Yearly honors. Brantley and Kluber are up for multiple awards as part of this season's GIBBY accolades.
Kluber is up for the GIBBY awards for MLB's best Starting Pitcher and Breakout Pitcher, while Brantley is a candidate for the GIBBY categories of MLB MVP, top Hitter and Breakout Hitter.
Major League Baseball's A-listers will take home 2014 GIBBY trophies -- the ultimate honors of the industry's awards season -- based on votes by media, front-office personnel, MLB alumni, fans at MLB.com and the Society for American Baseball Research.
This year's GIBBY Awards feature nominees in 25 categories. Individual honors will go to the MLB MVP, in addition to the year's best starting pitcher, hitter, closer, setup man, rookie, breakout hitter, breakout pitcher, bounceback player, defensive player, manager, executive and postseason performer.
GIBBY trophies also will be awarded for the year's top regular-season play, outfield throw, storyline, hitting performance, pitching performance, oddity, walk-off, Cut4 topic, regular-season moment, postseason storyline, postseason walk-off and postseason play. Fans can watch these and more by accessing MLB.com's Must C highlight reels.
In the past several seasons, fans have cast millions of votes across the GIBBY categories, none of which is restricted to individual league affiliation. That's how you know the GIBBYs consider the best of the best.
All 30 clubs are represented among the award candidates, a fact many consider to be a testament to the competitive balance around the game.
Fans can vote as many times as they want through Nov. 21 at 11:59 p.m. ET by visiting mlb.com/gibbys, and winners will be announced live on the MLB Network and MLB.com on Dec. 6.
The Indians have nominees in the following categories:
MVP: Brantley (the first Indians hitter in team history to end a season with at least 20 home runs, 20 stolen bases, 40 doubles and 200 hits) is up against Jose Abreu (White Sox), Jose Altuve (Astros), Jose Bautista (Blue Jays), Clayton Kershaw (Dodgers), Victor Martinez (Tigers), Andrew McCutchen (Pirates), Buster Posey (Giants), Giancarlo Stanton (Marlins) and Mike Trout (Angels).
Hitter: Brantley's competition for this award includes Nelson Cruz (Orioles), along with Abreu, Altuve, Bautista, Victor Martinez, McCutchen, Posey, Stanton and Trout.
Breakout Hitter: Brantley finished with a .327 average, 20 homers, 23 steals, 45 doubles, 94 runs, 97 RBIs and 200 hits, and he made his first All-Star team. For this award, his competition includes Altuve, Corey Dickerson (Rockies), Lucas Duda (Mets), Dee Gordon (Dodgers), Josh Harrison (Pirates), J.D. Martinez (Tigers), Devin Mesoraco (Reds), Anthony Rendon (Nationals) and Anthony Rizzo (Cubs).
Starting Pitcher: Kluber ended the year with an 18-9 record, 2.44 ERA and 269 strikeouts in 235 2/3 innings for the Tribe. His competition for this honor includes Madison Bumgarner (Giants), Johnny Cueto (Reds), Felix Hernandez (Mariners), Kershaw, Jon Lester (Red Sox/A's), Chris Sale (White Sox) and Adam Wainwright (Cardinals).
Breakout Pitcher: Kluber joins Carlos Carrasco (2.55 ERA and 140 strikeouts in 134 innings) as Cleveland's candidates in this category. Other nominees include Jake Arrieta (Cubs), Zach Britton (Orioles), Danny Duffy (Royals), Phil Hughes (Twins) Dallas Keuchel (Astros), Wily Peralta (Brewers), Garrett Richards (Angels) and Tanner Roark (Nationals).
Defensive Play: Indians center fielder Michael Bourn is up for this award for his leaping catch on May 27. In the eighth inning in Chicago, Bourn jumped at the wall and robbed White Sox slugger Paul Konerko of a home run with a highlight-reel grab.
Outfield Throw: Cleveland's Mike Avile is up for this category for his incredible throw from left field on July 13 at Progressive Field. In the second inning, Aviles caught a fly ball from Chicago's Gordon Beckham down the left-field and then doubled up Conor Gillaspie at first base with a long throw.
Hitting Performance: Indians third baseman Lonnie Chisenhall is nominated for this honor after his record-setting night on June 9 in Texas. Chisenhall became the first player in Major League history to have at least three home runs, five hits and nine RBIs in five plate appearances.
Walk-off: Cleveland had a long list of walk-off heroics in 2014, but the Tribe's "balk-off" win on May 21 got the nod for this category. With the bases loaded in the 13th inning, Detroit's Al Aburquerque balked with Ryan Raburn at the plate, handing the Indians a dramatic victory.
Oddity: The Indians and Reds are both involved in one nominee for this GIBBY category. On Aug. 5, Cleveland's David Murphy was thrown out at third base after being confused by two baseballs being on the field. One ball was wildly uncorked by Reds reliever Jumbo Diaz, who was warming up in the bullpen during the play. Chisenhall is also nominated in this category for an odd bunt single on May 22 in Baltimore.
Cut4 Topic: The Indians' nomination for this category is the team's ceremony for retired slugger Jim Thome on Aug. 2 in Cleveland. The Indians unveiled a statue of Thome, who signed an honorary one-day contract with the club in order to officially retire as a member of the ballclub.
Several categories -- Play, Oddity, Walk-Off and Cut4 Topic -- opened balloting with at least one nominee per club. After a week of voting, the four lists were trimmed to 10 finalists per group by a panel.
Jordan Bastian is a reporter for MLB.com. Read his blog, Major League Bastian, and follow him on Twitter @MLBastian. This story was not subject to the approval of Major League Baseball or its clubs.