MLB.com Columnist
Lindsay Berra
Cain a virtual clone of Royals great Wilson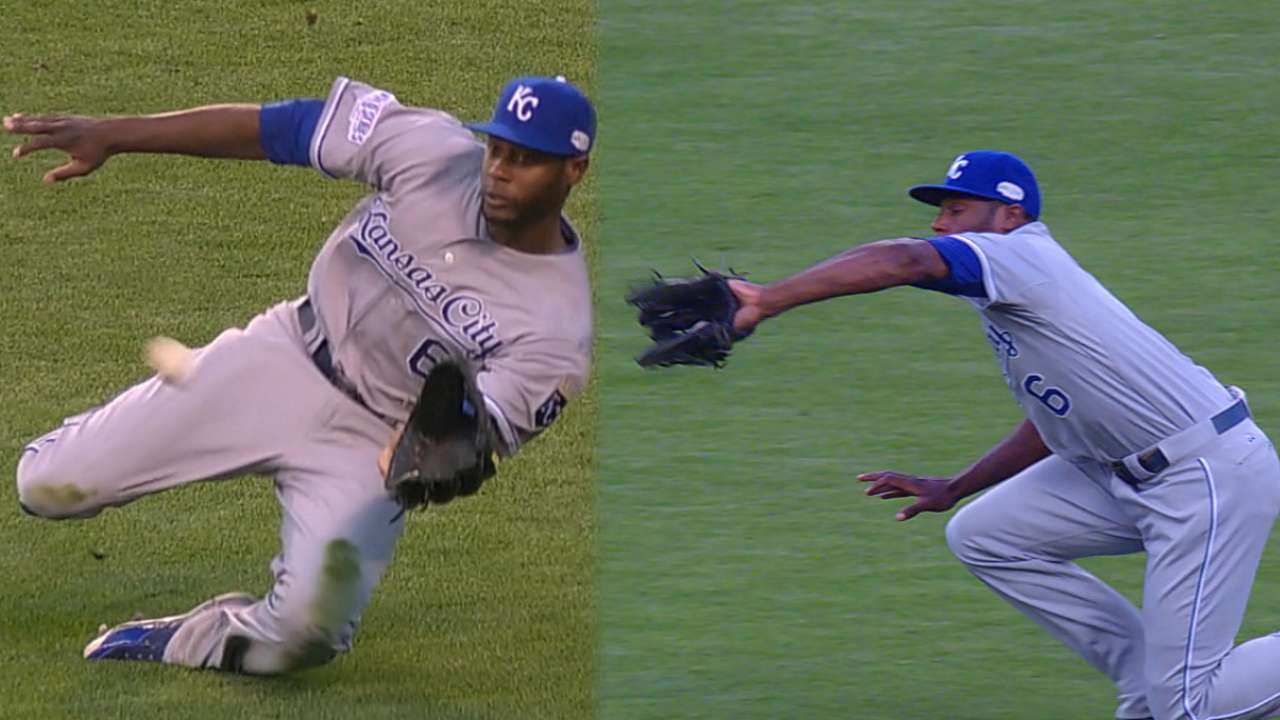 It's the little things the scouts remember. It is, after all, what they're paid to do. So when longtime Kansas City scout Art Stewart needs a story to illustrate the importance and impressiveness of the foot speed of Royals outfielder Lorenzo Cain, he thinks of a play that was the precursor to the play everyone else will remember.
It was Game 2 of the American League Division Series and the Royals were tied at 1 with the Angels. With one out and a 1-2 count in the top of the 11th inning, Cain bounced a ground ball to Gold Glove shortstop Erick Aybar, who did everything right. He charged the ball, fielded cleanly and threw a bullet to first. But it didn't matter. Cain was faster.
Royals first baseman Eric Hosmer was up next, and he blasted a 399-foot home run to right field to give Kansas City a 3-1 lead. That is what the fans remember.
"If Lorenzo doesn't leg out that ground ball, Hosmer gets up there with two outs and maybe he doesn't get the opportunity to give us that cushion," Stewart says. "We won that game basically because Lorenzo beat that out and got something started."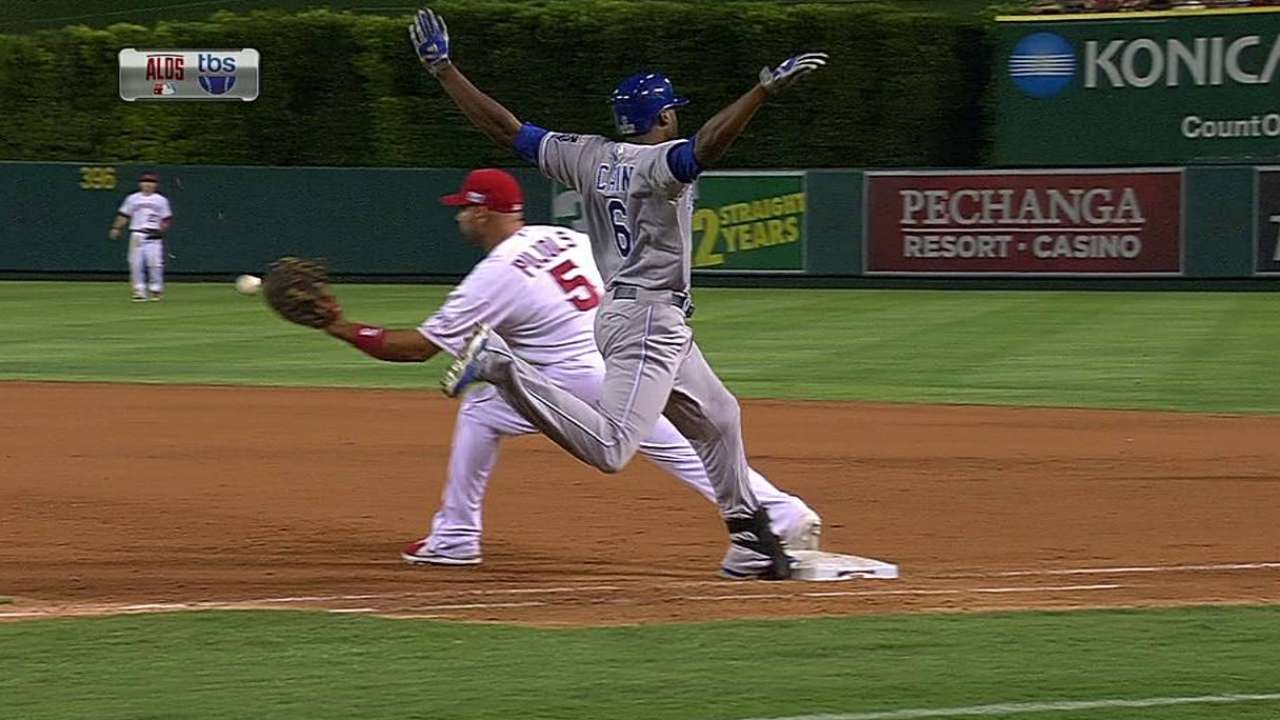 It is that blazing speed on the basepaths, and in the outfield, that has Stewart and every Kansas City fan who was alive to see the Royals' World Series win in 1985 comparing Cain to then-center fielder Willie Wilson.
Royals Hall of Famer George Brett puts it bluntly: "They're both black guys who play center field, wear No. 6, run really fast and make great catches in the outfield."
But the similarities go deeper than that. Here are 10 reasons Cain may well be the reincarnation of Wilson.
1. They both wear No. 6
This, the Royals say, is a pure coincidence. The No. 6 was allegedly the only low number available when the Royals acquired Cain in the December 2010 trade that sent ace Zack Greinke to the Brewers.
2. They strike the same silhouette
They're both long and lean, with the self-assured strut of a sprinter. Cain is 6-foot-2, 205 pounds. Wilson was 6-foot-3, 200 pounds in his playing days. And if you've seen Wilson lately, the fit-and-trim 59-year-old still looks like he could play.
3. Baseball was their second choice
As a teenager, Wilson was a two-time All-State football player for Summit High School in New Jersey and had signed a letter of intent to play baseball at the University of Maryland, but he opted to play baseball professionally because his family needed the signing bonus. Cain didn't play baseball until the 10th grade at Madison County High School in Florida when he got cut from the basketball team.
4. Identical career on-base percentages
Cain and Wilson have identical .326 regular-season on-base percentages. Wilson's hit .365 in 1982, his fourth full season, while Cain's was .339 this season, his fourth with the Royals. So Cain will need to get on base more to match Wilson's peak. Wilson also may have gotten on base with a touch more flair; he led the league with 21 triples in 1985, 15 in '80, '82 and '87 and 11 in 1988.
5. Nearly identical slugging percentages
Wilson had a .408 slugging percentage during the 1985 regular season. Cain had a .412 slugging percentage this year, a career best. Wilson's slugging percentage topped out at .431 in 1982. "Willie may have had a little more power than me and he did it over a longer period of time," says Cain. "But that's what I'm working toward."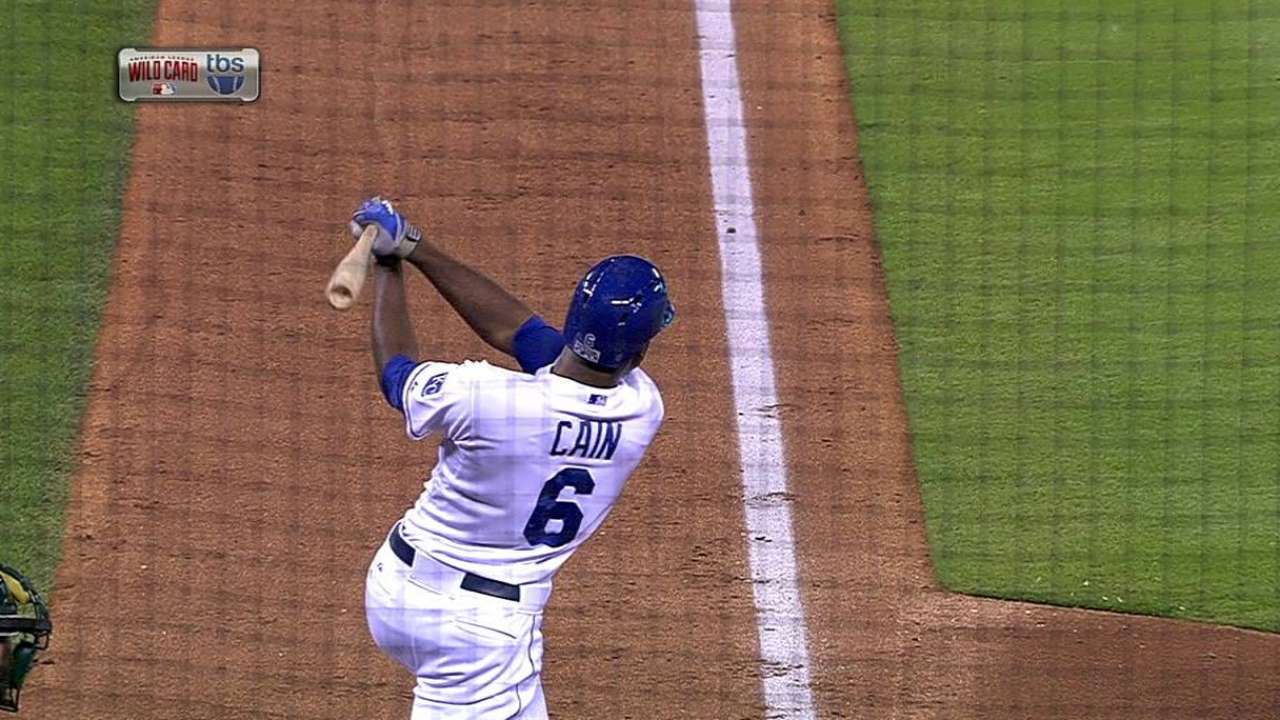 6. Big fans of big nights
Cain has six multihit games through the Royals' first 12 games this postseason. Wilson had six multihit games through the Royals' first 12 postseason games in 1985. He went on to finish with seven multihit efforts. This postseason, Cain's batting average is now up to .327 (16-for-49), edging even closer to Wilson's .339 (20-for-59) mark from 1985.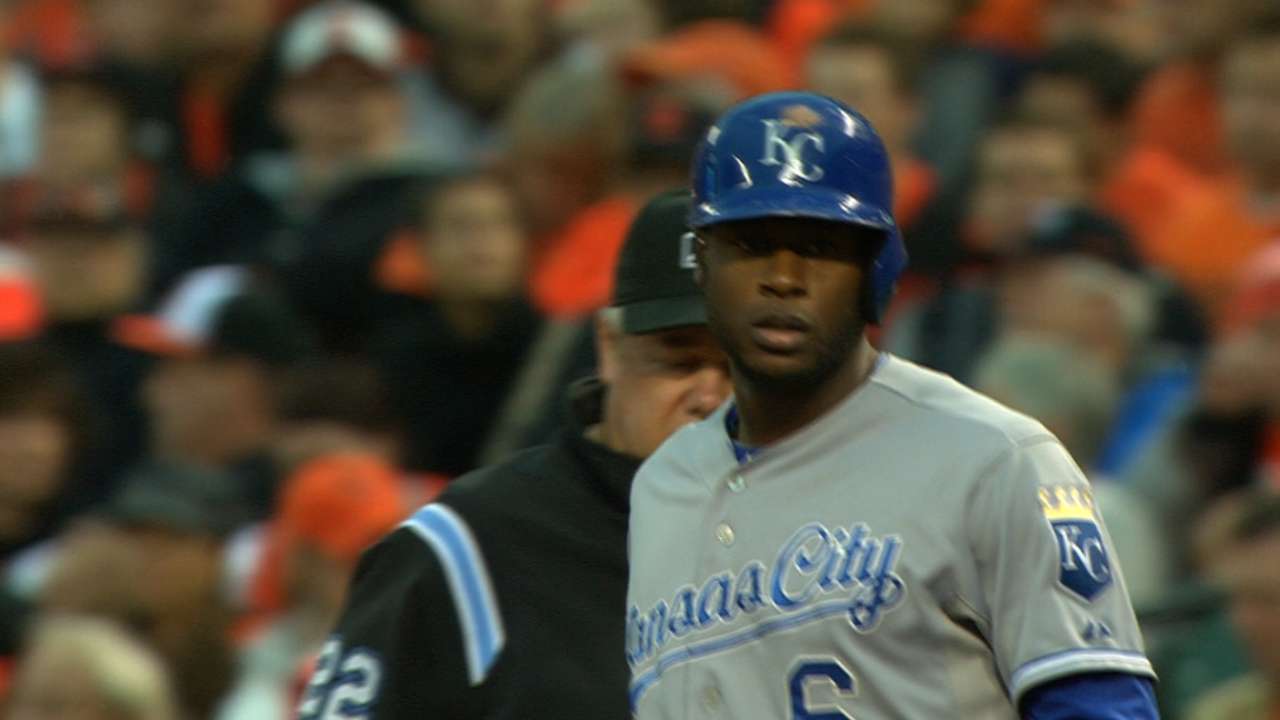 7. They own the AL Championship Series
Wilson holds the Royals' franchise record for most hits in a single ALCS with nine, set in 1985. Cain was just one behind him with eight in the ALCS this year -- tied with Brett and Hal McRae for second most in Royals history -- and was voted the series MVP. Wilson and Cain also each scored five runs and stole a base in their respective ALCS matchups.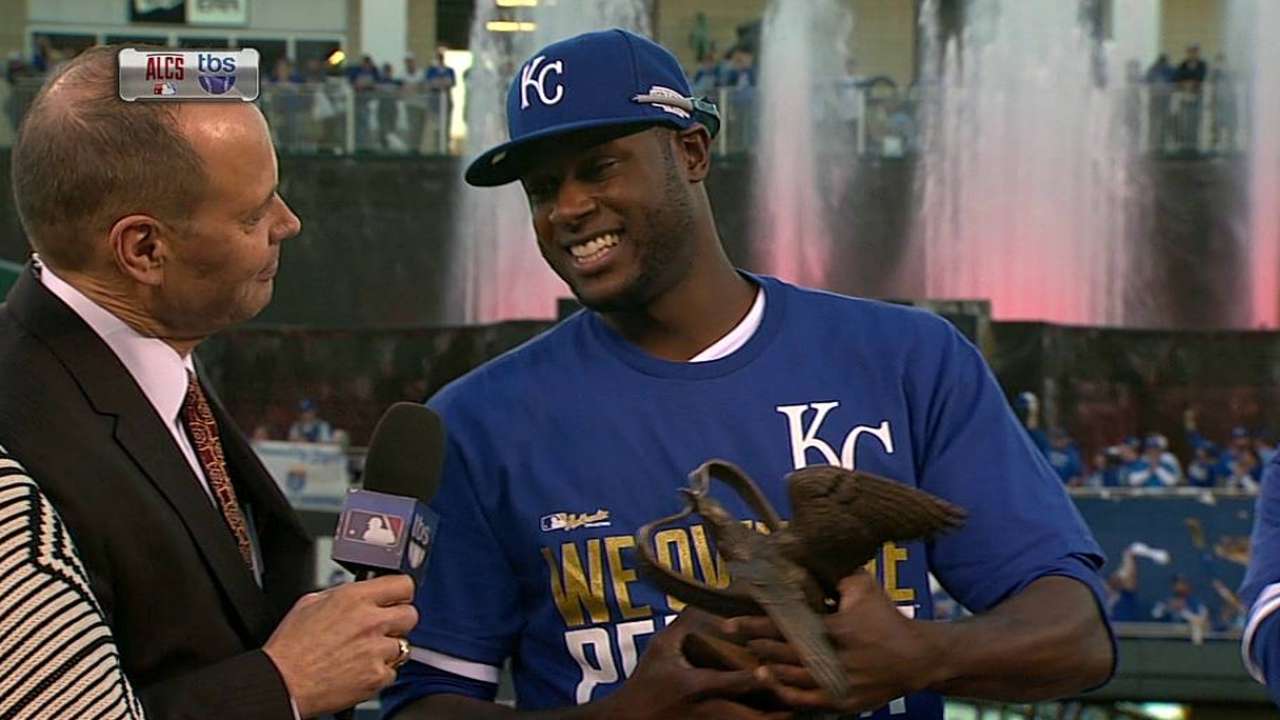 8. They kill with speed
Wilson and Cain's stolen-base numbers are eerily similar. Wilson had a career stolen-base percentage of 83.3 (668-for-802) and led every team he played on in stolen bases. Cain's percentage thus far is 83.1 (59-for-71). Wilson was slightly faster, both anecdotally and measurably. According to Stewart, Wilson ran a 3.80 from home plate to first base, while Cain is a 4.0. And in the outfield, Wilson played most of his career on artificial turf, which accentuated his speed.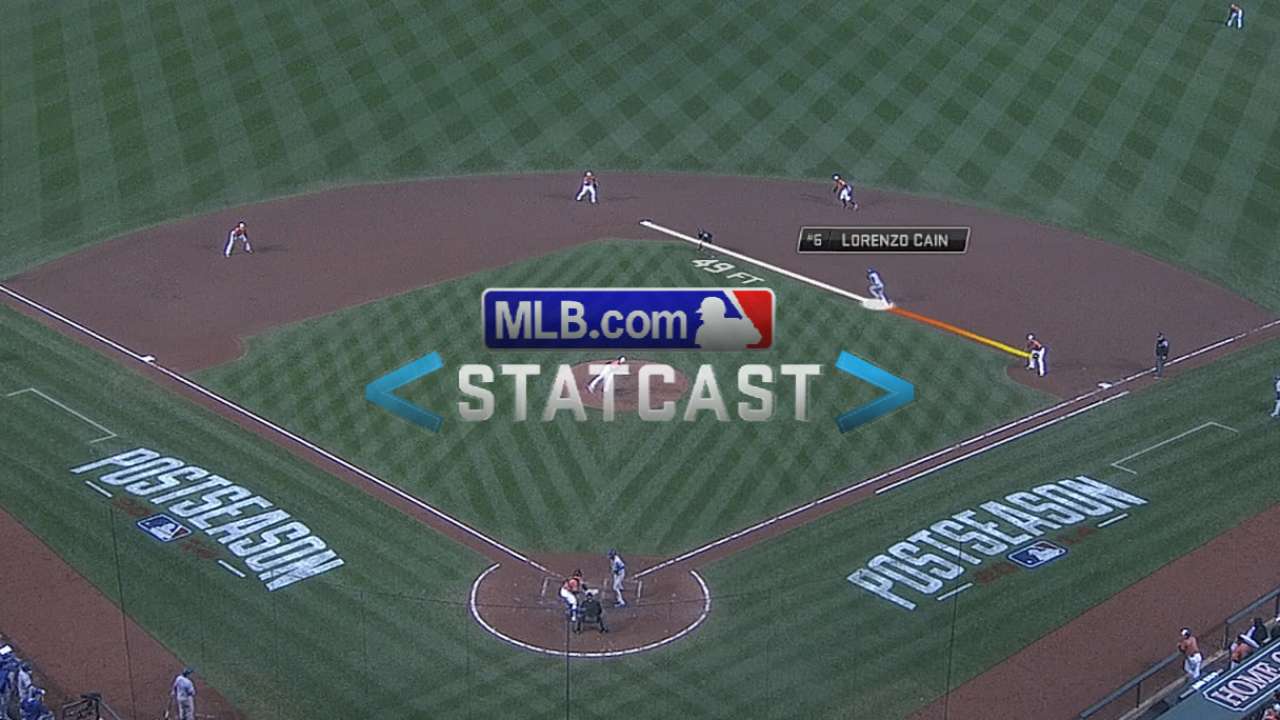 9. Gunning to hit .300
Granted, this is a new one for Cain. He hit .301 this year, and it was his first season above .300, while Wilson hit over .300 five times in his career over full seasons. Stewart, though, sees Cain improving. "Lorenzo is just coming into his own," he says. "You're going to see better years from him. You're going to see a .300 hitter and a guy who can steal a lot of bases."
10. They'll lay it all out
For both Wilson and Cain, making diving catches in the outfield is par for the course. While Wilson won a Gold Glove Award in 1980 at the age of 25, Cain, though widely considered a potential candidate, was left off the nomination list this season. But, at 28 years of age, he still has time. "I like Lorenzo's attitude and the way he goes after the ball with reckless abandon," Wilson says. "His routes are very good and he gets there. I like the way he dives and curls up when he does it."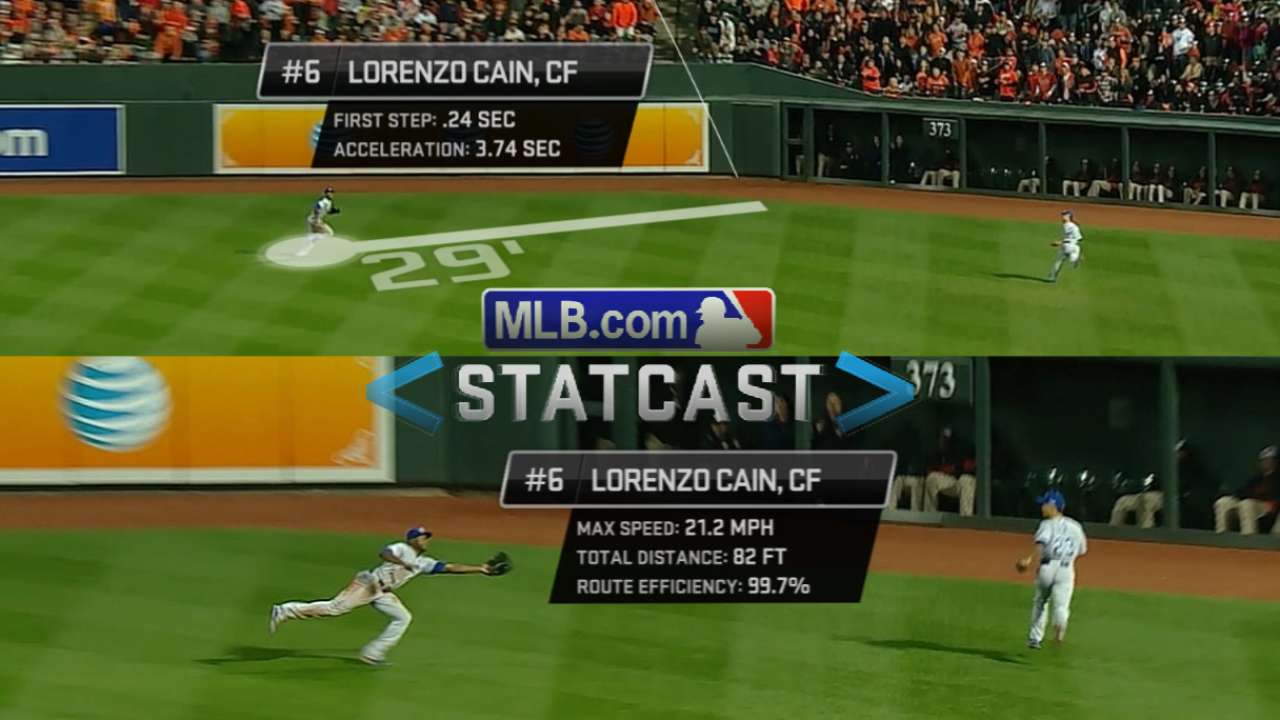 Lindsay Berra is a columnist for MLB.com. This story was not subject to the approval of Major League Baseball or its clubs.