MLB.com Columnist
Anthony Castrovince
Middle relief becoming increasingly crucial this Series
KC can't get Game 4 to stellar back end of 'pen; SF holds down fort after short Vogelsong start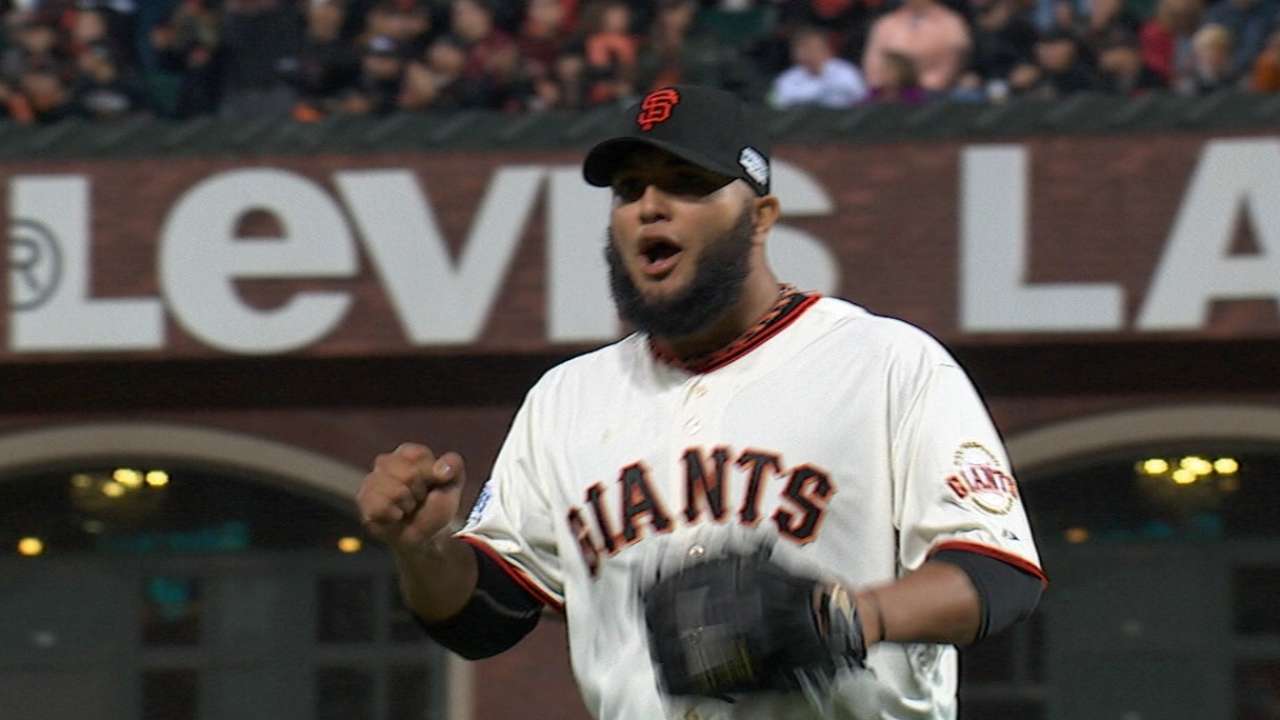 SAN FRANCISCO -- It's all about the bridge to the bridge. And no, I'm not talking about taking the Bay Bridge to get to the Golden Gate Bridge when you're driving from Oakland to Sausalito, Calif.
I'm talking about the middle innings, the strangely predominant innings in a World Series that has yet to have a game to be decided in the ninth and has featured three blowouts in four games, but has still somehow managed to provide nightly nail-biters.
When it comes to the traditional bridge -- the bridge to the closer -- the Giants and especially the Royals are very well-situated. Jeremy Affeldt, for one, has been an underrated relief ace in his postseason career, so he's quite capable of getting the hold and handing it over to ninth-inning man Santiago Casilla. And we've talked about the brilliance of Kelvin Herrera and Wade Davis in setting up Greg Holland until we're Royal blue in the face.
Getting to those guys with a lead, though, is the nightly tightrope upon which these two skippers -- Bruce Bochy and Ned Yost -- have been walking. When a guy not named Madison Bumgarner is pitching, you simply don't know what you're going to get in this Series. And in Game 4 on Saturday night at AT&T Park, Yost and Bochy got a grand total of 6 2/3 innings out of Jason Vargas (four) and Ryan Vogelsong (2 2/3). The game was decided after that, and as you might have noticed, it was a game in which the Giants' bridge to the bridge (primarily, Yusmeiro Petit) was strong and sturdy and the Royals' bridge to the bridge (Jason Frasor, Danny Duffy and Brandon Finnegan) came falling down in an 11-4 loss.
"It just didn't work tonight," Yost would say afterward. "It doesn't work every night, you know. Most nights we do a pretty good job doing it. It just didn't work tonight."
Let's expound upon that point.
The Royals had a 4-2 lead when their starter came out of the game. That would have been an awesome arrangement in the seventh. Bring out Herrara-Davis-Holland and sing "How Sweet It Is" of Holland-Dozier-Holland fame.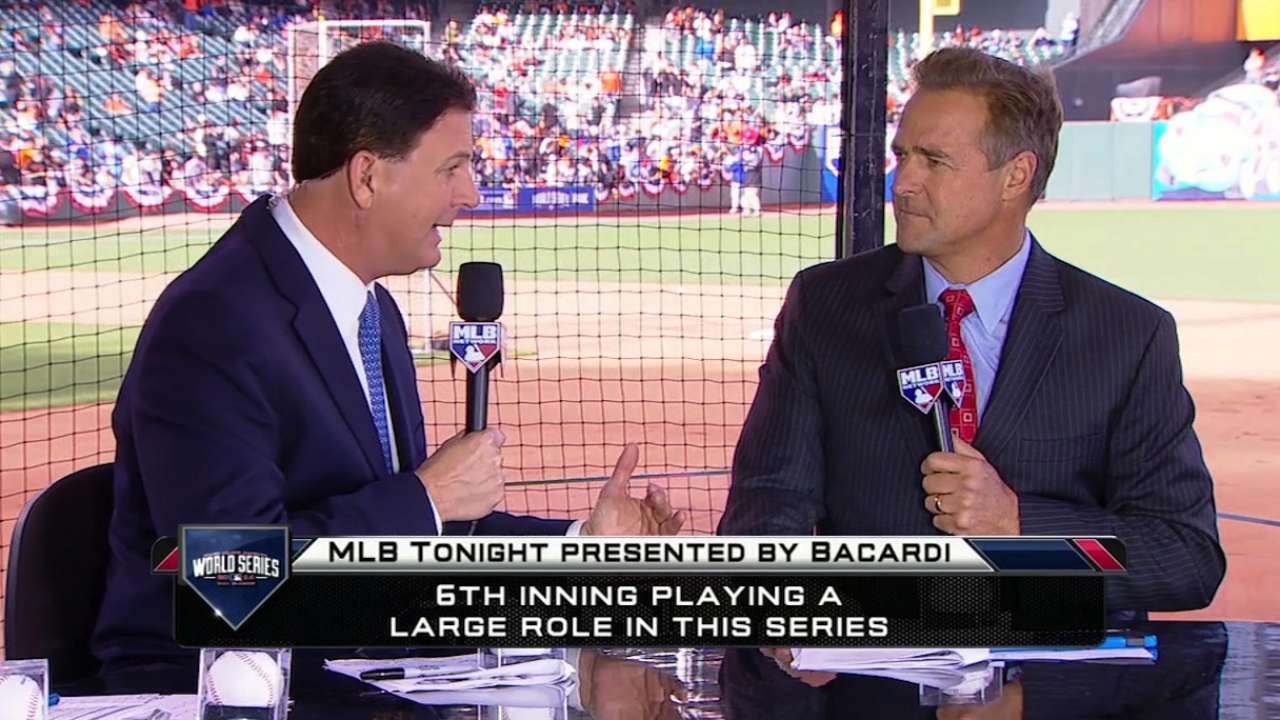 Alas, this was the fifth. With a runner on, no less. And this is the primary point of vulnerability for an otherwise calm and confident Royals club.
Yost has alluded to this all October. He's said the HDH trio is enough to make him or any skipper look brilliant. The inning that concerns him is the sixth. That's where Yost has to earn his meal money.
Well, in this case, the work began an inning early. The slow pace of the four-hour Game 4 ensured that Vargas did in fact pitch deep into the night. He was lifted well over two hours after first pitch. But that was only 12 outs into his outing, which is a little less impressive.
"I was really trying to get him through that fifth inning," Yost said, "because I knew I'd have a hole there somewhere if we couldn't get him through."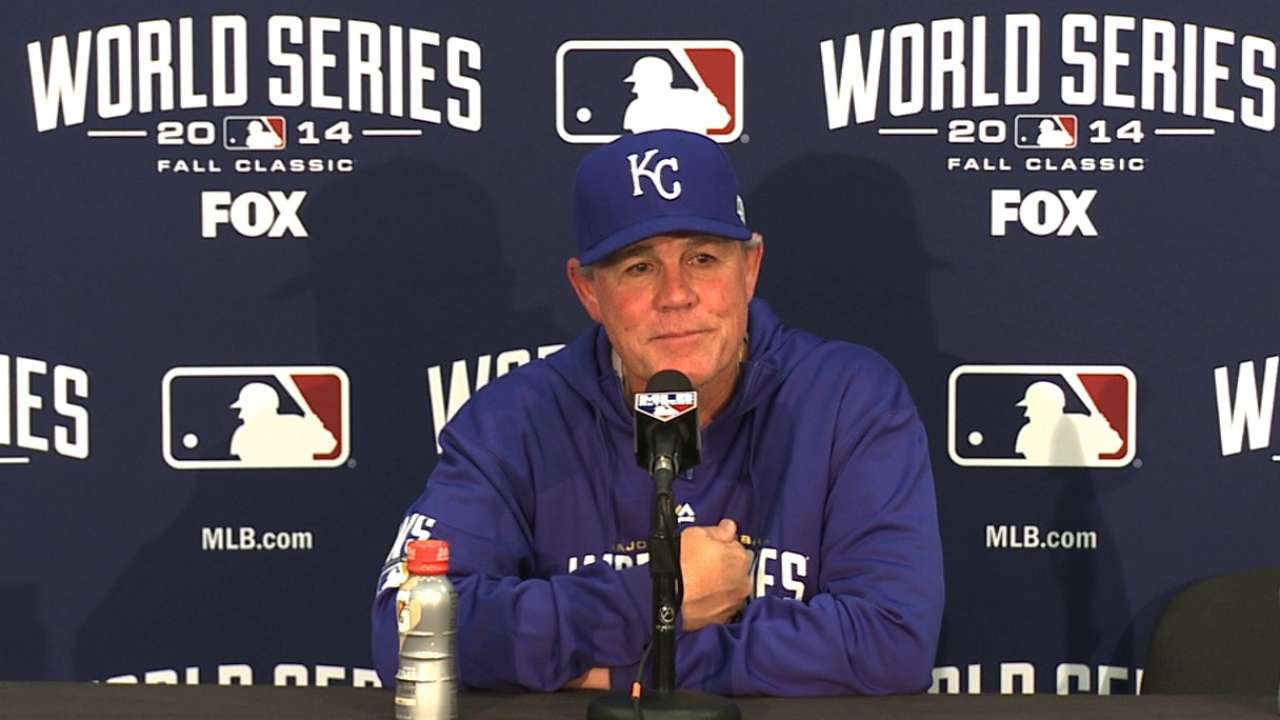 It was a Joe Panik double -- a rare burst of extra-base hitting on a night in which the Royals were slashed and singled to death -- that prompted Vargas' exit. It was left-on-left crime, and with dangerous righties Buster Posey and Hunter Pence looming in the southpaw Vargas' third time through the order, Yost made the right call to summon the right-handed Frasor.
Of course, just because it was right (on right), doesn't mean it worked. Posey grounded out, but Pence did a very Pence-like thing by singling on a grounder up the middle to bring Panik home to make it 4-3. And with the switch-hitting Pablo Sandoval (who has had another awful year from the right-hand side against left-handed pitching) and the left-handed Brandon Belt coming up, Yost had to keep playing a Tony La Russa-like matchup game.
So down goes Frasor, and up comes Duffy. This is the guy who sat almost untouched for the first three weeks of the postseason, but shook off the relative rust to provide quality relief length when James Shields suffered an early exit in Game 1. On this night, though, Duffy's command was shaky. And although the only other damage off Duffy in that inning was a sacrifice fly, it was the game-tying one, and Yost certainly wasn't going to let him bat with the pitcher's spot due up in the sixth.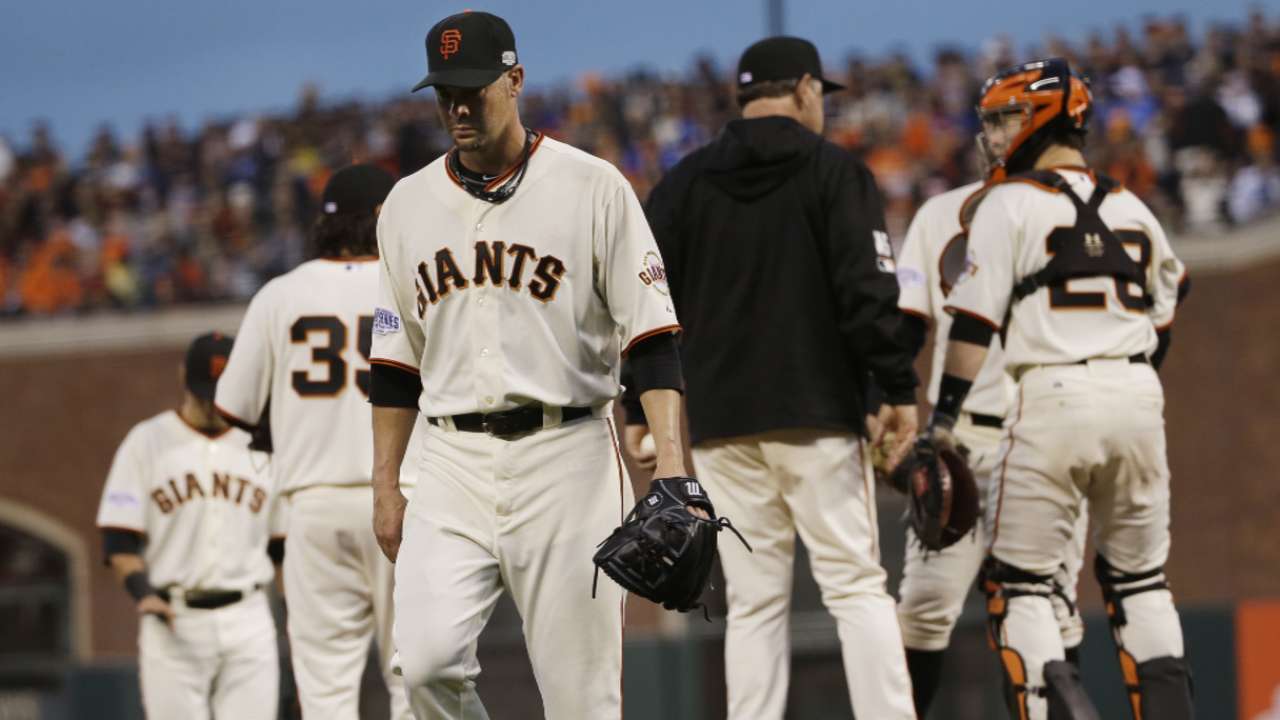 That meant somebody had to pitch the sixth, and this was just a night in which Yost didn't want to push it with Herrera. The right-hander had thrown 32 pitches in 1 2/3 innings in Game 2 and 27 pitches in 1 1/3 innings in Game 3. Even with a day off in between, that's a pretty hefty workload at this point.
Besides, the Giants had two lefties -- Gregor Blanco and Panik -- due up in the sixth. So again, it made all the sense in the world to summon Finnegan, even if there has been a concern among the Royals that the kid's first real hiccup might come in a big moment.
Well, it came in the sixth. And it wasn't Yost's fault. And frankly, it's hard to pin much fault on Finnegan. The Giants simply beat the Royals at their own game. A soft Joaquin Arias liner, a Blanco bloop, a sacrifice bunt and an intentional walk to load the bases. And then one out later, the daggers -- Sandoval's line-drive single to center that scored two and Belt's seeing-eye single up the middle that scored another to make it 7-4.
If it wasn't over then, Tim Collins ensured as much an inning later. Poor Collins warmed up four times before he was actually inserted into the game, and if he was fatigued, it showed when the Giants erupted on him in the four-run seventh. Maybe we should take Yost to task for what he did to Collins, but Collins was only a sacrificial lamb because of the short stint Vargas provided on a night when the Royals really needed to preserve their fearsome bullpen threesome.
So like Yost said, it just didn't work. You compare that with what Bochy got after Vogelsong's blink-and-you-missed-it performance, and it's night and day. Petit didn't have Pence's RISPy performance or Sandoval's swagger, but he was, for my money, the star of this game, with three innings of outstanding work to neutralize these contact-prone Royals bats. He allowed just two hits with two strikeouts before turning it over to Affeldt with a three-run lead.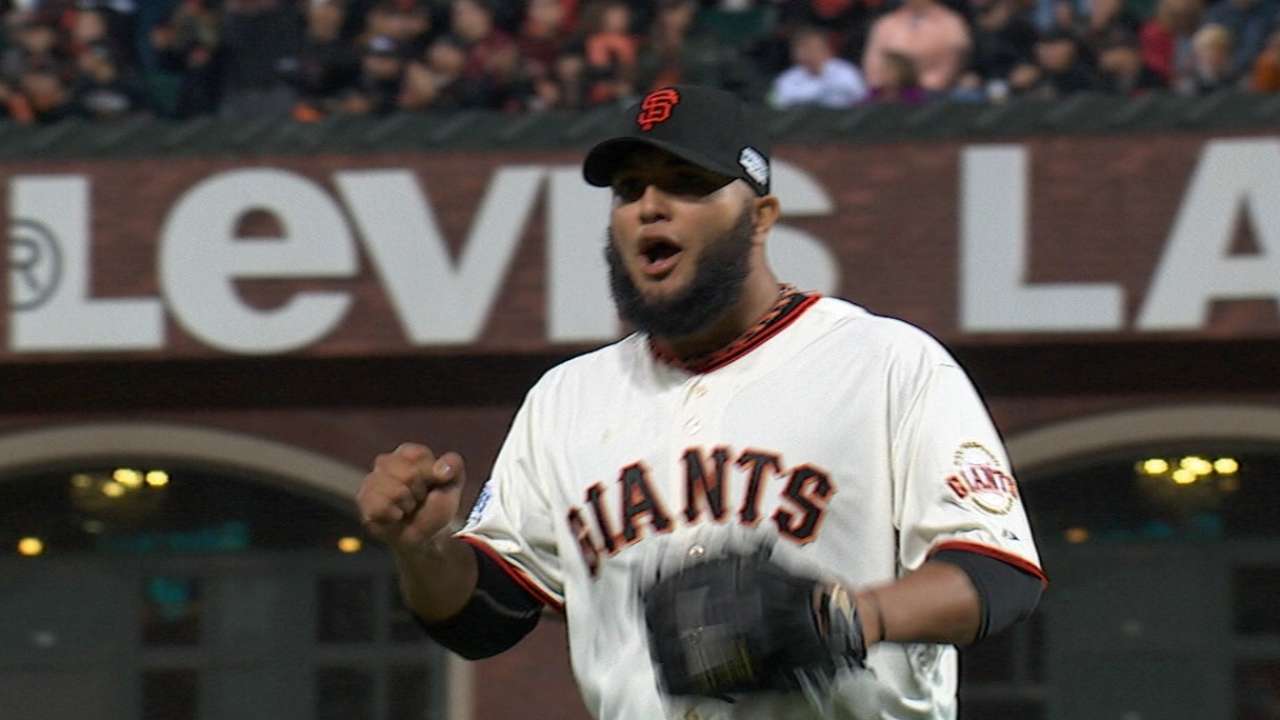 "A long guy like Petit, who seems to calm things down the way he goes about his business -- and of course, the way he pitches -- he gave us exactly what we needed," Bochy said. "He held them there. He gave us a chance to come back."
The point keeps getting hammered home: The middle innings are everything in this Series, and those innings have largely been left to the relievers. The Giants' bullpen has accrued 14 2/3 of the 35 innings pitched. Royals relievers have worked 17 2/3 of 35 -- the 12th-most all-time through four games of a World Series.
Breaking down the managerial decisions is interesting, but ultimately it all comes down to who is or isn't executing in those middle innings. It all comes down to who has the bridge to the bridge. In Game 4, the bridge belonged to the Giants, who now have the best bridge of all -- Bumgarner -- going in Game 5.
Anthony Castrovince is a reporter for MLB.com. Read his columns and follow him on Twitter at @Castrovince. This story was not subject to the approval of Major League Baseball or its clubs.