Pence puts every tool on display when Giants need it most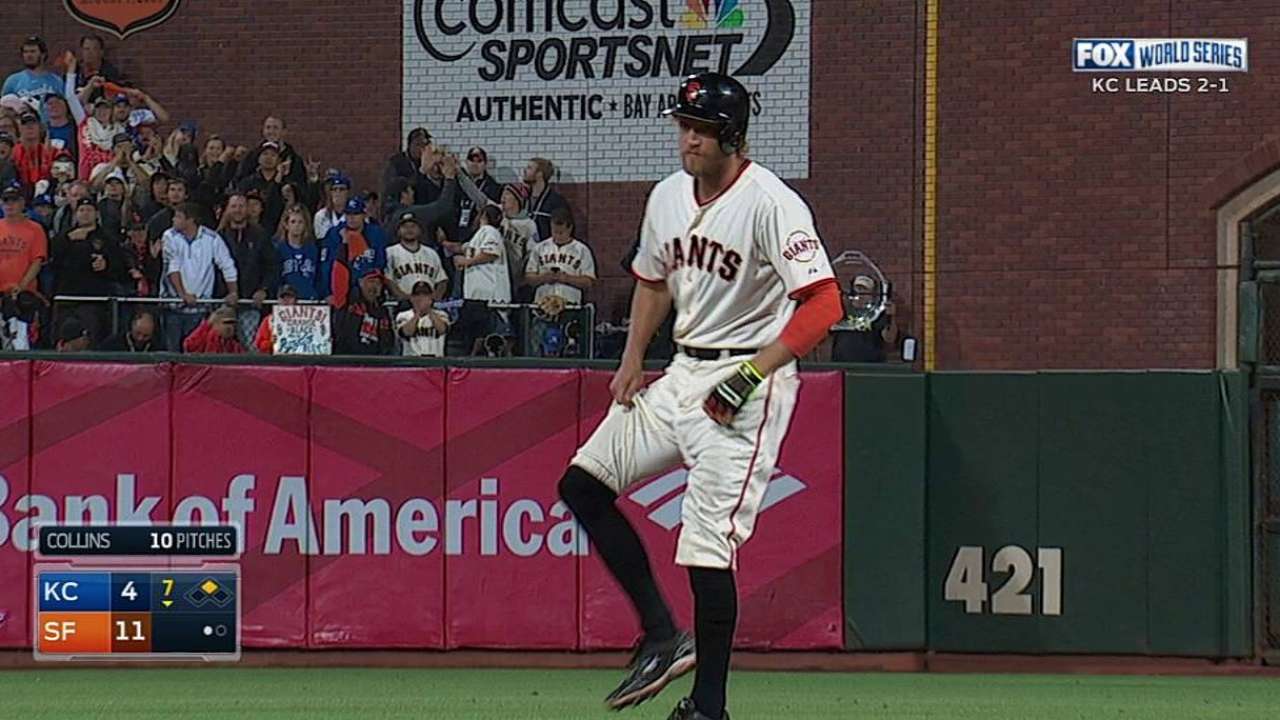 SAN FRANCISCO -- Offense, running the bases, tracking down balls in the outfield, heck, even giving pregame pep speeches -- Hunter Pence does a little bit of everything for the San Francisco Giants.
That was never more evident than Saturday night when Pence played a key role in the Giants' 11-4 win over the Royals in Game 4 at AT&T Park that knotted the World Series at two games apiece.
"He brings a lot of energy," Giants catcher
Buster Posey
said. "The guy has a really strong desire to win and leaves everything on the field."
Pence finished the game 3-for-5 with a double, two runs scored and three RBIs. He had an RBI single in the fifth and an RBI double in the seventh, but as is usually the case with Pence, the numbers don't tell the whole story.
"We love it when he's up to bat, love it when he's on base, or even on the field, because we know he's going to make something happen," Giants first baseman Brandon Belt said.
With runners on first and third and one out in the first inning, Pence hit a grounder to third and was able to beat the throw to first, preventing the Royals from turning a double play and allowing the Giants to score the game's first run.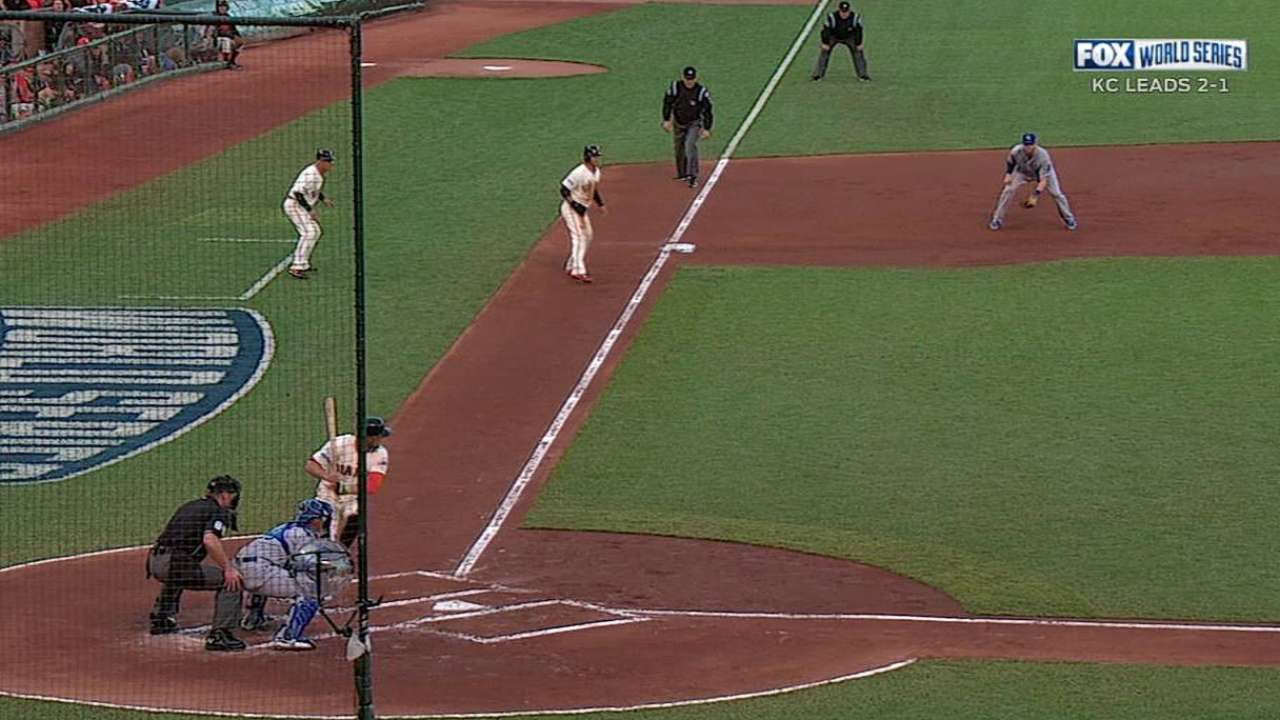 That Pence was able to beat that relay throw no doubt was a main reason why Kansas City shortstop Alcides Escobar elected to come home for a forceout on Pence's grounder in the sixth inning, rather than try to turn what could have been an inning-ending double play. Thanks to the inning continuing, the Giants were able to tack on three more runs.
"He just never gives up," reliever Jeremy Affeldt said of Pence. "Even when he hits a ground ball, he's going to run as hard as he can, and look what happens. He beats them out. He beats double plays out. He sometimes gets hits. He manufactures runs that way if he has to. He runs balls down in the outfield. Even if he hits the ball on the ground, his immediate thought is not, 'Oh I just grounded out.' His immediate thought is, 'Maybe I can outrun it to first.'
"That's the kind of guy he is, and for me, if you don't have a guy like that on the team, I don't think we're in the position we're in."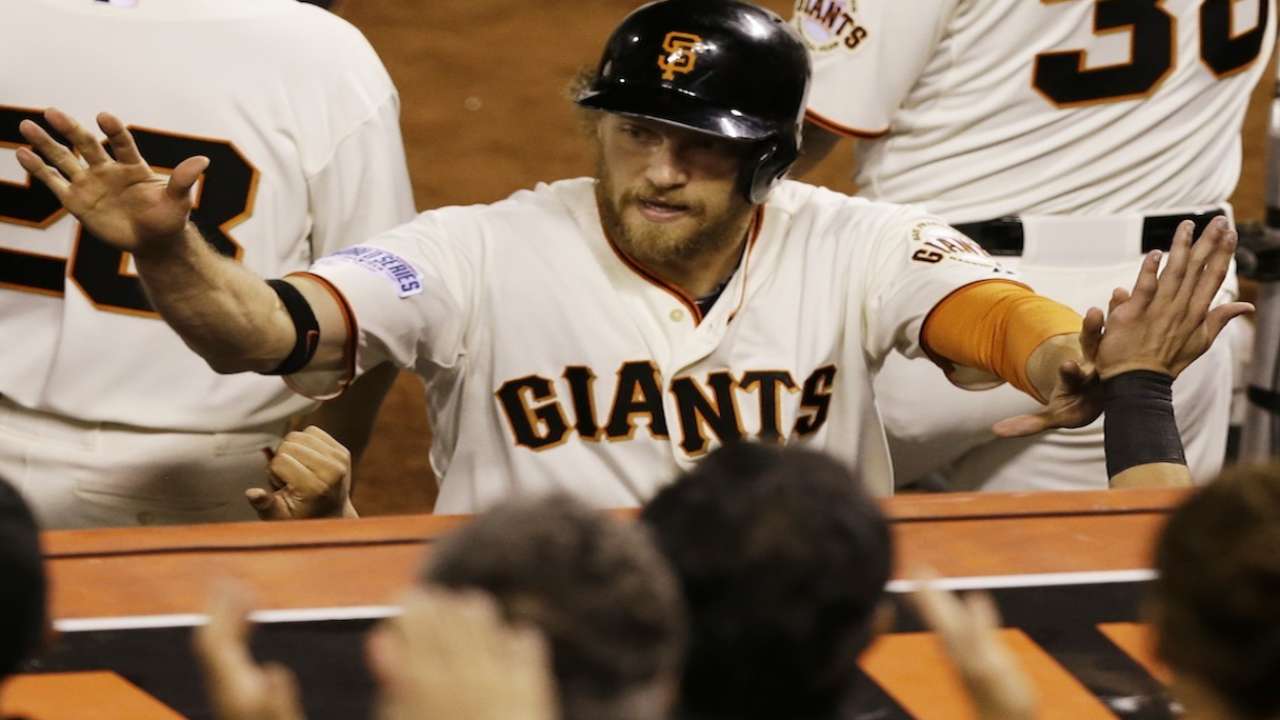 Pence's eccentricities -- the scooter he rides to and from the ballpark, his unorthodox swing and throwing motion -- tend to overshadow the fact that he's a really smart, talented player.
His smarts were evident in the fifth when he was able to go back and tag up at third base on a sinking ball to center that Jarrod Dyson made a diving catch on. A lot of runners might have gotten too far off third thinking the ball was going to drop and not have been able to get back to tag.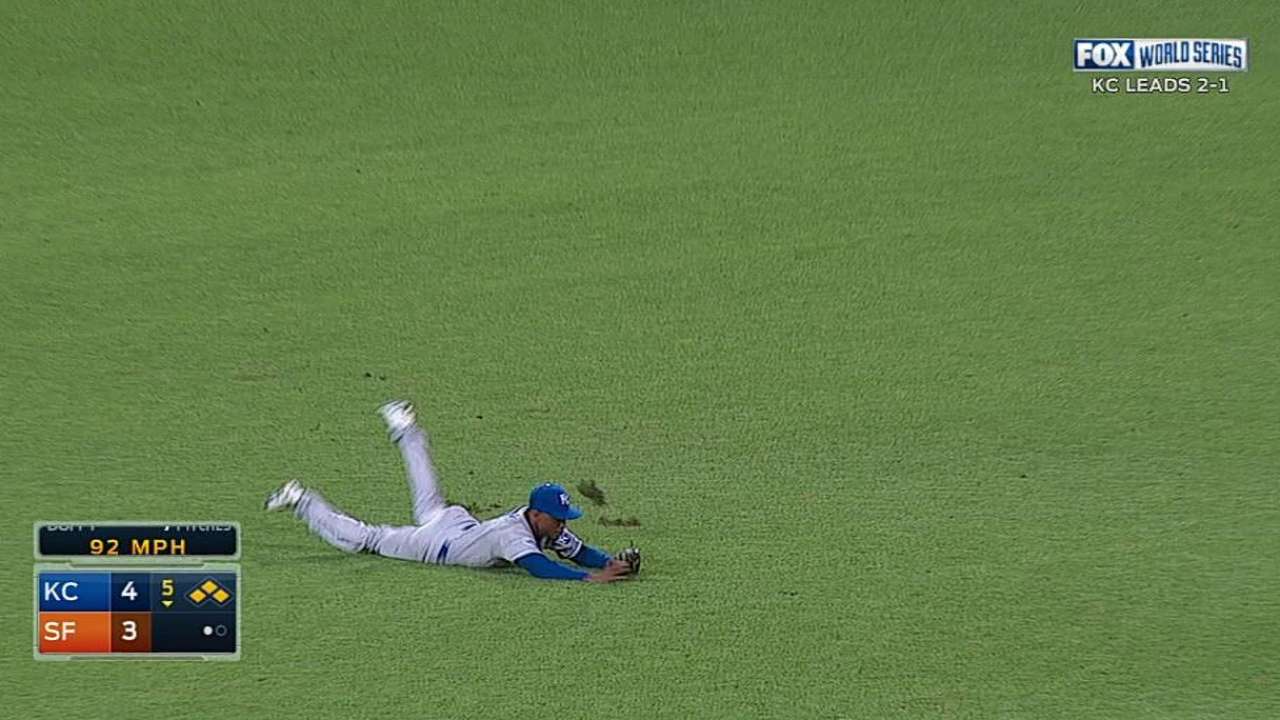 "With Hunter's self-proclaimed super speed, he got in," Belt said.
And then in the ninth, he made a nice sliding catch on Lorenzo Cain's blooper to right.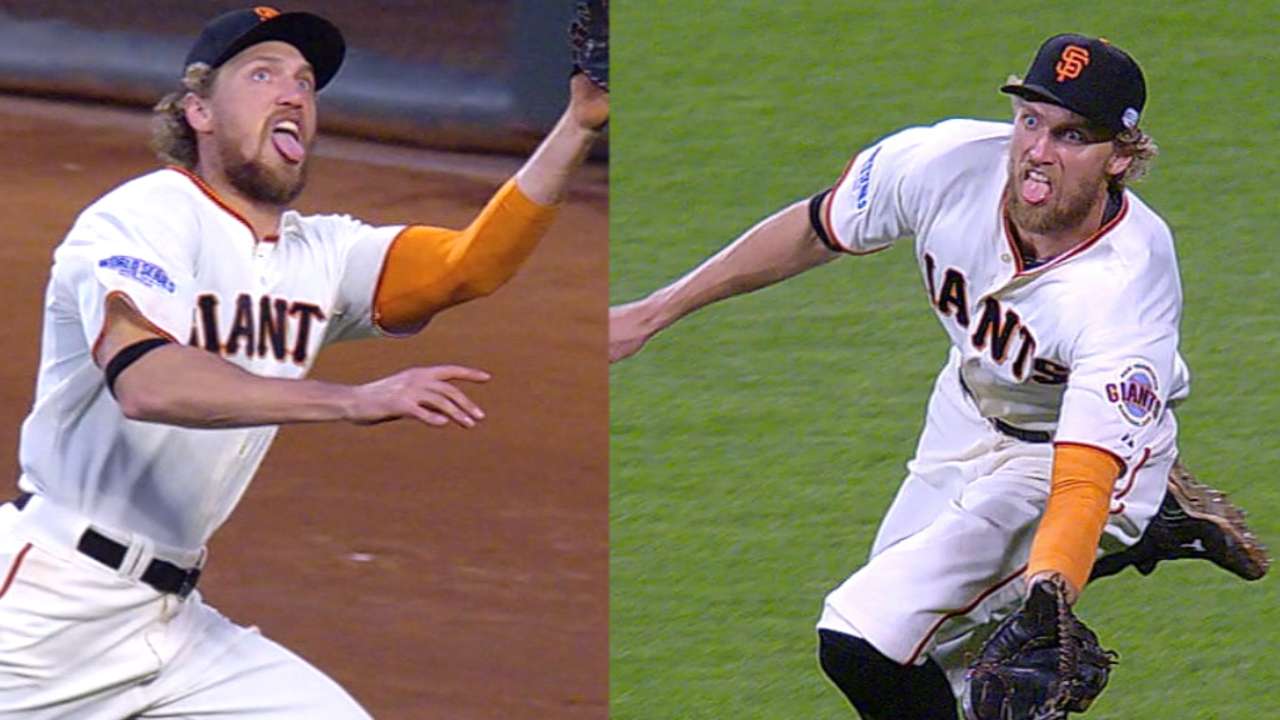 Pence is hitting .467 in the Series, and he's reached base safely in 17 consecutive postseason games dating back to Game 2 of the 2012 World Series.
"If I was to say the keys to my success, it's trying not to do too much sometimes," Pence said. "I think I had struggles when I was younger, and I still have a lot to learn and get better. But to me, sometimes I get a lot of infield hits even. Putting the ball in play gives you a chance to get a hit. So I just try to see the ball, slow down, and get a good pitch to hit."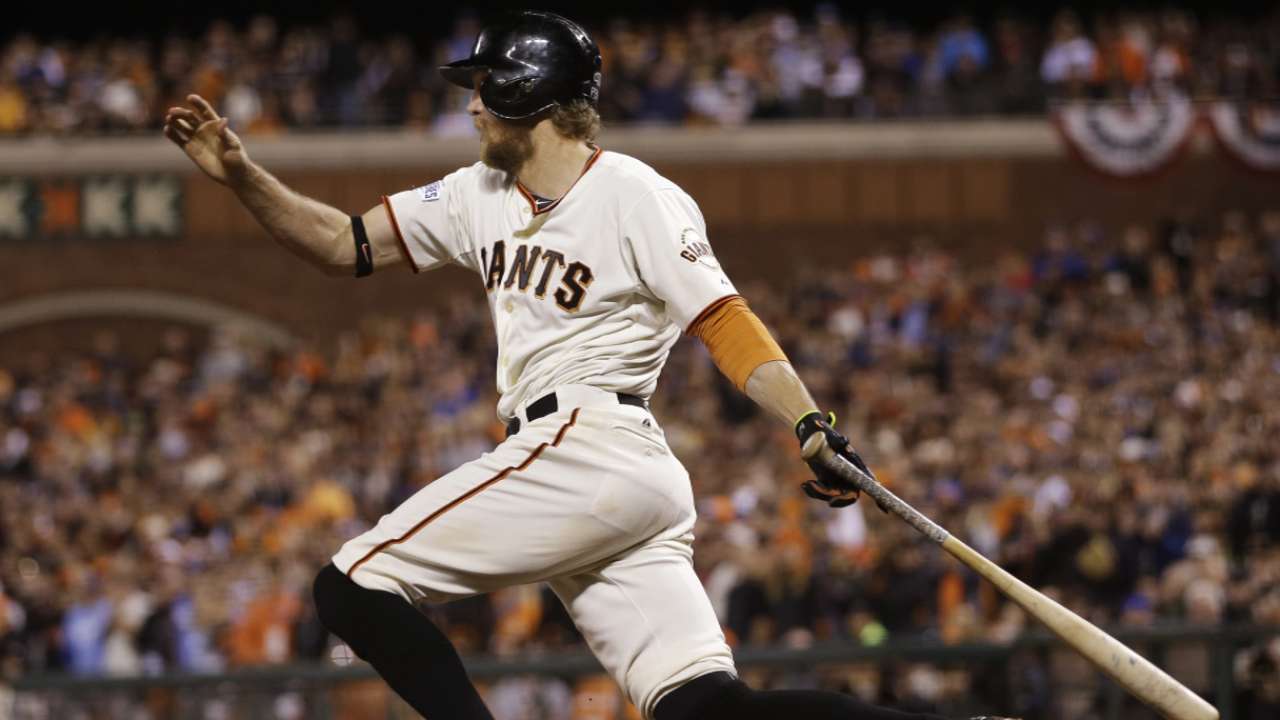 Steve Gilbert is a reporter for MLB.com. Read his blog, Inside the D-backs, and follow him on Twitter @SteveGilbertMLB. This story was not subject to the approval of Major League Baseball or its clubs.