Momentum changer: Aoki's DP in sixth stunts KC threat
With speedy Dyson on first in tie game, Yost opts to play for two runs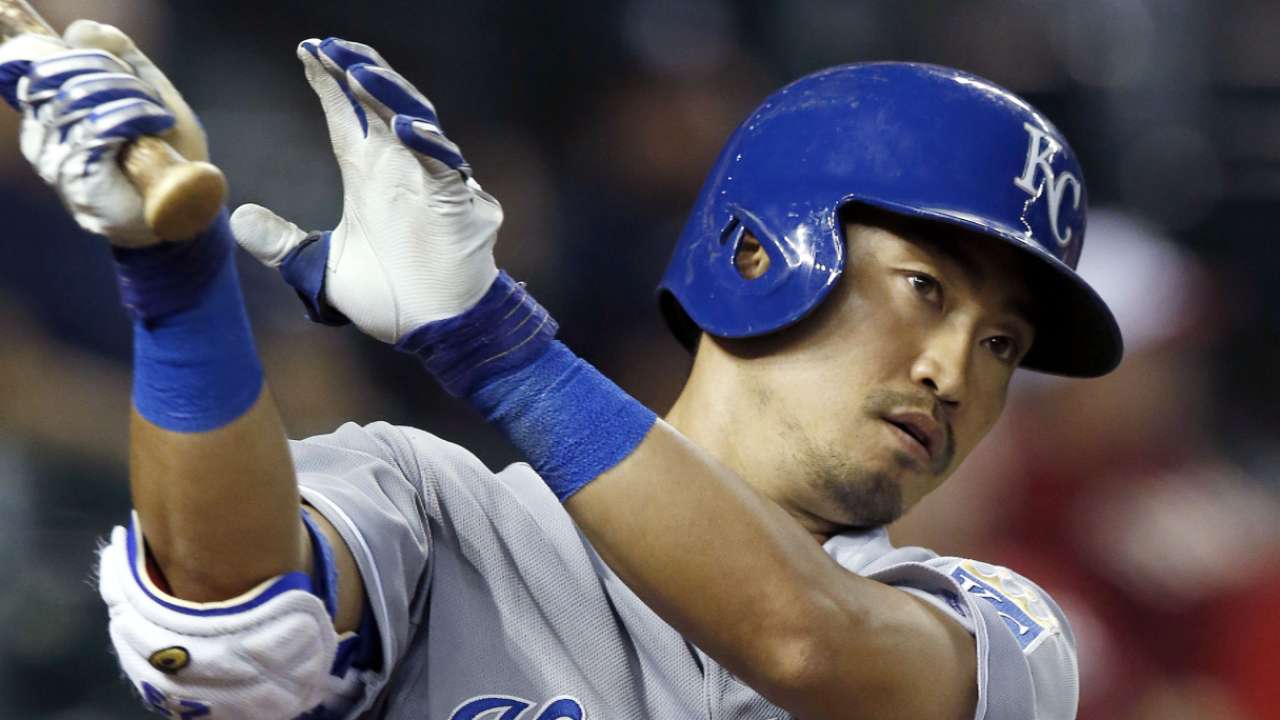 SAN FRANCISCO -- Even in one-sided games, there are sometimes what-if moments. Like in the top of the sixth inning of the Giants' 11-4 win over the Royals in Game 4 of the World Series on Saturday night at AT&T Park.
The Royals had just squandered a 4-2 lead by allowing two in the bottom of the fifth to knot the game at 4, but they were presented with the perfect opportunity to swing the game in their favor when center fielder Jarrod Dyson led off the sixth with a single to right against Giants reliever Yusmeiro Petit.
With the pitcher's spot due up next, Royals manager Ned Yost brought Nori Aoki up to bat with a chance to provide the most precious commodity this series has to offer: a lead after five innings.
With the go-ahead run on first in the form of the speedy Dyson, getting him into scoring position was of paramount importance. Should the Royals be able to then drive him in, Yost could turn the lights out with his bullpen triumvirate of Kelvin Herrera, Wade Davis and Greg Holland. The Royals haven't lost a game in the postseason when all have appeared.
Yet Dyson did not attempt to steal. And Aoki did not attempt to bunt him over. Instead, Aoki pulled the second pitch he saw sharply to first, where first baseman Brandon Belt started the rally-killing 3-6-3 double play.
"That was huge momentum," Giants second baseman Joe Panik said. "They had speed on the bases, and for [Belt] to turn that like that, that was big for us."
None of the Big Three pitched. The Giants scored three in the bottom of the inning, then won going away to even the best-of-seven series at two games apiece.
So what if Yost had Aoki, hitless in the World Series and batting .200 in the playoffs, bunt instead of swinging away?
"My thought was Nori's been swinging the bat pretty decent for us," Yost said. "I was going to bunt with [Alcides Escobar, the next hitter]. I wasn't going to play for one run there. I was trying to play for two. Nori can hit the ball to all fields, so we were looking for him to do that and he just hit the ball straight to first and into a double play."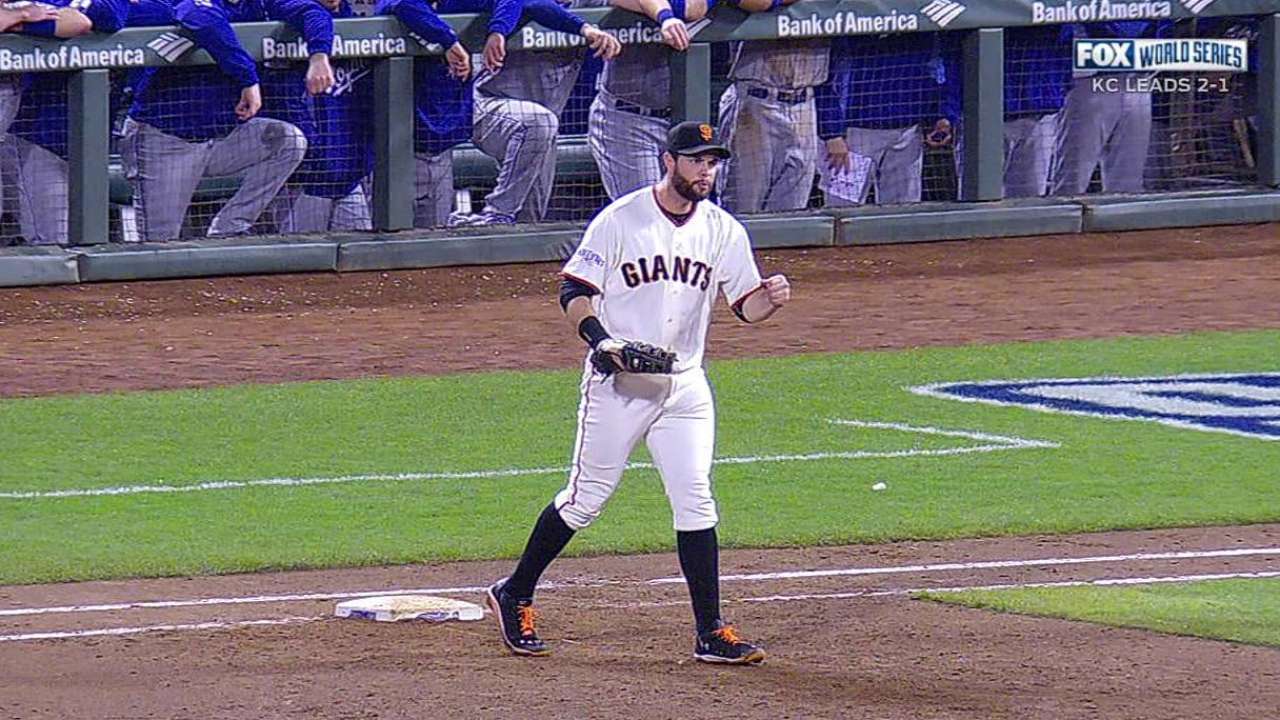 Through an interpreter, Aoki said he considered dropping one down on his own, but decided against it.
"I was thinking of, at worst, getting the runner over," he said. "It crossed my mind to bunt, but the third baseman [Pablo Sandoval] was playing pretty close. And the four hole was open, so I tried to hit it over there."
Instead, the ball went right to Belt.
What if the speedy Dyson had stolen second?
With Aoki swinging at the second pitch, he didn't have much chance. Dyson had been successful on 36 of 43 attempts, and runners had swiped 15 in 19 attempts with Petit on the mound, this season. Yet no attempt was made.
"If he went, I would have taken the pitch, but I can't go up there thinking he's going to go," Aoki said. "I can't be going up there taking a pitch until he goes, because then I'm putting myself in a bad count. So if I get a good pitch to hit, I have to swing at it."
Petit threw over to first once before his first pitch to Aoki.
"I didn't want to run right away because I knew they'd probably throw a high fastball or something like that," Dyson said. "I probably should have taken off, but I didn't. So we got doubled off. It happens."
Maybe it would have changed the outcome of the game. Maybe it wouldn't have. Yost brought Herrera in to pitch in the sixth inning in both Game 2 and Game 3 and he threw a total of 59 pitches in those outings. The manager said he didn't want to extend Herrera again, and was reluctant to use any of his bullpen aces once San Francisco went ahead.
"I was going to use Herrera in the seventh inning with the score tied, and I would have thought long and hard about it being down one. But I probably would have done it," Yost said. "But once the Giants scored three in the sixth, they were out of the equation unless we climbed back into the game.
"I've been going to the whip on those guys. I've got to have them for three more games. They have to be at their best. I wasn't going to put my boys in that ballgame down two."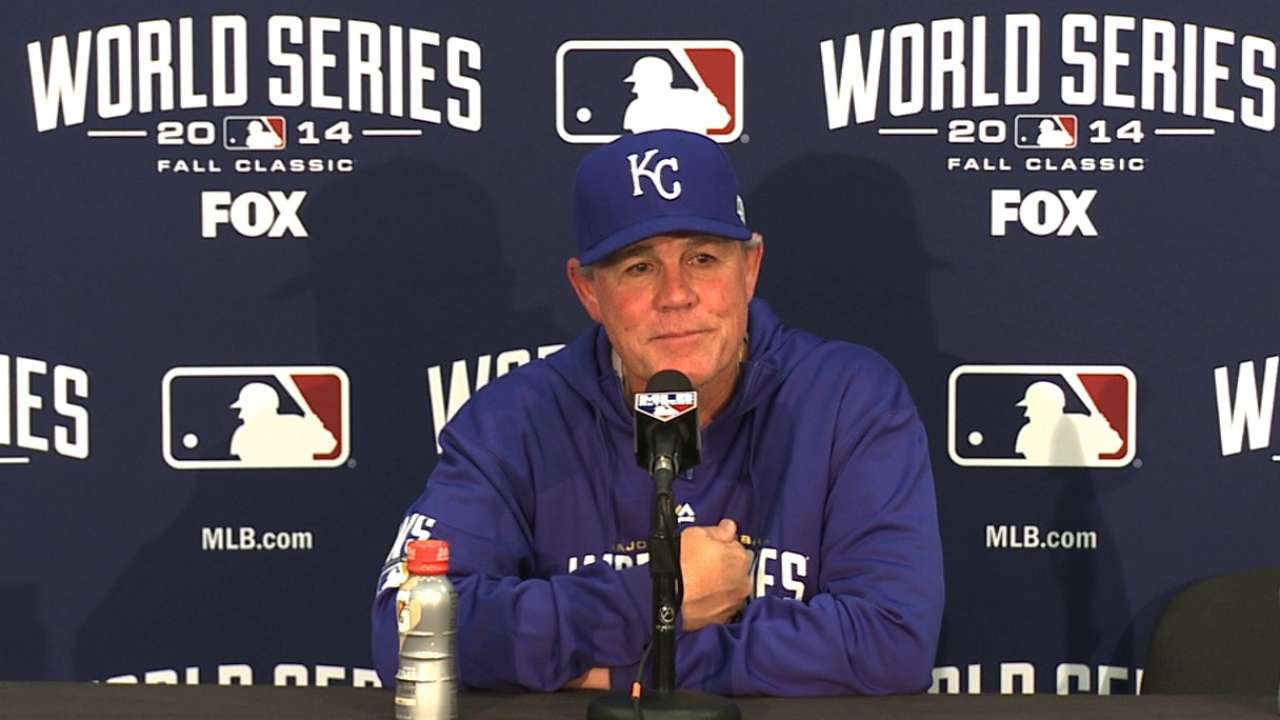 And so, with one swing of the bat, an opportunity to swing momentum in Game 4 was swiftly erased.
"That was a huge spot in the game, and I had the easy part right there," Belt said. "Petit's the one who got the groundout. We were tied at that point and they got the leadoff guy on, so just to have him get a ground ball there in a spot where we really needed it, that was huge for us. That really carried over for the rest of the game."
Paul Hagen is a reporter for MLB.com. This story was not subject to the approval of Major League Baseball or its clubs.