Giants strike before Royals can utilize potent relief trio
Club beats KC at its own game by rallying in fifth, sixth with well-placed hits, sacrifices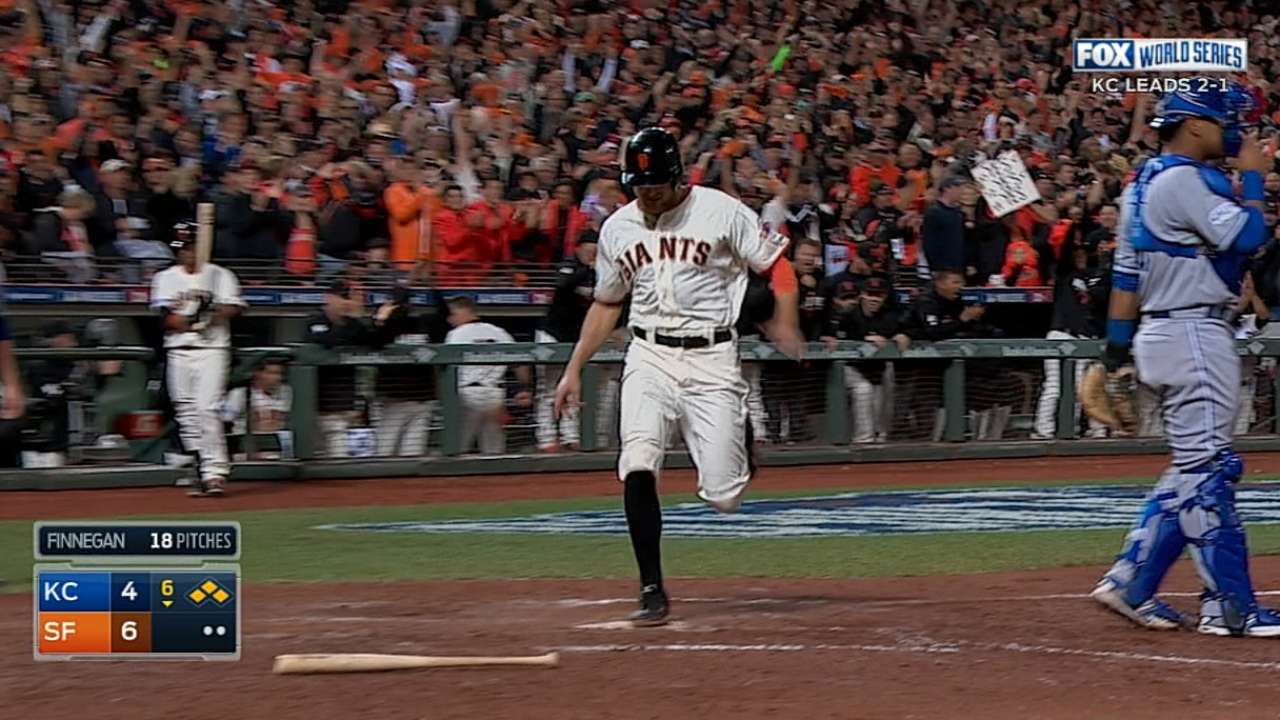 SAN FRANCISCO -- AT&T Park is a throwback in many ways, none more conspicuous than the bullpens wedged along each foul line. There are no secrets here. If a gaggle of the best relievers in baseball begins stirring in the later innings, even the cheap seats can see.
So when the Royals carried a lead into the bottom of the fifth inning of World Series Game 4 on Saturday, then a tie score into the sixth, the Giants knew they needed to generate something -- and quick. More potent offenses had floundered time and again against Kelvin Herrera, Wade Davis and Greg Holland, the troika of relievers that silenced San Francisco in Game 3. If the Giants had any designs on accomplishing what they did -- a dinking, dunking offensive catharsis in what became an 11-4 victory -- they understood that their best chances would come before the seventh.
So the Giants scratched, clawed and essentially beat the Royals at their own game. Producing a series of well-timed singles, doubles and sacrifices, they put themselves in position to tap into their own stable of late-inning relievers before the Royals ever could.
"For us, it's a big deal," said Jeremy Affeldt, one of those relievers. "We know that's a tough scenario with those three guys. So if we can get the lead and we don't have to face those guys, that's probably a good thing, obviously."
The winning rally began as it has so often for the Giants, with a break; this one occurred both literally and figuratively, when pinch-hitter Joaquin Arias snapped his bat on a bloop single to right. Gregor Blanco followed with a hit off the end of his bat, then Joe Panik bunted. Those are the Giants. Those are the types of things that they do.
All the while, Herrera, Davis and Holland sat near the foul line, waiting for their turns.
"We took a little bit of advantage of that," Blanco said. "We had those big hits and we were able to keep it going."
The first hard-hit balls off Royals reliever Brandon Finnegan came moments later, when Pablo Sandoval -- batting right-handed -- singled home two runs and Brandon Belt drove in another. And so the Giants took a three-run lead, allowing them to give Affeldt both the ball and some breathing room.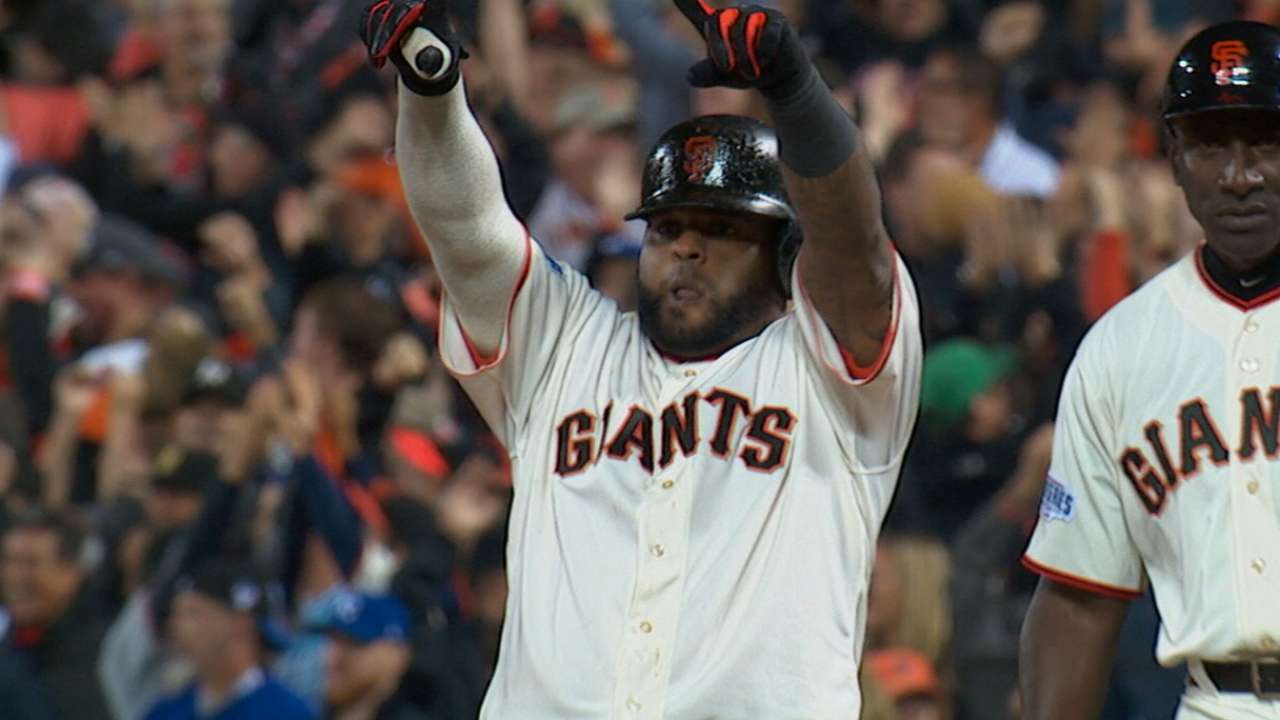 "They just caught the barrel, got the broken-bat hit," Finnegan said. "Just soft enough and hard enough to fall in."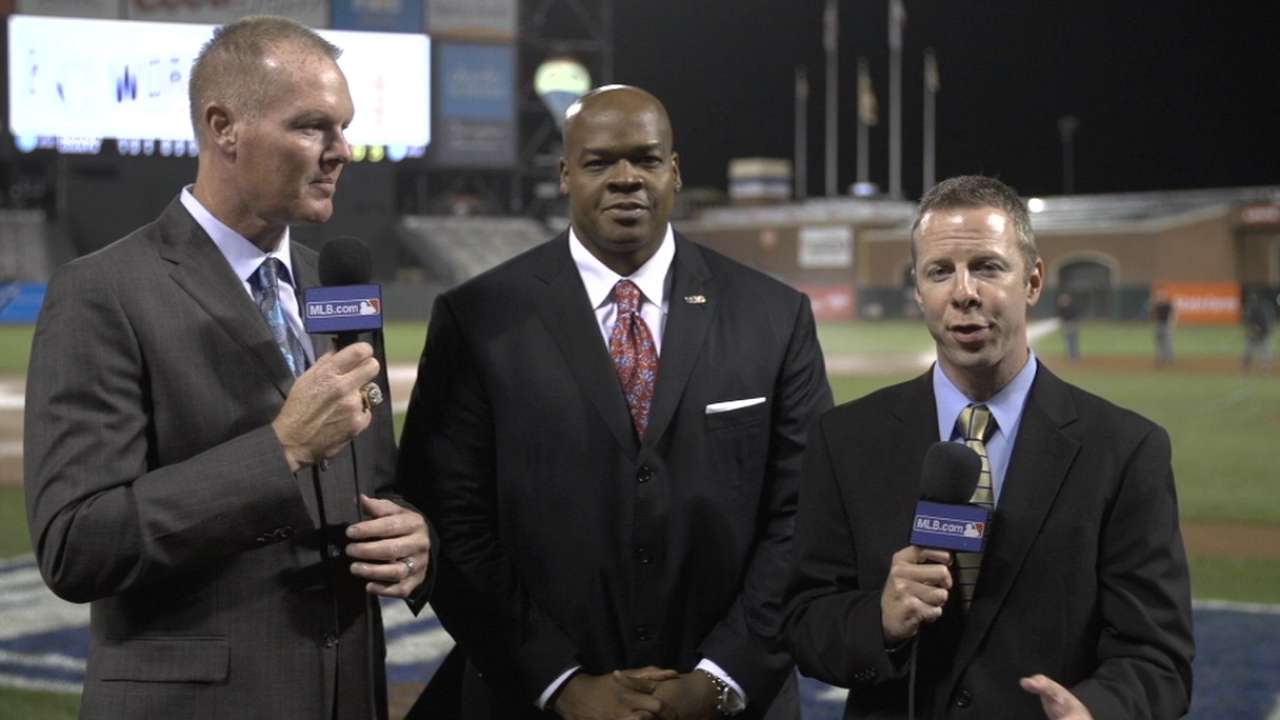 The game-tying rally in the fifth inning featured more of the same. Panik doubled, moving to third on a groundout. Hunter Pence singled him home. Sandoval and Belt loaded the bases. Then light-hitting outfielder Juan Perez poked a game-tying sacrifice fly to center, requiring Sandoval and Pence to make smart baserunning reads on Jarrod Dyson's diving catch. Through it all, the Giants never came particularly close to hitting a homer, with 13 of their 16 hits going for a single base.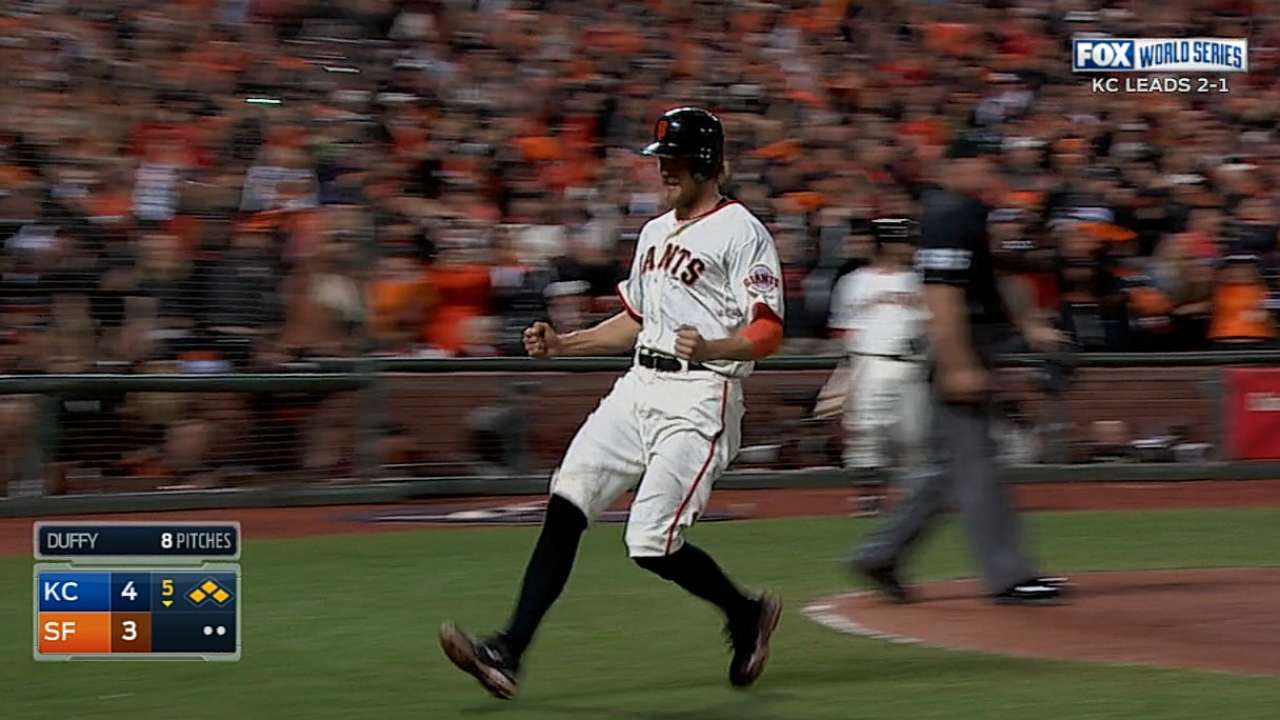 "Everybody did their job tonight," said pinch-hitter Matt Duffy, who singled and scored in the third inning. "It wasn't necessarily something spectacular, like a home run from Buster [Posey]. But the combination of everybody doing their job is what was spectacular."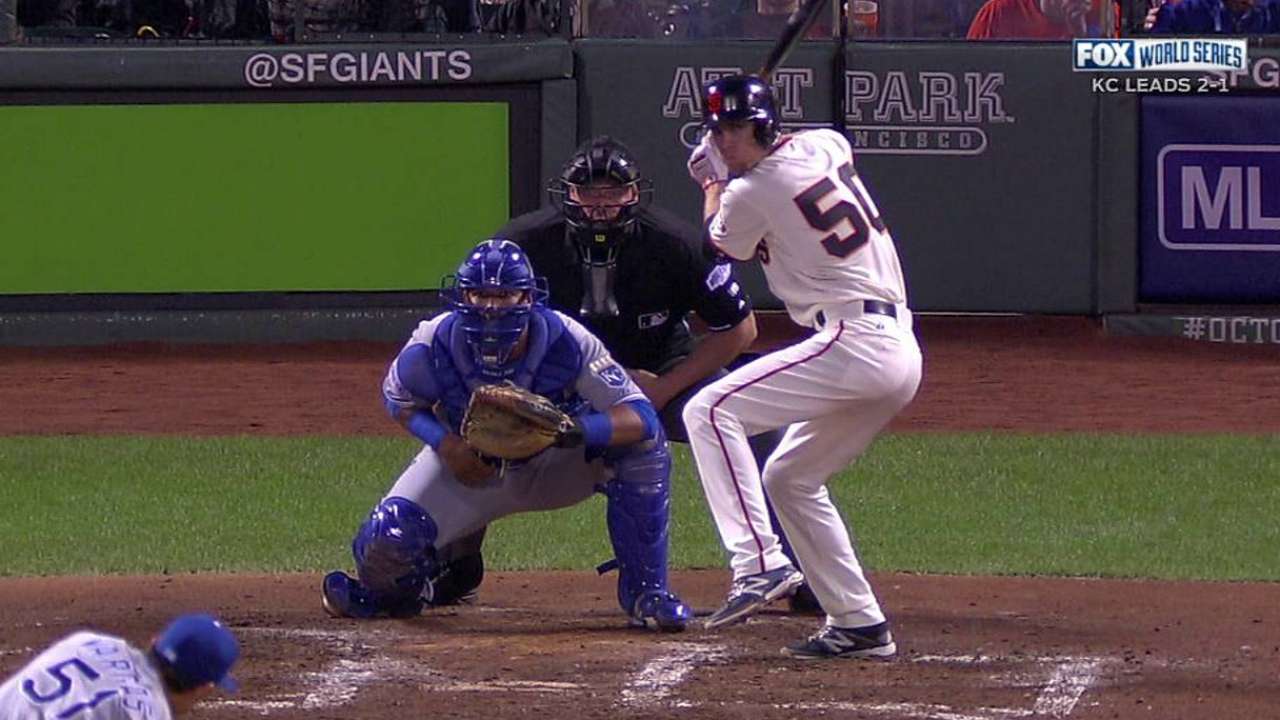 The Royals could not. Instead, it was Affeldt and Sergio Romo who pitched for the Giants, while Herrera, Davis and Holland sat idle near the first-base foul line. By the ninth, the game was well enough in hand that the Giants could turn to rookie Hunter Strickland, saving closer Santiago Casilla for another day.
"I knew that we had to continue to try to find ways to get outs and try to get to the seventh inning -- tied or with the lead -- to get to our main guys," Royals manager Ned Yost said. "I've got a lot of respect for the Giants. I don't ever feel good, even with the lead, until we make the last out."
Anthony DiComo is a reporter for MLB.com. Follow him on Twitter @AnthonyDicomo. This story was not subject to the approval of Major League Baseball or its clubs.