Amped-up Collins unable to settle down in rocky seventh
Lefty reliever makes costly throwing error, says warming up multiple times not a factor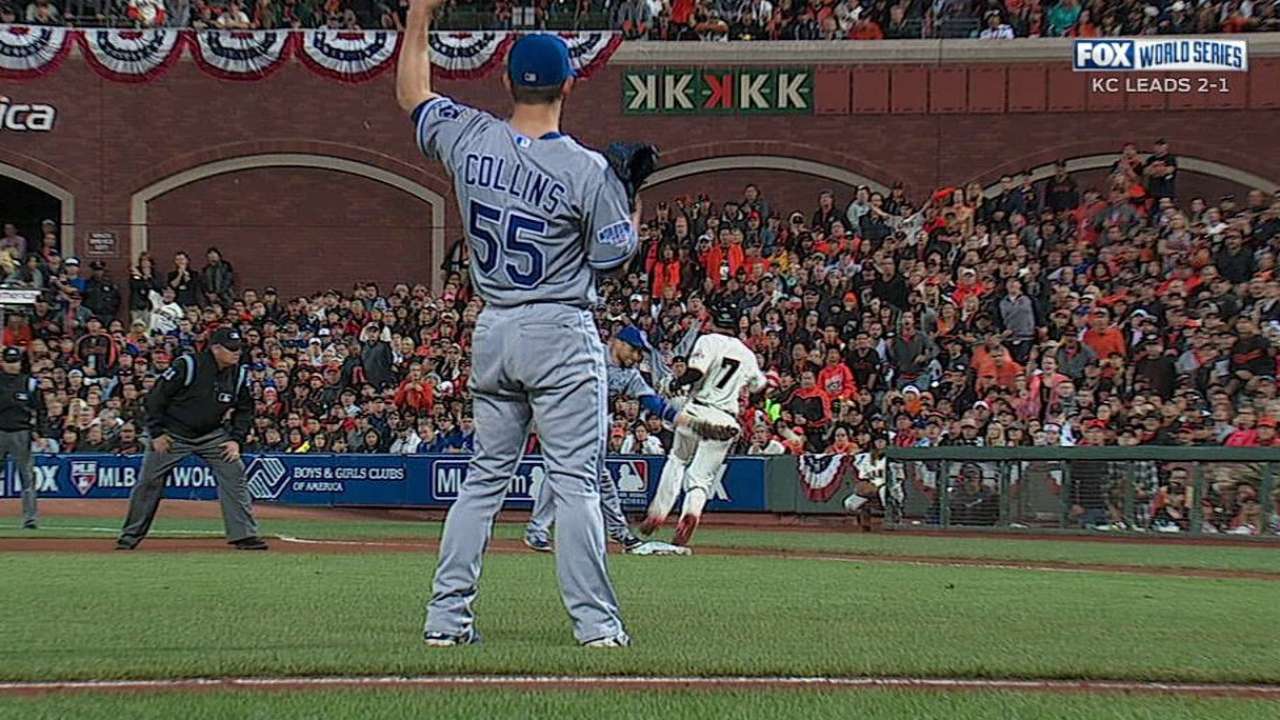 SAN FRANCISCO -- Tim Collins pitched in more games for Triple-A Omaha this season (23) than he did for the Royals (22). And yet here he was, inserted into the seventh inning of Game 4 of the World Series on Saturday, inheriting runners on first and second for a team trailing by three runs.
He would later scold himself for being too amped, or rather, for not taking a moment to calm himself down. This was the World Series, and the 43,066 fans that packed AT&T Park had worked themselves into a frenzy. But he did not take a moment to exhale before he allowed the Giants to extend their lead to 11-4, the eventual final score.
"You tell yourself to take a breath, but it's the World Series," Collins said. "Everybody's going to be pumped up."
Collins could have taken a moment to make sure his emotions were in check the first time he got started in the bullpen. Or the second time. Or the third time. Or the fourth.
He was up in the bullpen on four separate occasions from the first time he got started in the third inning until he entered the game in the seventh.
Collins said it does not take him many pitches to get ready and estimated he usually throws about a dozen in the bullpen. If he threw that many each time, then he had already fired nearly 50 pitches, possibly more, before he even took the mound. Now those pitches are not nearly at full intensity, but it still adds to the pressure he put on his arm.
It took him 39 pitches to get through two innings, so it is possible that he threw as many as 100 pitches throughout the course of the game Saturday.
"That's part of our job," Collins said. "You're not going to go into the game every time you get hot so, especially a guy in my position, I've got to be accustomed to that. It didn't affect me and obviously the outcome wasn't what I wanted it to be, but it had nothing to do with how I warmed up."
Collins blamed his emotions for misfiring to first base after fielding Gregor Blanco's sacrifice bunt, with the error allowing a run to score. That set the table for a two-run double by Joe Panik and an RBI double by Hunter Pence in a four-run inning.
"I made a bad throw, and that opened up the door for them and they took advantage of it," Collins said.
Collins was charged with two runs and allowed both of his inherited runners to score, feeling as if he didn't finally settle down until that inning came to an end. He followed that rocky seventh with a perfect eighth inning. It may have been clear that Collins did not have his best stuff, but by then the Royals were down by such a large margin late in the game, with only three relievers remaining in their bullpen. And the so-called three-headed monster of Kelvin Herrera, Wade Davis and Greg Holland does not pitch when its team is down by seven runs.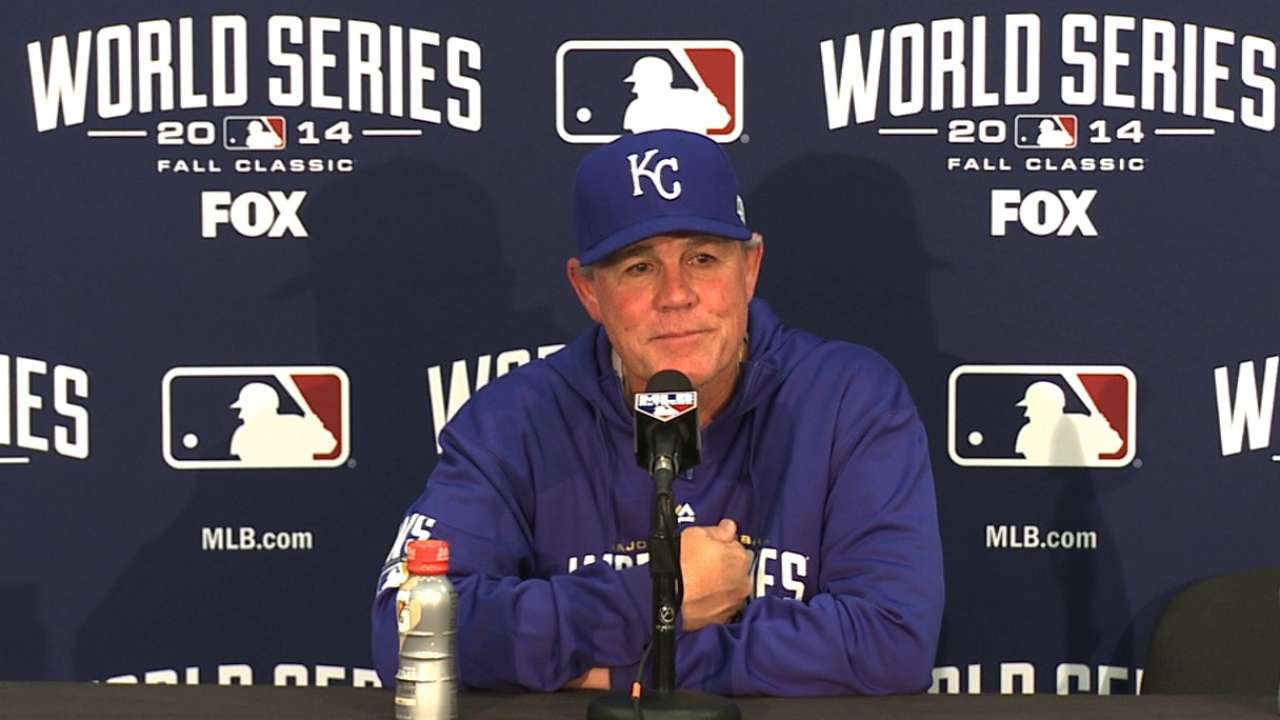 "It's part of the job," Collins said. "We've got our guys that are going to be in there when we're winning and we've got our guys that are going to go out there when we need some innings. We've all got a job to do."
Jamal Collier is an associate reporter for MLB.com. This story was not subject to the approval of Major League Baseball or its clubs.