Royals' bats go cold following four-run uprising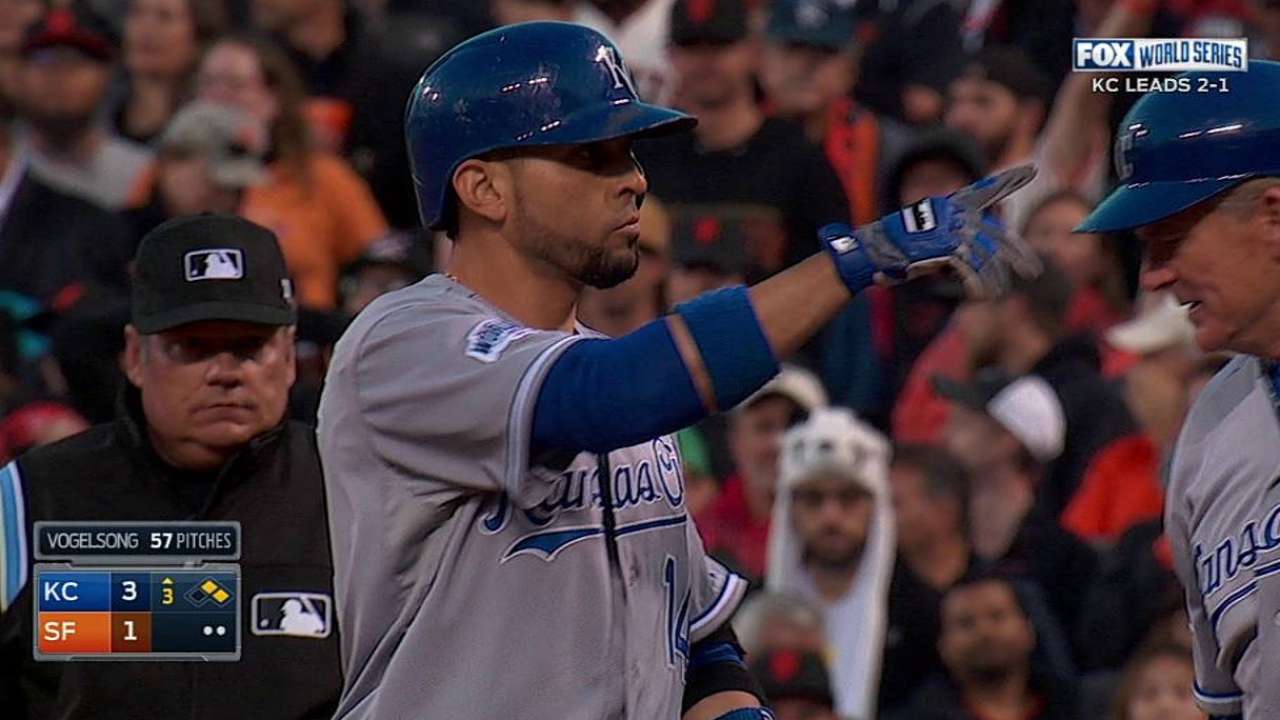 SAN FRANCISCO -- Had someone told the Royals before the start of Game 4 of the World Series at AT&T Park on Saturday that they'd enter the bottom of the third inning with a three-run lead, they would have had zero reason to complain. Having rallied for four runs with two outs in the third, the Royals firmly held the upper hand, appearing well on their way to a 3-1 series advantage.
Then, over the final six frames, the Giants flipped the script. The Royals' normally stellar bullpen allowed eight runs in an 11-4 defeat, and the relievers owned up to much of the blame. But the offense also lost its touch, leaving the bases loaded to end the third and then going scoreless the rest of the way.
Against the never-say-die Giants, a three-run lead early guaranteed nothing.
"Any chance you have to capitalize and put up insurance runs, you've got to take full advantage of it," said Royals first baseman Eric Hosmer, who went 3-for-5. "Any time you play a team like this, you can't just sit on a four-run inning in the third inning. You got to do something more than that."
That four-run third developed in typical Kansas City fashion, with the Royals capitalizing on an unturned double-play ball before using their legs to keep the inning alive.
Lorenzo Cain's infield single put runners at first and third with two outs, and Hosmer followed by bouncing a ground ball to first -- beating Giants starter Ryan Vogelsong to the bag. Then, Mike Moustakas walked, Omar Infante delivered a two-run single, and Salvador Perez drove in one more to make it 4-1.
"We took advantage of a mistake there," Hosmer said. "We got a lucky hit on my infield hit, and Moose had a great at-bat, kept it going, and Omar with the big hit -- so we took advantage of some mistakes."
Jean Machi, who came on in relief of Vogelsong, walked Jarrod Dyson to load the bases, but he got Royals starter Jason Vargas looking on a 3-2 fastball to end the inning. On the previous pitch, ball three, Vargas started strolling toward first before realizing his mistake.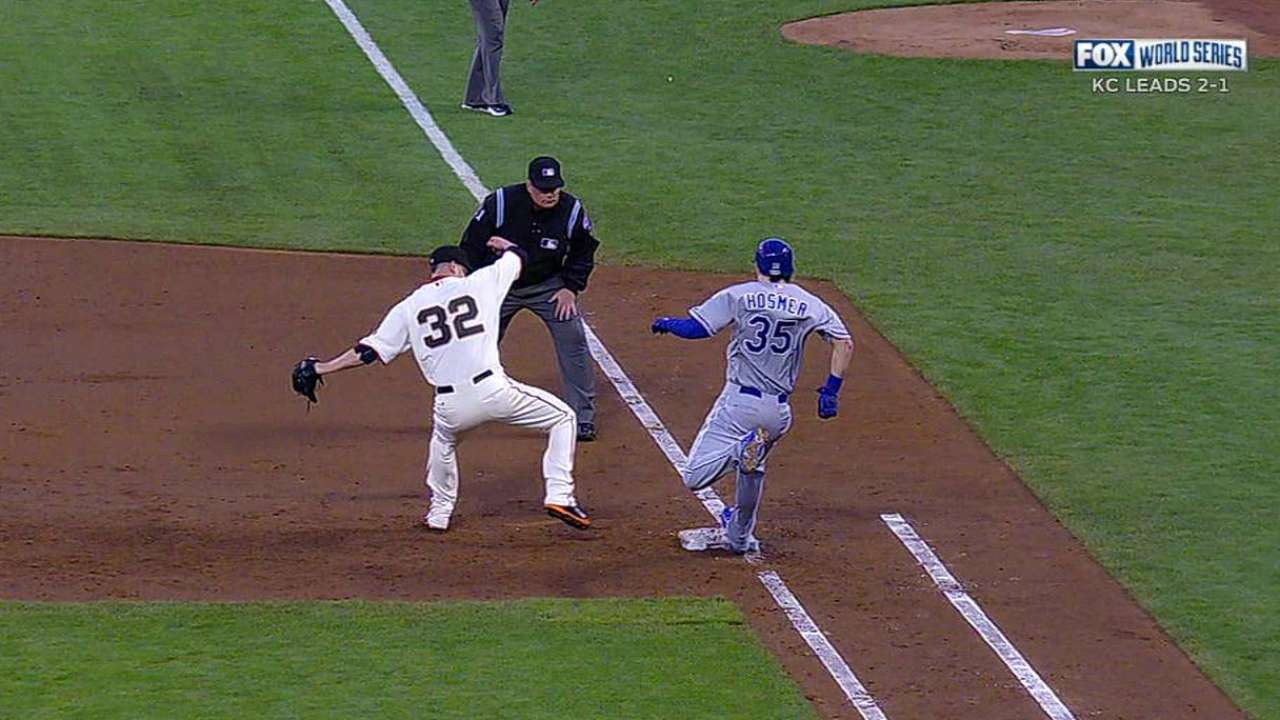 "Just a mental [gaffe], you know?" Vargas said. "We haven't been in the box that much. It's just one of those things that happened."
Little did the Royals know how badly their inability to tack on runs would come back to haunt them. Yusmeiro Petit, the Giants' secret weapon in the bullpen this postseason, shut them down for three innings, erasing a leadoff baserunner in the sixth by inducing a 3-6-3 double play from Nori Aoki.
"He was mixing it in," Hosmer said of Petit. "He throws strikes. He goes out there and mixes it well. He's throwing strikes, he's getting ahead of hitters."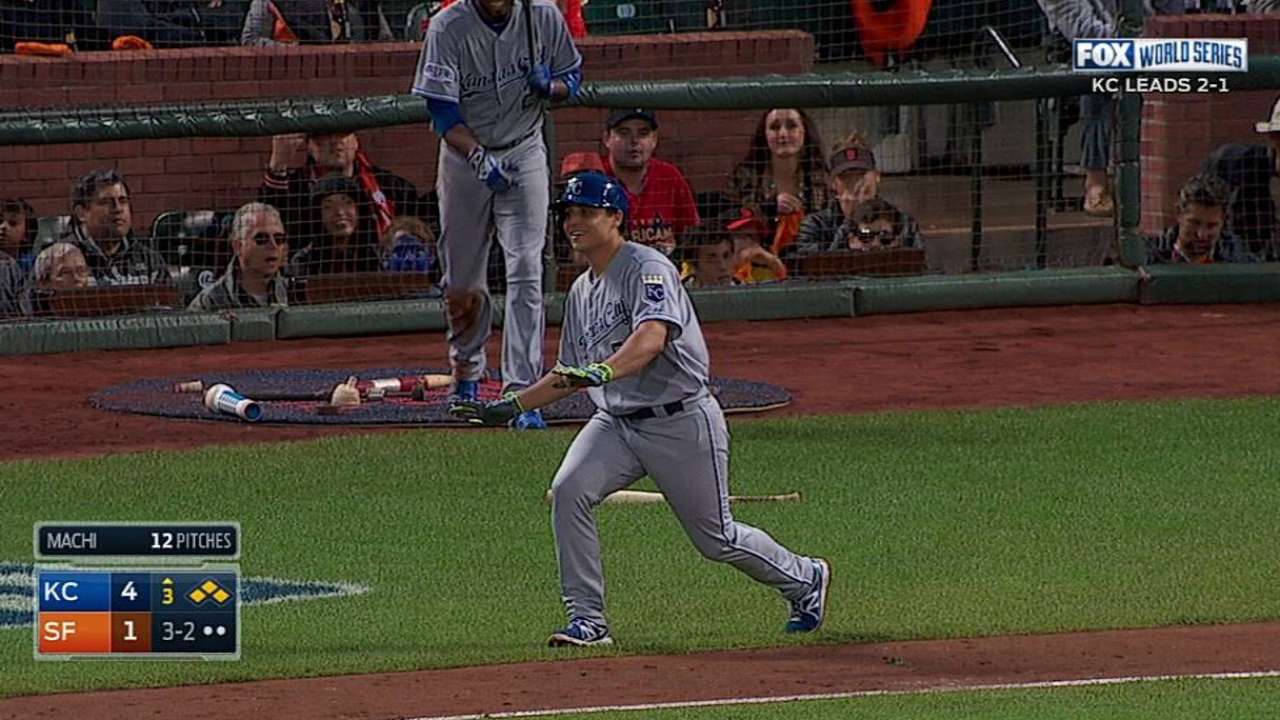 "He did it all year, so we knew he was a tough option out of the 'pen," Moustakas said. "He picked up Vogelsong pretty good today."
Meanwhile, as the Royals' bats fell silent, the Giants came roaring back with two runs in the fifth, three in the sixth and four in the seventh.
Even with a 4-1 lead, manager Ned Yost knew full well that his Royals would probably need more offense to win.
"The game was really early," Yost said. "I've got a lot of respect for the Giants. I don't ever feel good, even with the lead, until we make the last out."
Throughout this postseason, the story has been mostly the same for these Royals: the bullpen is untouchable while the offense gives opposing pitchers fits. But the Giants care not for Kansas City's storybook tale, and they proved as much on Saturday to even the series at two games apiece.
"I give them credit," Moustakas said. "They put together some pretty good innings there."
"We didn't swing the bats as well as we wanted to," Cain added. "We just came up short tonight. Way short."
Aaron Leibowitz is an associate reporter for MLB.com. This story was not subject to the approval of Major League Baseball or its clubs.