MLB.com Columnist
Richard Justice
Evenly matched clubs keep flipping script
Statement wins commonplace in this Series, which appears destined to go the distance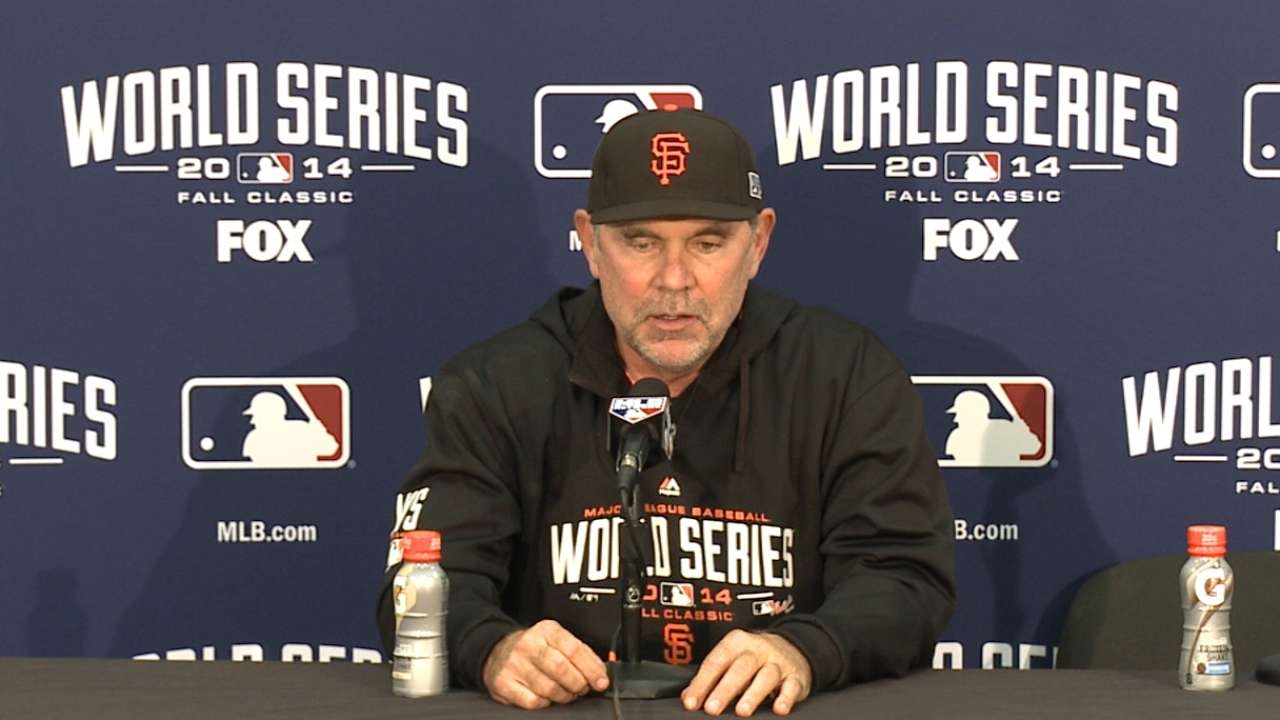 SAN FRANCISCO -- This is how it had to go, right? The Giants and Royals are simply too evenly matched, too talented and too tenacious for anything less. In that way, this World Series is delivering chills and thrills and spills.
"Oh, man, somewhere inside of me, secretly I had hoped that it would go seven games for the excitement and the thrill of it," Royals manager Ned Yost said. "Sure looks that way."
Smart man, that Yost; very smart man. That seems to be where we're headed after the Giants tied the series at two games apiece by winning Game 4, 11-4, on Saturday night at AT&T Park.
They did it by getting 16 hits from 11 players and 6 1/3 innings of shutout relief from five pitchers. And just when you think you've got this World Series figured out, you realize you're not even close.
It's not just that the teams are exchanging body blows. It's that they're winning decisively and then losing decisively. The Giants won 7-1. The Royals won 7-2. The Royals won 3-2. The Giants won 11-4.
Who has next? If there's any such thing as a statement game, this was it. Just like the last statement game and the one before that.
When you look at one team, you see the other. That's what they're saying in both clubhouses, too. Right now would be a good time to take a deep breath and appreciate what we're seeing. This is as good as it gets.
"You work hard to get to this point, and you should take it in and love the fact that you're playing baseball now," Giants manager Bruce Bochy said. "These are exciting games."
The Giants might have felt just a teensy bit of pressure on Saturday night. At least they should have. Had they lost, they would have been in a 3-1 hole that would be difficult to recover from.
This is the third time in five seasons the Giants have played in the World Series, and until this year, they hadn't trailed. On the other hand, they won six straight elimination games two years ago, so it's not like pressure is anything new to them.
"They probably already knew this," first baseman Brandon Belt said, "but we're not going to give up. It doesn't matter how much we're down. If the other team wins, they're going to have to earn it. We're going to go out and play good baseball."
The Giants got just 2 2/3 innings from starter Ryan Vogelsong, but Bochy expertly maneuvered five relievers into the game and got solid performances from all of them. Meanwhile, his team was fighting back from a 4-1 third-inning deficit.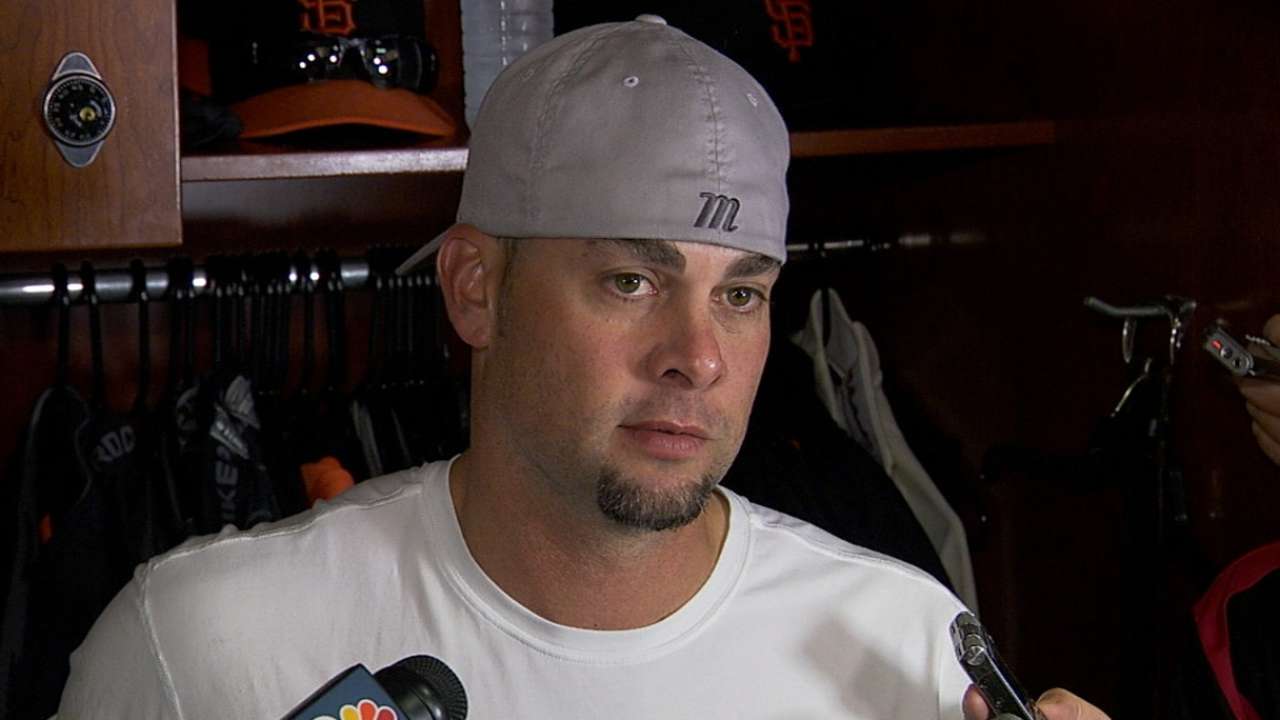 They did it a bit at a time, with a run in the third and two in the fifth. Then they broke it open with three in the sixth and four in the seventh. They got contributions from up and down their lineup, with Hunter Pence leading the way with three hits.
"You hear the term 'team win,'" Bochy said. "It's used quite a bit, but if you look at that game, everybody did something to contribute."
When the Royals gathered inside their clubhouse, players began shouting, "Get 'em tomorrow."
Because they haven't been on baseball's biggest stage the way the Giants have, there's a tendency to think the Royals might blink. This tendency probably is wrong.
"They're a tough team," first baseman Eric Hosmer said of the Giants. "You know it's going to be a battle. That's what the World Series is all about."
There were similar words from every corner of the visitors' clubhouse. In winning the American League Wild Card Game and then rolling through the next two rounds of playoffs undefeated, the Royals developed a tough inner confidence that could serve them well in these final days of the journey.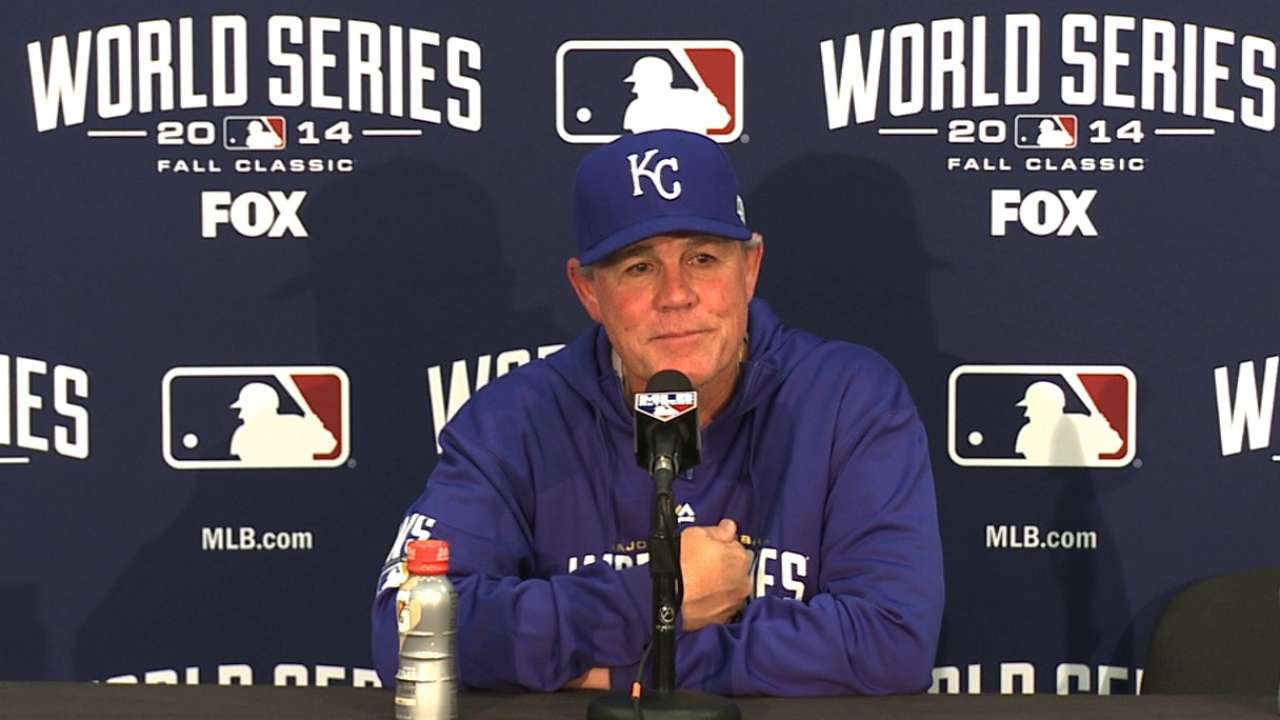 "We're going to come in with the same mindset we've had all series long," Game 5 starter James Shields said. "We came in here upbeat -- get 'em tomorrow. There's a lot of character in this clubhouse. We've got a good attitude. We've been doing this stuff the last couple of months. We knew coming in it wasn't going to be easy."
The Giants began the day with a reminder to simply go all out and to trust one another. When Pence was asked about the nerves that go with playing in the National League Wild Card Game, he said, "This is where you want to be if you're a competitor."
So was being down 2-1 in the World Series.
"Our message before the game is, 'Everyone buy in, everyone pulling,'" Pence said.
And the best may be yet to come.
Richard Justice is a columnist for MLB.com. Read his blog, Justice4U. This story was not subject to the approval of Major League Baseball or its clubs.