Giants keep eyes on prize after comeback win
NL champions aiming to stay tough on Royals with ace on hill in Game 5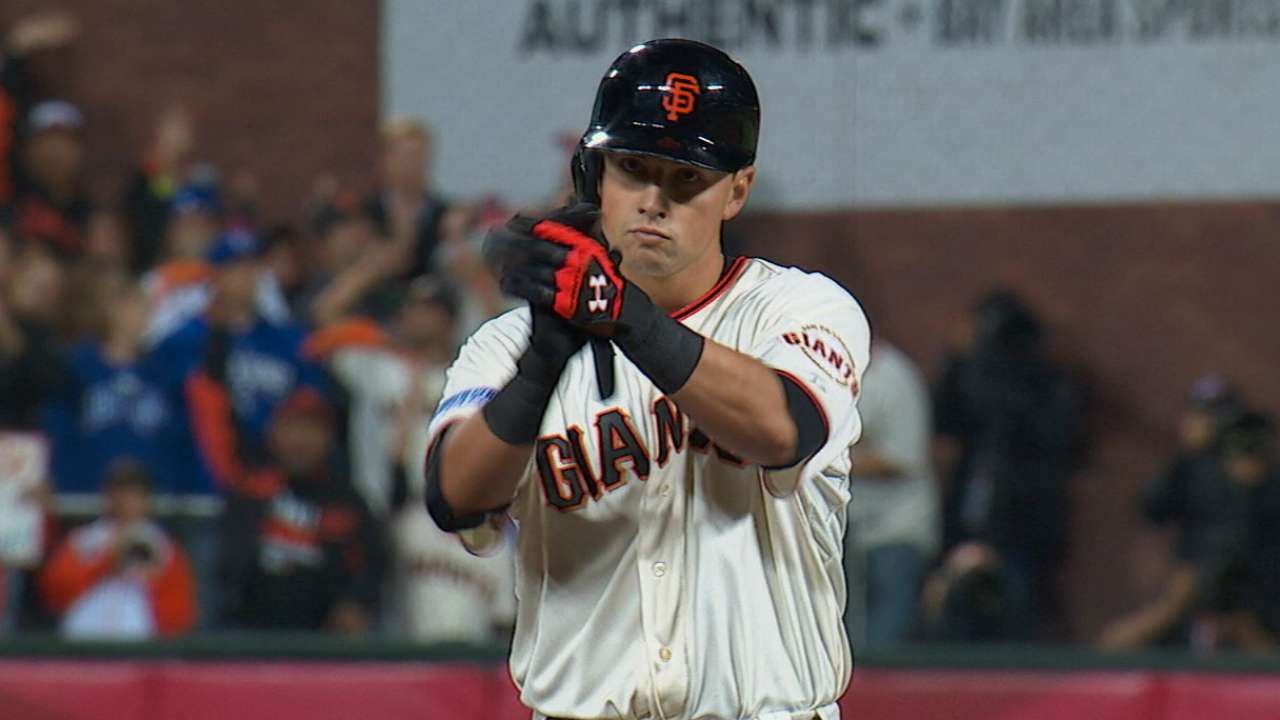 SAN FRANCISCO -- Sure, the Giants are going to spend some time enjoying Saturday's pivotal 11-4 victory over the Royals in Game 4. Why shouldn't they? Their come-from-behind win moved the National League champions within two games of a third World Series title in five years, and ace Madison Bumgarner is set to start Sunday's Game 5 on full rest.
Just don't expect their celebration -- if you can call it that, given the subdued and forward-thinking tone of the clubhouse afterward -- to last very long.
"We were excited right after, but in the line, we were shaking hands, and guys were saying, 'Back at 'em tomorrow,'" said right-hander Jake Peavy, who is slated to start Game 6 in Kansas City. "This team's focused on one thing, and that's trying to win the World Series. ... We've got to find a way to beat James Shields tomorrow, and I promise you, 30 minutes from now, that's what will be on every guy's mind."
Peavy's muted enthusiasm seemed to represent the general tone of the Giants' clubhouse following Saturday's win. The room was certainly upbeat -- in part because of the win, undoubtedly a massive one, and in part because of the way the Giants achieved it, rallying for 10 unanswered runs after trailing by three in the early innings.
"To be going into tomorrow's game, 2-2, instead of down, 3-1, there's always momentum," said reliever Jeremy Affeldt, who tossed a scoreless seventh. "The good thing about this team is we've had experience in different scenarios.
"We understand that we have to forget about today. We won it. We're happy. It's 2-2. But tomorrow's a new day, and we have to focus on tomorrow."
As Affeldt pointed out, the Giants have gained valuable playoff experience over the past five years. But their circumstance this time around is a bit new. For the first time in their recent run of success, they will enter Game 5 of a seven-game series tied at two apiece.
Now, the Giants have their Game 4 successes to draw on. After starting the series 1-for-17 with runners in scoring position against KC relievers, they're 6-for-their-last-12, a streak sparked by Hunter Pence's RBI single in the fifth inning.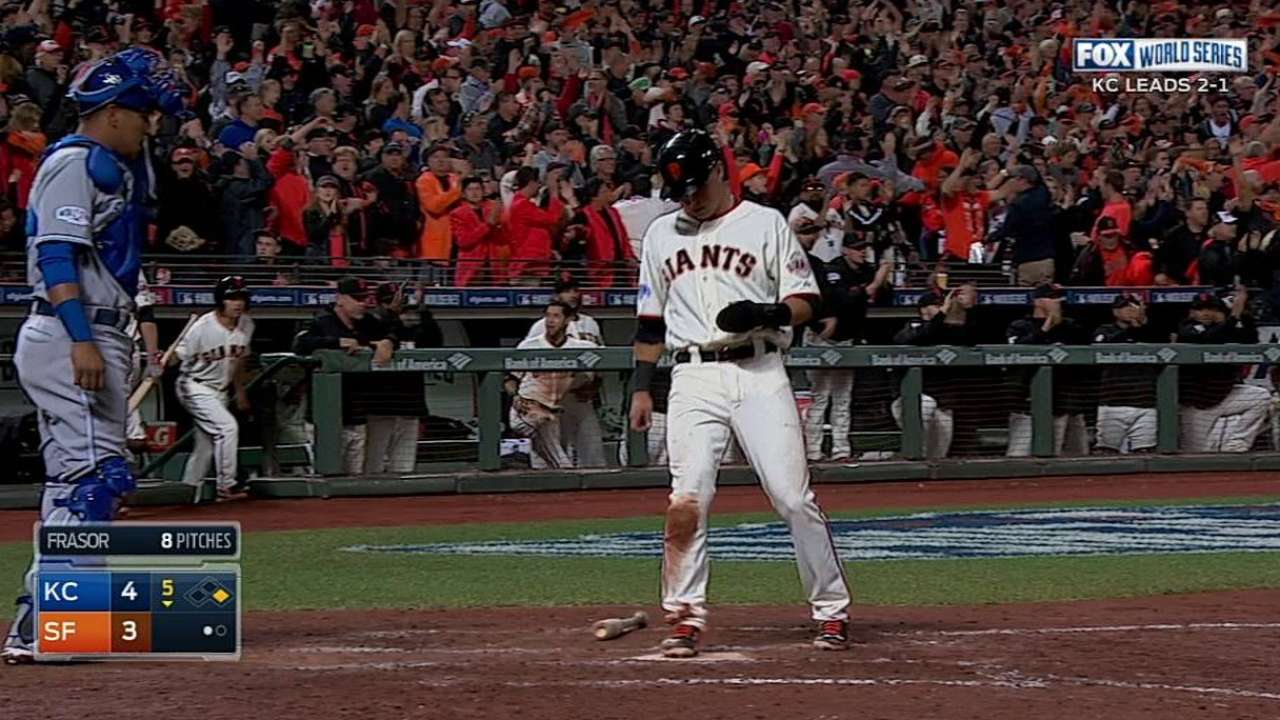 "It gives us some momentum, it gives us some confidence going into tomorrow," catcher Buster Posey said. "You'd much rather be in this situation than down 3-1."
Add in the fact that manager Bruce Bochy opted to save Bumgarner for Game 5 and not use him on three days' rest, and the Giants find themselves in decidedly better shape than they did after a frustrating 3-2 loss on Friday night.
But if there's one thing they've learned from their past successes it's that there usually isn't time to truly celebrate until the final out of the final game in the final series.
"We're happy we have Bum going tomorrow," Posey said. "He's our horse, and he's been our horse all year. But we know we expect to have a tough game on our hands."
Opposite Bumgarner will be Shields, the Royals' ace right-hander, who hasn't been sharp this postseason and lasted just three innings in Game 1. The Giants' focus, however, remains in-house and not on the struggles of the opposing starter.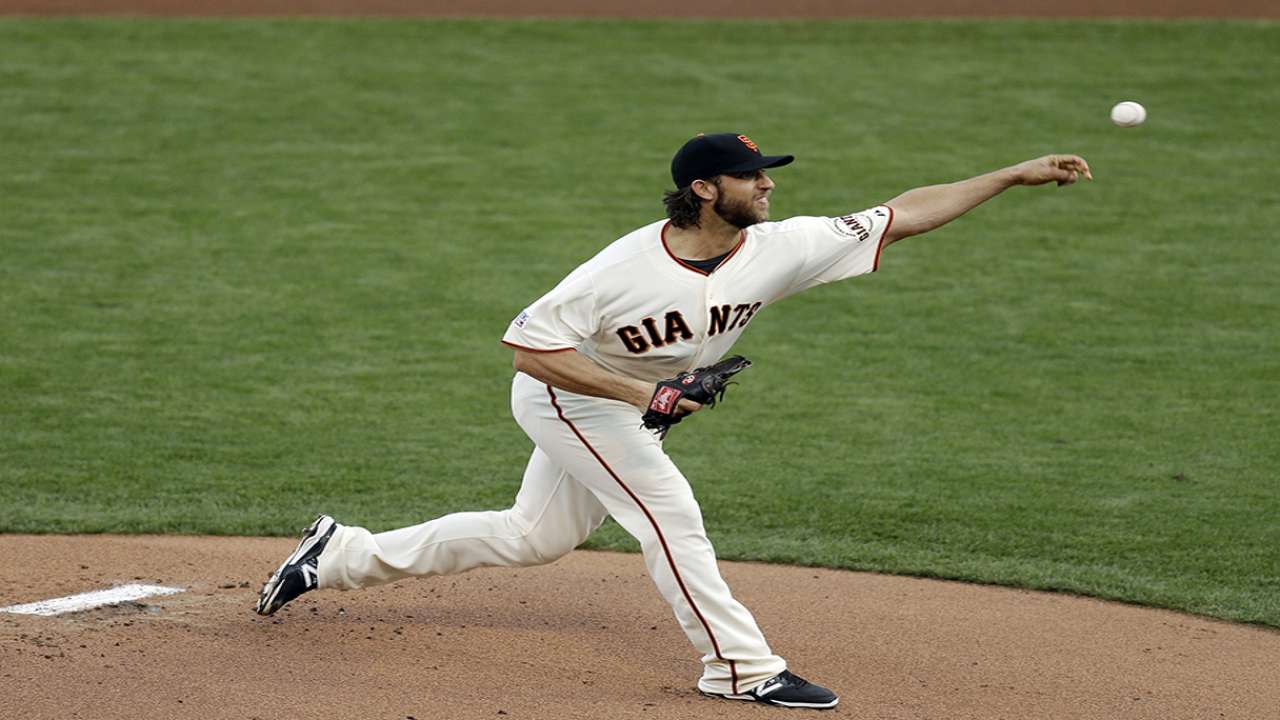 "Once we start coming around like we did tonight, our goal is to keep it rolling through the whole series," said center fielder Gregor Blanco, who went 2-for-5 with a walk and three runs scored on Saturday. "That's how we made it here. We have ups and downs as a team, and as an individual. But we showed tonight that we wanted this game, and hopefully tomorrow we can do the same."
There's no question that a seven-game series will see its share of momentum swings, and the latest one swung emphatically in the Giants' favor. But they aren't buying into that feeling too much.
"The tide seems to change from inning to inning," Peavy said. "A walk is a rally. You see the crowd get into it. It's very intense, and momentum is only as good as your last out."
And, by now, the Giants say they've already forgotten about that last out, and have moved on to thinking about the next one.
"That's the way this time of year is -- You can't revel in any victory," Peavy said. "When that fourth one's over, I'll talk to you. We're either going to be really down or really excited."
AJ Cassavell is a reporter for MLB.com. Follow him on Twitter @ajcassavell. This story was not subject to the approval of Major League Baseball or its clubs.