Sandoval battles illness, bears down for big hit
Despite needing IV before Game 4, postseason hero delivers again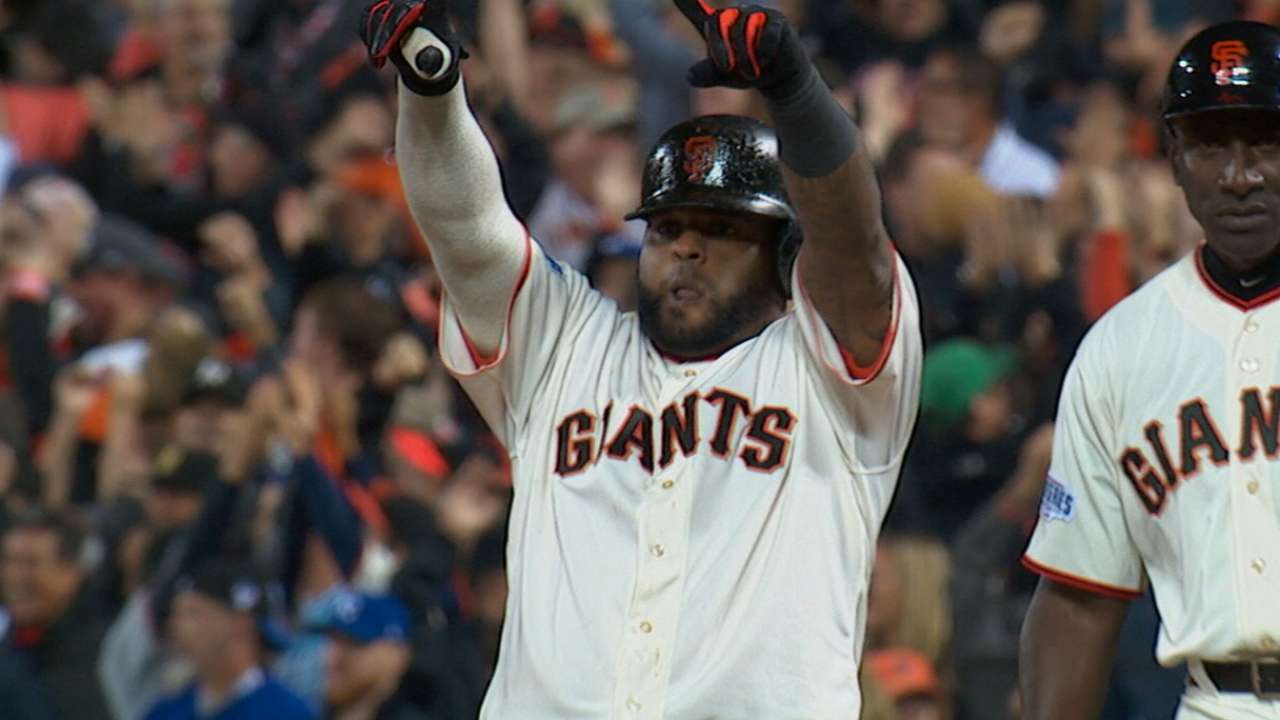 SAN FRANCISCO -- Gregor Blanco had no idea. Neither did Travis Ishikawa. Brandon Belt couldn't tell a difference.
To the surprise of none of his teammates, Pablo Sandoval came through with a clutch hit to score the go-ahead runs of the Giants' 11-4 win in Game 4 of the World Series on Saturday night. They just had no idea he did so while ill.
Sandoval was throwing up before the game and needed an IV. He missed batting practice, and said on FOX after the victory that he felt under the weather throughout the game. That doesn't mean missing the game was ever in question, though.
"You think? I'm going to play no matter what," Sandoval said, after acknowledging he'd been sick throughout the day. "I feel good. I feel good. I'm feeling good."
"No, if you would've been around him, you probably wouldn't know it, either," Belt said when asked about Sandoval's condition. "He was his normal cheerful self. Obviously didn't affect him too much tonight."
No, no it did not.
"Senor Octubre" -- a nickname of which Sandoval said he's not a fan -- lived up to the unwanted billing in the sixth inning. Sandoval stepped into the batter's box with rookie lefty Brandon Finnegan on the mound and the bases loaded in a 4-4 game. Sandoval, a .199 hitter against lefties in the regular season, failed to produce in a similar situation Friday night, and had looked bad in two strikeouts against lefty Jason Vargas earlier on Saturday before recording a hit off lefty Danny Duffy in the fifth.
"I thought we had the situation right in the palm of our hand," Royals manager Ned Yost said.
Yeah, about that ...
Sandoval drilled Finnegan's first offering -- a 93-mph sinker -- to center, which scored a pair and put the Giants ahead for good.
"We all know the difference between right- and left-handed averages," Yost said. "He was just clutch right there. He did a great job of hitting the ball right up the middle with the bases loaded and it was just a great at-bat. Won the ballgame for them."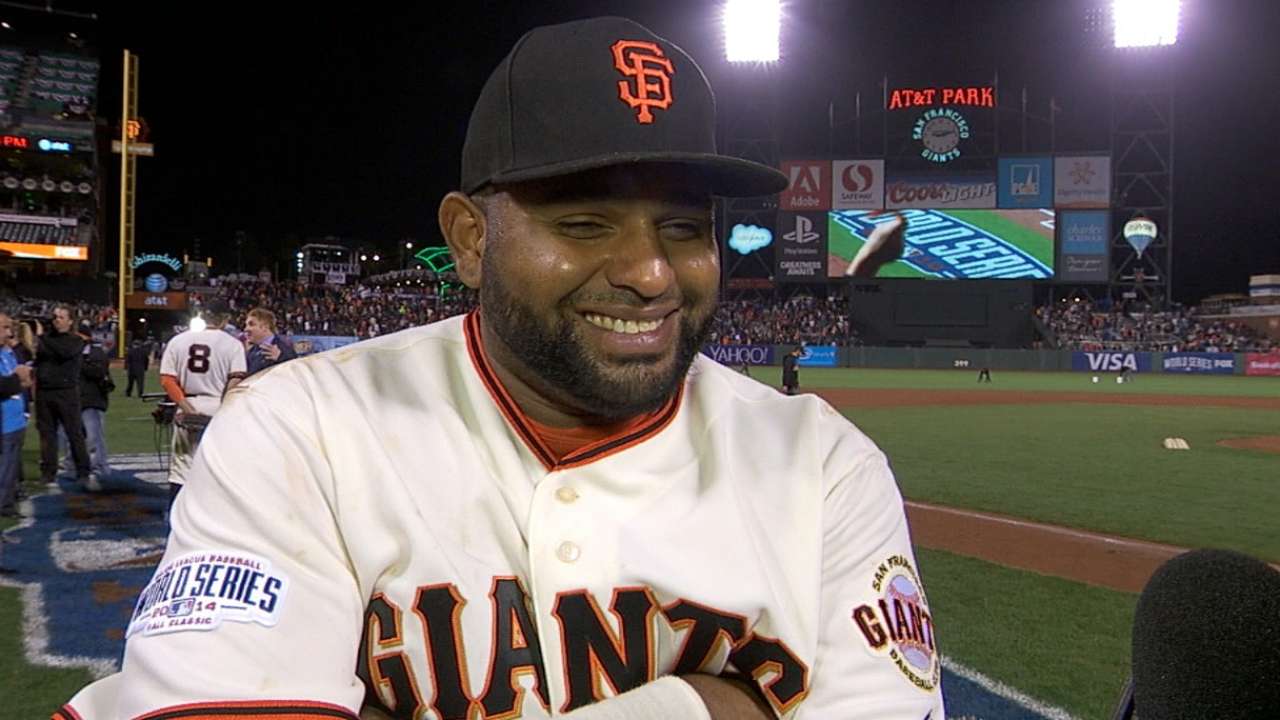 It wasn't quite as monumental as the Michael Jordan flu game, but it was yet another postseason triumph for a player who's become one of the Majors' best October performers. After going 2-for-5 with a pair of RBIs on Saturday, Sandoval's career postseason numbers include a .326 average, six home runs, 20 RBIs and 12 doubles in 36 games. He had reached base safely in 25 of those games in a row before going 0-for-4 on Friday.
So what is it about October that Sandoval likes so much?
"The pressure from the fans and my teammates," said the pending free agent. "I want to be the guy to step up for my teammates. I want to support my teammates and give a ring to those guys."
The key difference with his winning base hit Saturday night and previous big hits was the batter's box he hit them from. The switch-hitting Sandoval hit .118 points higher from the left side than he did from the right side in the regular season. Still, manager Bruce Bochy wasn't surprised to see Sandoval succeed as a right-handed batter.
"Really, he's been swinging the bat better from the right side," Bochy said. "I just thought as the game went, he saw lefties all night, he really came through and delivered for us in a big way."
Not bad for a guy whose availability Bochy was worried about while heading to the park earlier in the day.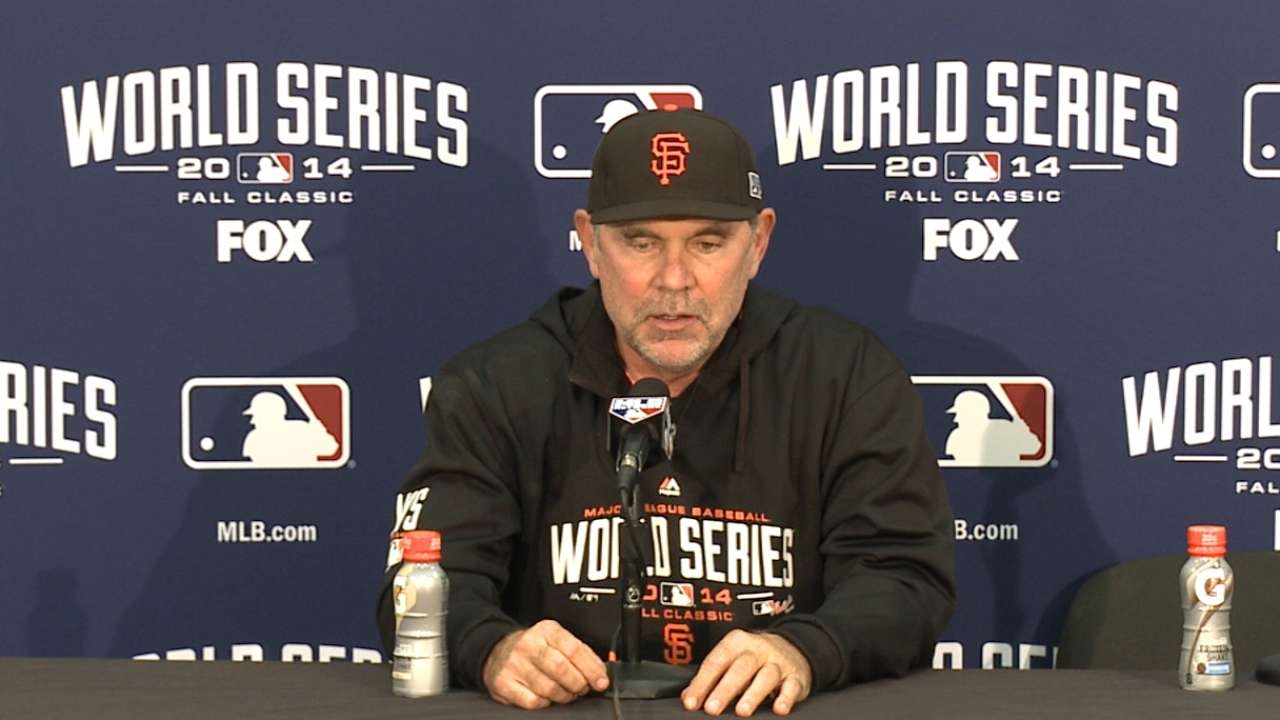 "Last night he actually was feeling worse. I talked to him today, and he said he felt a lot better. He felt great. He's probably at the tail end of it. I was a little concerned about him maybe being a little washed out today," Bochy said. "He goes out there and has a great game for us. It's nice to have a switch-hitter that swings it well from both sides, and he seems to rise to the occasion when you need him."
Even when he's sick.
"He looked fine," Blanco said. "I hope he's sick tomorrow, too."
Ryan Hood is an associate reporter for MLB.com. This story was not subject to the approval of Major League Baseball or its clubs.