MLB.com Columnist
Phil Rogers
Vargas loses track of count, grip on Royals' lead
Game 4 momentum seems to change after pitcher forgets count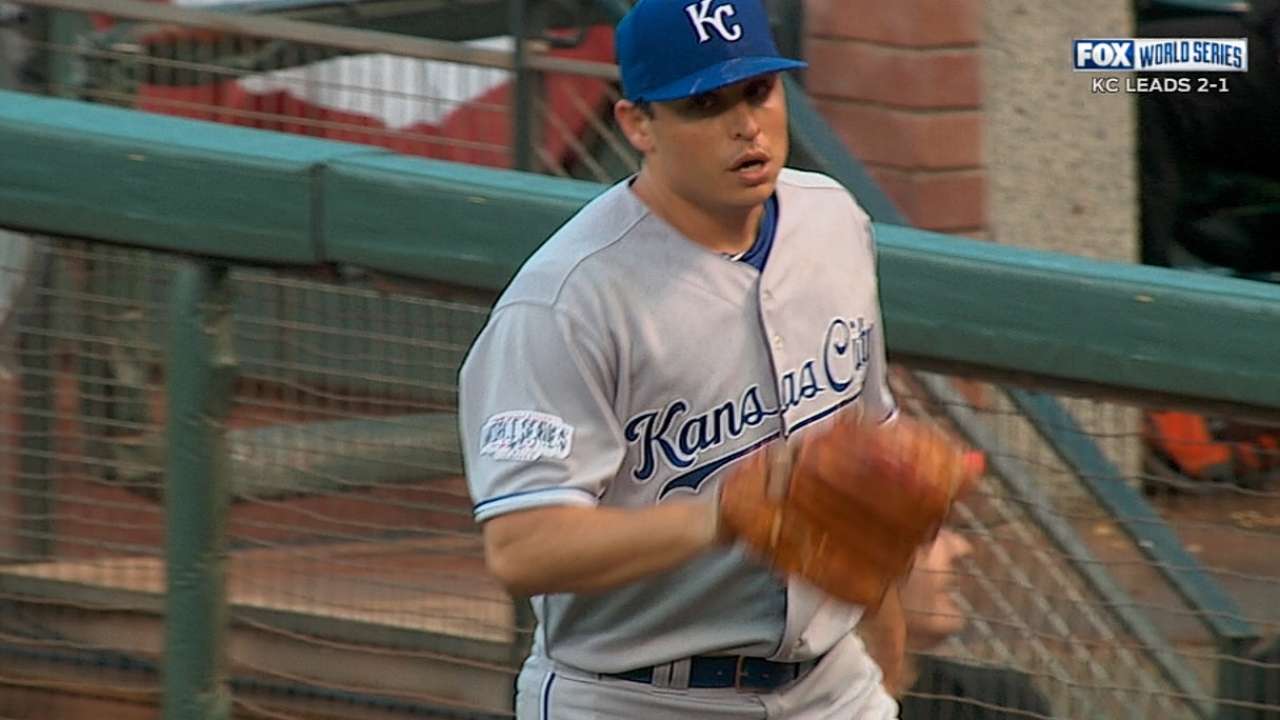 SAN FRANCISCO -- Who's laughing now?
One minute Jason Vargas had the biggest smile on his face, joining his teammates in having a good chuckle at his own expense, and just a little later there wasn't much place for humor anywhere on the Kansas City bench.
The Royals had been leading Game 4 of the World Series, 4-1, but would lose it 11-4. Vargas got knocked out of the game in the fifth inning, and it got so ugly so fast that manager Ned Yost would give Kelvin Herrera, Wade Davis and Greg Holland a rare game off.
"Nobody's perfect, right?" said Vargas, speaking about how the Giants pounded four relievers. "You hate for it to show up now, but that's the way it went tonight. We had a chance to get out of some of those [innings] and it went their way. We'll forget about it and move on to tomorrow."
Instead of having a chance to wrap up a championship on Sunday, the Royals face the very real possibility that Madison Bumgarner could push them to the brink of elimination. A victory by James Shields over Bumgarner would be huge with the series now evened at two games apiece, but recent form suggests Kansas City may very well have to win twice at Kauffman Stadium to erase the damage suffered on a damp Saturday night when it rained runs.
"We're just going to go out there and put good at-bats up," Vargas said. "I know our guys are going to be prepared, ready to put up good at-bats and do damage when they can."
If the Giants go on to win their third World Series since 2010, Kansas City fans will look back at how the Series turned after Vargas lost track of the count when he batted with the bases loaded in the four-run third inning.
A designated hitter when he wasn't on the mound for Long Beach State, Vargas is a career .262 hitter. He seemed like a guy who might end the World Series hitless streak for pitchers that dated to 2010, especially when he got two chances to hit in the third inning. (Instead, Giants reliever Yusmeiro Petit ended the streak an inning later.)
His first time up, Vargas fouled off two 3-2 pitches before driving a 93-mph fastball from Ryan Vogelsong deep to center field a long out. The Royals then put together a major rally, scoring four runs and sending Vogelsong to the showers. Vargas got another chance to hit, this time with two outs and the bases loaded.
With the count 2-2, Jean Machi missed the strike zone with a changeup, and for a second Vargas thought he had driven in a run. He started jogging toward first base, but after about 45 feet realized he was getting ahead of himself.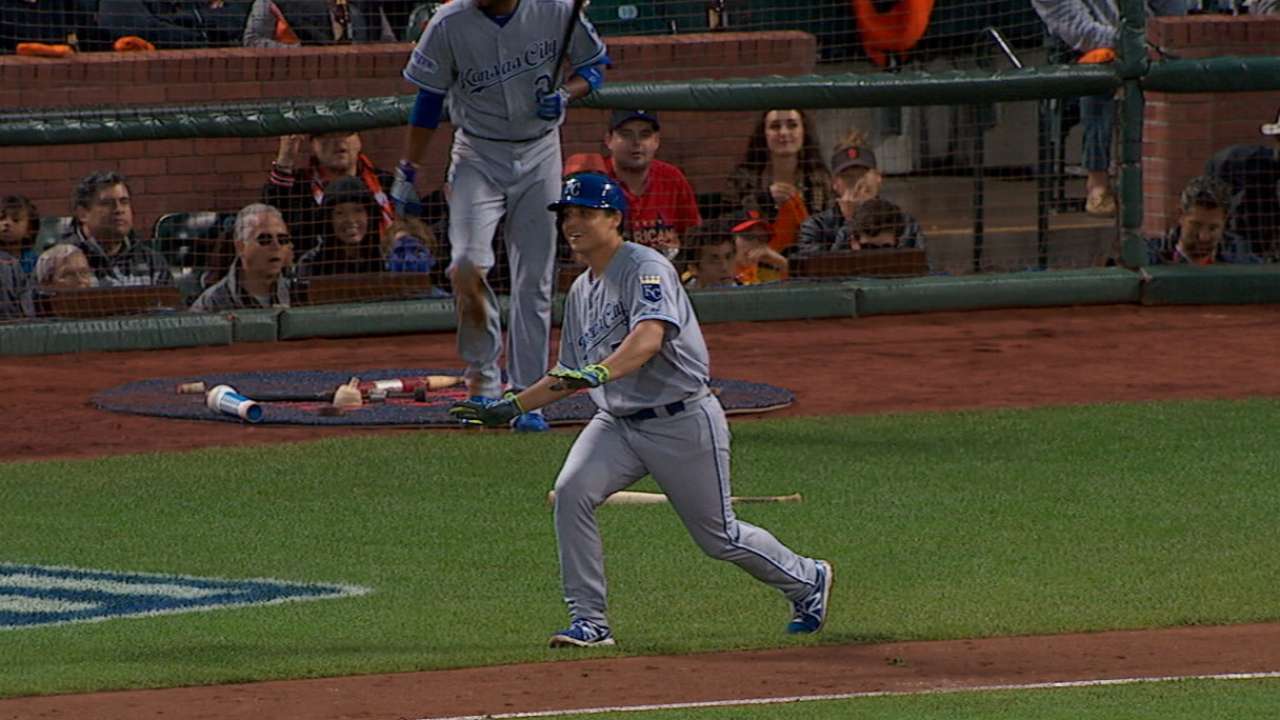 "Just a mental [lapse]," Vargas said. "We [pitchers] haven't been in the box that much. It was just one of those things that happen. It didn't seem to shake me up too much."
The 3-2 pitch from Machi was a fastball, and whether it was in the strike zone is open to interpretation. Umpire Ted Barrett called the 94-mph fastball a strike; Vargas felt it was inside.
"That's why I didn't swing at it, but it really doesn't matter now," Vargas said. "Ted rung me up. That's how it goes."
As long as Vargas remembers his 0-for-2 night at the plate, he'll be pained by the knowledge that he couldn't protect the lead until the sixth or the seventh, when Yost could have turned to his trio of stoppers to send Kansas City to a 3-1 edge in the series. He may not have been shaken up too much by his mental mistake at the plate, but he nevertheless gave up hits to six of the 12 batters he faced after striking out.
Yost lifted him in favor of Jason Frasor after a leadoff double to Joe Panik in the fifth inning. The Royals still led 4-2, but that wouldn't last long as the Giants got run-scoring hits off Frasor and Danny Duffy, then teed off on lefties Brandon Finnegan and Tim Collins.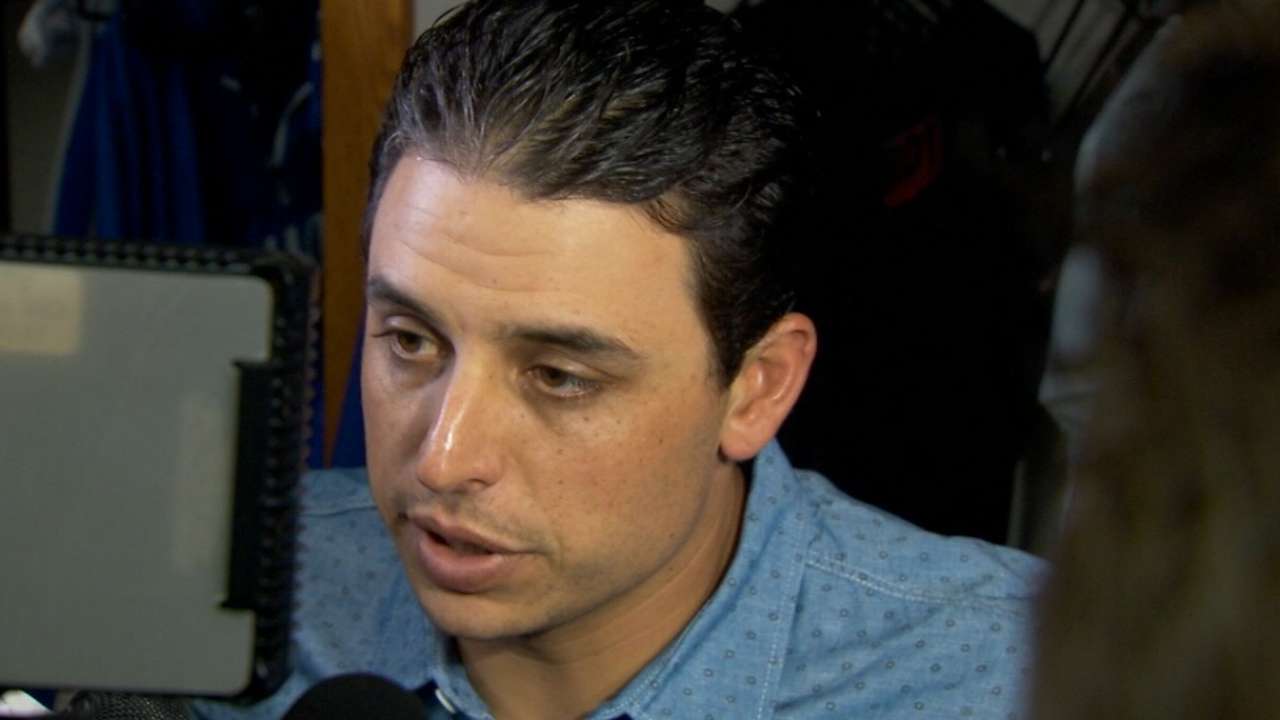 "As a starting pitcher, you want to get as deep into the game, close the gap for the bullpen as much as you can," said Vargas, who is in the first season of a four-year, $32 million deal. "I wasn't able to do that tonight. I put Skip in a tough spot, when Panik led off that inning with a double. We went to what's been working for us. I put him in a tough spot and he had to make a tough decision."
Yost was watching Vargas closely because he didn't look as sharp as he had in his postseason starts against the Angels and Royals.
"I didn't feel like he was super sharp tonight," Yost said. "But he does what he does -- he competes. I was really trying to get him through that fifth inning. … It just didn't work tonight. It doesn't work every night, you know."
Vargas won't get another World Series start, at least not this year. But in a potential Game 7 with Jeremy Guthrie starting, it would be an all-hands-on-deck situation for Yost, and that could mean a chance for Vargas to get an out of two. If he doesn't get into another game, he'll have as much of a rooting interest as anyone.
"It feels like a good series," Vargas said. "We figured the Giants were going to come in ready to play too. We know winning the World Series isn't easy."
Nothing simple this time of the year. Not even counting to four.
Phil Rogers is a columnist for MLB.com. This story was not subject to the approval of Major League Baseball or its clubs.