Pendulum swings in opposite direction for Royals' Finnegan
One night after recording big outs, young reliever saddled with loss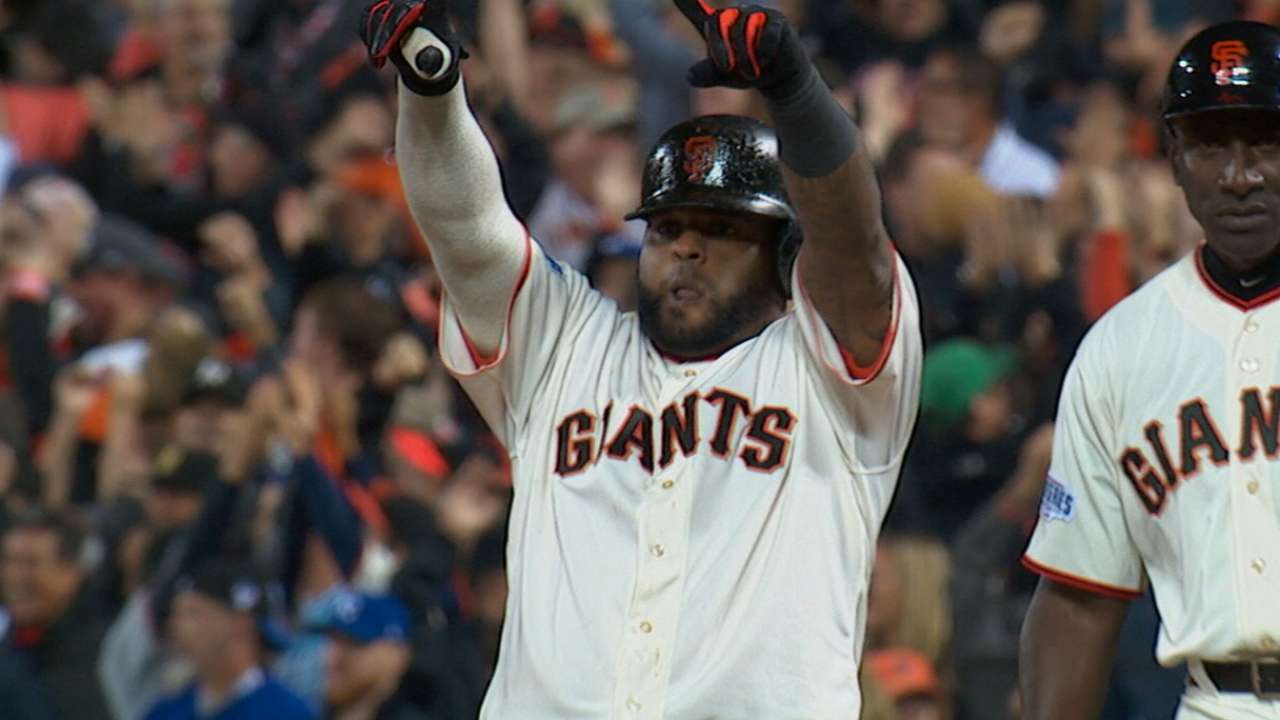 SAN FRANCISCO -- Eric Hosmer and Mike Moustakas felt the need to console Brandon Finnegan late Saturday night, in the wake of an 11-4 defeat that evened the World Series at two games apiece. Finnegan, the 21-year-old sensation who was pitching for Texas Christian University four short months ago, was a major reason the Royals had lost, one night after igniting their victory, and the two corner infielders wanted to provide a little reassurance.
"It's baseball," Hosmer recalled telling him. "It happens."
"Listen, man,'" Moustakas added, "you're disgusting, you're nasty. Never forget how nasty you are."
Finnegan had just been charged with five earned runs on five hits in one-plus innings of work, on the mound for a sixth inning in which the Giants turned a 4-4 game into a three-run lead, and then responsible for two of the four batters who scored in the seventh.
Speaking to a horde of media members at his locker, though, Finnegan seemed at peace, occasionally cracking a smile and generally placing it all in the proper context.
"I made my pitches and they hit it just soft enough and hard enough to get in," he said. "They got theirs tonight, but we'll get ours tomorrow."
It's true. Finnegan spotted pitches to near-perfection from the moment he entered a 4-4 game in the bottom of the sixth, but never had much to show for it. Joaquin Arias' leadoff single came off the end of the bat on a pitch spotted perfectly low and away. The single that followed, by Gregor Blanco, came on a 1-2 slider that ran off the plate and somehow landed safely in shallow left field.
"Two broken-bat hits," Finnegan said. "You get a couple outs, and then Pablo Sandoval is bum rushing me."
A Joe Panik sacrifice bunt moved both runners over, prompting an intentional walk of Buster Posey with first base open. Seventh-inning reliever Kelvin Herrera threw 27 pitches the night before and Royals manager Ned Yost doesn't like using setup man Wade Davis for more than three outs, for fear he won't bounce back well. So this inning belonged to Finnegan, Yost's unofficial "sixth-inning guy," for better or worse.
To the next batter, Hunter Pence, Finnegan threw his two-seamer low enough to get a ground ball right at shortstop Alcides Escobar, who was playing in and got the force at home instead of trying for the inning-ending double play.
"With Pence running," Finnegan said, "I doubt he could've turned two."
So it would be up to Sandoval, with the bases loaded and two outs. Finnegan's first pitch was that patented two-seamer. It looked like it was going to catch the outside part of the plate, and then, as it tends to do, it darted back away, traveling a couple inches away and on a trajectory that's almost impossible for someone swinging from the right-handed batter's box.
Sandoval lined it up the middle, plating the two go-ahead runs -- and that's exactly what Moustakas was talking about.
"'Not every time you throw that two-seamer down and away is somebody going to pop it up or hit a ground ball right at somebody,'" Moustakas recalled telling Finnegan. "'They get hits. That's why you get paid all the money you do in the big leagues. Those guys are phenomenal baseball players, and they're going to get some hits off good pitches.'"
By that point, Finnegan was swimming upstream. His 0-1 two-seamer to Brandon Belt stayed up, perhaps his only mistake of his nightmarish outing, and it resulted in an RBI single. The young left-hander came out for the seventh, then gave up a leadoff single to Brandon Crawford on a two-strike two-seamer low and away, walked Michael Morse after spiking a full-count splitter and watched the Giants tee off on Tim Collins from the dugout.
Finnegan said he forgot about his outing "as soon as I went down here," which isn't easy. Not for someone who was drafted 17th overall four months ago, or is seven weeks removed from his Major League debut, or was speaking 24 hours after recording two big outs to preserve a one-run lead in the seventh inning.
"He's not going to lose confidence from this," Hosmer said. "He came in, did his job, fired strikes, and it just didn't work out for us."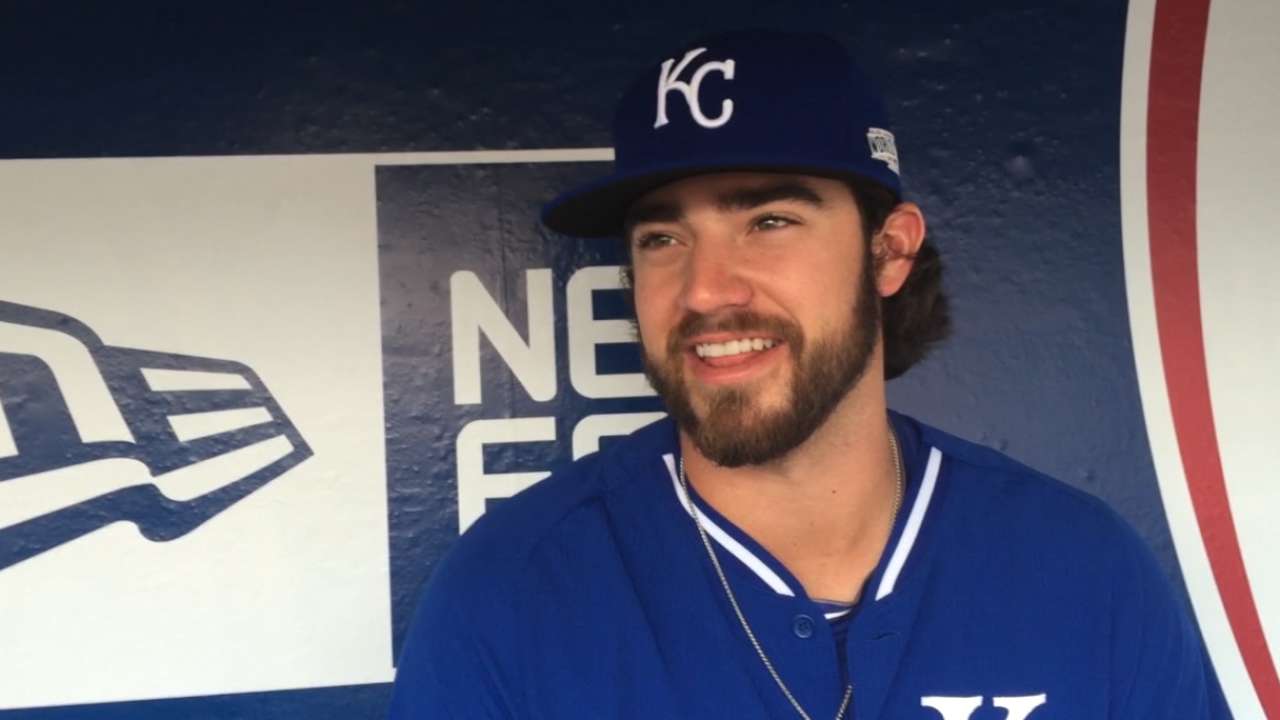 After Game 3, a night that ended with his cap in the Hall of Fame as the first player to pitch in the College World Series and Major League World Series in the same season, Finnegan called all of this "a dream." After Game 4, his first taste of how fickle this can all be, Finnegan was asked if his dream had suddenly morphed into a nightmare.
"No," he said, "it's still a dream. I'm still 21, in the World Series. This is still part of the dream. You're just going to have parts when you're set back a little bit."
Alden Gonzalez is a reporter for MLB.com. Read his blog, Gonzo and "The Show", and follow him on Twitter @Alden_Gonzalez. This story was not subject to the approval of Major League Baseball or its clubs.