Traveling Bases make final stop during Game 4
Bidding underway for unique memorabilia; proceeds to benefit RBI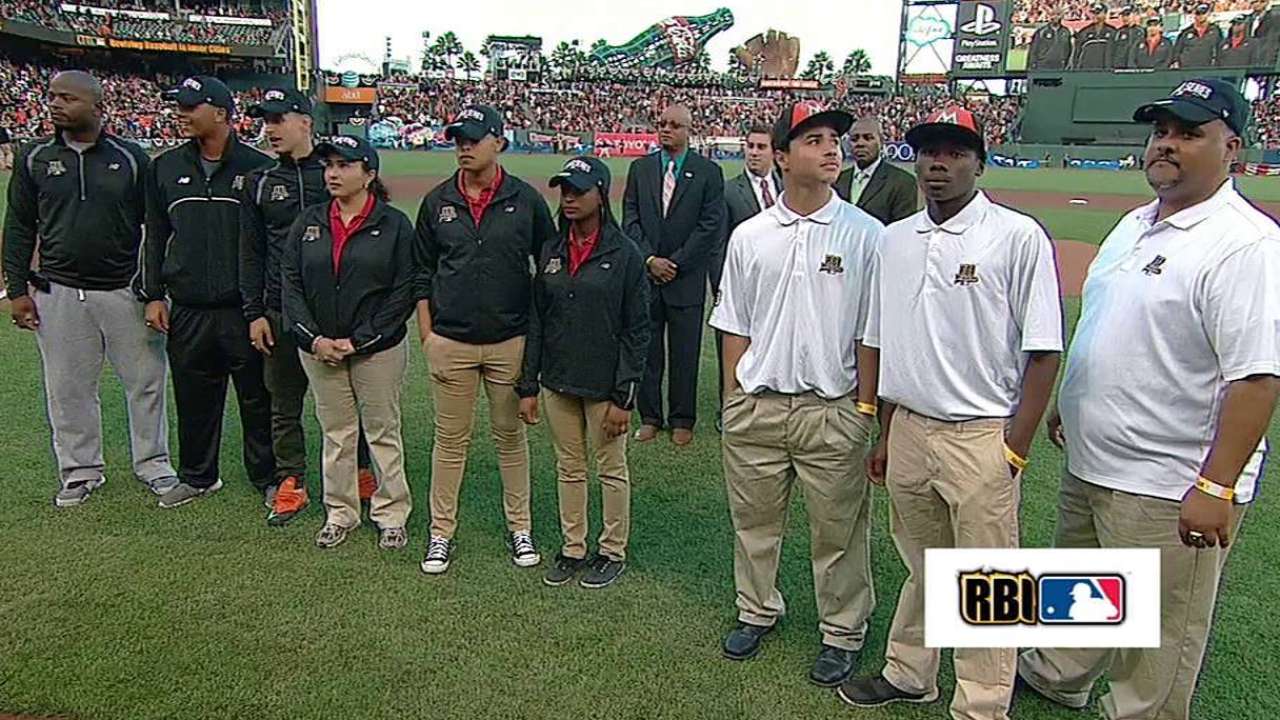 SAN FRANCISCO -- They were there for Tim Lincecum's second career no-hitter on June 25 in San Diego, for an Indians triple play on July 1; for Derek Jeter's final All-Star Game in Minnesota, for Javier Baez's home run in his Major League debut for the Cubs on Aug. 5, for Gregory Polanco's five-hit game, for David Ortiz's 30th homer of the season; for the Nationals' 92nd win of the season and Justin Upton's 100th RBI and much, much more.
On Saturday night at AT&T Park, the unprecedented Thirty Base Tour made its final stop as Major League Baseball's three "traveling bases" were used for the fourth through sixth innings of Game 4 in the 110th World Series. Bidding is underway on these three bases, which have been used at all 30 ballparks this season, starting on June 13 in Miami.
The bases were removed after the bottom of the sixth by the grounds crew and representatives from the Reviving Baseball in Inner Cities (RBI) World Series champions, who were in attendance as MLB dedicated Game 4 to a theme of youth outreach. Representing Miami Marlins RBI (Jr. Baseball division champions) were Robert Robinson and James Spatafora, representing Jackie Robinson Jersey City RBI (Sr. Baseball division champions) were Angel Perez and Josh Witherspoon and representing RBI Santo Domingo (Softball division champions) were Anyelis Ariesty and Lupe Matos.
Each pair of teammates handle their own base, removing the Traveling Bases and replacing them with a new set. Net proceeds of the auction will benefit RBI, and the bidding was up to $6,050 during Game 4 with the listing scheduled to conclude the week after the conclusion of the World Series. Whoever wins the auction will have game-used memorabilia worthy of inclusion in the Hall of Fame in Cooperstown.
During each series throughout this tour, all three bases have been used in-game for a minimum of three innings and in the same base position each time. The bases are authenticated at every stop, as they were Saturday.
"I had only one superstition," Babe Ruth said after leaving the game with 714 homers. "I made sure to touch all the bases when I hit a home run."
Here's just one reason to love the tradition of baseball: The basics of the bases stay the same. When Ruth was touching them all from 1915-35, it was still three square bags each set 90 feet apart, and then a pentagonal shaped home plate to finish off the run. But what a difference in base maintenance. Bases are commonly authenticated as memorabilia after sufficient usage, and in this case there was a great idea to let the bases actually visit ballparks.
What would happen after a full season of sharing them? Fans have been following the bases online through the MLB Authentication database at MLB.com by their hologram numbers: first base (HZ110358), second base (HZ110359) and third base (HZ110360).
And who would touch 'em all? Naturally, a large number of sluggers. Giancarlo Stanton did it for his 18th homer of the season, Adrian Beltre's ninth, Kolten Wong's seventh, Adrian Gonzalez's 16th, Melky Cabrera's 15th, Evan Longoria's 16th, Todd Frazier's 25th and Adam LaRoche's 26th. Polanco even parked one in that five-hit game as a Pirates rookie on June 13 in Miami, an 8-6 Pittsburgh victory in 13 innings.
That just happened to be the first stop on this tour. Polanco's big game was in the opener of a three-game series at Marlins Park that got this all started.
Chris Davis of the Orioles and Jason Castro of the Astros each hit grand slams when these bases were used, so those are actually two perfect candidates right there to bid.
Use the #TravelingBases hashtag to track the progress of this set and to share your latest bid with other fans. Follow @MLBAuthenticator for more on this subject.
The RBI program, which has served more than 1 million young people since its inception in 1989, is administered by MLB and is designed to give young people from underserved and diverse communities the opportunity to play baseball and softball, while also encouraging academic achievement and success and teaching the value of teamwork and other important life lessons. RBI currently serves more than 220,000 young men and women in more than 300 programs in approximately 200 cities worldwide. MLB and its clubs have designated more than $30 million worth of resources to the RBI program, and all 30 clubs support RBI leagues.
Mark Newman is enterprise editor of MLB.com. Read and join other baseball fans on his MLB.com community blog. This story was not subject to the approval of Major League Baseball or its clubs.