Selig sees competitive balance at work in World Series
Commissioner weighs in on several topics prior to Game 4 at AT&T Park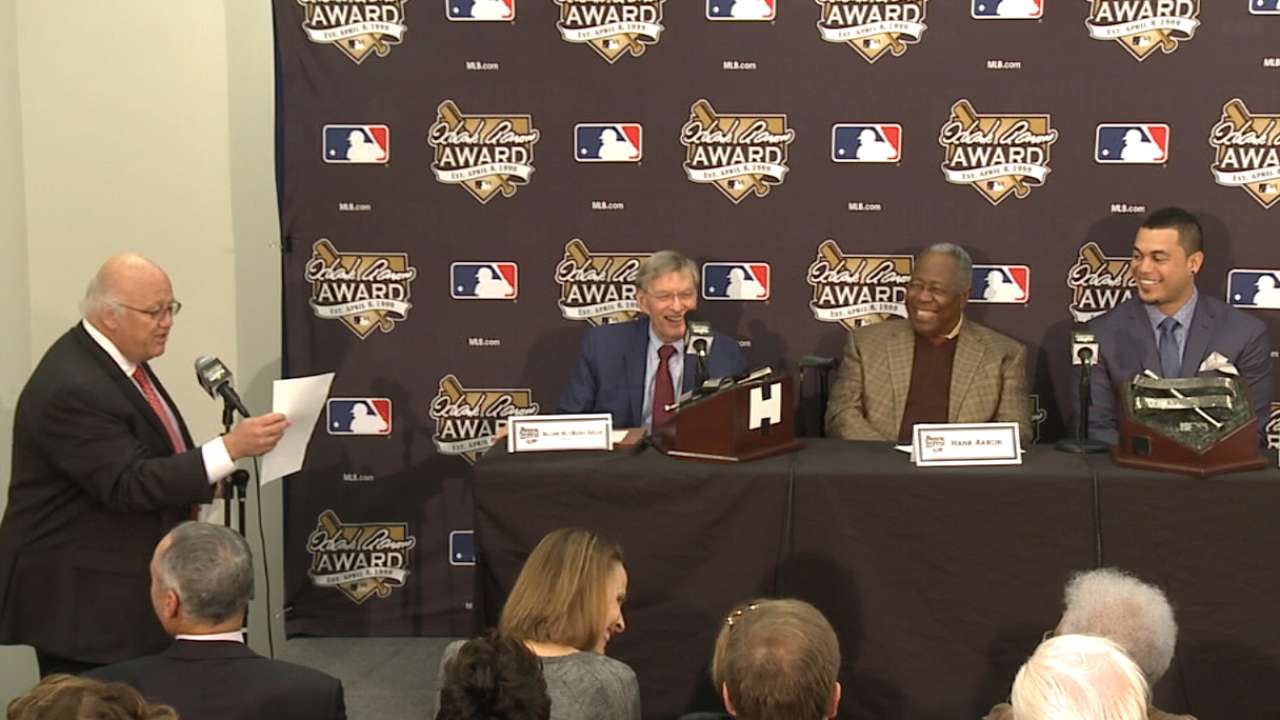 SAN FRANCISCO -- One of Major League Baseball Commissioner Bud Selig's proudest accomplishments during his 22 years in office is creating greater competitive balance between large- and small-market teams. And the Kansas City Royals being in the World Series is just the latest example of how well that's working.
"I'd be less than honest if I didn't tell you, of course, it's one of the manifestations," Selig said during an informal gathering with a handful of reporters before the Giants' 11-4 win over the Royals in Game 4 of the World Series on Saturday at AT&T Park. "It's a wonderful story, and we've had a lot of other ones."
Selig recalled how emotional he became last season while watching the reaction of Pittsburgh fans as the Pirates made it to the postseason for the first time in two decades.
"Sitting at home watching it, I had tears in my eyes," he said. "You've all heard me say how much I believe in the hope and faith theory. And I do believe that."
Selig recalled being informed by a blue-ribbon committee he appointed 15 years ago that more than half of the teams had no chance of winning.
"So the fact that Kansas City is in the World Series, of course, makes me feel good," he said. "No system is perfect, but it's what we set out to do, and it's worked."
Selig touched on a number of other topics in the short session:
• On the fact that the Tampa Bay Rays, another small-market team, has recently lost highly regarded general manager Andrew Friedman and manager Joe Maddon:
"A team has to have a ballpark that makes [it] competitive," Selig said. "I don't want to be unkind about their ballpark, but you all know what I think of it. More important than what I think about it is it doesn't produce the kind of revenue you need.
"[Owner Stuart Sternberg] understands it. He's very smart and he's very able. He and I are having a lot of ongoing conversations, and I think they're moving in the right direction."
• On the ongoing efforts of the Oakland Athletics to get a new ballpark, partly due to territorial concerns of the San Francisco Giants:
"That's a very complex problem," Selig said. "I have confidence, having spoken to [Giants president] Larry Baer and [A's owner] Lew Wolff today, that someday somehow we'll work that out. I'm always an optimist, but time will tell."
• On television ratings:
"Let's wait until it's over," Selig suggested. "Look, the FOX people are delighted. They're winning the night by huge margins.
"Of course, I'd like greater television ratings. On the other hand, I had 10 clubs this year that were the No. 1 program in their market all summer long. Record sums being given to local teams for broadcast rights, and we got huge money for our national television package. So I'm satisfied. Nothing is perfect, but wait until the World Series is over and I think you'll be surprised.
"People want to talk about where the sport is. Every index you can use, the sport is more popular than it's ever been -- revenue, attendance, local, national, anything. You ask a question about popularity. Look at the numbers on [MLB.com]. Look at the many millions that are looking at [MLB.com] every single day. And the [MLB] Network has been extraordinarily successful. These are not manifestations of a sport struggling in any manner, shape or form."
• On what he'd like to accomplish before he retires:
"I've got two or three things I really want to do, but overall I tell everybody, peace and quiet until Jan. 25 is my goal," he said, laughing.
Paul Hagen is a reporter for MLB.com. This story was not subject to the approval of Major League Baseball or its clubs.