Mo'ne is money with first pitch to open Game 4
Little League World Series star throws perfect strike; Santana performs anthem with son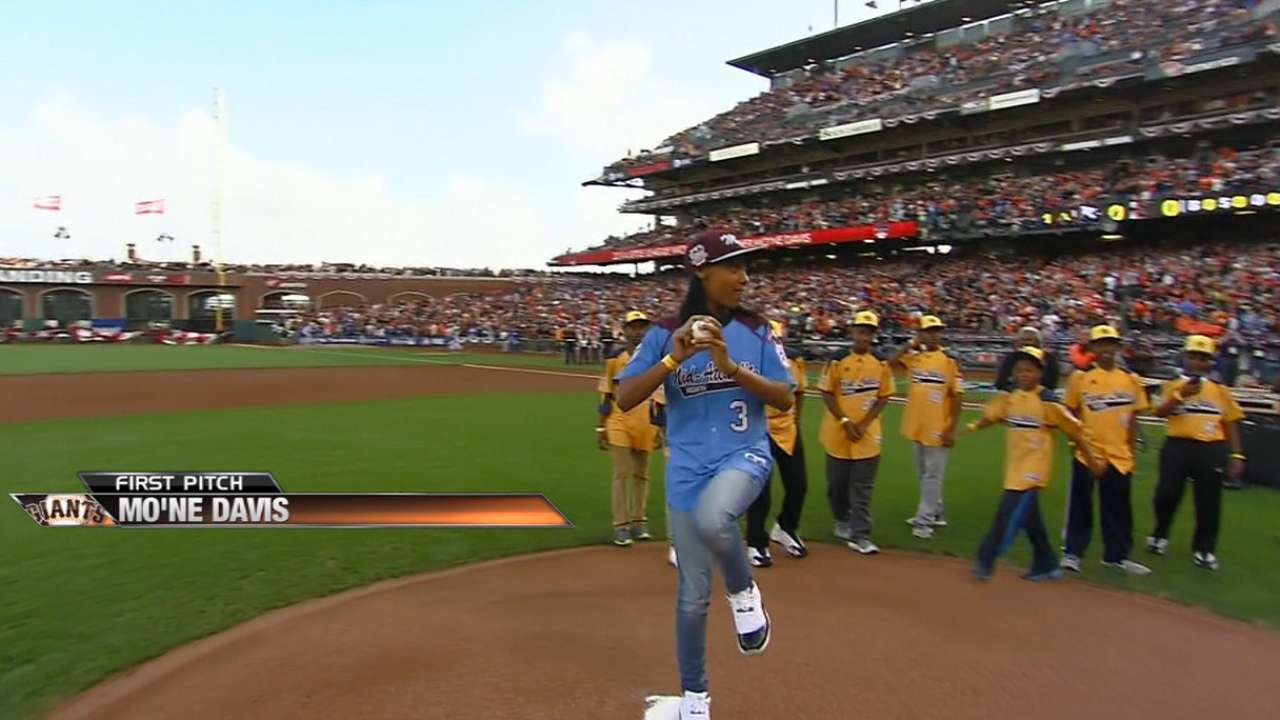 SAN FRANCISCO -- Saturday's Game 4 of the World Series at AT&T Park featured another star-studded pregame show. Little League World Series star Mo'ne Davis, who became the first female pitcher in LLWS history to throw a shutout, threw a perfect strike -- complete with a celebratory fist pump -- to Giants backup catcher Andrew Susac for the ceremonial first pitch. Davis, along with LLWS champions Jackie Robinson West from Chicago's South Side, were honored on the field in a special pregame ceremony.
While the World Series stage is certainly brighter, Davis is no stranger to the first-pitch duties. She threw out the first ball at Dodger Stadium earlier this year, and she also appeared with her Taney Little League teammates from Philadelphia at Citizens Bank Park.
"To be at the World Series is amazing, but just throwing a strike was the best part," Davis said. "I went to the mound and just lobbed it over the plate."
Davis also said a highlight of her day at AT&T Park was meeting Hall of Famers Hank Aaron and Frank Robinson, and getting to talk with her favorite player, Phillies second baseman Chase Utley, on the phone.
Spike Lee, who directed Davis in a recent commercial, was on the field at AT&T Park during batting practice and watched Davis make her pitch.
"Spike is a great guy. The best part of shooting the commercial was making three three-pointers in a row," Davis said. "And then he told me to try a half-court shot, and I made that, too. That's the one that's in the commercial."
The national anthem was sung by Bay Area natives Carlos Santana and his son, Salvador. The elder Santana is a 10-time Grammy Award-winning guitarist. The younger Santana is a keyboardist who contributed to his father's Grammy Award-winning track "El Farol" on the hit album "Supernatural."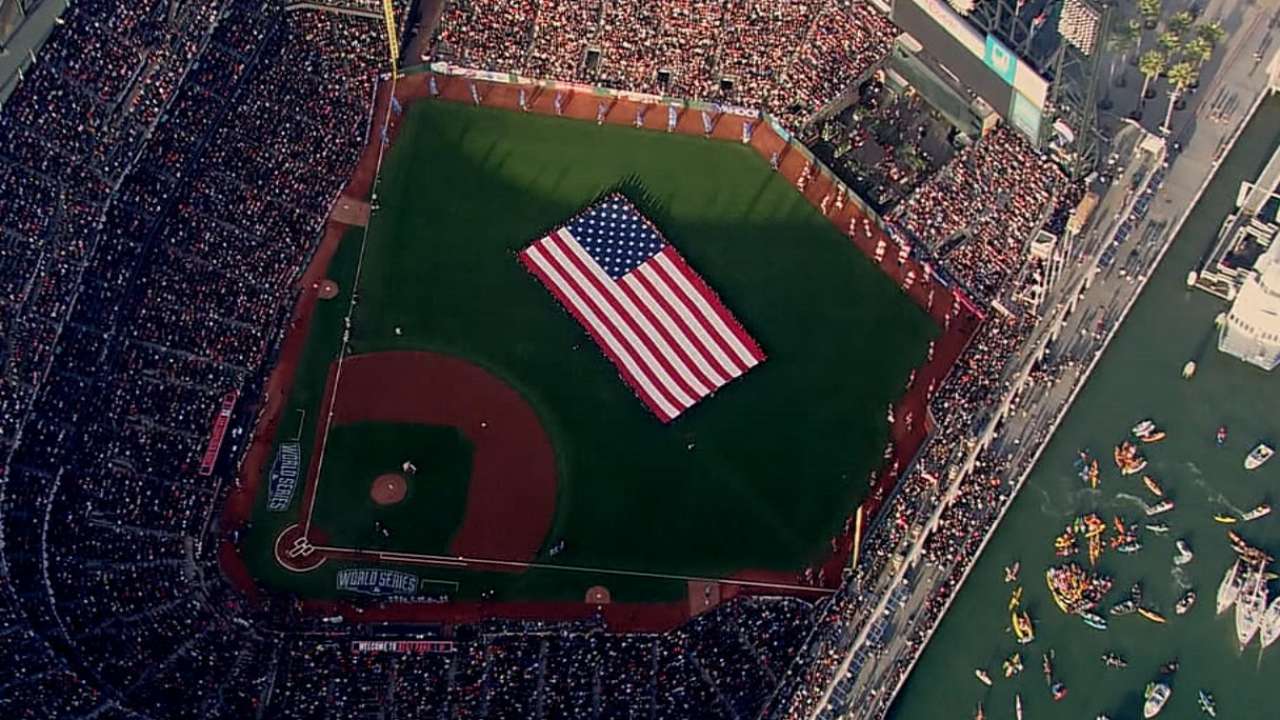 The Santanas made a concerted effort to make their version of the national anthem different and one that would resonate with fans.
"I had the opportunity to transfigure the anthem in a way that made it sound a bit more endearing," Carlos said. "Music is a way of life for us. My father did it, and his father and his father. We love touching people's hearts."
"Both my dad and I are inspired by different versions of how the song has been done, and we just took the best of the best and created our own version," added Salvador. "We thing our version embodies togetherness and equality."
Following the anthem, the game ball was delivered by former Giants player and manager Felipe Alou and Boys & Girls Clubs of America's National Youth of the Year, Maryah Sullivan. Sullivan, 18, is a student at the University of South Florida and was a member of the Boys & Girls Clubs of Central Florida -- Joe R. Lee Branch.
Bryan Stow, the Giants fan who has been embraced by the team and the city after a beating at Dodger Stadium in 2011 left him with brain damage, was given the honor of yelling "Play Ball!"
Stow, a former paramedic from nearby Santa Cruz, Calif., delivered the words from a wheelchair and received a standing ovation from the soldout crowd.
In a statement issued by the Giants on behalf of the Stow family, Bryan's mother, Ann Stow, expressed her family's appreciation.
"We are so thrilled to be here tonight," she said. "This is the first World Series game Bryan will be able to remember since his accident. [He attended Game 2 of the 2012 World Series]. He is so appreciative of all the support Giants fans have shown him throughout this journey. He feels like he is part of the team."
Staff Sgt. Pedro Aleman of the United States Army sang "God Bless America" during the seventh-inning stretch.
Lindsay Berra is a columnist for MLB.com. This story was not subject to the approval of Major League Baseball or its clubs.