MLB.com Columnist
Richard Justice
Mutual respect on display as Aaron honors Selig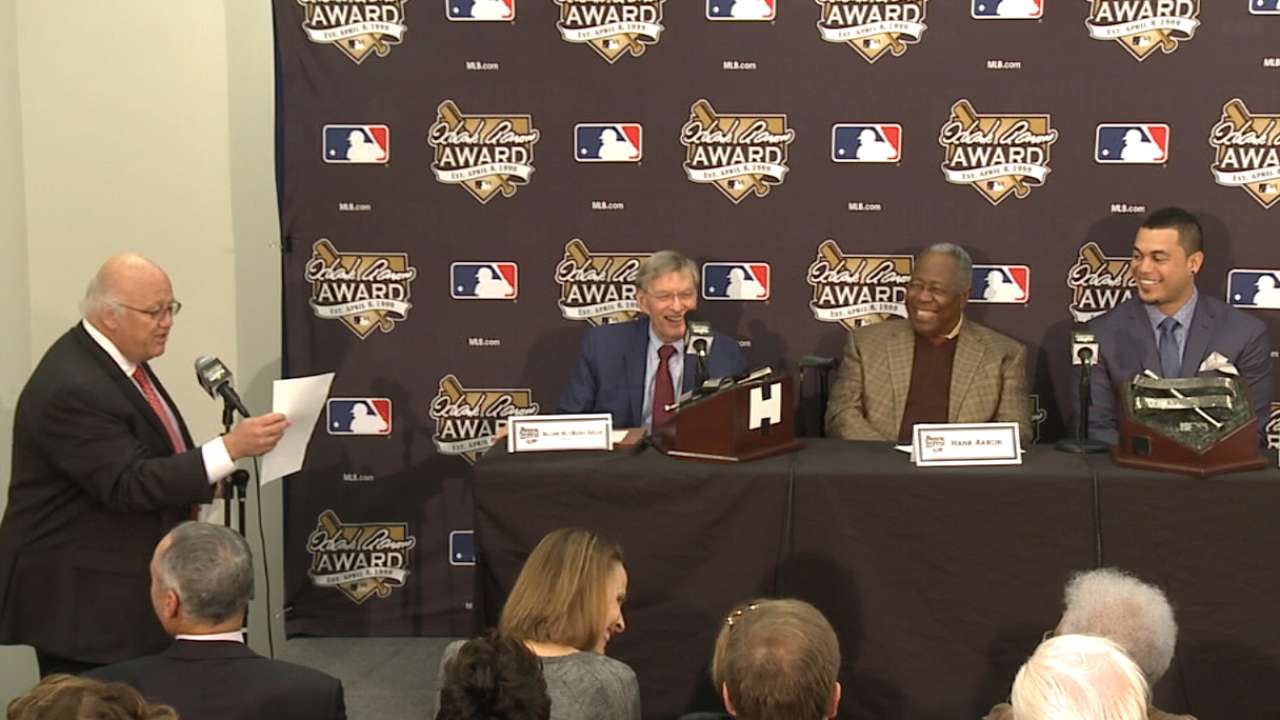 SAN FRANCISCO -- Theirs is a friendship built on respect and trust and values. And their mutual love of baseball. Always baseball. Here's the best part. After 57 years, Commissioner Bud Selig and Hall of Famer Henry Aaron are as close as ever.
So there they were Saturday afternoon sharing a touching moment that spoke volumes about their relationship. It caught Selig by surprise, brought emotions bubbling near the surface.
They'd attended a news conference before Game 4 of the World Series on Saturday to present the annual Hank Aaron Award to
Giancarlo Stanton
of the Marlins and
Mike Trout
of the Angels for being their league's top sluggers.
When they were done, Aaron had one more piece of business: To honor Selig's 44 years in baseball, including 22 as Commissioner, Aaron presented him with an honorary Hank Aaron Award. Selig seemed near tears.
"Yes, very emotional," the Commissioner said later.
But it was way more than simply honoring Selig for his contributions to the sport both men love deeply. In the end, it was an opportunity for them to tell the world why each man holds such a special place in the other's heart.
Neither is completely sure how the friendship began almost six decades ago in Milwaukee. Aaron was a star for the Milwaukee Braves and on his way to becoming arguably the greatest player of all-time.
Selig, meanwhile, was a huge baseball fan and a Milwaukee car dealer. Somewhere along the way, they were introduced to one another. Aaron remembers getting his first car from Selig, a Ford convertible that was such a beauty that he was reluctant to drive it on the dirt roads near his Mobile, Ala., home.
"He was concerned about baseball back then," Aaron said. "I remember going to baseball, football games with him, and he was talking about things that he would do if he got to be the Commissioner. And he had his eyes set on a big prize, because he knew that he could do something to make the game a little better.
"I just want to congratulate [him] for all that he has ever done for baseball. I mean, I don't think that anybody can really give him enough praise for all of the things that he has done for baseball. He's stood tall. I am just so happy that I got to be his friend."
On the plaque Selig was presented by Aaron were these words:
In honor of your dedicated and distinguished service to baseball, this honorary Hank Aaron Award is presented to Bud Selig by your friend of more than 50 years, Hank Aaron. Your determination and love for the game, your stewardship brought baseball to unprecedented heights and a legacy as Commissioner that is unmatched.
Selig's intense involvement in baseball began after the 1965 season, when he was devastated that his Braves left Milwaukee for Atlanta. Selig committed himself to bringing baseball back to his hometown, and he did just that four years later by purchasing the Seattle Pilots.
Selig is proud of the fact that in 22 years as owner of the Brewers, he personally acquired just one player -- Aaron.
"We had a young club," Selig said. "We needed stability. It was the first of many moves that really led us to having good teams. It was for me, almost unbelievable. The thought of bringing Henry Aaron back would bring back memories of the great '50s and so on. More importantly, he helped build clubs that later became very, very good, and it was just a pleasure to have him."
During the 1975 and '76 seasons, Selig and Aaron grew even closer, with Aaron even showing Selig some of the hate mail he received during his pursuit of Babe Ruth's home-run record, which the slugger broke on April 8, 1974.
"When you think of our icons and all that the game means, could we do better than Henry Aaron?" Selig asked. "I don't think so. We really had an incredible relationship. I remember Opening Day in Milwaukee. It meant so much to the people. Standing-room only crowd. We didn't have a lot of them in 1975. The crowd sang 'Hello Henry' to the tune of 'Hello Dolly.' People waved. This was our history being brought back. I remember how moved he was."
Reflecting upon the award, Selig said, "A lot of things happen to you in a long career, and a lot of really wonderful things. We met many, many years ago, did a lot of things together. Went to football games. The poor fella, Cleveland Browns could never beat the Packers, and he grumbled and moaned ... but it didn't help it anyway, Jim Brown notwithstanding. Here is a man -- and I say this because I think it's the greatest compliment -- he's still the same nice person, decent, sensitive person today that he was in 1958. Broke the most famous record in sports, and it didn't change him. Went through unmitigated hell for having the gall to break that record, but did it with a lot of class and dignity."
Aaron recalled, "The people of Milwaukee were just absolutely ... I mean, they were great. I can't say enough about them. In fact, I have not missed a year from not going back there. I've got lots of friends there. I just love Milwaukee. It's one city that I feel like I can go there and do no wrong. So, really, I just feel great by going back there, because I've got friends, like the Commissioner."
And there's Aaron the player, which is one of Selig's favorite topics. Dusty Baker once said the worst thing Aaron ever did was hit 755 home runs, because it overshadowed his all-around greatness.
"I wish you could have seen him in the '50s," Selig said. "The ball came off his bat like a Howitzer. Great right fielder. Not a good right fielder, a great right fielder. Great baserunner, tremendous arm. Extraordinary all-around player. He's the guy who broke Babe Ruth's record, but he was a lot more than that."
Which is exactly what Aaron would say about Selig.
Richard Justice is a columnist for MLB.com. Read his blog, Justice4U. This story was not subject to the approval of Major League Baseball or its clubs.