Stow receives heartfelt ovation before 'Play Ball' call
Giants players, San Francisco community continue to rally behind LA beating victim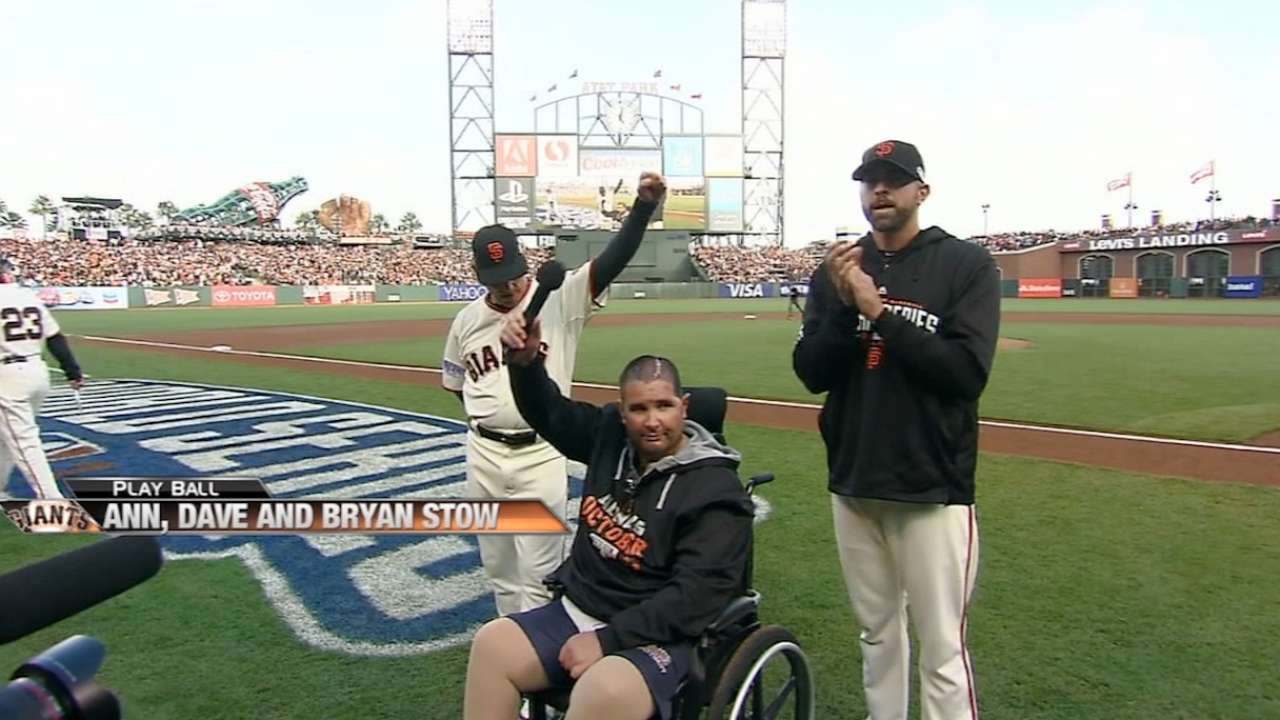 SAN FRANCISCO -- During the ceremonies prior to Game 4 of the World Series on Saturday night at AT&T Park, each Giants player in the starting lineup received a nice round of applause from the sellout crowd as they were announced.
None, however, could touch the heartfelt emotion in the cheers reserved for Giants fan Bryan Stow, when he was handed the microphone to yell, 'Play Ball!'
Stow, a longtime Giants fan, was severely beaten on Opening Day 2011 while attending a Giants-Dodgers game at Dodger Stadium.
Stow spent months in the hospital and at a rehabilitation facility before his insurance stopped paying for it and he was forced to move back in with his parents, who provide him with constant care.
"We are so thrilled to be here tonight," Ann Stow, Bryan's mother, said in a statement released by the Giants. "This is the first World Series game that Bryan will be able to remember since his accident. He is so appreciative of all the support Giants fans have shown him throughout this journey. He feels like he is part of the team."
The Giants organization and the team's fans have rallied around Stow.
Giants third-base coach Tim Flannery has been a leading force in securing funds to help pay for Stow's medical care, raising in excess of $100,000.
Left-handed pitcher Jeremy Affeldt also has played a role in fundraising, and he and Flannery stood on either side of Stow's wheelchair on Saturday night as he spoke to the crowd.
"We feel like it's our responsibility; it's our mission; it's who we are," said Giants president and CEO Larry Baer. "You look at the leadership of Tim Flannery and Jeremy Affeldt. We wish it had never happened. It should never have happened, but it's restored our faith in humanity, based on the way the community has rallied. It's very emotional for those of us who were in L.A. at the time it happened. It's really a blessing and a testimony to the human spirit and the community and support he's had here from doctors, incredible friends, new friends and Giants players."
This past summer, Stow was awarded $13.9 million for lost wages, past and future medical expenses and non-economic damages by a Los Angeles Superior Court jury.
Stow's progress has defied expectations. He has learned to walk with the help of a walker and has also regained his speech as evidenced by his loud -- and proud -- "Play Ball!" call.
Steve Gilbert is a reporter for MLB.com. Read his blog, Inside the D-backs, and follow him on Twitter @SteveGilbertMLB. This story was not subject to the approval of Major League Baseball or its clubs.