MLB.com Columnist
Megan Zahneis
Moose, Royals embracing underdog role
Thrilled to have chance to win title for KC, longtime teammates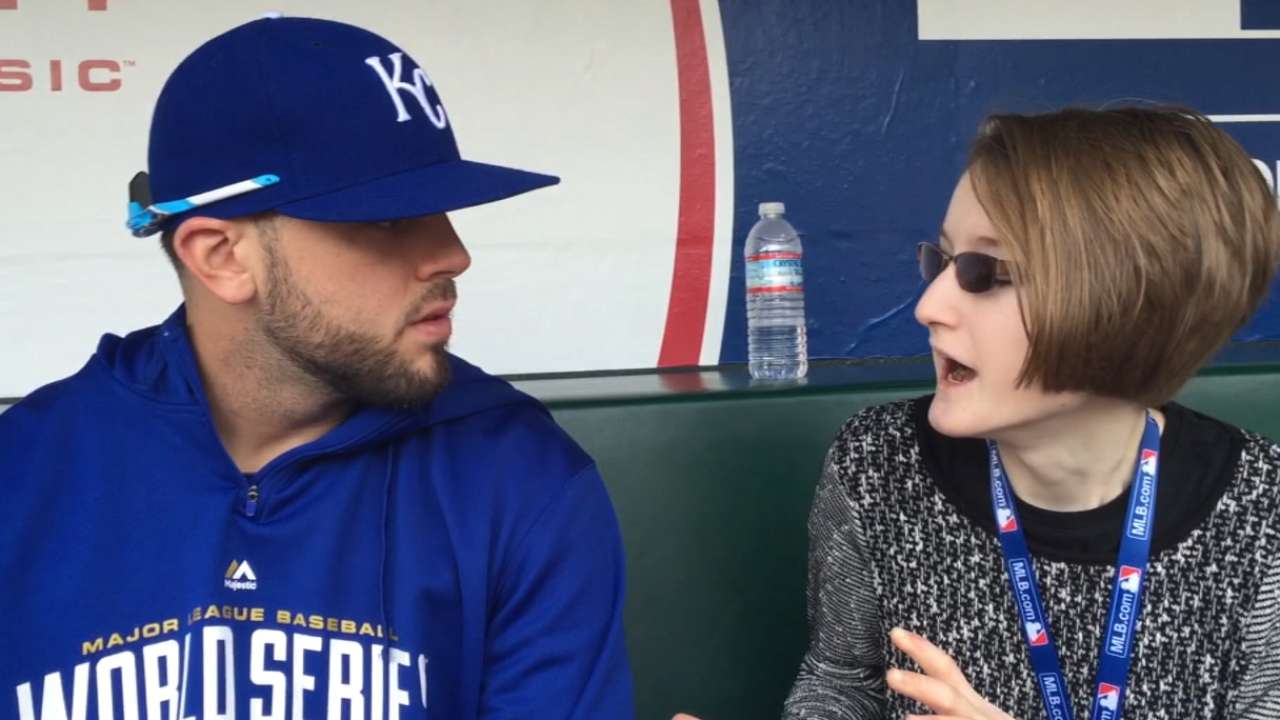 SAN FRANCISCO -- These days, Mike Moustakas is quick with a smile and even quicker with a fist bump.
In other words, he's a pretty happy guy.
And why wouldn't he be?
After all, he's the starting third baseman for the Kansas City Royals.
Scratch that: the American League champion Kansas City Royals. You know, the ones who entered Game 4 of the World Series up 2-1 over the San Francisco Giants.
You might say Moustakas is enjoying himself.
Yet, he knows how lucky he is to be playing on this stage -- with his longtime teammates, to boot.
"It's unbelievable," Moustakas said of the journey he's taken. "We've worked so hard since the Minor Leagues, since the first day we got drafted to end up getting to this point. We were all able to get here together, which is really cool. Me, Hos [Eric Hosmer], Salvy [Salvador Perez], CC [infielder Christian Colon], [catcher Francisco] Pena. We all worked to get to this point. It's awesome to be able to come here and do this together as a team."
There's no denying Moustakas and Co., some of whom have played together since the Minor Leagues, are part of a core Royals squad that will be the club's nucleus for years to come.
Surely, there are some plusses to that.
"Absolutely. Huge advantage," Moustakas said. "We know how each other thinks, we know what each other is going to do. It's nice to be able to have that little chemistry that we've kind of got going out here. We're able to rely on each other."
Moustakas says the team stays true to its roots.
"We know where we came from, and we never forget that," he explained. "We know what we've done, and nothing else is important right now other than trying to win ballgames. And that's, I think, how we focus on the task at hand. We got to go find a way to win a ballgame each night. As long as we stay with that approach, I think we'll be in good shape."
The fans of Kansas City have waited 29 years for this moment. They've come out in full force to support their hometown team -- and Moustakas. One fan brought 47-inch moose antlers to Game 1 at Kauffman Stadium in a nod to his favorite player's nickname ("Moose"), even dubbing a big blue Land Cruiser the "Moosemobile."
Moustakas is eager to pay them back.
"Those people out in Kansas City deserve it. They're such great fans, such loyal fans. They come out to every game, you know, they're standing, they're cheering, they're yelling for us. So to be able to bring that back to Kansas City would be special. With this group of guys, anything is possible. But we're so focused on winning the game tonight, we'll see where we're at after that," Moustakas said.
Moustakas and the Royals are well aware they weren't considered the favorites going into the World Series.
"We like it. We've been the underdogs most of our careers. That's kind of the place where we're comfortable at. We don't like people expecting too much from us because then we can go out and surprise everybody," Moustakas said with a laugh. "We know what we have in here. We know we're a good team. To us, we're not the underdogs. We're just going out there and playing the game and having some fun."
Yet they manage not to let that perception get to them, and it shows.
"We get to play Major League Baseball every day. Being underappreciated, none of that matters to us," Moustakas explained. "We just want to go out and win ballgames. And if we're the underdog, we're the underdog. We'll find a way to win."
And with those words, and a fist bump or two, Moustakas was off.
Meggie Zahneis, winner of the 2011 Breaking Barriers essay contest, earned the job of youth correspondent for MLB.com in the fall of '11. This story was not subject to the approval of Major League Baseball or its clubs.