MLB.com Columnist
Phil Rogers
Potential destinations for Maddon intriguing
Former Rays skipper likely to have plenty of options for 2015 season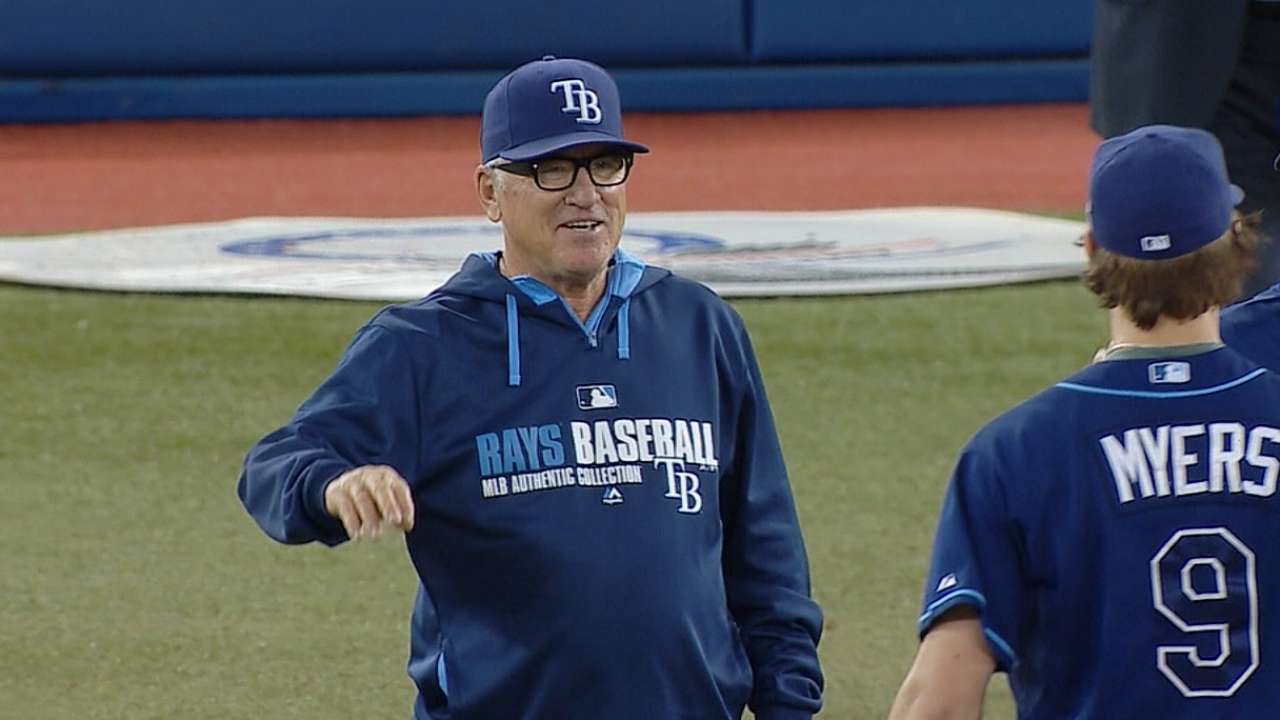 Attention, Starbucks customers in Chicago.
Please be on the lookout for a middle-aged man in stylish horn-rimmed glasses. He may be dressed like a character in "Mad Men," but he is a master of disguises who could attempt to look like a member of Country Joe and the Fish, Johnny Cash or Al Czervik, the character Rodney Dangerfield played in "Caddyshack."
Maddon hopped into his RV on Friday somewhere in Tampa, Fla., bound for his home near the water in Newport Beach, Calif., a drive of 2,528 miles that, under the best of conditions, takes 40 hours. But Maddon was said to be in no hurry, with a stop planned to visit family in Phoenix and, who knows, maybe a detour near an airport somewhere to finalize his next adventure.
Maddon became baseball's most intriguing free agent on Friday, when he surprised the Rays by exercising an opt-out clause in his contract. No one knows where his career is headed, but the loudest whispers are about Chicago, where Theo Epstein was infamously spotted at a Starbucks three years ago, when the Cubs were recruiting him to run their baseball operations.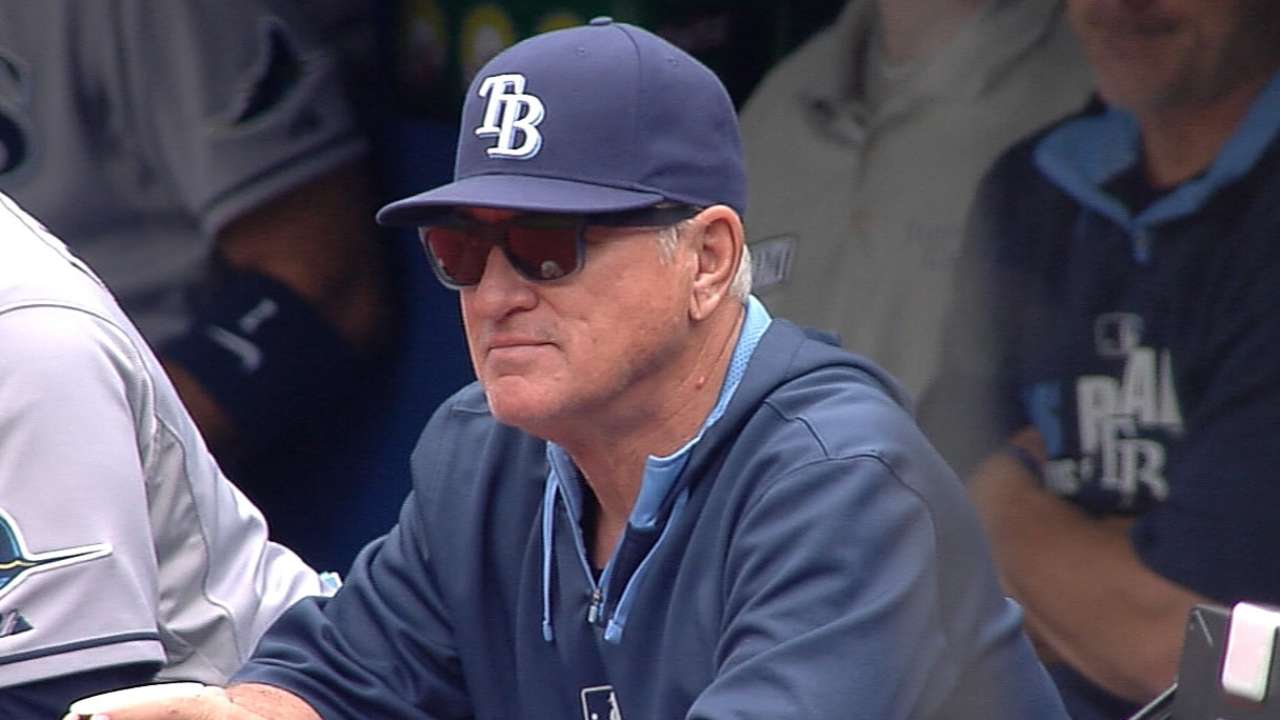 Epstein thus far hasn't been replying to inquiries about Maddon, so it may once again be up to the public to pull back the veil of secrecy around the organization. But before exploring why Maddon and the Cubs are the best match -- never mind that manager Rick Renteria was deemed to have done a good job in the first season of his three-year contract -- let's explore some other possibilities for Maddon as he begins his life away from Tropicana Field.
• Dodgers: Don Mattingly led one of baseball's most complicated rosters to the postseason two years in a row, but they went 3-7 in postseason games against the Cardinals, so he's not in as strong of a position as he should be. There has been Maddon-to-the-Dodgers speculation since Andrew Friedman left Tampa Bay for a five-year contract that has been reported at $7 million a year, but Friedman issued a statement on Friday to declare that Mattingly will manage the Dodgers in 2015 and, he says, hopefully for years to come. He'd be a great hire, but Mattingly has been successful.
• Angels: Maddon spent 31 years in the Angels organization before his ultra-successful nine-year run with the Rays, including a period as an understudy to Mike Scioscia, who helped prepare him to manage Major Leaguers. Scioscia has four years left on the 10-year contract he signed when ownership was afraid he would jump to the Dodgers and seems to have lost a bit of his mojo. Heavy spending on free agents Albert Pujols, Josh Hamilton and C.J. Wilson hasn't gotten the Angels past the early rounds of the postseason. General manager Jerry Dipoto told MLB.com that "of course Mike will be our manager."
• Phillies: Maddon grew up in Hazleton, Pa., about 100 miles northwest of Philadelphia. He's worked hard on non-profit activities to help youth and in-need families there. But the Phillies have an old roster without an abundance of young talent in the wings, so they are probably not as attractive to Maddon, unless he's looking to repeat the against-the-odds storyline he wrote with Tampa Bay. Besides, Ryne Sandberg is one year into a three-year contract, and GM Ruben Amaro Jr. emphasized to MLB.com that Sandberg is his manager.
• Twins: They're the one team that currently doesn't have a manager, and Maddon isn't afraid of a challenge. He would be a good fit in Minnesota, but the Twins don't seem a good fit for him, as they haven't paid their managers aggressively. However, they do have significant young talent coming quickly through their farm system. General manager Terry Ryan had been expected to pick between Paul Molitor, Torey Lovullo and Doug Mientkiewicz for the opening, but now he will likely reach out to explore Maddon's interest. He'd be crazy not to do that due diligence. But on the baseball landscape, Minnesota hardly seems a significant upgrade over Tampa Bay.
• Broadcasting jobs: If Maddon chooses not to manage in 2015, he will be a tremendously popular hire for any network broadcasting baseball, and probably several that have nothing to do with baseball. He's highly creative, well informed and would do great in almost any endeavor he entered. Lou Piniella, Dusty Baker, Terry Francona and Buck Showalter are among the established managers who have served stints in TV while in between managerial jobs. But Maddon's agent has said that he hopes to manage next season.
And that leaves one team, the one that hasn't won a World Series since 1908.
Epstein almost hired Maddon to manage the Red Sox in 2003, but he opted for Francona instead, leaving Maddon free for the Rays to hire two years later. Epstein and Maddon are free-thinkers cut from similar cloth, and Epstein's admiration for Maddon has only grown over the last decade. The Rays' dramatic seven-game American League Championship Series victory over Epstein's Red Sox in 2008 slammed home to Epstein how a manager can get a motivated young team over the top.
That's exactly what the Cubs need their manager to do at some point in the next five years. They have a manager now in Renteria, and by any measure, he did a solid job in handling a 73-win team last season. However, he's not especially charismatic, and did not build a strong base of support among fans last season. And, more to the point, he's an unknown in regards of his ability to win with a strong team.
If Epstein is indeed going to attempt to address his pitching needs by adding Jon Lester or another frontline free agent this fall, he will be signaling that it is time for his team to compete after three years of a rebuild, with an eye on having putting his team into the postseason on a consistent basis by 2016 or '17 at the latest. It might be as impossible for him to overlook the chance to add Maddon as it would be for the Twins to not even give him a call.
Renteria is signed for two more years. Yet, Epstein has not given him a public vote of support since speculation about Maddon began on Friday. He is keeping reporters in the dark, as he and ownership did when the Cubs were recruiting Epstein.
So until Epstein or someone else says otherwise, the Cubs and Maddon will be the best possible marriage on the board, even as he motors west in his RV, the hammer anything but down.
Phil Rogers is a columnist for MLB.com. This story was not subject to the approval of Major League Baseball or its clubs.