Shields eager for chance at redemption in Game 5
Having adjusted mechanics after rough Game 1, starter can bring KC within win of title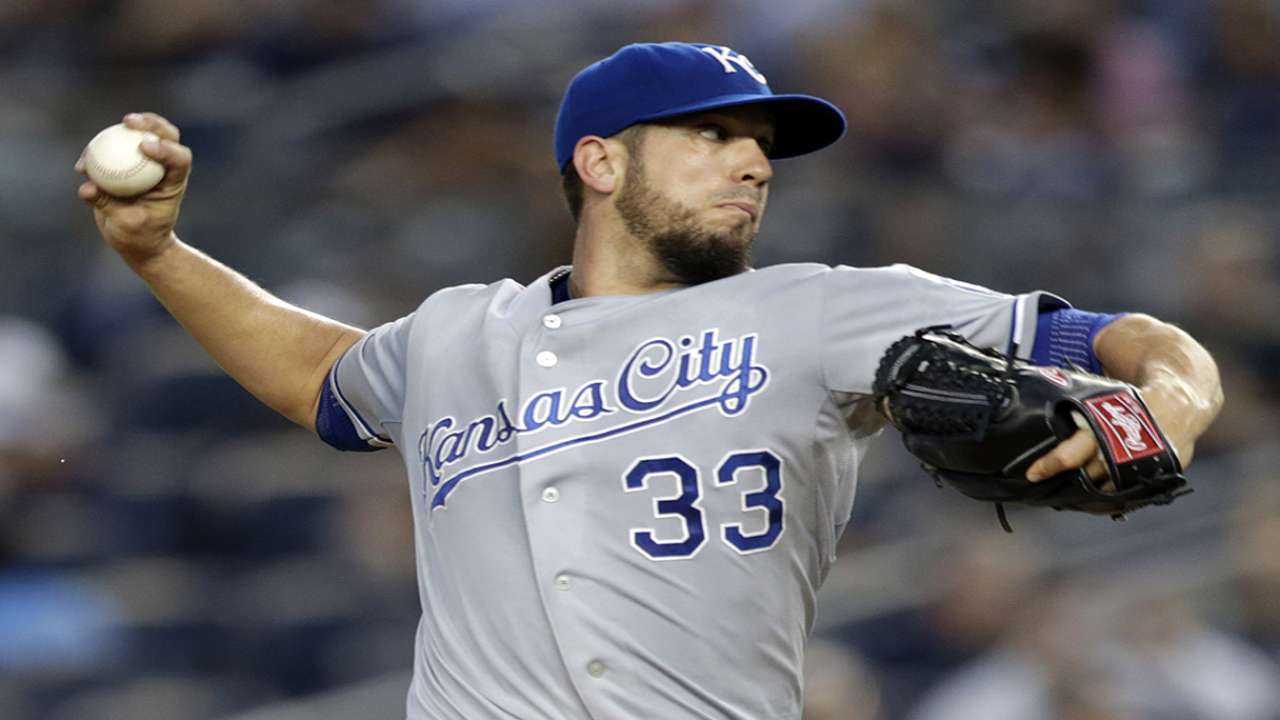 SAN FRANCISCO -- James Shields felt it almost immediately after taking the mound for Kauffman Stadium's first World Series game in three decades. His delivery was moving too fast, his left shoulder was flaring out and his body was shifting side to side, indications of a pitcher who was either too anxious, or fatigued by a full-season workload, or trying too hard to get it right, or -- perhaps in Shields' case -- all of the above.
Speaking before tonight's matchup against Giants ace Madison Bumgarner, for a critical swing game in a World Series that's tied at 2, the Royals' ace practically vowed to get it right.
"It's just kind of one of those things as a baseball player you've got to really hone in," Shields said. "I've been on this stage before, and I know exactly what to feel like when I'm out there, and I think this time around I'm not going to be as amped up and [will] just try to keep my emotions in check."
Game 5 -- air time is at 6 p.m. CT, with first pitch from AT&T Park at 7:07 on FOX -- is in many ways Shields' last chance.
It's his last chance to live up to the "Big Game" nickname that has recently evolved into a punch line, to turn it around after a month's worth of struggles and, as a looming free agent who may price himself out of Kansas City, to put his final stamp on a Royals club he helped get here.
Shields has been charged with 26 earned runs on 40 hits in 28 1/3 innings of his six postseason starts dating back to 2010. In five of those starts, he gave up at least four runs and didn't record an out in the sixth inning. In four outings this postseason, he has a 7.11 ERA. And in his most recent one, Tuesday's World Series opener, he gave up five runs and recorded only nine outs in an eventual 7-1 loss.
In other words, Shields isn't inspiring much confidence these days -- unless you ask his manager.
"I've seen him pitch for 65 starts or so; I know what type of pitcher he is," said Ned Yost, pointing to a regular-season stretch from 2013-14 in which Shields has won 27 games, posted a 3.18 ERA and compiled 455 2/3 innings.
"I know his intensity, I know his work ethic, I know his competitiveness. I know that as much as a lot of you guys think that these guys are lights-out, perfect every time they go out there, they're not. They're human beings. They make adjustments, and they have good games and they have bad games. But I know tomorrow, when he steps on that mound, he's going to be ready both physically and mentally to compete and give us his best effort, and that's all I can ask."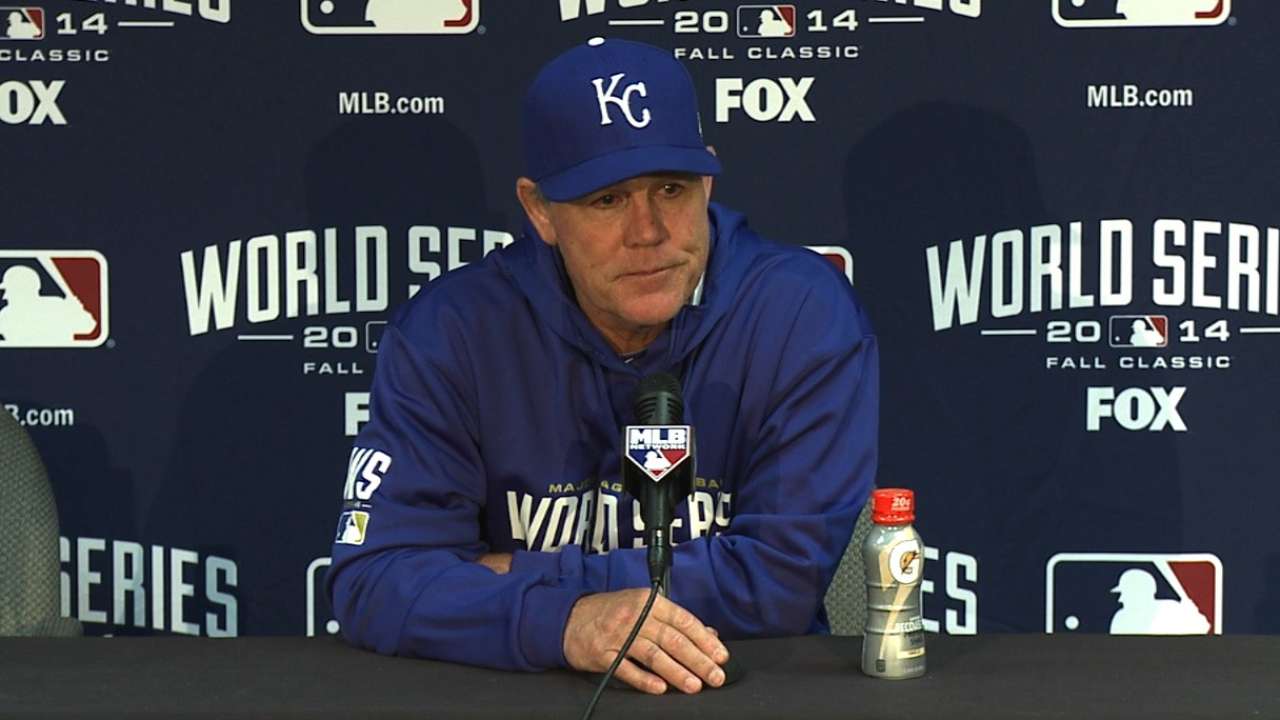 Shields' shortest start in six years came at the worst possible time. Five batters into Game 1 of the World Series, he put his team in a 3-0 hole on a Pablo Sandoval double and a Hunter Pence two-run homer. Three batters and three baserunners into the fourth, he exited. And all throughout, Shields was unable to establish any command with his changeup, prompting him to rely heavily on his fastball against a fastball-hitting team.
After that start, Shields dismissed the notion that his struggles had anything to do with the 11-day layoff and scoffed at the thought that his performance might have been affected by a recently passed kidney stone.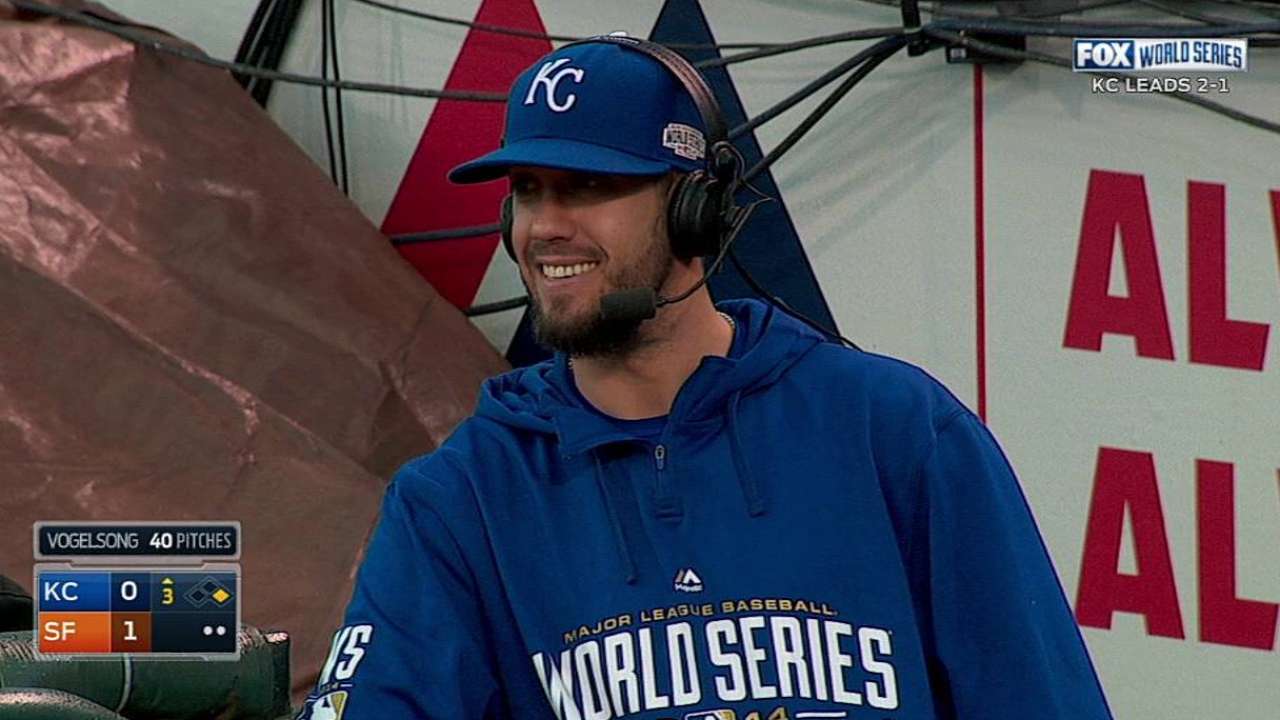 Before his next one, he talked glowingly about how he might have figured it out.
Shields felt he was "rushing to the plate" and "really flying open" with his delivery. Upon release, he was "getting behind the ball," and his direction toward home plate was more "east to west" as opposed to "north to south."
"When you do that," Shields explained, "your ball tends to stay flat."
Shields saw it in the tape, worked on it with pitching coach Dave Eiland in his between-starts bullpen session and believes he's mechanically sound again.
"Hopefully it translates into the game," Shields said, "and I'm sure it will. I felt really good in my bullpen session. The ball was coming out pretty good out of my hands, and my body feels good physically, so I'm ready to go."
Alden Gonzalez is a reporter for MLB.com. Read his blog, Gonzo and "The Show", and follow him on Twitter @Alden_Gonzalez. This story was not subject to the approval of Major League Baseball or its clubs.