Rough night for Royals' bullpen as Giants knot Series
Bats provide early lead, then go silent as relievers allow eight runs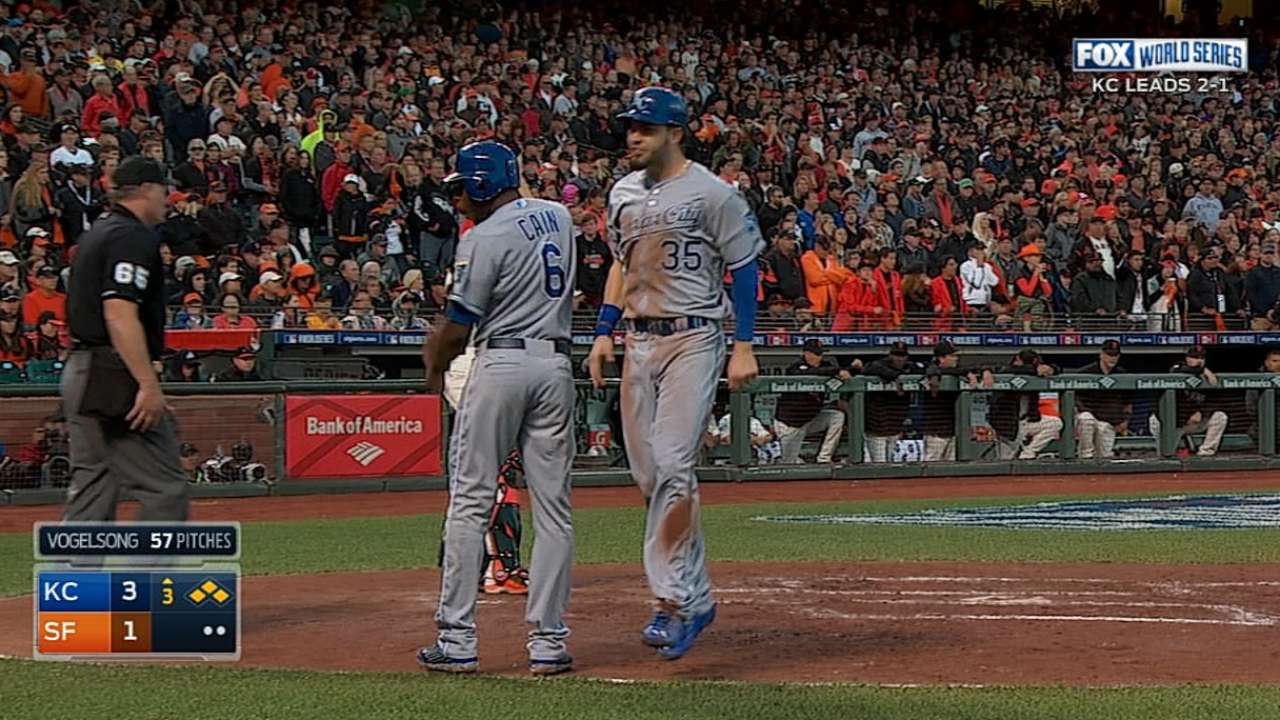 SAN FRANCISCO -- All even. The San Francisco Giants wiped out a three-run deficit and pummeled the Kansas City Royals, 11-4, on Saturday night to tie up the World Series at two games each. That means the 110th Fall Classic will go at least six games and return to Kansas City.
The Giants broke out a 16-hit attack after two straight losses to the Royals. Hunter Pence led the way with three hits, three RBIs and two runs scored. Eric Hosmer and Salvador Perez each had three hits for the Royals.
Royals manager Ned Yost chose to take a positive approach.
"We got our tails whipped today, but it's Game 4 of the World Series," Yost said. "We're tied 2-2, how much more fun can that be? There is nothing better in the world. I've never felt so good about getting my tail whooped in my life."
For a brief time, it seemed as if the Giants might be about to get whooped. The Royals surged ahead, 4-1, with four runs in the third inning -- stirred by Omar Infante's two-out, bases-loaded single -- but left-handed starter Jason Vargas lasted just four-plus innings. The Giants rallied against the middle men of the bullpen, Jason Frasor, Danny Duffy, Brandon Finnegan and Tim Collins.
Yost kept his prized late-inning trio, Kelvin Herrera, Wade Davis and Greg Holland, out of the game.
"I've been going to the whip on those guys," Yost said. "I've got to have them for three more games. So they've got to be at their best."
The game included the first instant replay challenge under the new system in World Series history, lost by the Royals during the game-turning sixth.
The Royals were intent on taking a 3-1 lead in the best-of-seven Series with a chance to win the championship on Sunday at AT&T Park. But now the showdown will return to KC's Kauffman Stadium on Tuesday night.
In the postseason fray for the first time in 29 years, the Royals are trying to repeat the World Series title they won in 1985. As they discovered on Saturday, it won't be easy.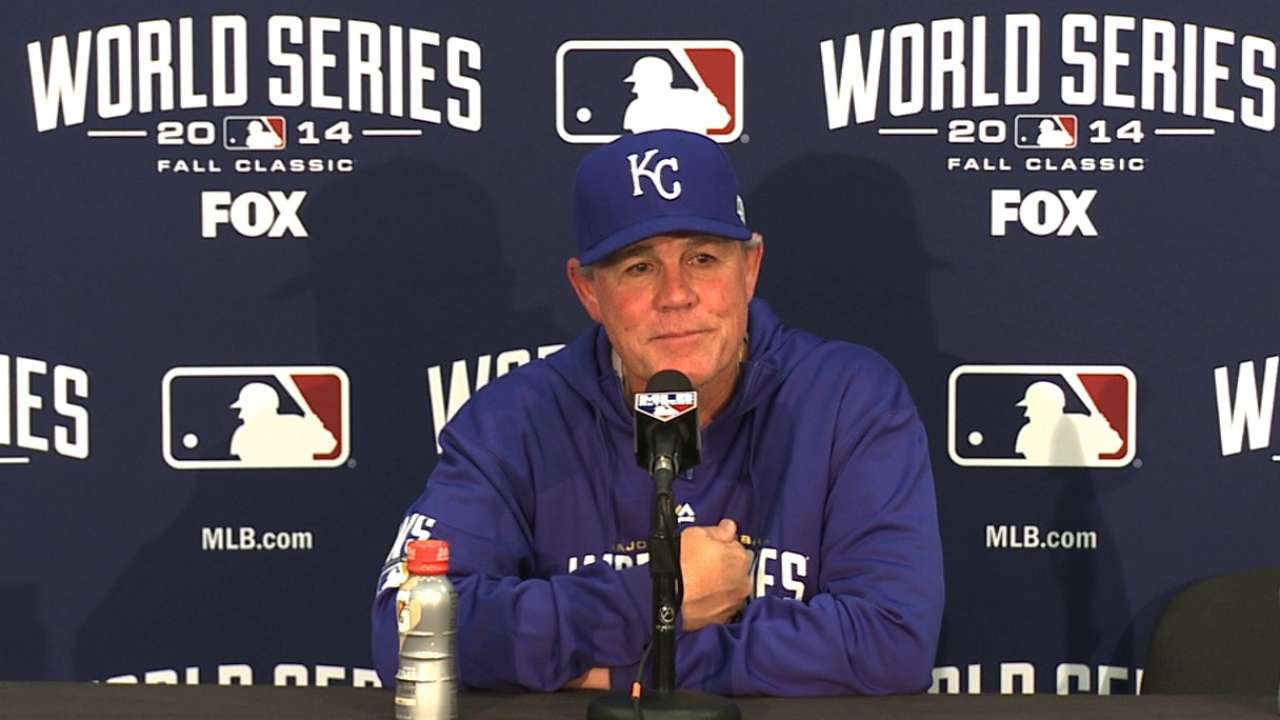 HOW THE ROYALS LOST THE GAME
Finnegan, a rookie left-hander who was the hero of Friday night's 3-2 Royals victory, entered the game in the sixth with the score tied at 4. When the inning ended, the Giants had a 7-4 lead. The Giants added four runs in the seventh.
Pinch-hitter Joaquin Arias and Gregor Blanco started the commotion with singles and moved up on Joe Panik's sacrifice bunt. Buster Posey was purposely walked to fill the bases and that worked as Pence's grounder to shortstop Alcides Escobar was turned into a forceout at home.
Should the Royals have opted to try for an inning-ending double play instead? Infante, the second baseman, didn't think so because Pence had foiled a likely-looking double play in the first inning.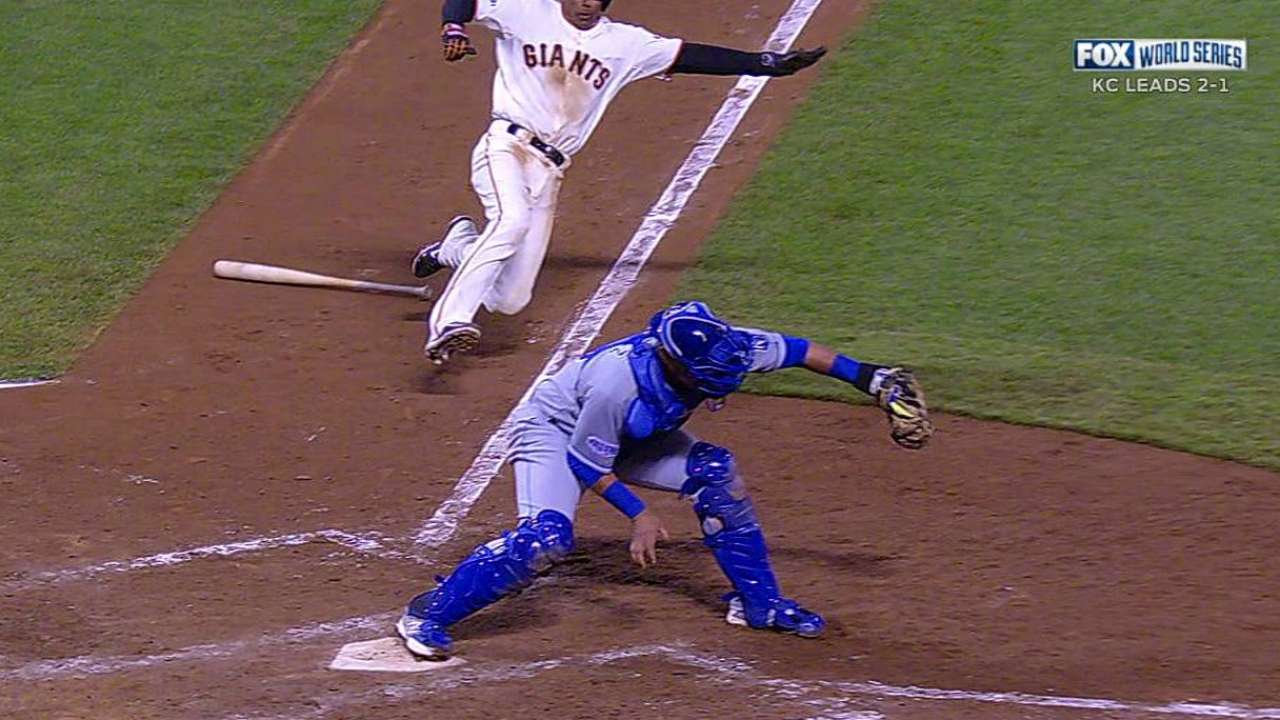 "The coaches told us, if it's a slow ground ball, we have to go to home plate," he said. "It's a tough decision for Escobar, but he threw to home plate. For me, that's a good play because Pence is a good runner."
Pence, though, wasn't all that confident.
"Honestly, when I hit it, I kind of slipped out of the box," he said. "I wasn't sure."
So there were just two outs. Pablo Sandoval, despite fighting the flu, drilled a two-run single and Brandon Belt followed with an RBI hit before Finnegan finally retired the side.
The Giants added four more runs in the seventh against Finnegan and Collins, and that was more than enough.
THE MOMENTS THAT MATTERED
Prime time for Infante: Get Infante to the plate with the bases loaded and good things tend to happen for the Royals. In the regular season, he'd gone 6-for-8 with the sacks jammed and driven in 16 runs. He delivered again in the four-run third inning.
Giants starter Ryan Vogelsong had two out and one on when Lorenzo Cain and Hosmer both got infield singles to produce one run. Hosmer was safe when Vogelsong, covering first base, didn't get there in time. So the inning continued.
"I think if he gets that out, he throws a nice game for us," said Giants manager Bruce Bochy. "He had buzzard luck and there's not much you can do about it."
Mike Moustakas walked to fill 'em up and Vogelsong remained, even though Infante was 9-for-13 against him in his career. Sure enough, on a 2-2 pitch, Infante singled to center for two runs. Perez followed with a single for another run and Vogelsong was done.
"He's got good stuff, but I make an adjustment and see the ball well when he pitches," said Infante, who smacked a fastball.
Reliever Jean Machi walked Jarrod Dyson to again load the bases but Vargas, after mistakenly thinking he'd drawn ball four -- "I just lost track of the count" -- struck out to end the inning. Even so, he had a 4-1 lead.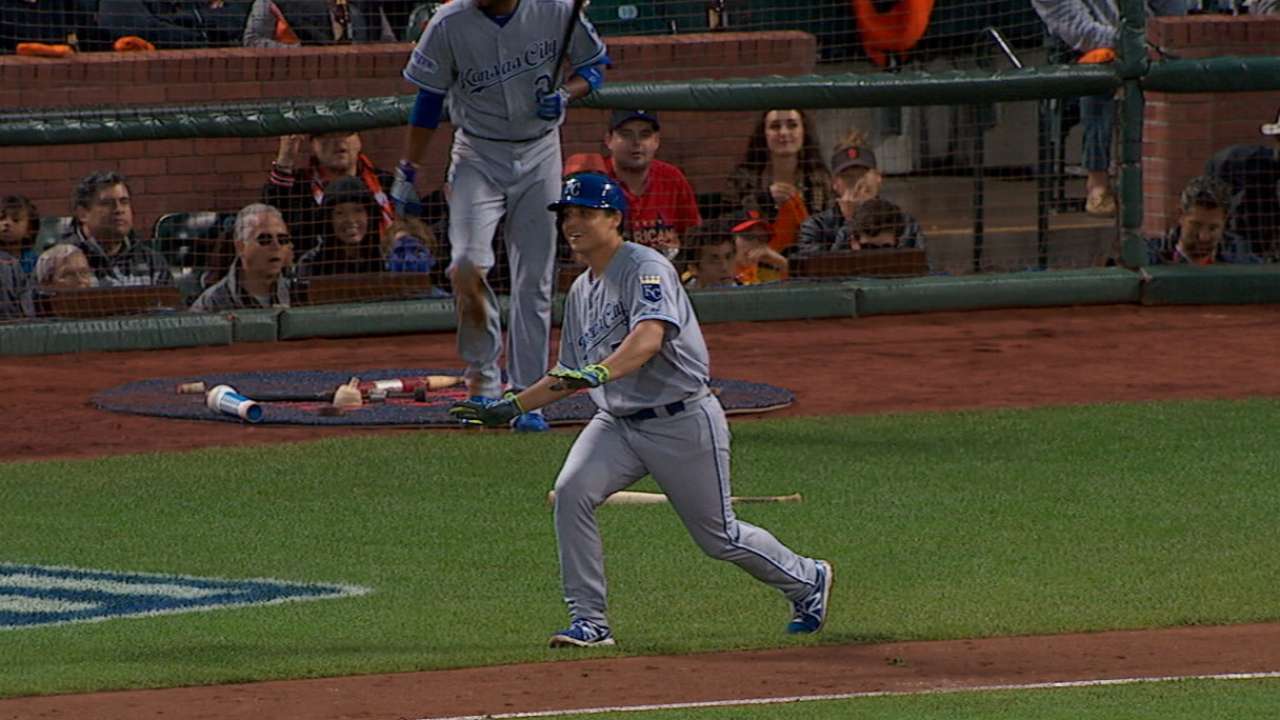 Vargas goes only four-plus: The well-known goal for the Royals is to get their starting pitcher through six innings with a lead. Vargas made it through just four-plus innings and, with only a 4-2 lead at that point, gave up Panik's double to start the fifth.
Too early to bring in the fabled backend trio of the bullpen, so right-hander Frasor was summoned. He got an out before yielding an RBI single to Pence. On came Duffy to face Sandoval. But he singled, Belt walked on four pitches and Juan Perez's liner was caught beautifully in short center by a diving Dyson. But Pence charged home after the catch for a 4-4 tie.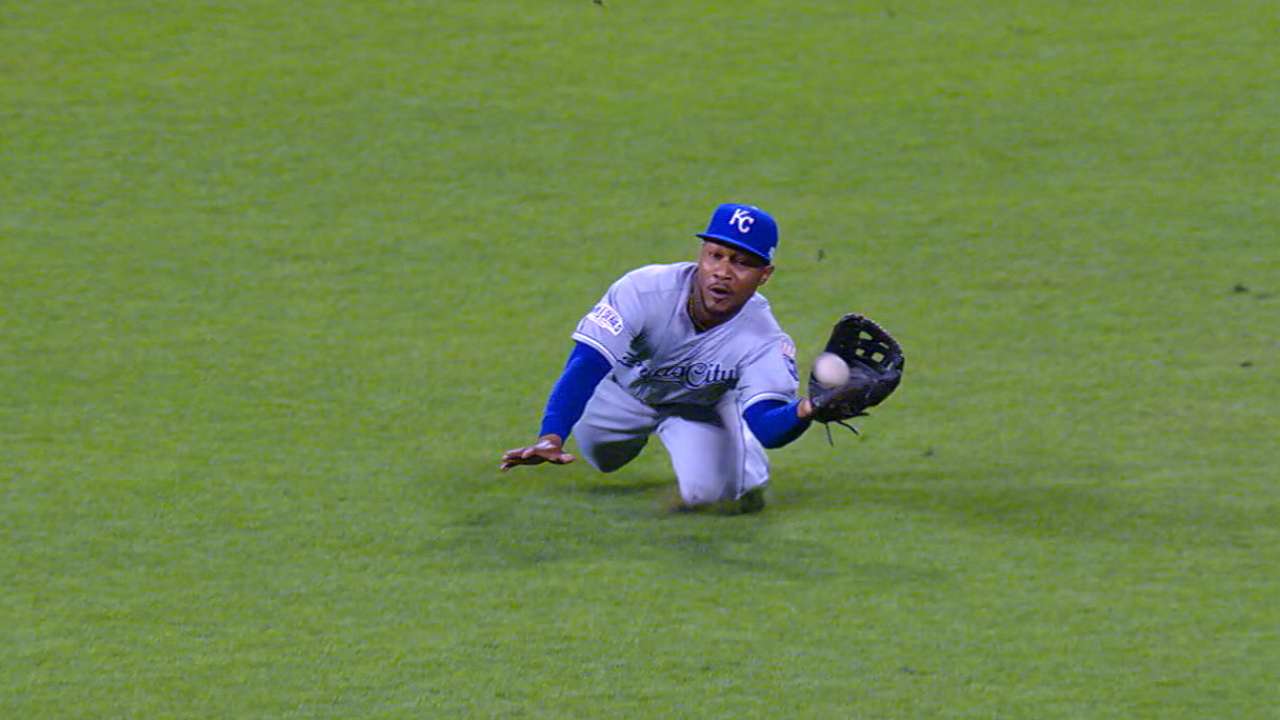 Vargas was charged with three runs on six hits.
"They're in a World Series for a reason," Vargas said. "They're able to grind out at-bats and figure out ways to win. Tonight they were able to seize a couple opportunities, then take advantage when things got out of hand."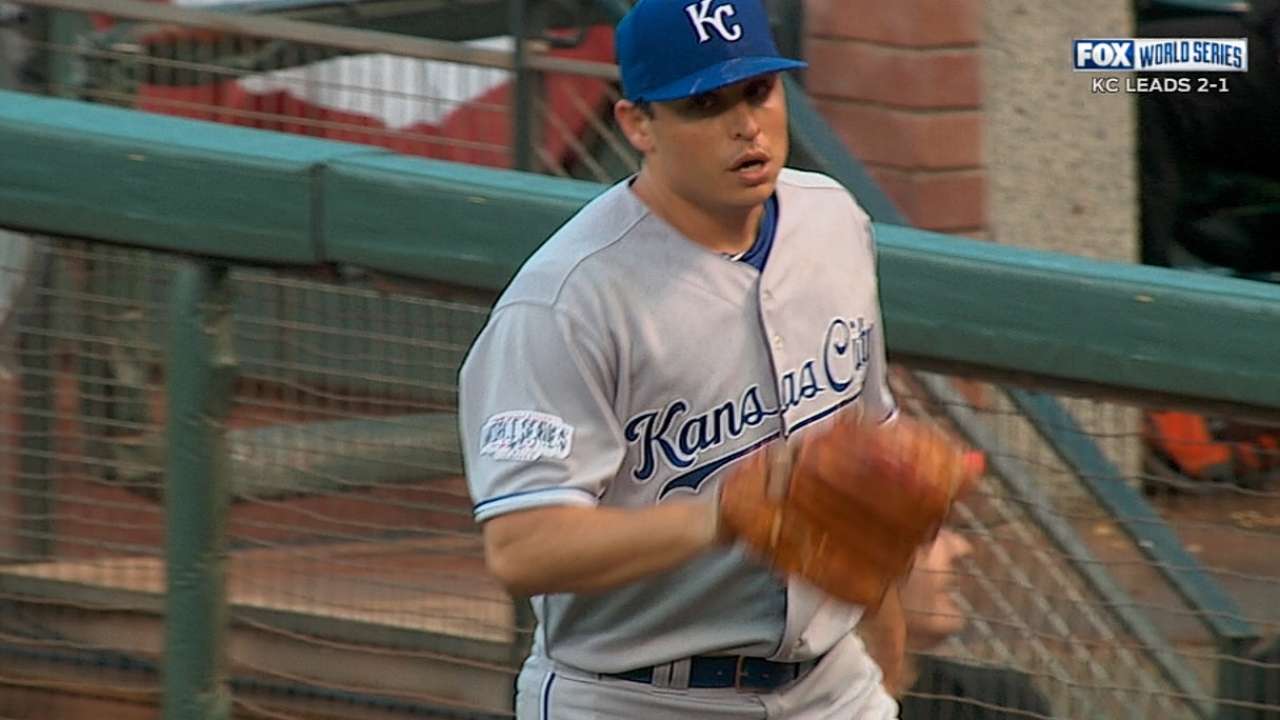 ONE FOR THE HISTORY BOOKS
Before the Giants' tiebreaking sixth-inning really got underway, Royals catcher Perez winged a pickoff throw to Escobar at second base. The call was safe, but it was close enough that Yost thought Arias might be out so he issued a manager's challenge.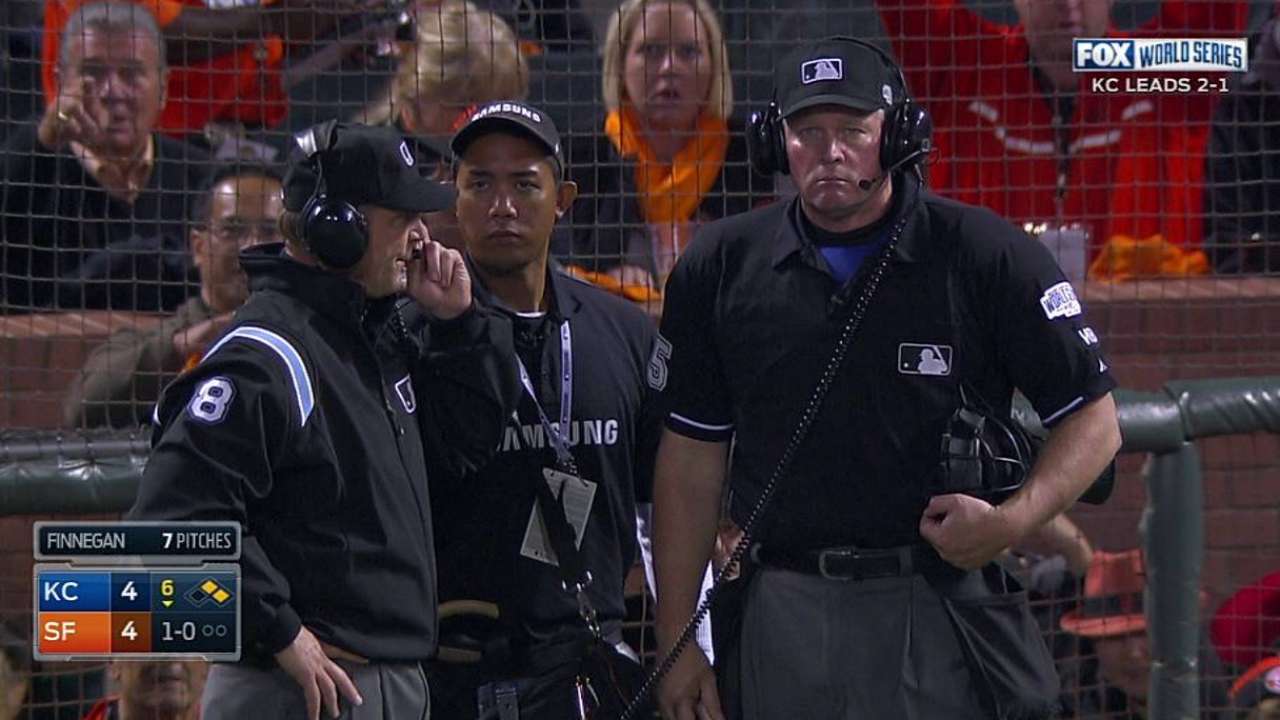 It was the first instant replay challenge in World Series history. There was a lengthy review, but it was ruled the play stands as called.
"It wasn't as close as I thought it was," Yost said.
Both starting pitchers once again took a no-decision, pushing the total number of starter no-decisions in the 2014 postseason to 33, a single-postseason record. The previous record for most no-decisions by starters in a single postseason was 31, set in 2004.
The Royals allowed just 18 runs over their seven games combined in the American League Division Series and American League Championship Series. They've now allowed 18 in their two World Series losses to the Giants -- and 22 runs in four World Series games overall.
Hosmer picked up his 10th RBI of the postseason in the losing effort, matching the Royals' franchise record. Hosmer joins fellow first baseman Willie Aikens and teammate Alex Gordon, who also has 10 RBIs this postseason, as the only Royals to drive in double-digit runs in a single postseason.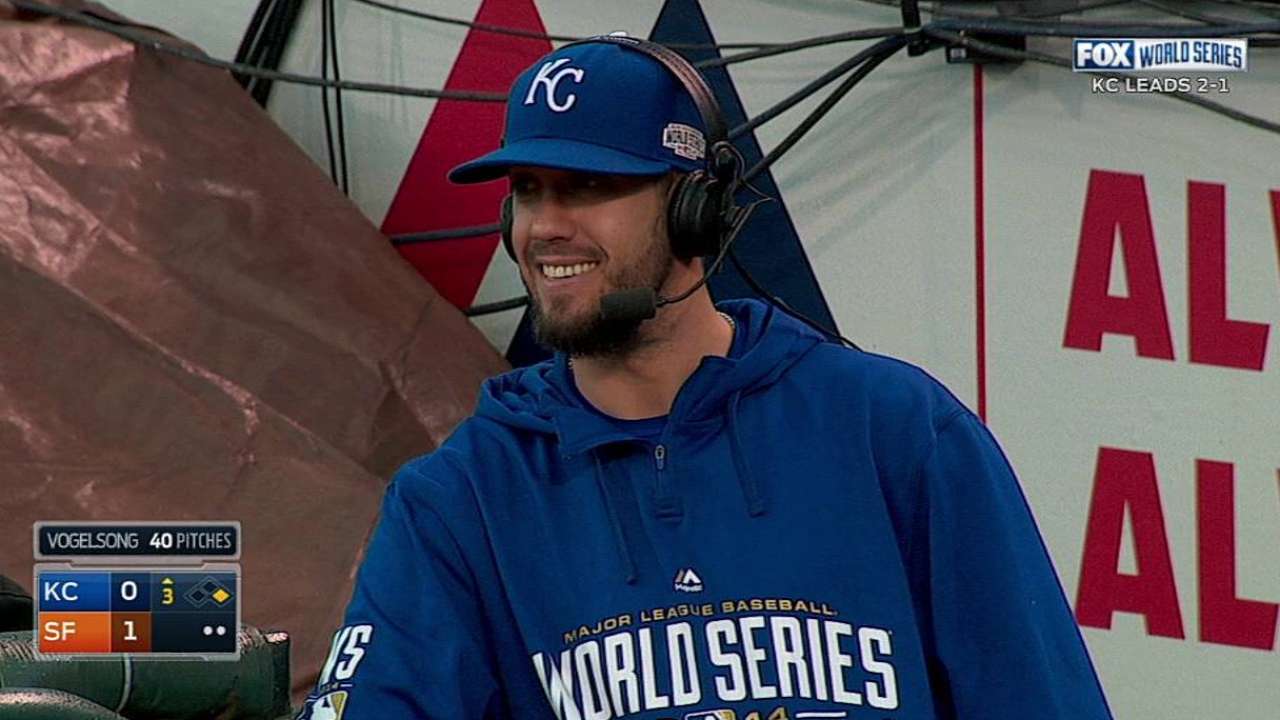 The Royals will send their staff leader, right-hander James Shields, against the Giants' No. 1 guy, left-hander Madison Bumgarner, on Sunday in Game 5 at AT&T Park. First pitch is scheduled for 7:07 p.m. CT/8:07 p.m. ET, with FOX TV coverage starting at 6 p.m. CT/7 p.m. ET.
Dick Kaegel is a reporter for MLB.com. This story was not subject to the approval of Major League Baseball or its clubs.