Trout, Stanton win 2014 Hank Aaron Award
Commissioner Selig also presented with honorary award by Hall of Fame slugger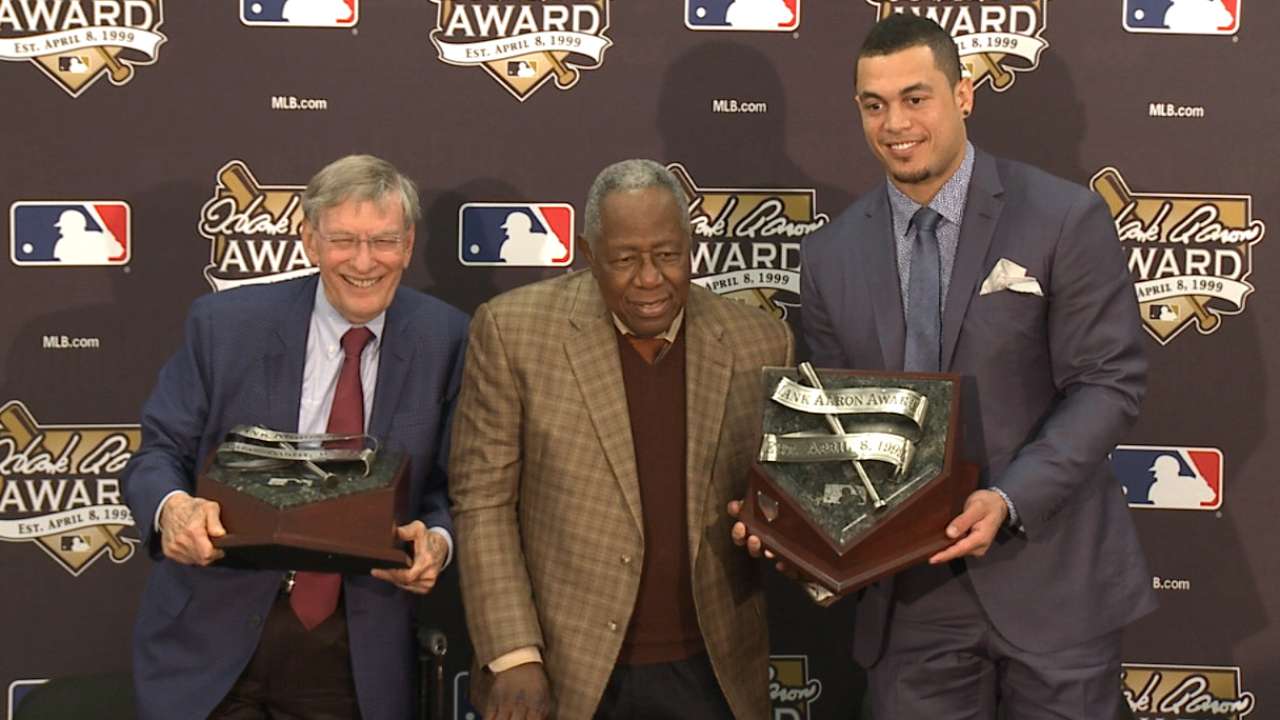 SAN FRANCISCO -- Mike Trout of the Angels and Giancarlo Stanton of the Marlins were named the 2014 winners of the Hank Aaron Award, given annually to the most outstanding offensive performer in each league.
Commissioner Bud Selig made the presentation before Game 4 of the World Series on Saturday at AT&T Park.
Then Aaron surprised the Commissioner by presenting him with an honorary Hank Aaron Award of his own, recognizing Selig's 22-year tenure as Commissioner; he's stepping down in January.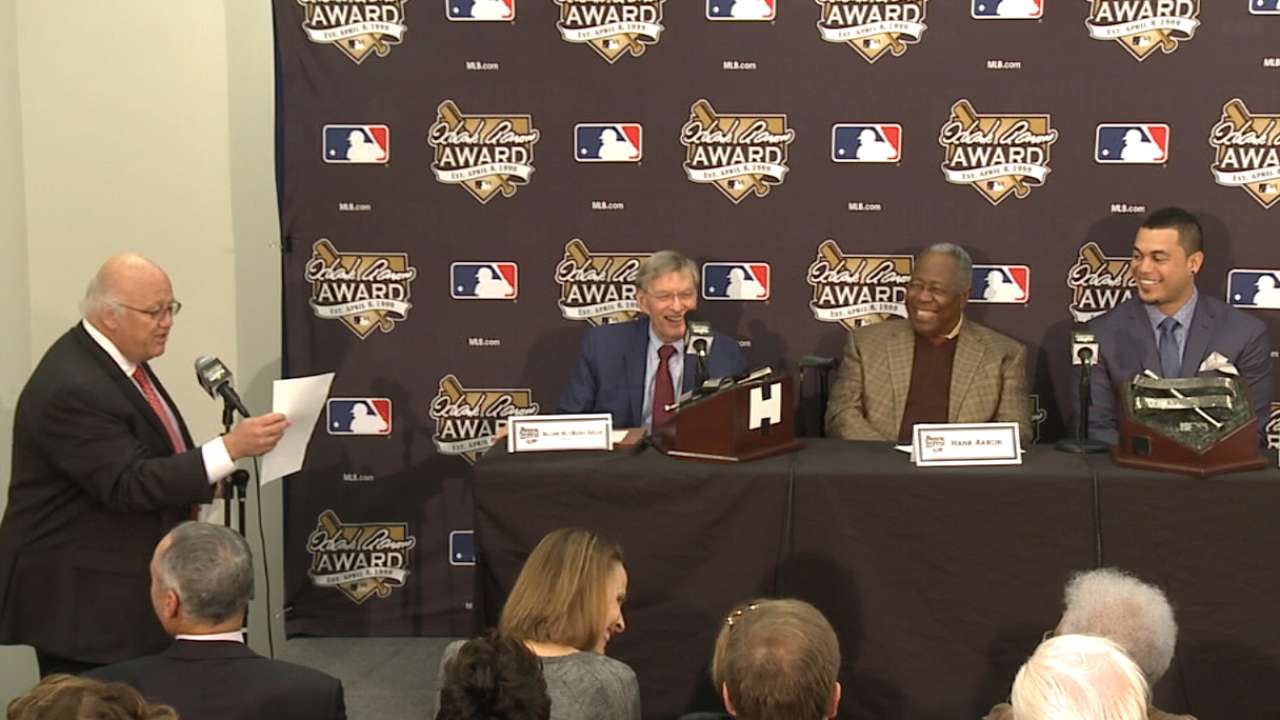 "I just want to congratulate Commissioner Bud Selig for all that he's ever done for baseball," Aaron said. "I don't think that anybody can really give him enough praise for all the things he's done."
The inscription on the plaque read: "In honor of your dedicated and distinguished service to baseball, this honorary Hank Aaron Award is presented to Bud Selig by your friend of more than 50 years, Hank Aaron. Through determination and love for the game, your stewardship brought baseball to unprecedented heights and a legacy as Commissioner that is unmatched."
In accepting the award, Selig praised Aaron for the way he has represented the game, and himself, with integrity.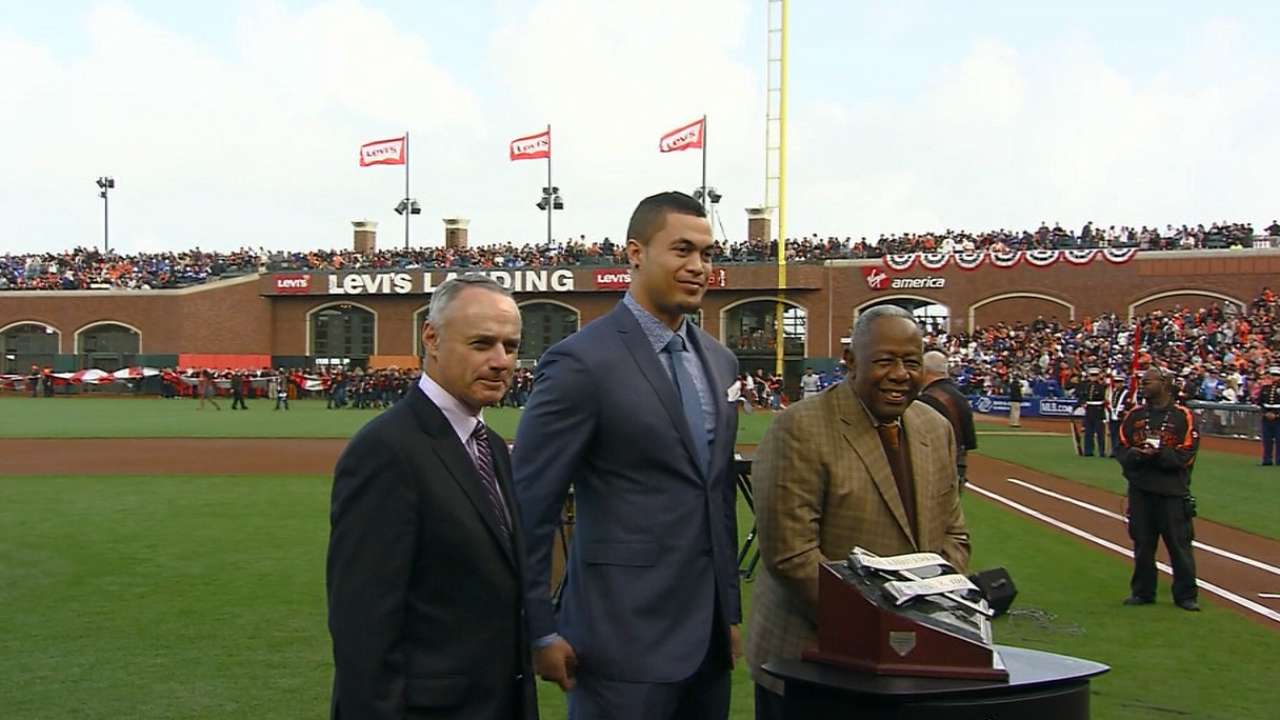 "[Henry] is still the same nice person, decent sensitive person today that he was in 1958," Selig said. "He broke the most famous record in sports, and it didn't change him. He went through unmitigated hell for having the gall to break that record, but did it with a lot of class and dignity.
"So I say to you, Henry, more importantly than even the home runs, and more importantly than breaking Babe Ruth's record, was the person that you were and are to this day, and that's what has meant so much. So a very, very sincere thank you, for everything that you've done."
As for the 2014 Aaron Award winners, Trout was unable to attend the ceremony, but sent a video acceptance in which he said in part: "Just to be associated with Hank Aaron and all the greats in the game, it means a lot to me. I'm sincerely honored and humbled to accept this award."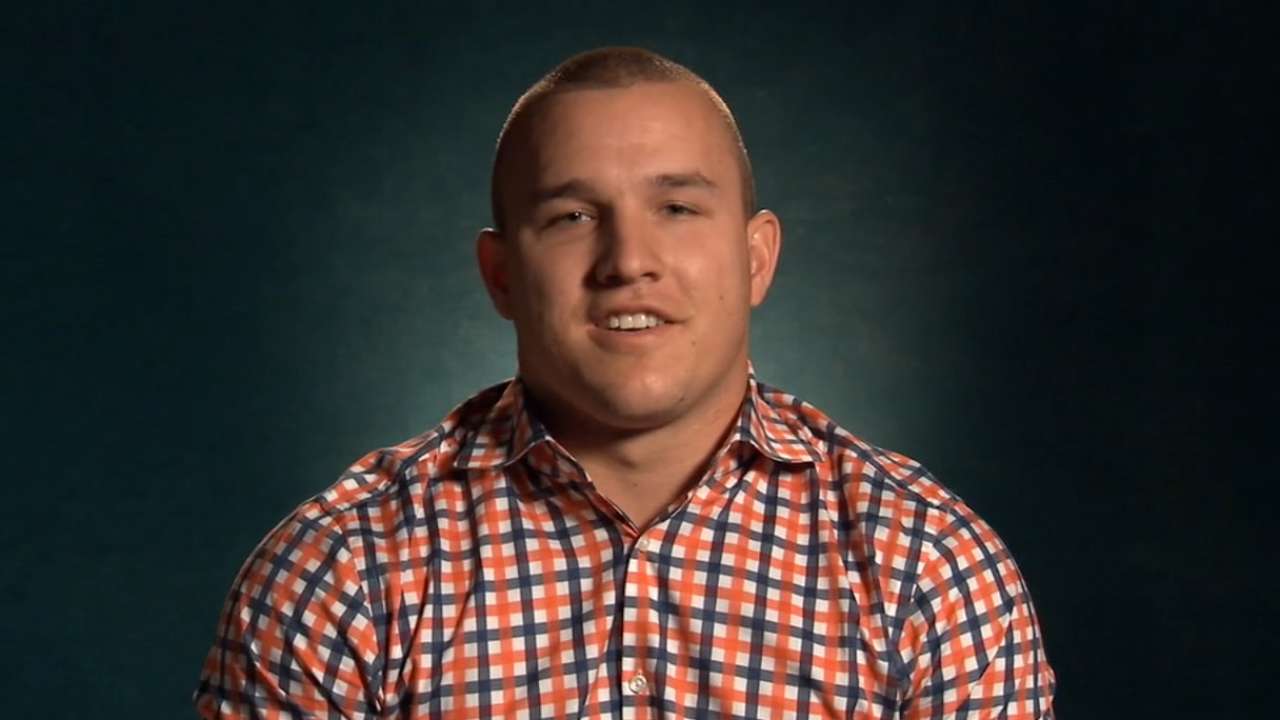 Trout led the American League in runs scored (115) for the third straight season. He also topped the AL with 111 RBIs while batting .287 with 36 home runs and posting a .939 OPS. He ended Detroit's Miguel Cabrera's two-year run as the AL winner of the Aaron Award.
Stanton, who succeeds Arizona's Paul Goldschmidt as the National League winner, led the circuit in total bases (299) despite having his season ended on Sept. 11 when he was hit in the face by a pitch. He had a .950 OPS while batting .288 with 37 homers and 105 RBIs.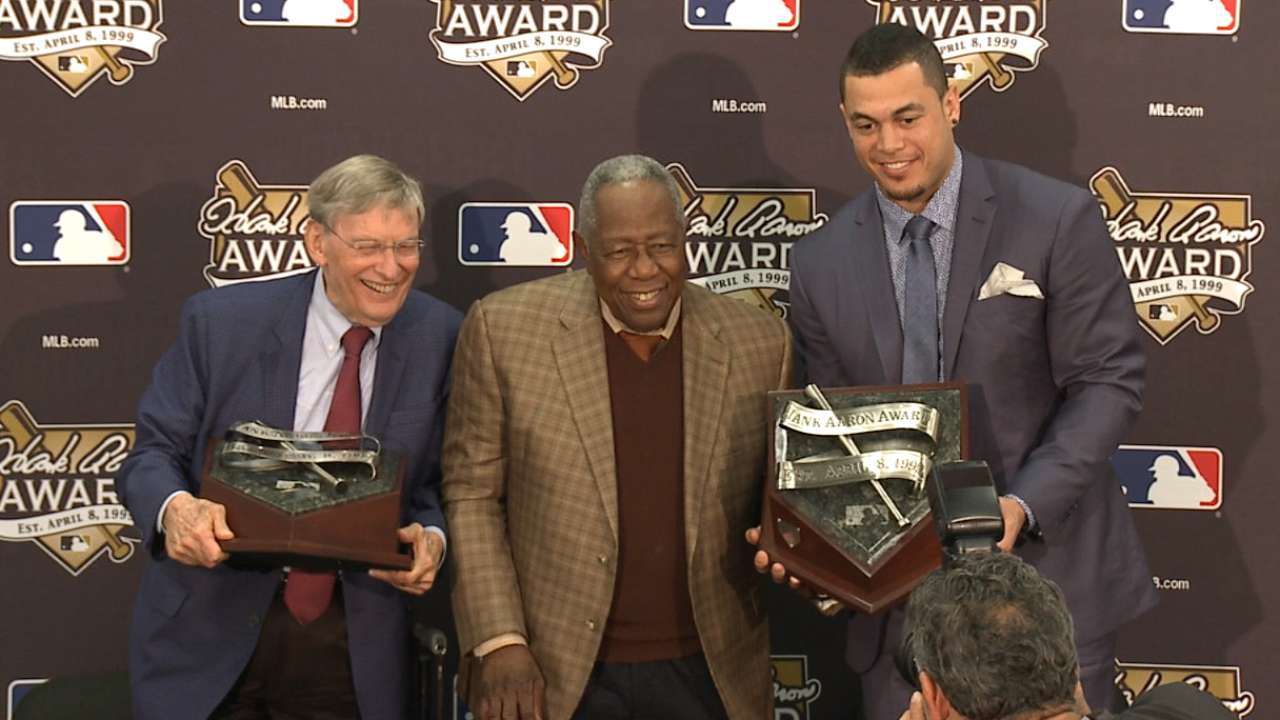 "Just receiving this award is a huge honor for me," Stanton said. "Hearing the stories and watching the video of Hank play and hearing from my dad the respect that he has for him, it's unbelievable to be able to represent him in this modern day. I'll remember this for the rest of my life."
Stanton said he's completely recovered from his frightening injury.
"It was a long process of just kind of laying around the house and not being able to leave too much," he said. "But I feel great now, and I'll be back to my normal offseason routine and shouldn't skip a beat.
"Fear for my career? If I would have broken my eye socket, yes. But I didn't, so I'm not worried about it anymore."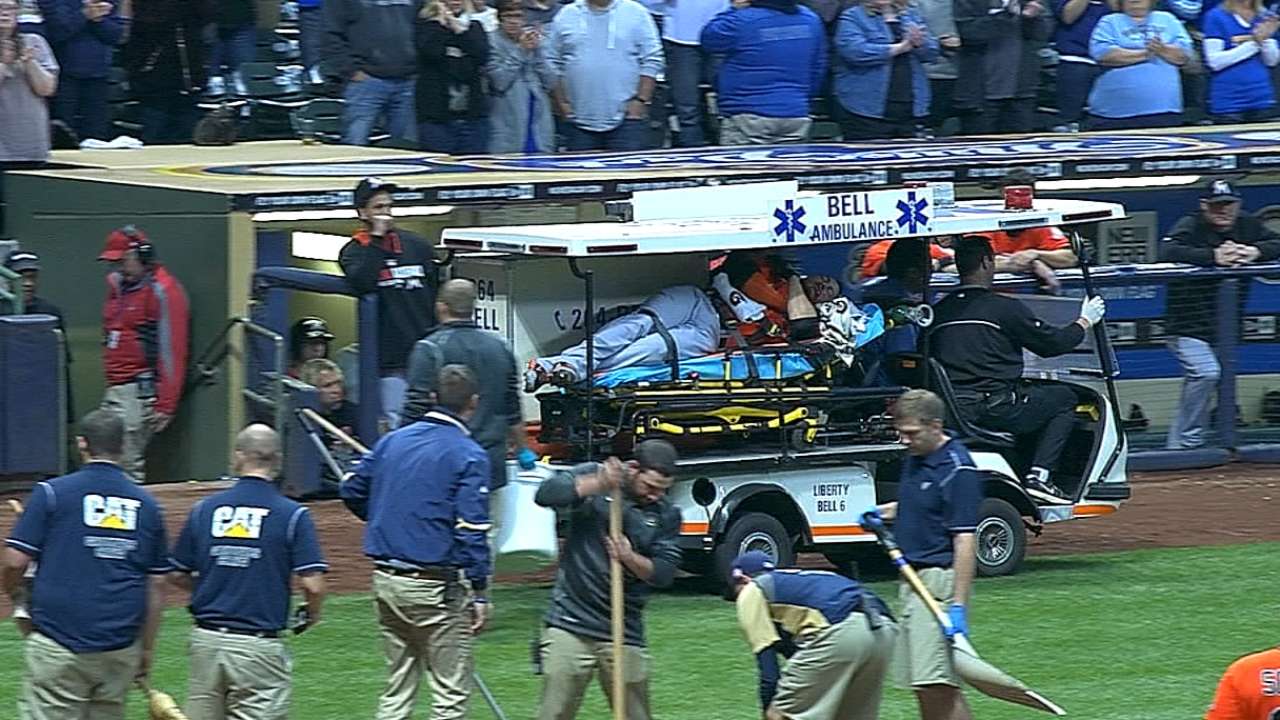 The award was introduced in 1999 to honor the 25th anniversary of Aaron breaking Babe Ruth's career home run record. For the fifth year, a special panel of Hall of Famers -- Roberto Alomar, Johnny Bench, Paul Molitor, Eddie Murray, Frank Thomas and Robin Yount -- joined Aaron and the fans in the voting.
Paul Hagen is a reporter for MLB.com. This story was not subject to the approval of Major League Baseball or its clubs.