Giants even Series with comeback win over Royals
Two-run fifth, three-run sixth, four-run seventh turn Game 4 into rout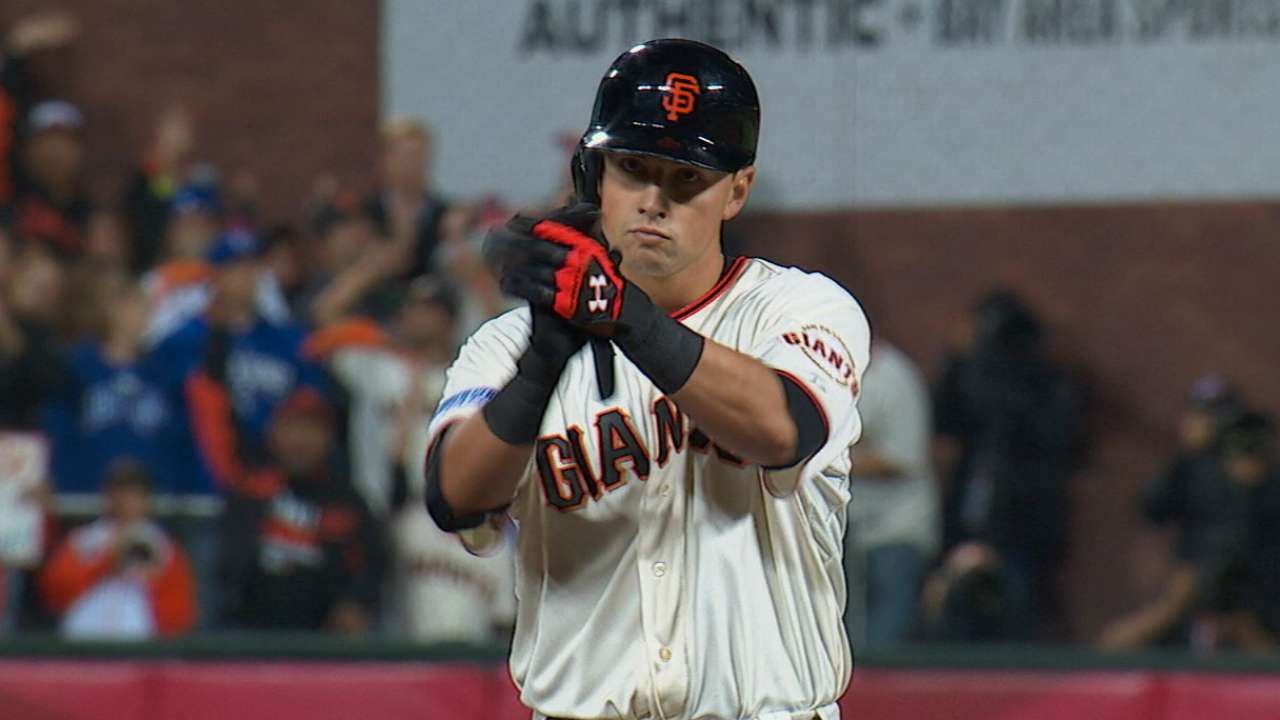 SAN FRANCISCO -- Transforming their offense from anemic to ascendant, the Giants shifted the 2014 World Series into a competitive high gear with their 11-4 victory over the Kansas City Royals in Saturday night's Game 4.
The Giants totaled 13 hits while losing the Series' previous two games. On Saturday, they amassed 16 hits and scored 10 unanswered runs to tie the best-of-seven Series at two games apiece.
Having captured the Fall Classic in 2010 and '12, the Giants are experts at staging such reversals.
"We don't need to win," left-hander Jeremy Affeldt said. "We want to win. When you need to win, you play tight. It just seemed like when we were down, 4-1, we said, 'We want to win this game.'"
Playing to win instead of not to lose made a huge difference for the Giants. Though they didn't confront Kansas City's formidable bullpen trio of Kelvin Herrera, Wade Davis and Greg Holland, they overwhelmed the other Royals relievers. Until Hunter Pence faced Royals right-hander Jason Frasor in the fifth inning, the Giants were 1-for-17 with runners in scoring position against Kansas City's relievers in this Series. Pence banged an RBI single, launching a 6-for-12 binge at the expense of the Royals' bullpen.
One day after mustering four hits in Game 3, the Giants not only received 10 hits from the first five spots in the batting order, but each of their No. 9 hitters also reached base safely. That group included winning pitcher Yusmerio Petit, a .049 (5-for-103) career hitter in the regular season who blooped a fourth-inning single -- the first by a reliever in the World Series sine 1993.
Every starting position player collected at least one hit. Of course, some bore more impact than others. Pablo Sandoval's two-run single in a three-run sixth inning broke a 4-4 tie. Joe Panik's two-run double in a four-run seventh inning cemented the decision. Earlier, Buster Posey's two-out RBI single in the third inning launched the Giants' comeback from a 4-1 deficit.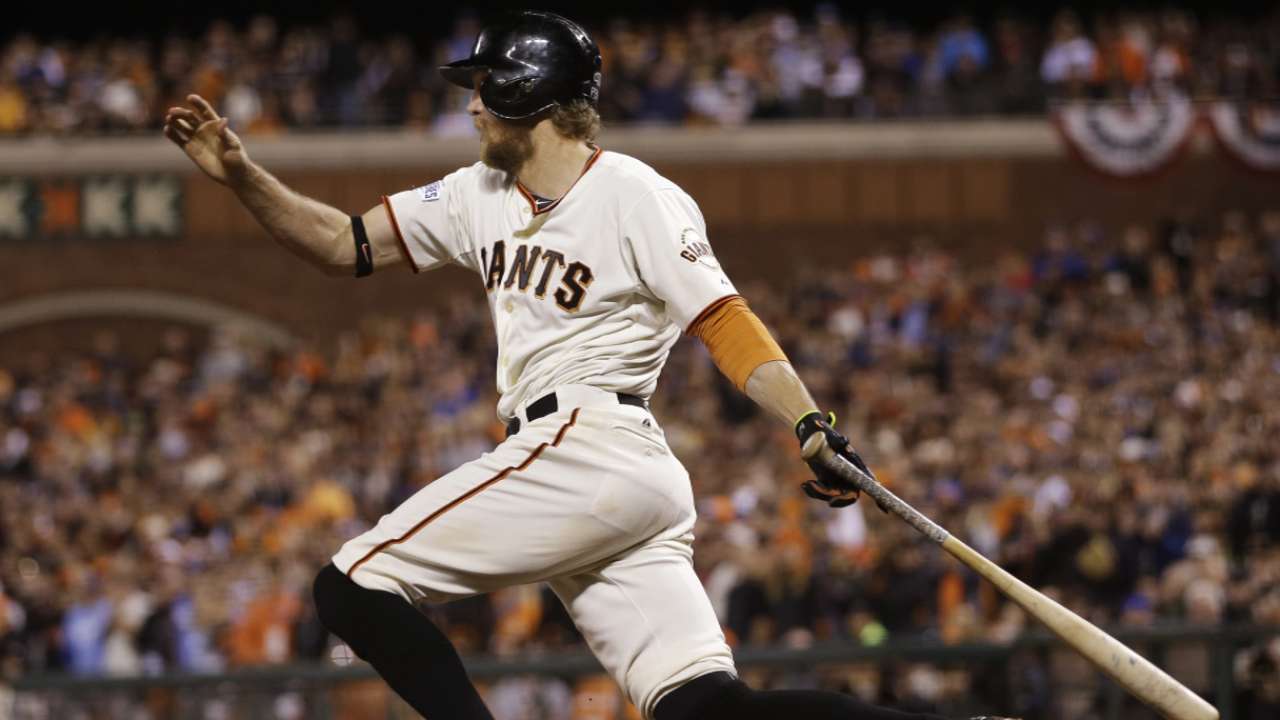 Hunter Pence led the hitters with a 3-for-5, three-RBI effort, while leadoff batter Gregor Blanco executed his role efficiently by scoring three runs.
The Giants seemed to be brimming with confidence as they approached their final Series home game on Sunday (4 p.m. PT air time on FOX; 5:07 first pitch). Their Game 5 starter will be ace left-hander Madison Bumgarner, who's 3-1 with a 1.40 ERA in five starts this postseason.
"This is the biggest game of the year for him," Blanco said. "For us. For everybody. For the fans."
HOW THE GIANTS WON
The Giants triumphed as they so often do, overcoming a deficit with an inexorable effort. Their offense grew progressively more potent as the evening elapsed, as they scored twice in the fifth inning, three times in the sixth and four times in the seventh.
"Playing games like that earlier in the postseason and in past years, we know that we're never out of the game," said first baseman Brandon Belt, who contributed a sixth-inning RBI single.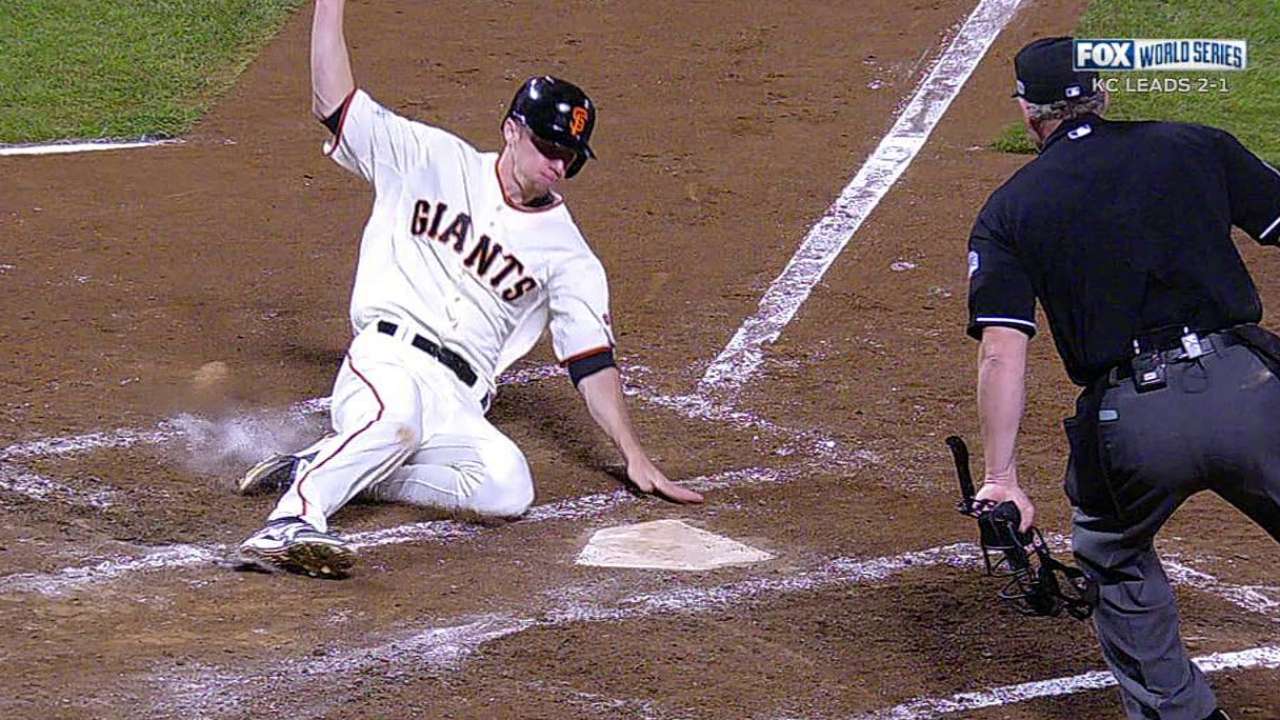 San Francisco's third-inning run, which trimmed Kansas City's lead to 4-2, hardly seemed like a major development. But Blanco believed that it sent the Royals a message.
"That's part of the game -- keep putting runs on the board, so they know that we're coming back," he said.
MOMENTS THAT MATTERED
Sandoval adjusts: Batting right-handed against a succession of left-handed pitchers, the switch-hitting Sandoval looked overmatched from his weaker side, striking out in each of his first two at-bats. But he adjusted by singling twice, setting up a fifth-inning run with his first hit before driving in a pair of sixth-inning runs with his next hit.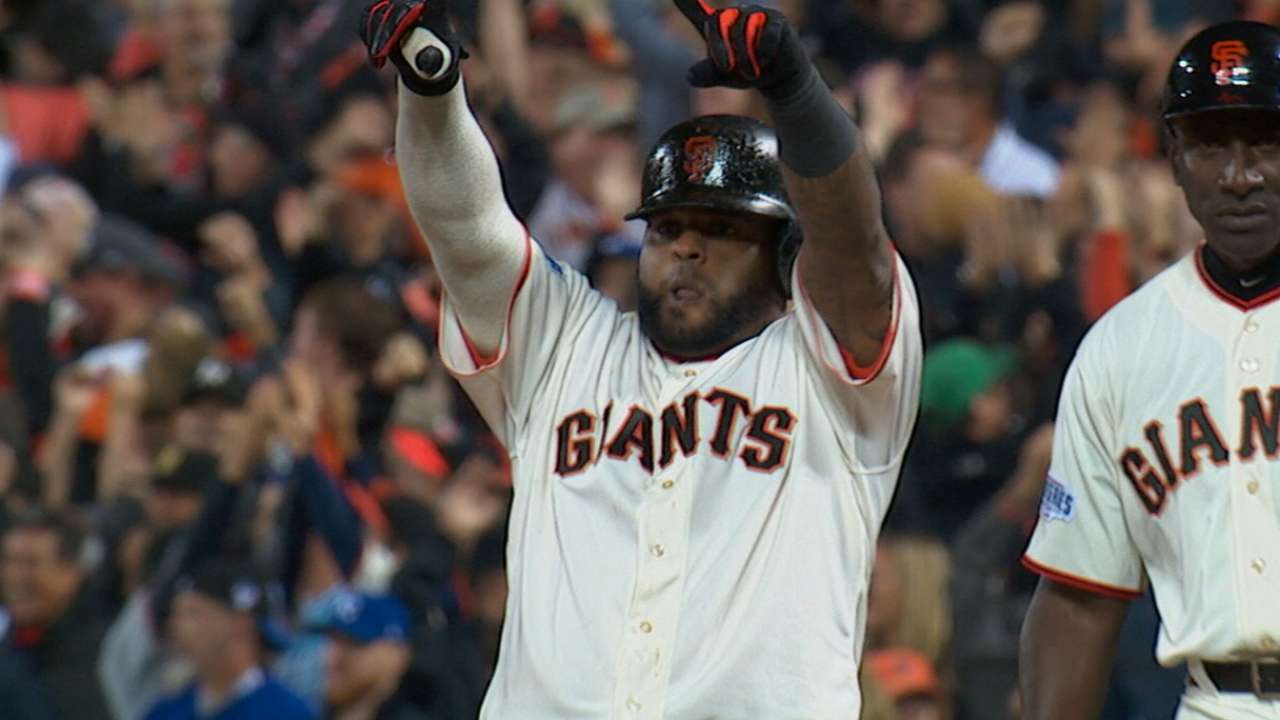 "He really came through and delivered for us in a big way," Giants manager Bruce Bochy said.
Sandoval coped with flu-like symptoms for a second straight day.
"I don't feel great," he said. "It's a tough moment to sit on the bench. I just told myself, 'You know, you have to play. ... You're the guy, step up for your teammates.'"
Petit comes up huge: Petit, The remarkable right-hander who repeatedly turns in shutout or low-scoring performances despite performing irregularly, did it again. He entered the game in the fourth inning and worked three shutout innings to earn the decision. Petit extended his postseason total of scoreless innings to 12, spanning three appearances.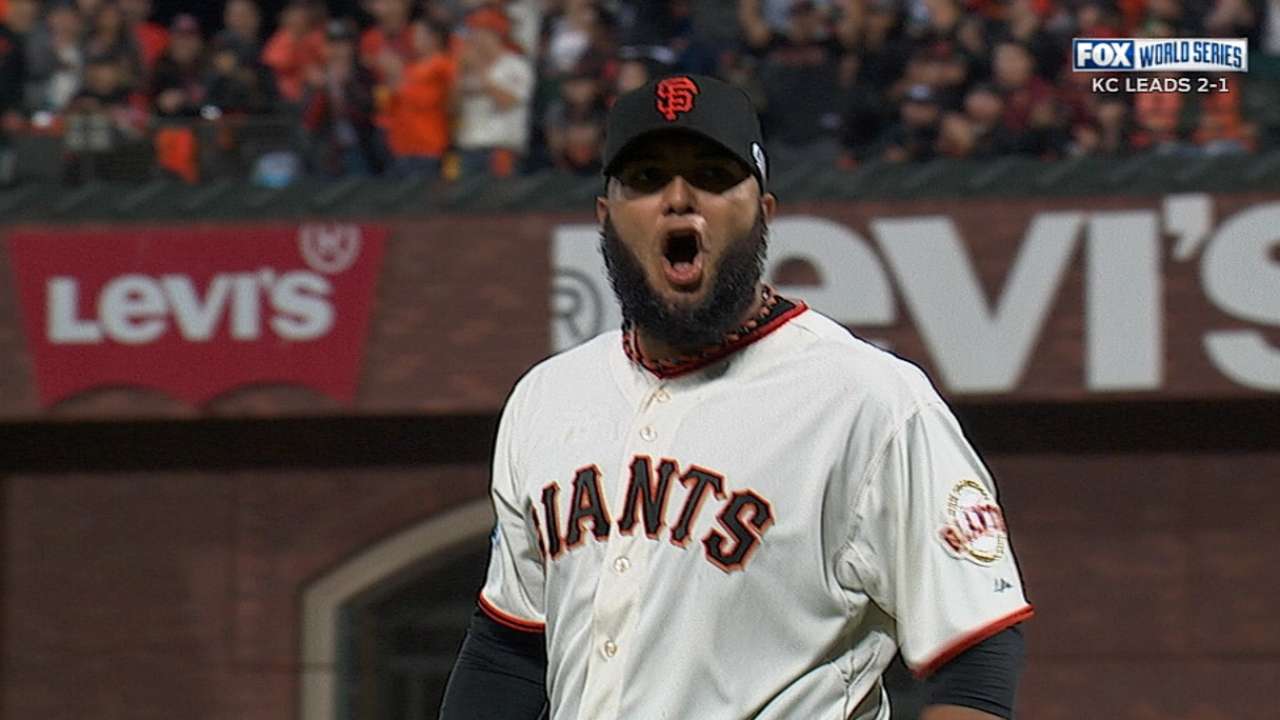 Throwing frequently on the side has helped Petit remain sharp.
"I had to throw like every two days, three days in the bullpen to be ready," Petit said. "I tried to work like how I'm working during the season, because you never know when Bochy will need you."
Giants relievers threw 6 1/3 scoreless innings in Game 4, shrinking their ERA in San Francisco's last seven games to 1.08 (three earned runs in 25 innings).
Pence keeps hustling: Maintaining his "full throttle" pace, Pence generated a first-inning run by hustling to first base to beat out the back end of a potential double play.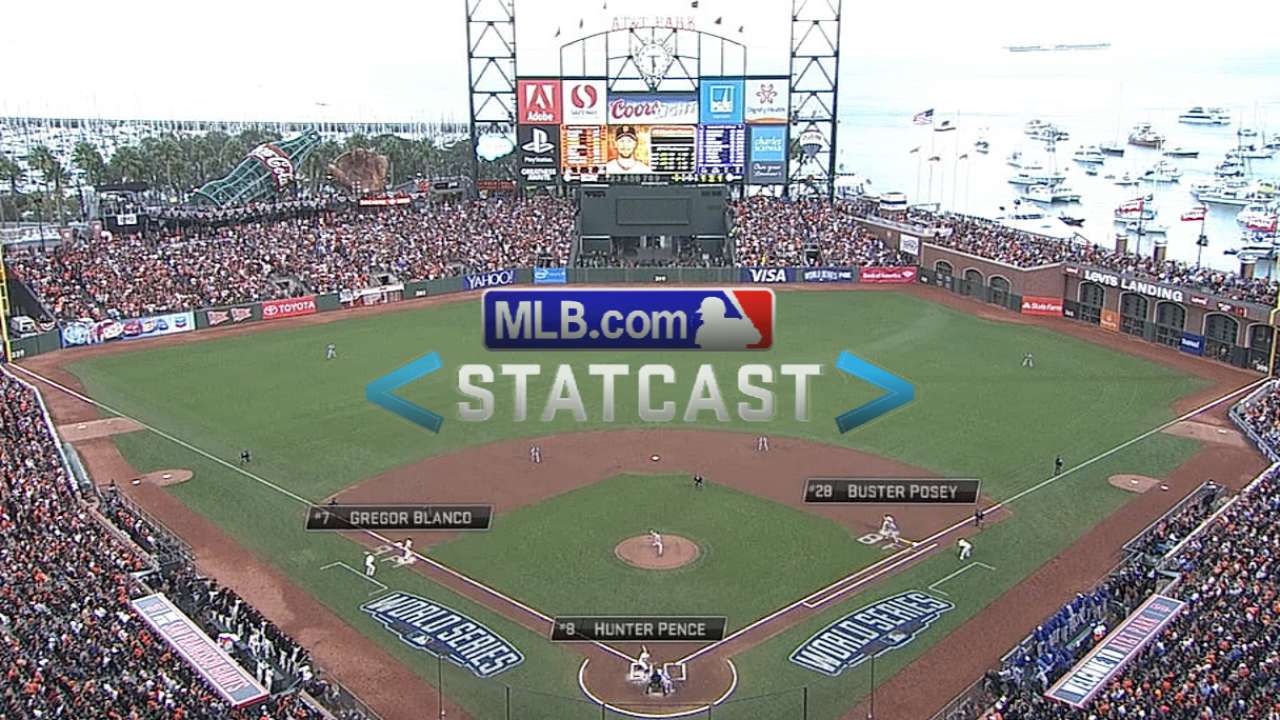 Asked what was on his mind as he churned toward first base, he replied, "Run as fast as you can. Get there."
Pence is batting .467 (7-for-15) in this Series, with five RBIs and four runs scored.
Defense does the job: The Giants continued to sparkle defensively. Belt and shortstop Brandon Crawford collaborated on a slick 3-6-3 double play that stopped a Royals rally before it started in the sixth inning.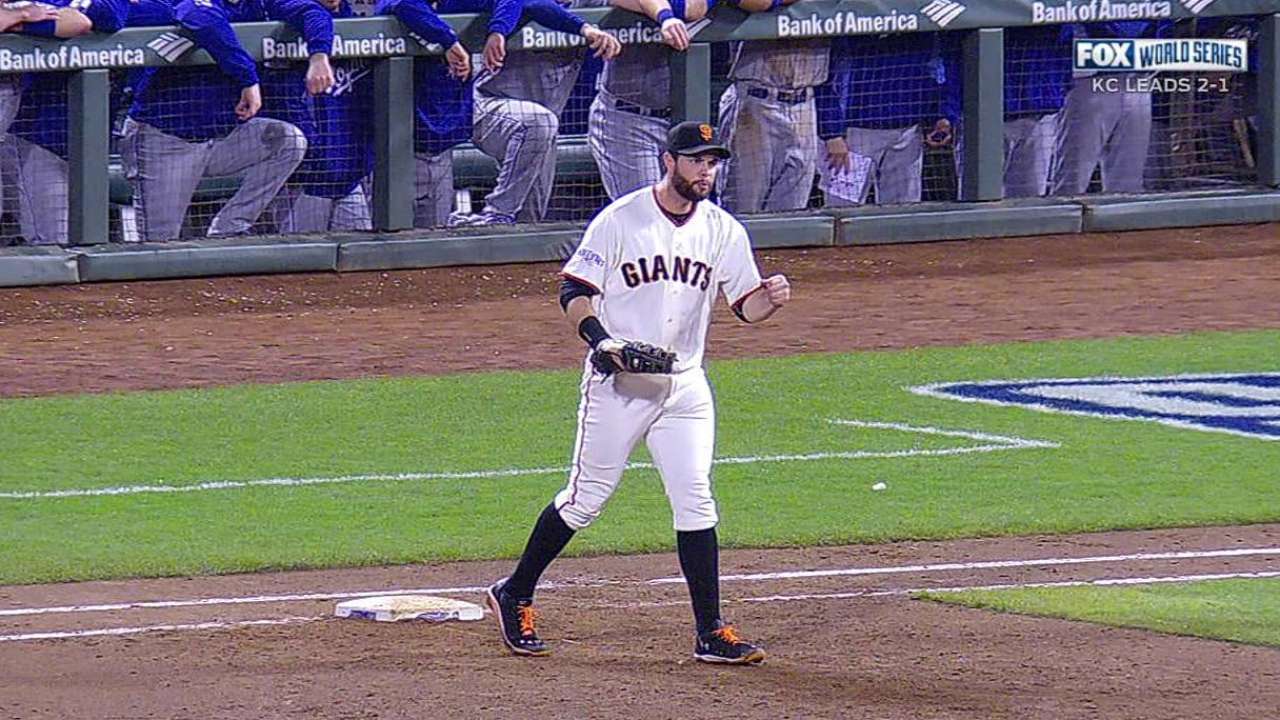 Left fielder Juan Perez made a nice diving catch of Alex Gordon's seventh-inning fly ball, and Pence left his feet in right field to snare Lorenzo Cain's ninth-inning fly.
UNSUNG HEROES
Pinch-hitters Matt Duffy and Joaquin Arias singled to initiate scoring rallies in the third and sixth innings, respectively.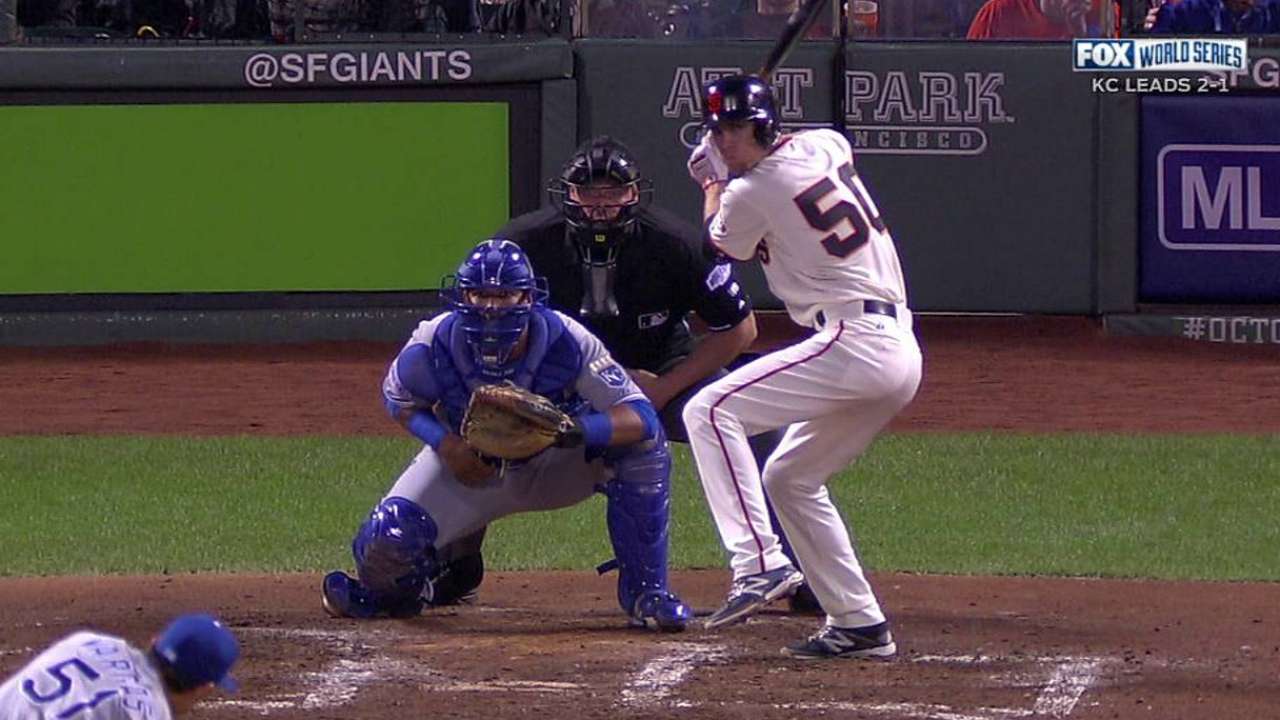 In their first nine plate appearances during this postseason, Giants pinch-hitters went 0-for-9 with one RBI and no extra-base hits. In their last 15 plate appearances off the bench, the Giants have gone 7-for-11, with two RBIs and two extra-base hits.
"I think the 0-for-9 was more of an outlier than the norm," Duffy said. "We have the ability off the bench, with guys who know how to do it."
• The Giants' 16 hits were the most in a World Series game since Boston collected 17 in Game 1 of the 2007 Fall Classic against Colorado.
• In the previous 43 occasions that the Series was tied at 2, the Game 5 winner took home the trophy 28 times.
• Affeldt extended his streak of consecutive scoreless postseason appearances to 21, two short of Mariano Rivera's record.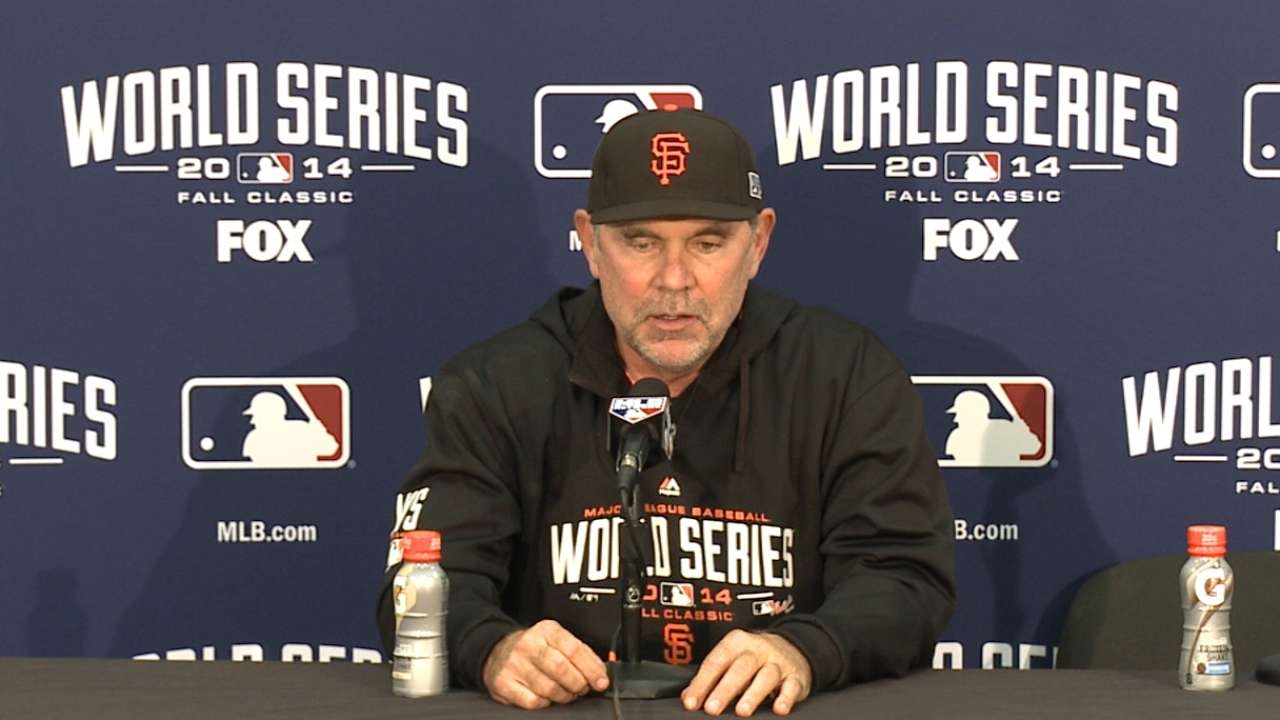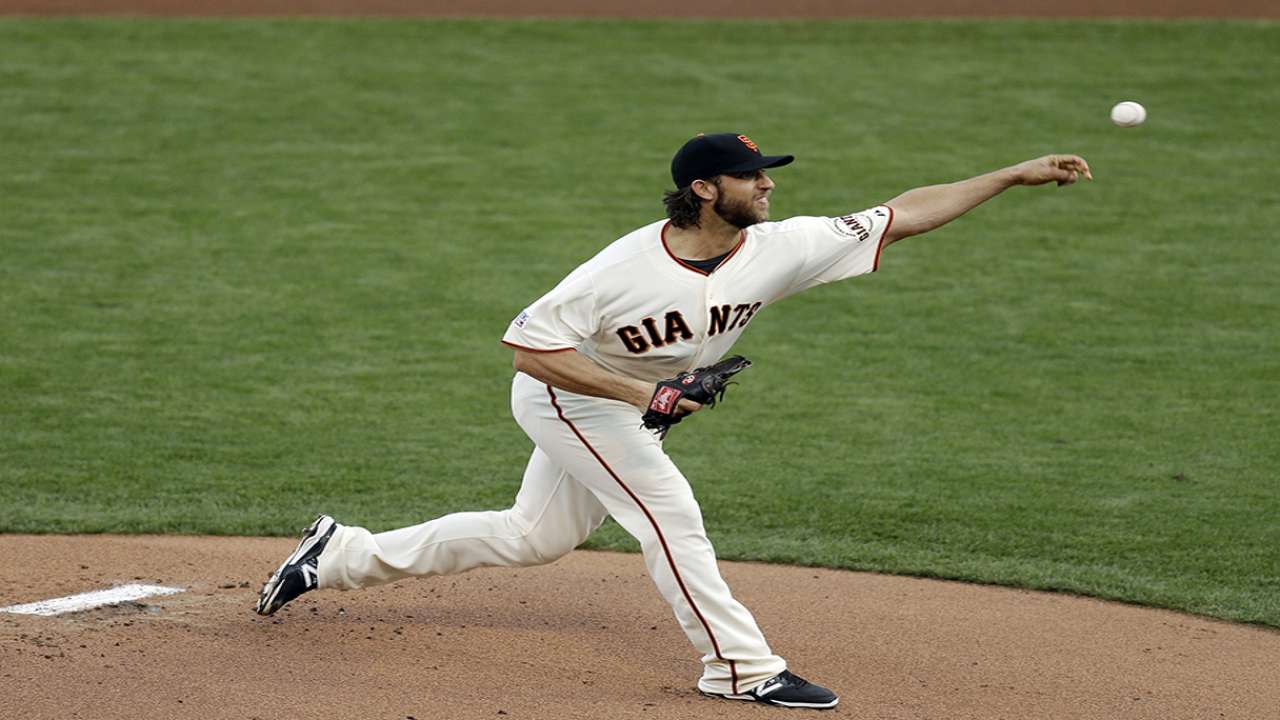 Bumgarner will try to continue his October dominance when he opposes James Shields and the Royals in a Game 1 rematch. FOX's telecast will begin at 4:00 p.m. PT, followed by Bumgarner's first pitch at 5:07.
Chris Haft is a reporter for MLB.com. Read his blog, Haft-Baked Ideas, and follow him on Twitter at @sfgiantsbeat. This story was not subject to the approval of Major League Baseball or its clubs.