MLB.com Columnist
Jonathan Mayo
Story out to author bright future with AFL work
Rockies' No. 11 prospect looking to build on promising '14 campaign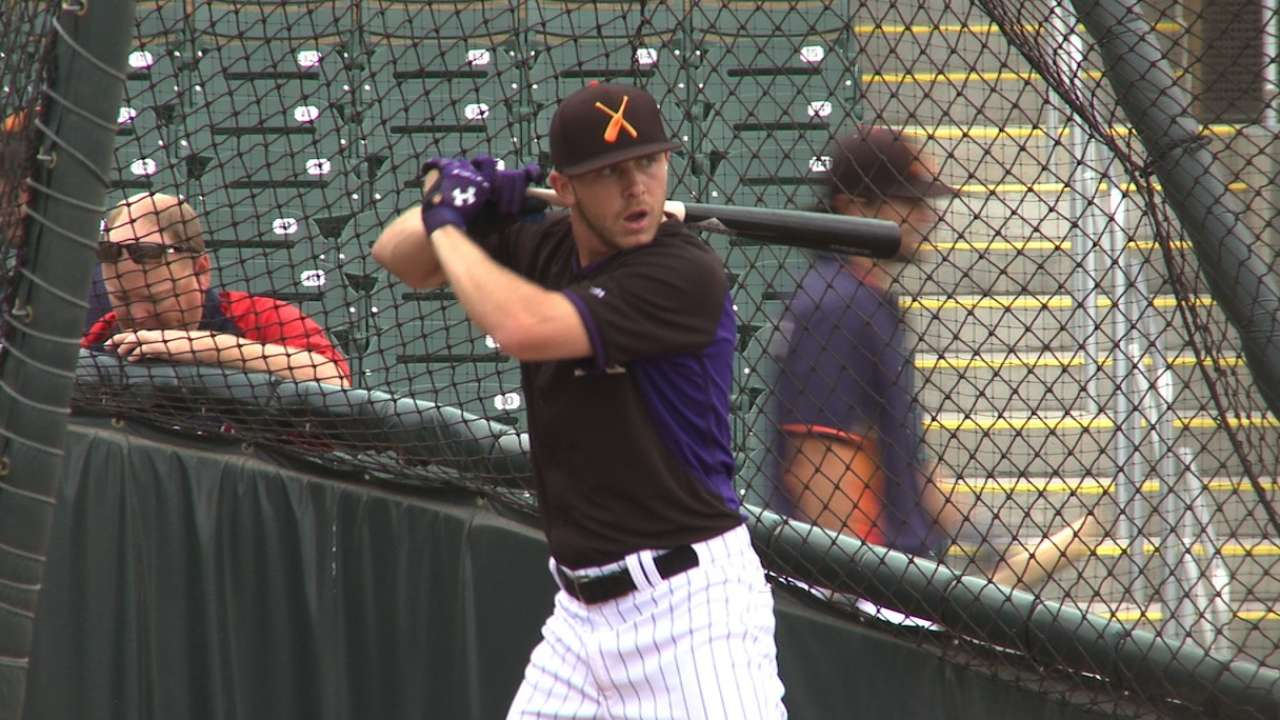 Professional athletes know better than to rest on their laurels if they care about sustaining strong performances. Anyone who excels at the highest level can never be fully satisfied.
Rockies infield prospect Trevor Story understands this. At the same time, the Rockies' No. 11 prospect can't help but feel good about spending half the 2014 season in Double-A at age 21.
"It's been such a whirlwind, coming here to instructs and then the Arizona Fall League," said Story, currently playing for the Salt River Rafters in the AFL. "I think I had a good year. Obviously, there's always room for improvement. But I'm really proud of the year I had."
Story compiled a .332/.436/.582 slash line in 50 games with Modesto in the California League to start the season. That earned the 2011 supplemental first-round Draft pick a bump up to the Texas League, where he found the going a bit tougher.
His aggressive approach at the plate got the better of him at Double-A Tulsa, as Story put up a .200/.302/.380 line in 56 games. He struck out 82 times in 205 at-bats, giving him 144 strikeouts for the season. He had similar issues in 2013 during his first go-around in the Cal League, learned from it and excelled in his second time at this level this past season.
"It's just a totally different way of hitting," Story said about life in Double-A. "They attack you differently. If you show you can't hit a certain pitch, that's what's going to come. It's all about the little adjustments, in that respect, to be successful."
Story is hopeful his time in the AFL will help him make those necessary adjustments to master the Texas League and keep moving up the Rockies' ladder. Story hit .250/.357/.361 over his first 10 AFL games, still swinging and missing a bit too much -- albeit at a lower rate than he did for Tulsa. His walk rate has jumped back up to his Cal League standards, keeping in mind the very small sample size.
"I'm focusing on what I need to do offensively," Story said. "I feel, defensively, I'm pretty much where I need to be. I'm just trying to be more consistent in the box."
Defensively, Story has largely played shortstop, with a healthy dose of time at third base mixed in. He's seen most of his time this fall at short, but he's also mixed in some second base -- a position he's played just five games at previously, as well.
"Versatility is always going to be an asset for me -- especially with the guys we have in the big leagues," Story said. "I'm going to be playing a little bit of second, obviously, short, and a little bit of third base, too."
The guys in the big leagues at short and third, of course, are Troy Tulowitzki, who is signed through 2020, and Nolan Arenado, who won't be arbitration eligible until 2016. Story gets high marks for his makeup and instincts, so he fully understands the situation.
"Two Gold Glovers, they're great players," Story said. "Second base, I'm going to get good at it."
Rockies hitters in the AFL
• Chris O'Dowd, the son of former general manager Dan O'Dowd, is on the Salt River taxi squad, eligible to play on Wednesdays and Saturdays. A 23rd-round pick out of Dartmouth in 2012, O'Dowd reached Double-A as a gritty backstop who gets very high marks for his consistent all-out effort.
• Exclusively a catcher for the first stages of his pro career, Ryan Casteel began playing a lot more first base in 2014 while playing for Tulsa. There's where he has played exclusively, as the Rockies continue to evaluate how his bat will play at the corner position. He does have some pop, with 38 home runs over the last two seasons.
• Taylor Featherston has a little pop and a little speed, putting up double-digit totals in home runs and stolen bases in each of his three full seasons of pro ball. He's played three infield positions, mostly up the middle. He's played both short and second for Salt River, as he continues to prepare for the potential career of a utility man.
Rockies pitchers in the AFL
• It hasn't been a smooth climb for Dominican lefty Jayson Aquino, though the Rockies thought enough of his stuff and potential to put him on the 40-man roster a year ago. The southpaw has a three-pitch mix with potential, but he has yet to consistently harness his stuff.
• A starter since being a 24th-round pick in 2010, right-hander Christian Bergman made 10 starts during his big league debut in 2014. After 156 combined innings during the regular season, he's working out of the bullpen for Salt River. The 26-year-old is a command-and-control right-hander, who has a good feel for pitching.
• Dominican reliever Nelson Gonzalez spent the season at Tulsa in 2014, where he had about as extreme a home-road split (6.27 ERA at home; 2.10 on the road) as any reliever in the Minors. He has a deceptive fastball that he complements with a curve that misses bats, and he'll even mix in a sinking changeup. He's auditioning for a spot on the 40-man roster or as a potential Rule 5 selection this fall.
• Another reliever from Tulsa, lefty Ken Roberts, had a solid 2014 campaign -- with a 2.30 ERA and .193 batting average against, albeit at age 26. He gets a ton of ground-ball outs with his fastball-curveball combination. After looking like an organizational filler, he now has a chance to impact a big league bullpen. Like Gonzalez, he's fighting for a roster spot or a Rule 5 selection.
Jonathan Mayo is a reporter for MLBPipeline.com and writes a blog, B3. Follow @JonathanMayoB3 on Twitter. This story was not subject to the approval of Major League Baseball or its clubs.