MLB.com Columnist
Richard Justice
Hosmer's 11-pitch at-bat epitomizes KC kids' growth
Part of Royals' touted farm system, first baseman shows veteran poise on 25th birthday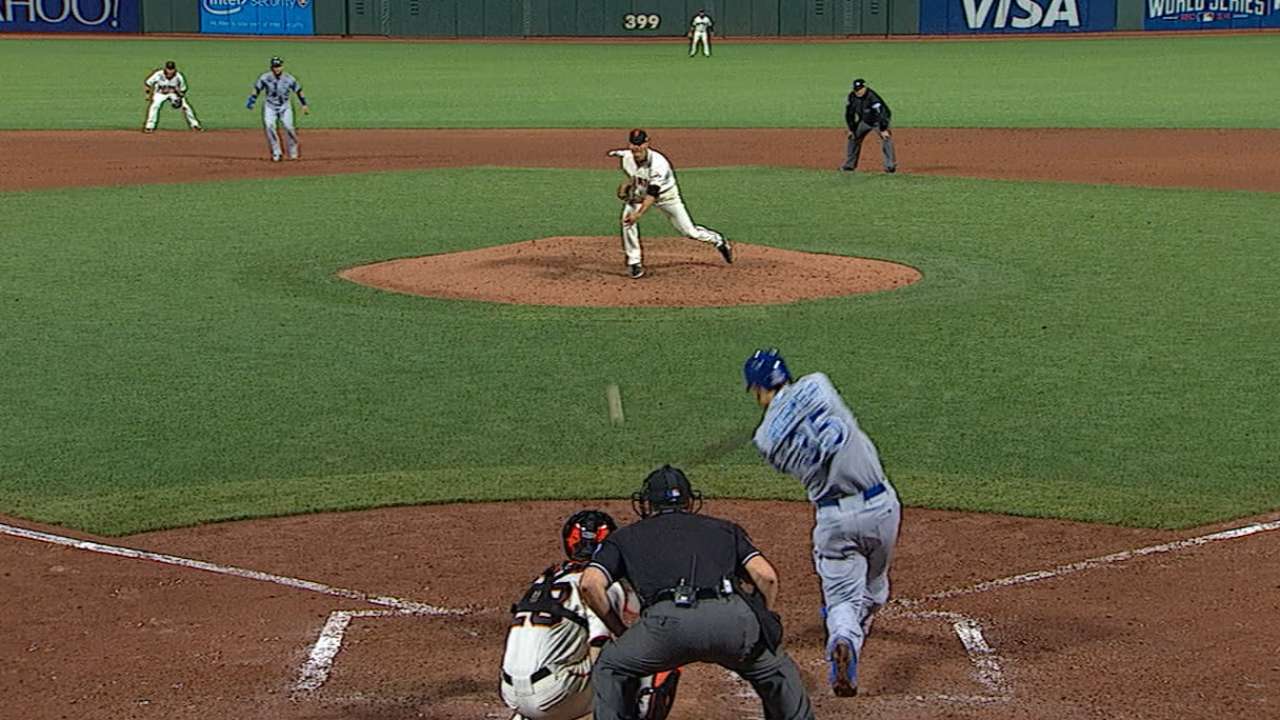 SAN FRANCISCO -- If the Kansas City Royals go on to win this World Series, we can look back at a moment in Game 3 on Friday night that might just tell the whole story.
It's a game the Royals won, 3-2, over the Giants at AT&T Park, and it gave them a 2-1 series lead heading into Game 4 on Saturday (7:30 p.m. ET airtime on FOX, 8:07 p.m. first pitch).
First, though, let's push the pause button and rewind to 2011 to understand how far these Royals have come. That was around the time they proudly wore the label of "baseball's best farm system."
As those young players flew through the system, Kansas City constantly reminded its fans that better days were ahead. This was the blueprint Royals general manager Dayton Moore originally laid out for owner David Glass in 2006.
The Royals would be built one brick at a time. They would hire competent scouts to go find talent, and then they would turn that talent over to great instructors. Moore knew the process would be painful at times and test everyone's patience. He knew that young kids didn't come with guarantees, that sometimes there are two steps back for every three steps forward.
All Moore could do was promise that it ultimately would pay off. So the Royals suffered some. Ninety-seven losses in 2009, and 95 in '10. And yet, to their everlasting credit, they stayed the course. Finally, at the end of the '11 season, the kids began to arrive.
First baseman Eric Hosmer and third baseman Mike Moustakas, the crown jewels of the farm system, made their big league debuts. So did catcher Salvador Perez and reliever Kelvin Herrera.
Only thing is, they weren't done growing. Neither were the Royals. Over the next two years, more young players arrived, but there were plenty of setbacks along the way. Again, though, Glass never wavered in expressing confidence in Moore and his plan.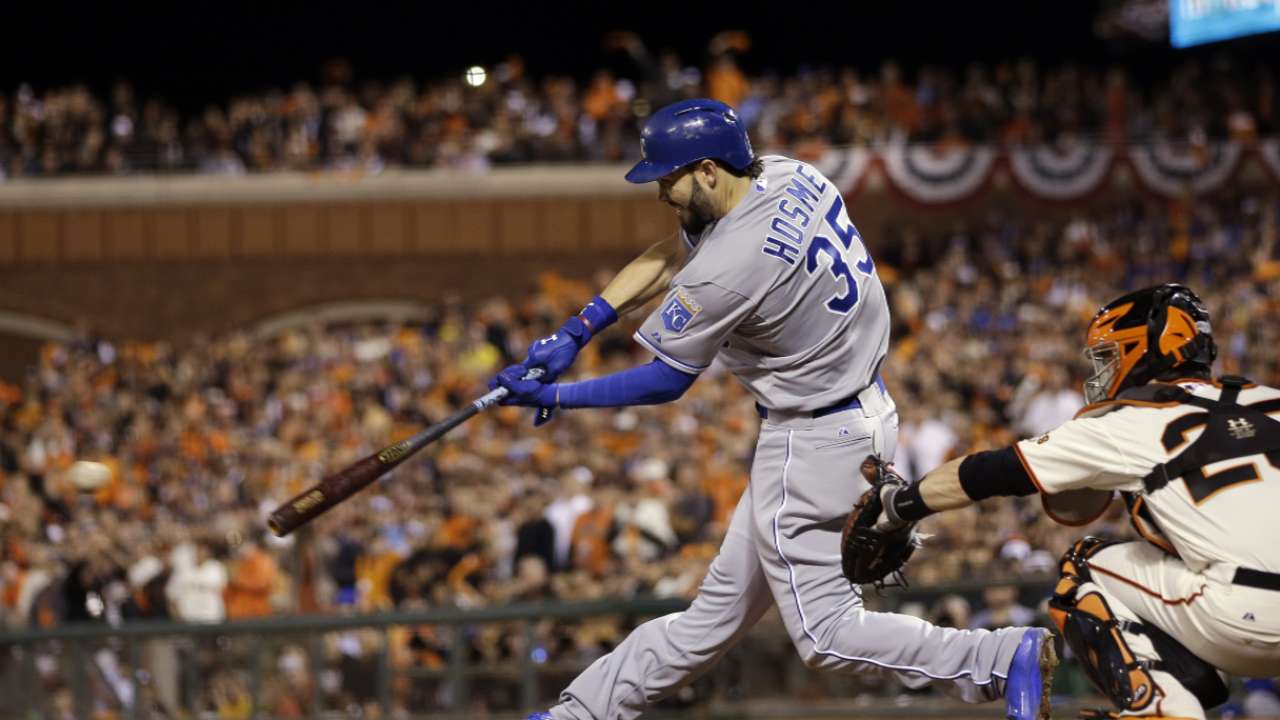 So we flash forward to the sixth inning on Friday, and to the at-bat that says so much about the transformation of the Royals and why they're two victories from winning the World Series for the first time in 29 years.
The Royals led, 2-0, when Hosmer, a left-handed hitter, stepped into the batter's box against Giants left-hander Javier Lopez with a runner on second base. To get that third run home would be huge.
To turn a 3-0 lead over to Kansas City's bullpen is just what the Royals play for. First, though, Lopez vs. Hosmer.
Here's a scouting report on Lopez: He has funky arm angles, a nasty slider and he works the corners.
When Lopez is mixing that slider with an 88-mph fastball he can spot on both sides of the plate, he's extremely effective. If the hitter is jumpy, he has no chance.
Given that Hosmer hasn't been in these situations very often, it would be easy to see how Lopez had a huge advantage. That's exactly what happened. Hosmer, perhaps mindful of the slider, took an 86-mph fastball for strike one.
Lopez threw him another fastball, and Hosmer fouled it back. So 60 seconds after stepping in the box, he's in an 0-2 hole.
And then Hosmer had one of the best at-bats you'll ever see. He had the kind of at-bat a 10-year veteran might have against Lopez. Hosmer forced the reliever to throw everything.
When it was 0-2, Lopez went for a curveball he figured might end the at-bat. Instead, Hosmer fouled it off.
Next up, a slider. Hosmer fouled that one off, too. Now the battle was on. These were two tough guys going at one another, each refusing to give in.
"You just tell yourself to shorten up [your swing]," Hosmer said. "With his wipeout slider and the way he can hit spots, you just tell yourself, 'Let your hands work and get your foot down early.'"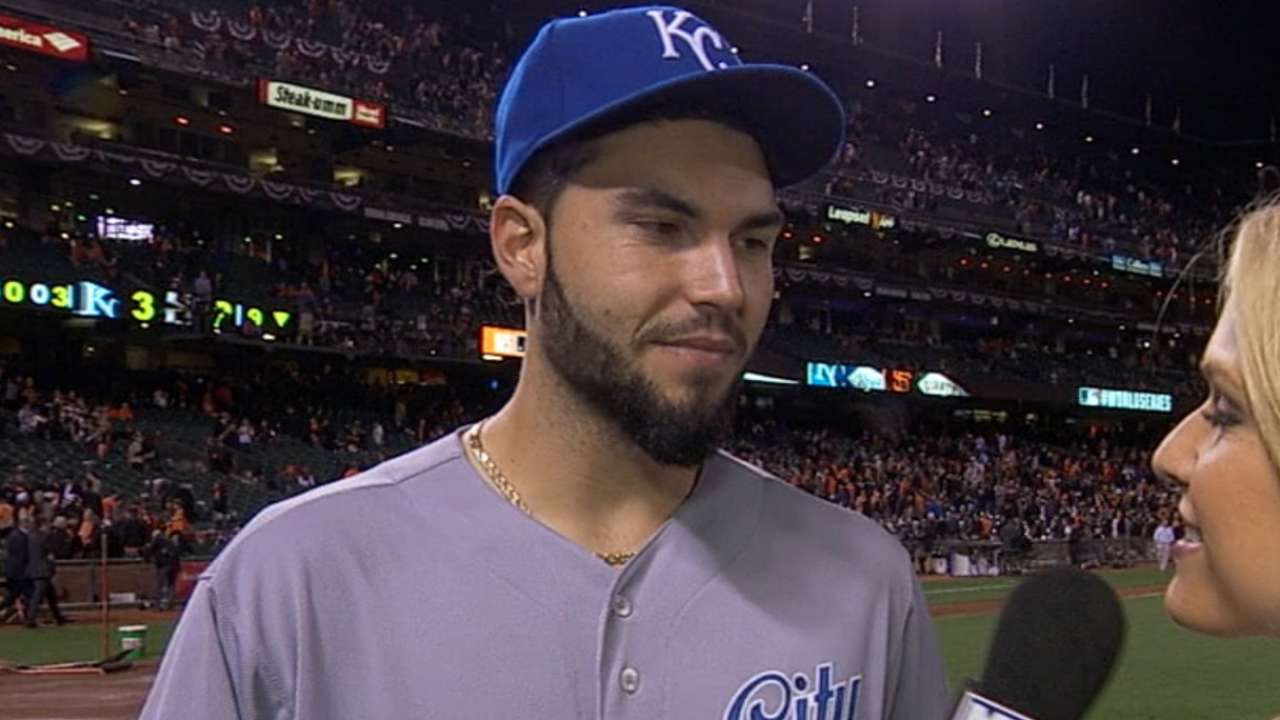 Hosmer took a fastball out of the zone for a ball and then fouled off another. And then Lopez threw one in the dirt.
Lopez tried another slider, and Hosmer fouled it off, too. Finally, on the 11th pitch of an amazing at-bat, Lopez put a fastball in a place Hosmer could reach it. Hosmer lined it up the middle to score Alex Gordon with what turned out to be the winning run.
If the Giants didn't already know the kind of fight they were in, this was one of those times that reminded them. After all the growing and all the suffering, the Royals have arrived.
"Situations like that might not have gone our way our first year in the big leagues," Moustakas said. "We might have been swinging at stuff out of the zone."
Instead, it was a thing of beauty. On his 25th birthday, Hosmer put on a clinic. He said playing in events like the World Baseball Classic helped prepare him for times like these.
"When the situation gets big, you can't try and do more," Hosmer said. "You lock in, take a deep breath and do less. I'm just trying to battle."
So the Royals are two victories away from winning the World Series. In their clubhouse, they said all the right things about there being so much work still to do. But they're a bunch of young guys on baseball's biggest stage for the first time, and they appear to be having the time of their life.
"This is unbelievable amounts of fun," Moustakas said. "This is the only kind of baseball you want to play."
Richard Justice is a columnist for MLB.com. Read his blog, Justice4U. This story was not subject to the approval of Major League Baseball or its clubs.