Morse shrugs off illness for big Game 3 hit
Giants slugger knocks RBI double, could get start vs. lefty Vargas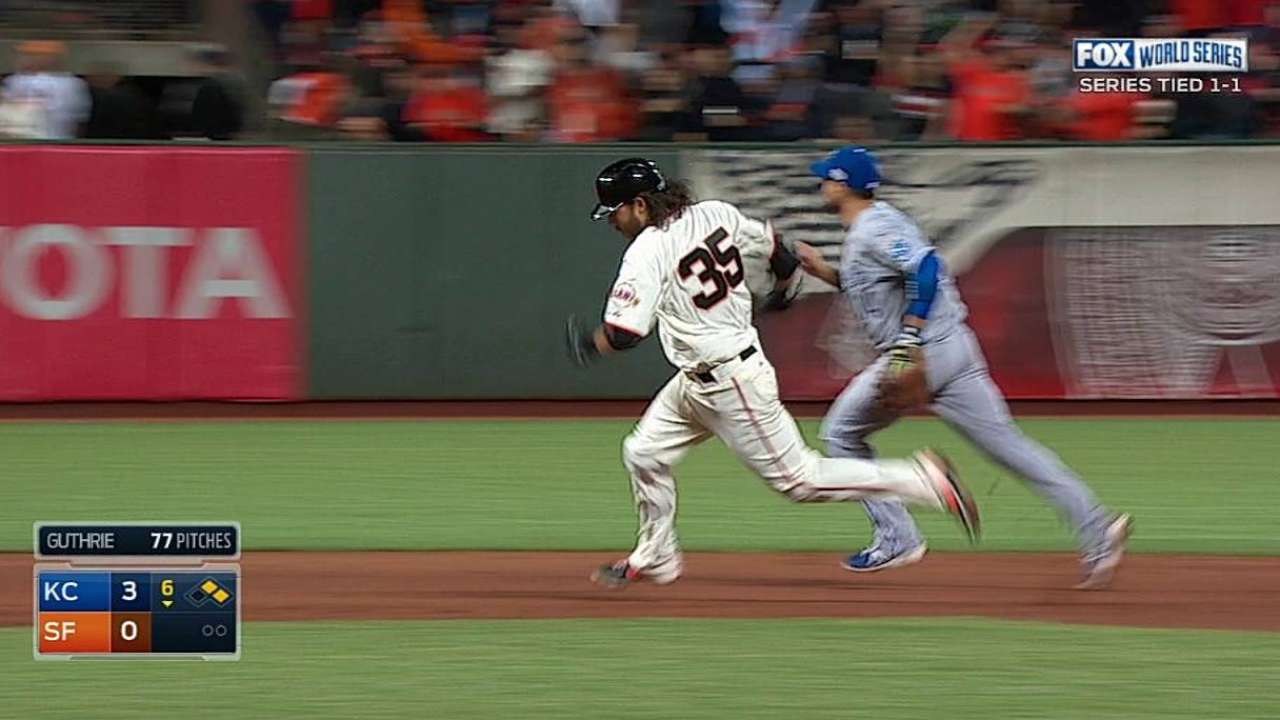 SAN FRANCISCO -- A few hours before World Series Game 3, as fans trickled in from Market Street and the Mission and all along the Embarcadero, Michael Morse rested at AT&T Park with an IV stuck in his arm. Morse was sick -- a flu bug, he thinks -- leaving the Giants potentially without their best bench bat in a critical game.
Yet by the time manager Bruce Bochy approached him in the middle innings to ask what he could contribute, Morse was feeling well enough to hit. Or at least to try. So he grabbed a bat, stepped to the plate and promptly crushed an RBI double, giving the Giants a puncher's chance in what became a 3-2 loss to the Royals.
"He got us back in the ballgame," Bochy said.
With Morse on the bench during the first five innings, the Giants accomplished next to nothing against Royals starter Jeremy Guthrie, who was constructing a streak of 10 straight outs. So when Brandon Crawford singled to open the sixth, Morse -- fresh off his pinch-hit, game-tying homer in Game 5 of the National League Championship Series -- became the obvious choice to bat.
He forgot about his fever. On the fourth pitch he saw, Morse crushed a Guthrie changeup just foul, setting the fans at AT&T Park into a momentary frenzy. On the eighth pitch, he doubled down the line to set those fans afire, later scoring on Buster Posey's groundout. In addition to hauling the Giants back into a game that was drifting away from them, Morse's double forced Royals manager Ned Yost to turn to his bullpen for a dozen outs.
"It was a changeup that he kind of got out over the plate a little bit, and [Morse] drove it down the line," Yost said. "I just wasn't going to take any chances."
Ultimately, the hit did little more than empower the Royals to put on a bullpen clinic, trotting out four members of arguably the game's best late-inning mix. But if this World Series winds up turning into a six- or seven-game war of attrition, Morse's role in forcing Yost to turn to his relief corps so early could play a role.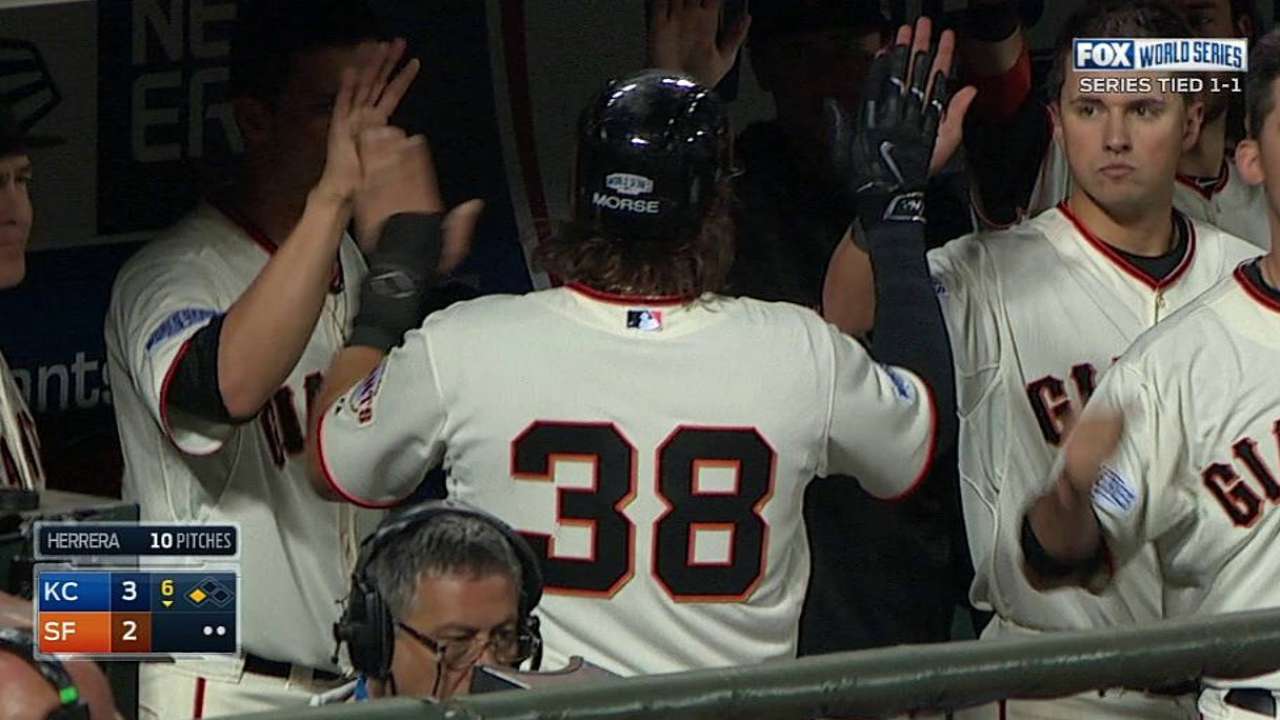 Of more pressing concern is the one-time outfielder's role going forward. A regular starter from April through August, Morse sat on the bench for almost all of September as he nursed a strained left oblique muscle. The Giants left him off their NL Division Series roster, carrying him for the NLCS only after he proved some semblance of health. If there were lingering doubts, Morse crushed them with his pinch-hit homer in Game 5.
Now, with left-handed starter Jason Vargas lurking for the Royals in World Series Game 4, Morse would normally be the obvious choice to start in left field. The Giants have been using Travis Ishikawa and Juan Perez at that position, relying on the former for offense and the latter for defense. But Ishikawa is not a dangerous hitter versus left-handed pitching, while Perez -- a speedy, defensive-minded player -- is miscast as a starter.
Morse is not, particularly versus left-handed pitchers -- he slugged .511 against them in the regular season and owns a .485 career slugging percentage in that department. But his illness could give Bochy pause, as could the manager's desire to continue scripting his at-bats for the game's biggest moments.
"I'll sit and think about it tonight," Bochy said in the immediate aftermath of Game 3. "It's not etched in stone, but what Morse has done off the bench, that's valuable too."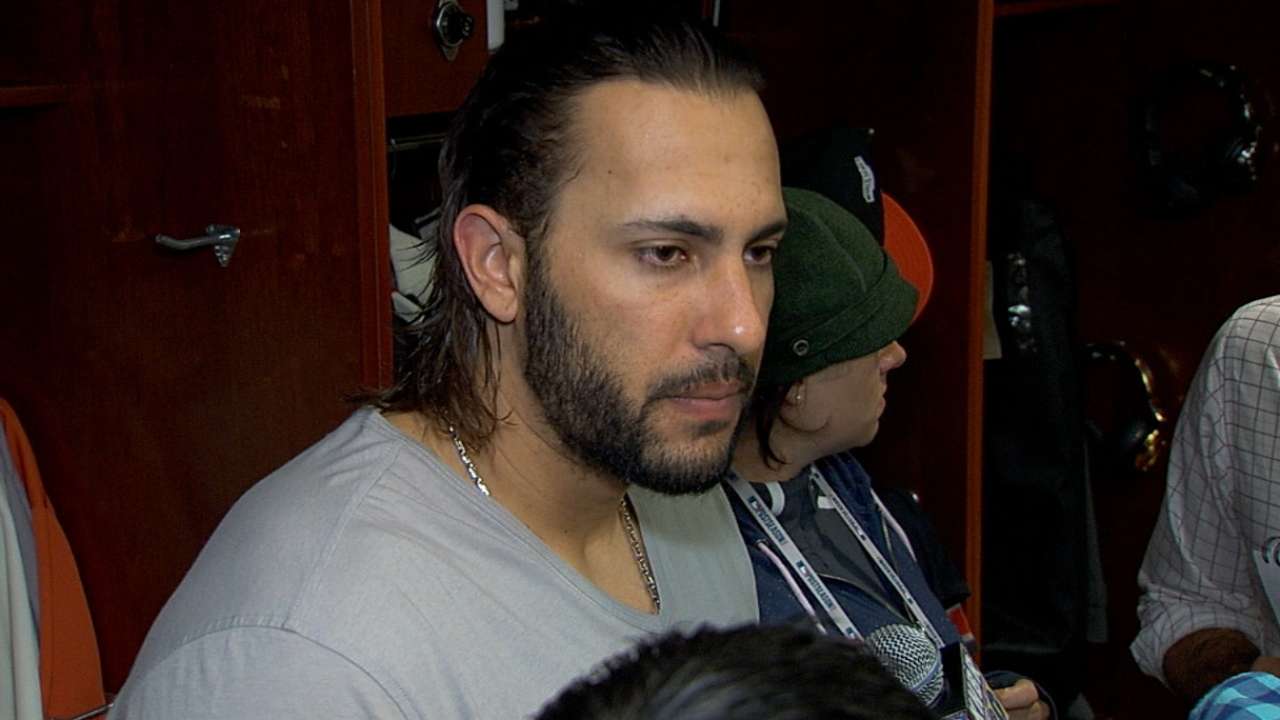 In anticipation of just such a moment, Morse has been shagging regular fly balls in left ever since the Giants activated him for the NLCS. Illness aside, he said he's good to go if Bochy asks.
Not that the illness seems to bother him much.
"I'm good to play," Morse said. "I haven't started in a while but I'm good to play. I think my manager's confident in my role right now and I'm confident in him, and whatever he wants me to do, I'm 100 percent to do it."
Anthony DiComo is a reporter for MLB.com. Follow him on Twitter @AnthonyDicomo. This story was not subject to the approval of Major League Baseball or its clubs.