MLB.com Columnist
Mike Bauman
Playoff-tested Giants have time to right ship
Struggling to score runs, San Francisco has pedigree to rebound, turn Series around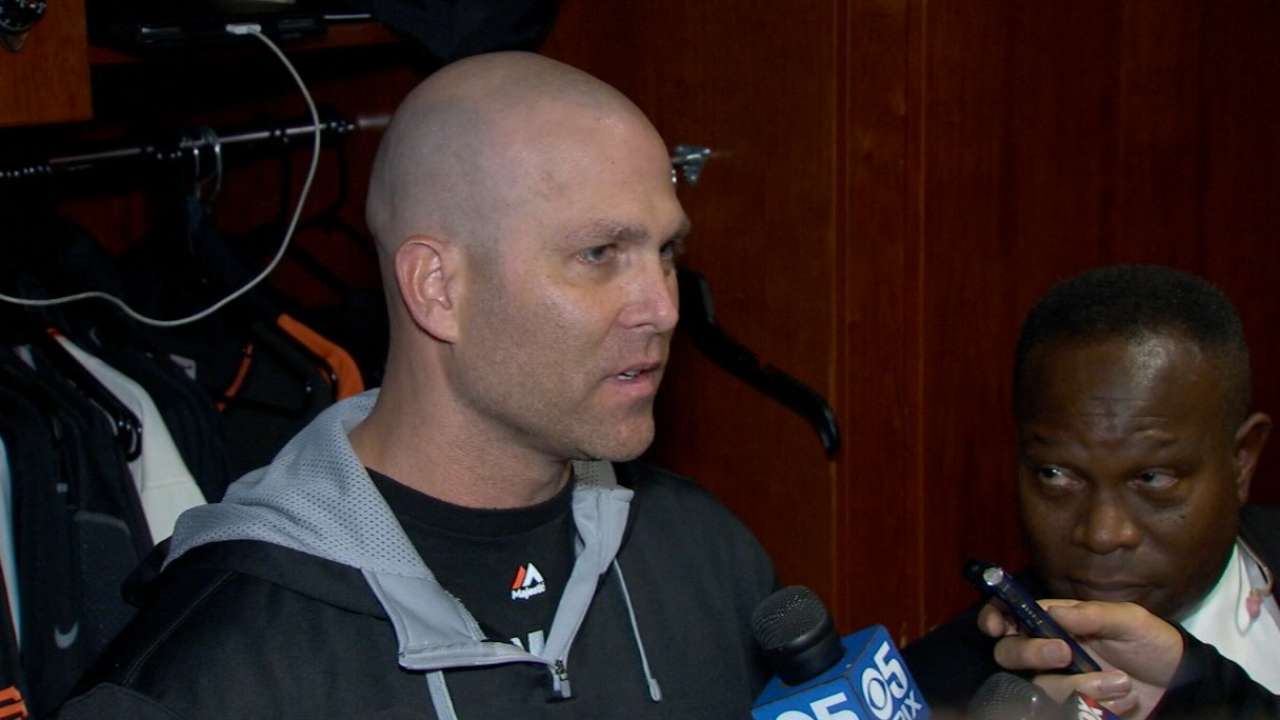 SAN FRANCISCO -- The Giants have seen this before, this being a stretch when enough runs couldn't be bought, borrowed, leased or imported.
But they have also survived these stretches to find themselves in the World Series for the third time in five years. So this is no time to abandon hope.
On the other hand, this is also no time for the offense to continue its performance from Friday night at AT&T Park. Game 3 of the 2014 World Series went to the Kansas City Royals, 3-2. The Giants have scored only four runs in the last two games.
After doing nothing for five innings against Kansas City starter Jeremy Guthrie, San Francisco did mount a two-run rally in the sixth, with a pinch-hit double by Michael Morse serving as the centerpiece.
But then, silence. The final act in the average Royals baseball drama is played out in three scenes, featuring in order, Kelvin Herrera, Wade Davis and Greg Holland, who this week received the Mariano Rivera Award as the American League's most outstanding relief pitcher.
And then there is a happy ending for the Royals. Same thing in Game 3, except that Herrera entered in the sixth after Guthrie had allowed two hits, and lefty Brandon Finnegan came on in the seventh for the final two outs of that inning.
In the eighth and ninth the Royals got back to the original script with Davis and Holland. The Giants, to be perfectly honest, went out peacefully.
In the postseason this year, Herrera, Davis and Holland have a combined ERA of 0.83. In 29 combined appearances, they have allowed three earned runs -- one each.
All three of the above are flamethrowers, with Herrera most frequently hitting three-digit velocity. The Giants, in general, state with clear eyes and even voices that they are not intimidated, and that no matter how hard these opposing hurlers are throwing, eventually they will throw strikes and these strikes will be capable of being hit.
The back end of Kansas City's bullpen hasn't given up anything important all month. And the Royals are 10-1 this October. So there is some, you know, significant evidence on the other side of the story.
"You can easily be intimidated by somebody throwing 97-plus [mph]," Morse said, smiling. "But that's why everybody here is a Major Leaguer. They don't get intimidated."
The Giants will also combat the Royals with a familiar part of their pedigree: "We don't quit." And of course they don't. Otherwise, they wouldn't be in this World Series.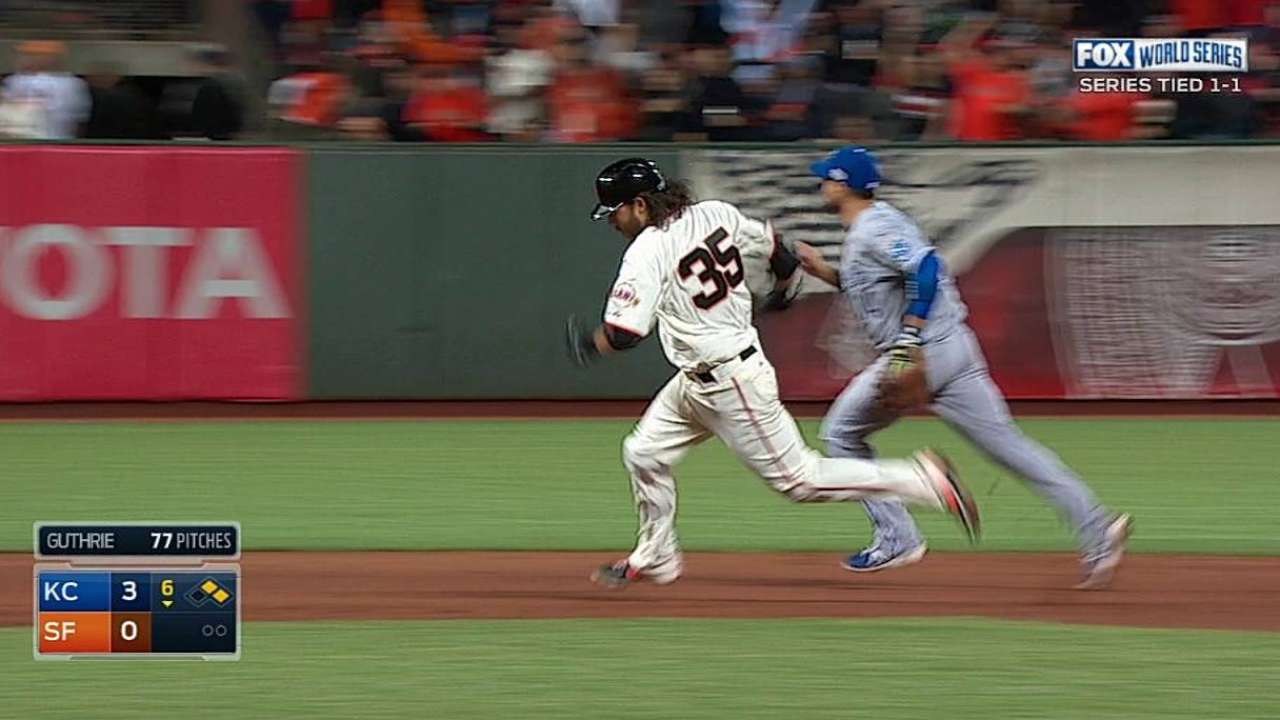 "In this clubhouse, these guys are so professional," Morse said. "Look at the quality of the at-bats to the end. These guys don't give up.
"We're determined. This team is focused. There is not a better group of guys that I know."
The Giants have been down, way down, in postseason series before, only to come back and triumph. There was the National League Division Series in 2012 against Cincinnati. There was the NL Championship Series in 2012 against St. Louis. They specialize in the unlikely comeback.
Therefore, being down 2-1 is no time to panic. It is not even time to blink.
"It's a best-of-seven series for a reason," reliever Jeremy Affeldt said. "If it were best of three, we'd be going home."
No, the Giants will definitely be back at AT&T Park for Game 4 on Saturday. Maybe they will bring a plausible offense as well.
On Friday night, one of the items that was wasted along the way was the performance of starter Tim Hudson. Waiting for a World Series start his entire, highly admirable career, Hudson pitched well enough to win.
"I thought he threw the ball well, very well," Giants manager Bruce Bochy said. "I thought he did a really nice job."
A leadoff Kansas City double in the first scored, but starting in the second, Hudson retired 12 in a row. He left trailing, 2-0, although the bullpen gave up another run that was charged to him. In a truly touching moment at AT&T Park, the crowd of 43,020 rose as one and gave Hudson a sustained standing ovation as he left the game.
"Our fans have been great, a special group of fans who have come to our ballpark and supported us all year," Hudson said. "It was definitely appreciated for sure."
Hudson could get another World Series start if the series goes the distance to a seventh game.
"I hope that we win the next three games, I'm going to be honest with you," Hudson said with a smile. "But if I do have the opportunity, it will definitely be something I'm looking forward to, and I'll be prepared just like always."
The way the Giants' offense performed the last two games, even the notion of this series going seven games seems remote. But come on. The Giants win with pitching and defense and scraping together just enough runs. There will be nights when they just aren't scraping well enough. They have time to get back to the winning formula, just not a ton of time.
Mike Bauman is a national columnist for MLB.com. This story was not subject to the approval of Major League Baseball or its clubs.