Statcast: Perez's scoop and throw too fast for Blanco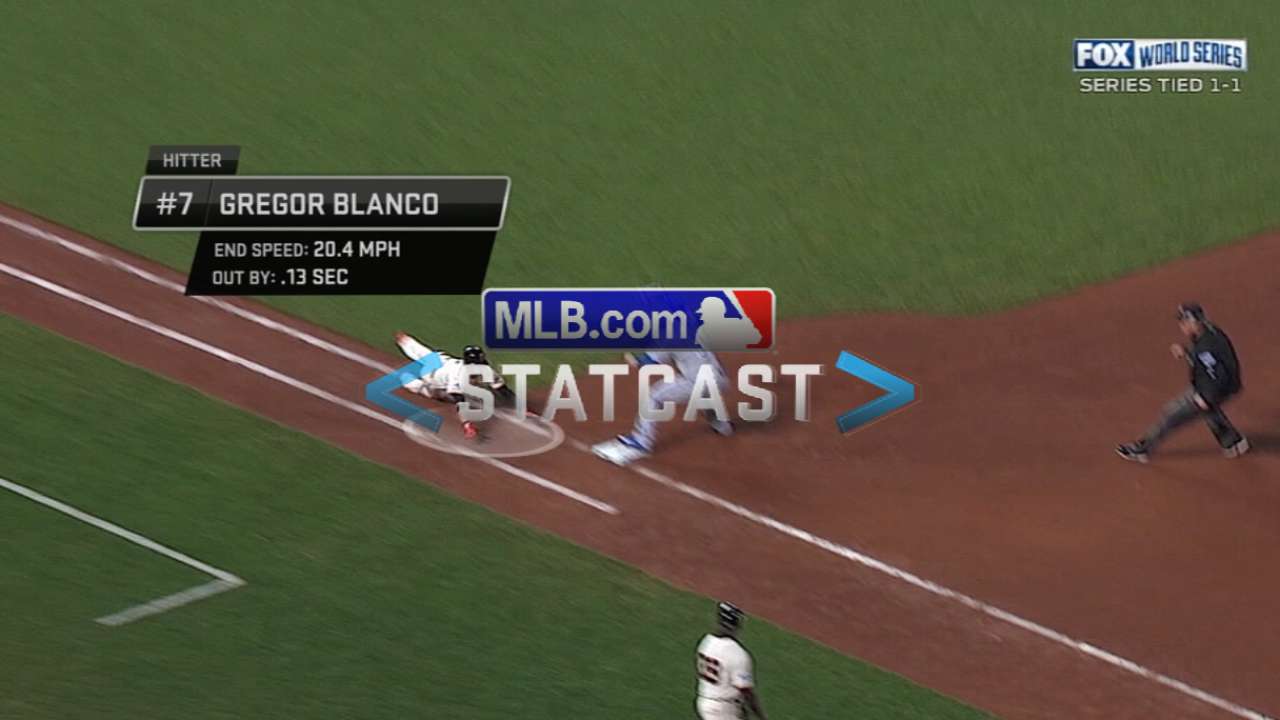 Trailing Game 3 of the World Series by a run with one out in the bottom of the eighth inning on Friday night at AT&T Park, the Giants desperately needed a baserunner. They almost got one on a Gregor Blanco bunt, but as the Statcast tracking technology shows, a smooth play by Royals catcher Salvador Perez and a poor decision by Blanco helped Kansas City hold on for a 3-2 victory and 2-1 Series lead.
Blanco made two mistakes that gave Perez a chance to throw him out. The first was bunting the ball out in front of the plate instead of down the third-base line, where Perez would have faced more difficulty fielding it and getting in position for a throw. But with dominant Royals reliever Wade Davis throwing a fastball at 96.6 mph, placing the ball perfectly is much easier said than done.
The other error was entirely under Blanco's control, as he chose to dive headfirst into first base -- a move that players often make despite it being slower than running straight through. On this play, Statcast shows that Blanco actually took his first step in minus-0.3 seconds, meaning his body was moving toward first slightly before he made contact. He reached a top speed of 22 mph, but the dive slowed him down to 20.4 mph.
Had Perez not executed his side of the play with precision, it wouldn't have mattered. But he did. Kansas City's All-Star catcher -- all 6-foot-4 and 240 pounds of him -- jumped out of his crouch with a first step of 0.23 seconds, despite Blanco squaring around late. Perez's route efficiency to the ball was 96.2 percent, as he sacrificed a perfectly direct line for a slightly rounded path that allowed him to field the ball to his right side, where he could grab it and throw in one motion with his momentum funneled toward first.
Perez got to the ball -- 24 feet, 6 inches away -- in 2.14 seconds. It then took him only another 0.68 seconds to release the ball once he picked it up, with his throw zipping directly at first baseman Eric Hosmer at 78.5 mph.
All of those factors combined to get the ball to first 0.13 seconds quicker than Blanco, his headfirst dive into the bag perhaps costing him a hit. The Giants never got another baserunner, and they now find themselves behind in the World Series.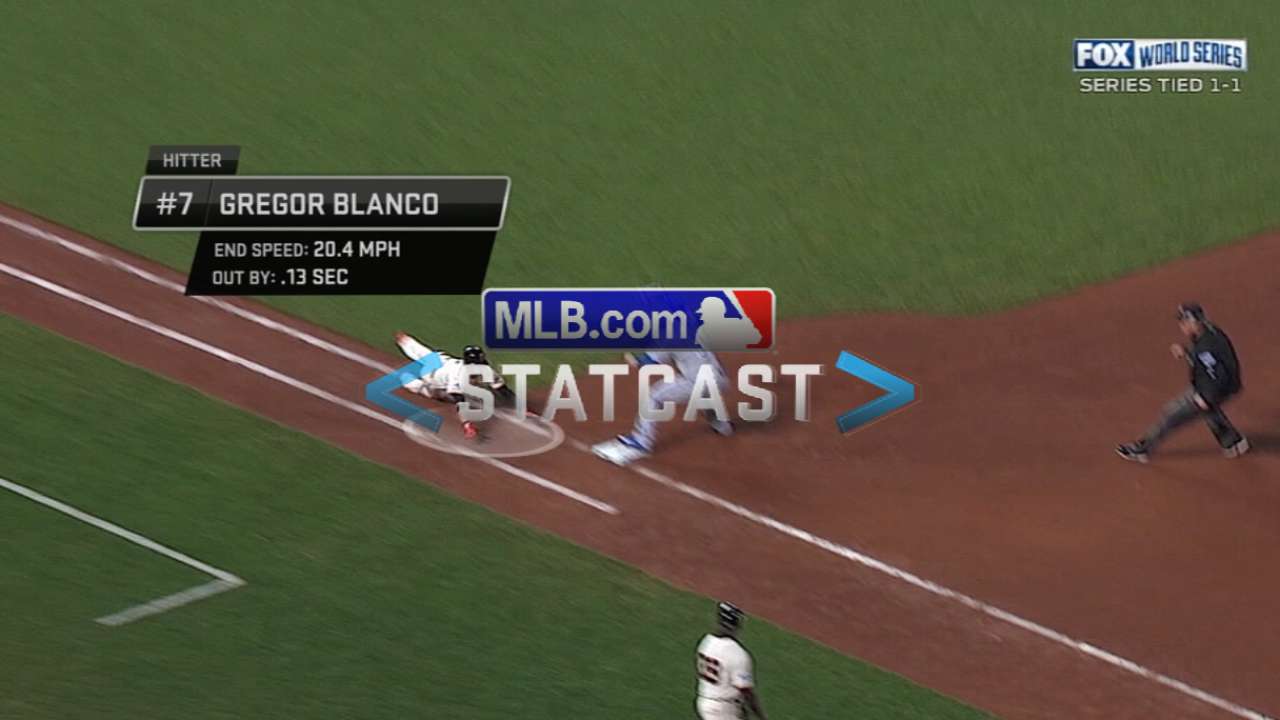 More from Game 3
Ishikawa robs Perez
Travis Ishikawa, normally a first baseman, has been patrolling left field for the Giants for most of the postseason, and he went through a bit of an adventure in the top of the second inning in Game 3. With runners on first and second and no outs, Perez smoked a line drive out to left off Tim Hudson, and Ishikawa moved to his right to pursue it. His inexperience at the position showed as he took a less than optimal route, but Ishikawa still managed to cover the approximately 50 feet necessary to record the out with a sprawling dive.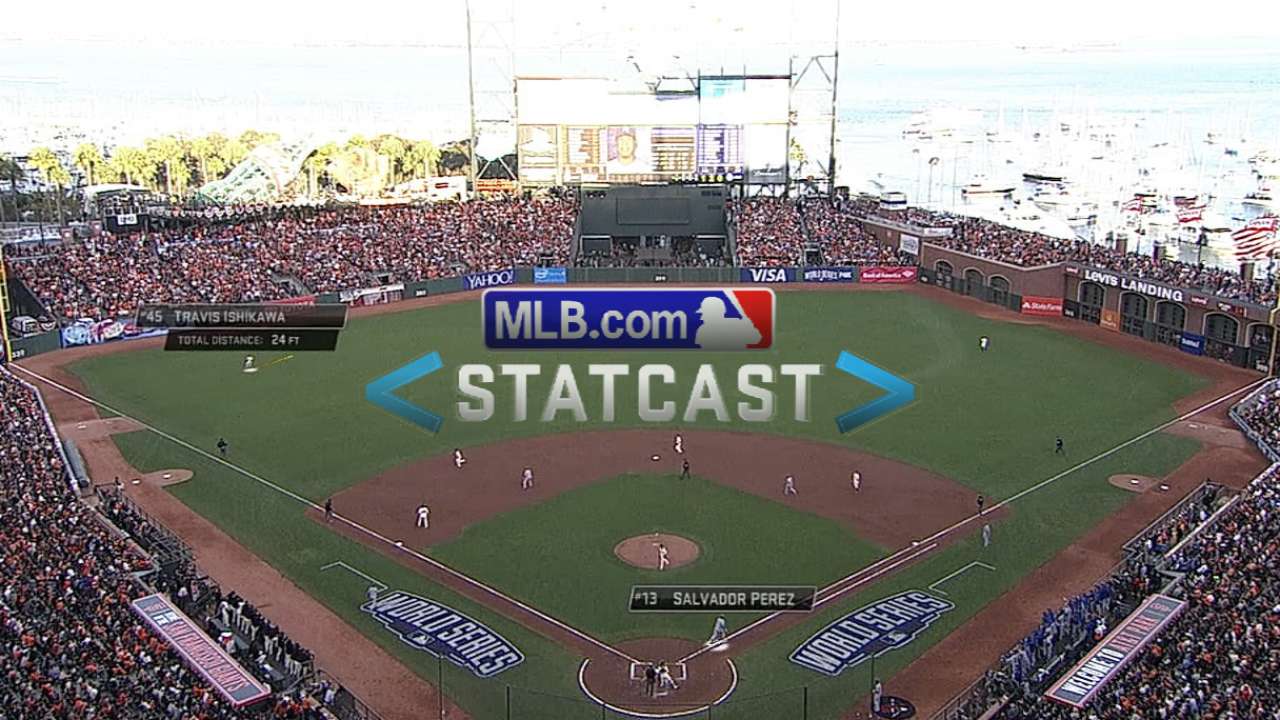 Giants turn two on Dyson
Royals outfielder Jarrod Dyson is one of the fastest players in the Majors, but that didn't stop the Giants from turning an inning-ending double play on him in the second. After Ishikawa's catch, Hudson needed a ground ball to get out of the jam, and he got it as Dyson smacked one directly at Joe Panik at second base. But with Dyson motoring down the line at a blazing 21.9 mph, the San Francisco infield couldn't afford any inefficiency. Fortunately for Hudson, Panik fielded the ball cleanly and flipped to shortstop Brandon Crawford, who caught it coming across the bag, then fired to first to beat Dyson.
Panik flashes the leather
The Giants got some more pretty defense in the third, thanks to Panik. Speedy Alcides Escobar hit a ground ball up the middle and raced to first base at a maximum of 20.9 mph, putting a lot of pressure on Panik to make a perfect play. He did. The rookie second baseman quickly scurried 22 feet to his right and made a sliding stop, then popped up and whipped a throw to first, with Brandon Belt deftly scooping it for the out.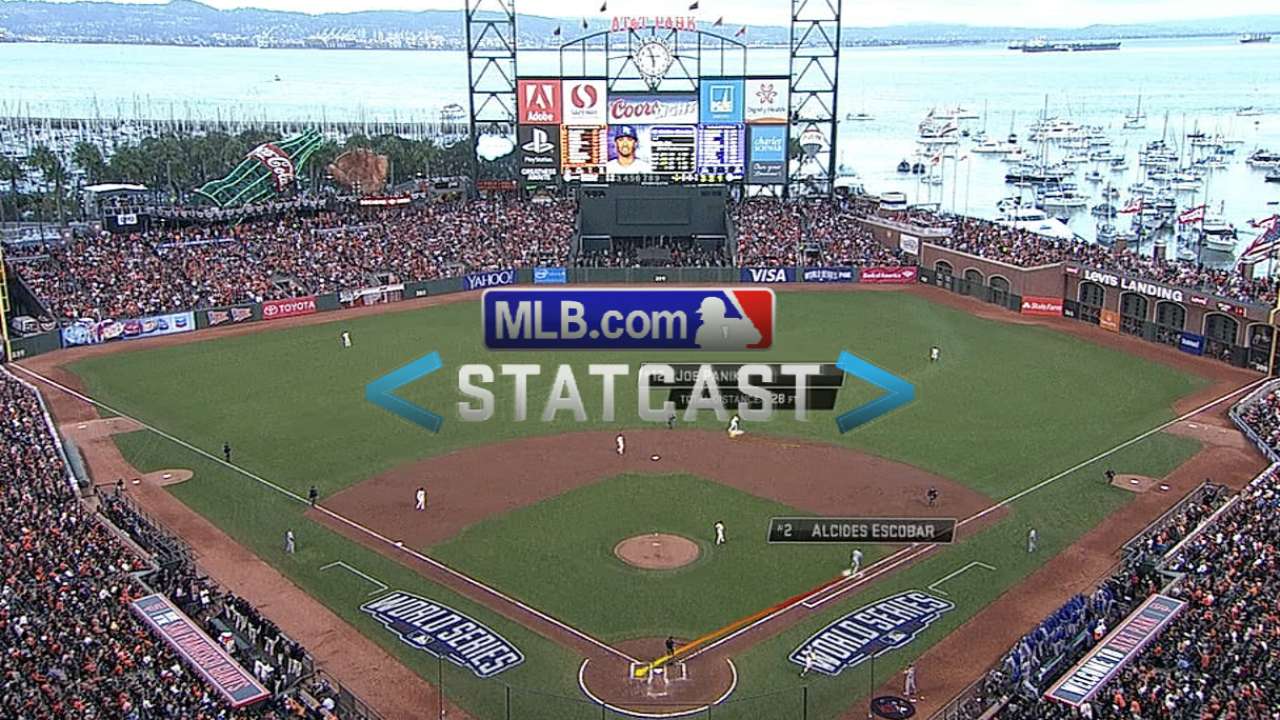 Pence singles, caught stealing
Trailing, 1-0, in the second inning, the Giants got their first baserunner of the game, but then quickly lost him. With one out, Hunter Pence hit a slow bouncer to the left side of the infield that required Escobar to charge in and to his right before snatching the ball with his bare hand and flinging it across to first. It was a tremendous play, but the throw pulled first baseman Eric Hosmer a little off the bag, and Pence -- busting it down the line at a top speed of 21.5 mph -- was safe. Pence then took off for second with Belt at the plate, on a high and inside pitch from Royals starting pitcher Jeremy Guthrie. This time, Pence ran at a maximum of 20 mph, which wasn't enough to get him to his destination safely. Perez, who has thrown out 33 percent of attempted basestealers in his career, unleashed a perfect strike to Escobar, who slapped down the tag.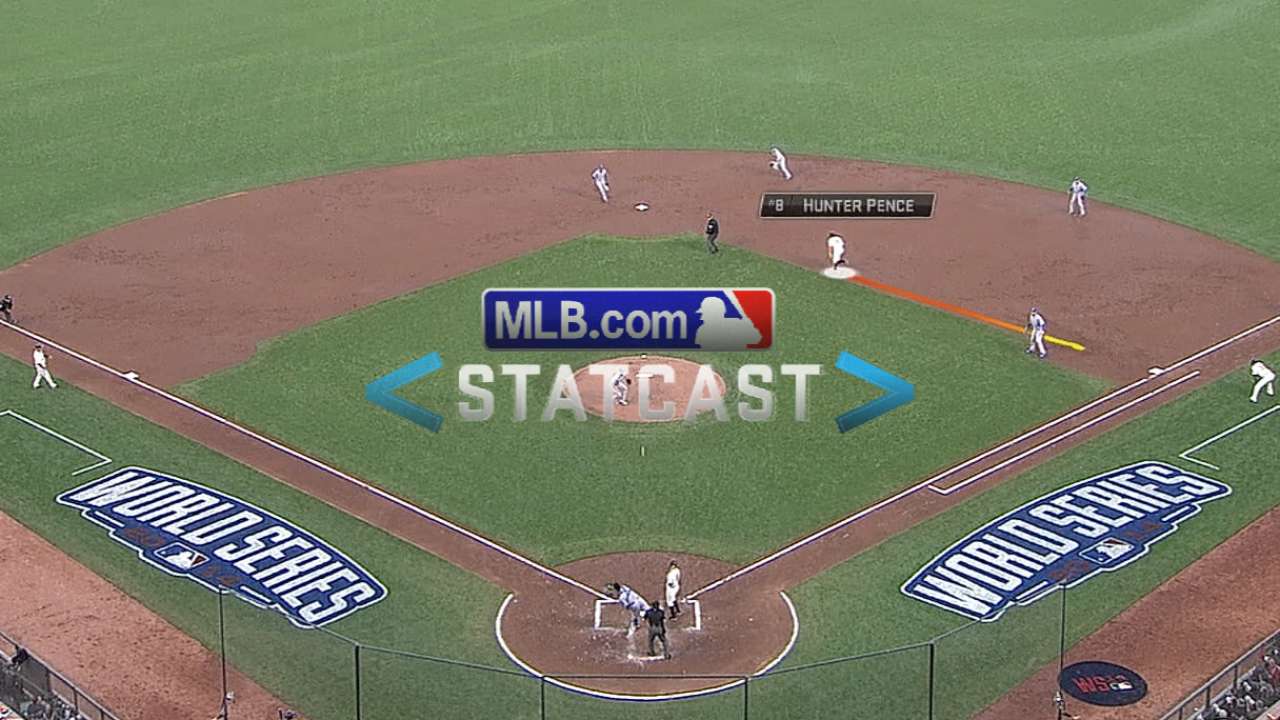 Gordon's RBI double
The Royals led, 1-0, in the top of the sixth inning when Escobar singled with one out to set the stage for Alex Gordon, who was moved up in the lineup from sixth to second for Game 3. Gordon got a pitch up from Hudson and drove it over the head of Blanco and off the center-field wall on a hop. Escobar, cruising around the bases at a top speed of 19.6 mph, scored easily. Gordon had his first hit and RBI of the World Series, and Hudson was taken out of the game.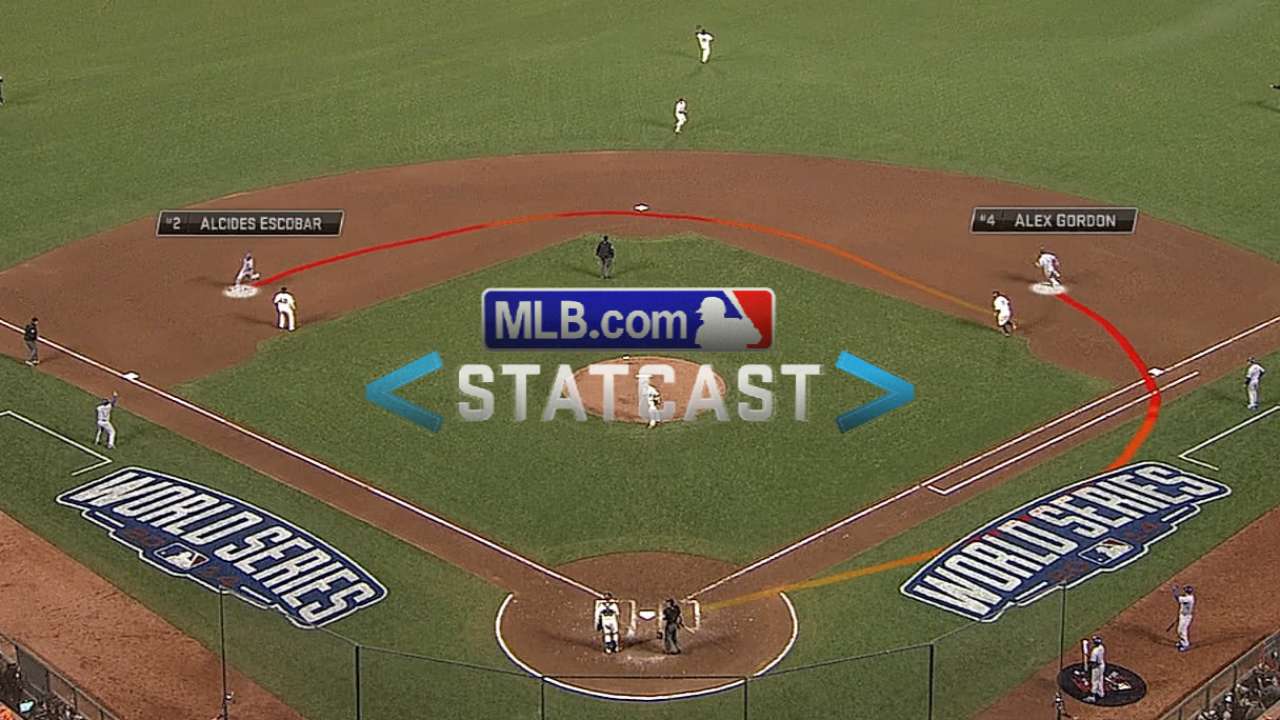 Morse gets Giants on the board
Now down, 3-0, the Giants finally got the bats going against Guthrie in the sixth inning, as Crawford led off with a single to bring up pinch-hitter Michael Morse, who smacked a grounder down the third-base line. The ball got under the glove of diving third baseman Mike Moustakas and made its way into the left-field corner. By the time Gordon could dig it out, there was no play to be made at the plate on Crawford, who reached 19.2 mph on his trip home with San Francisco's first run.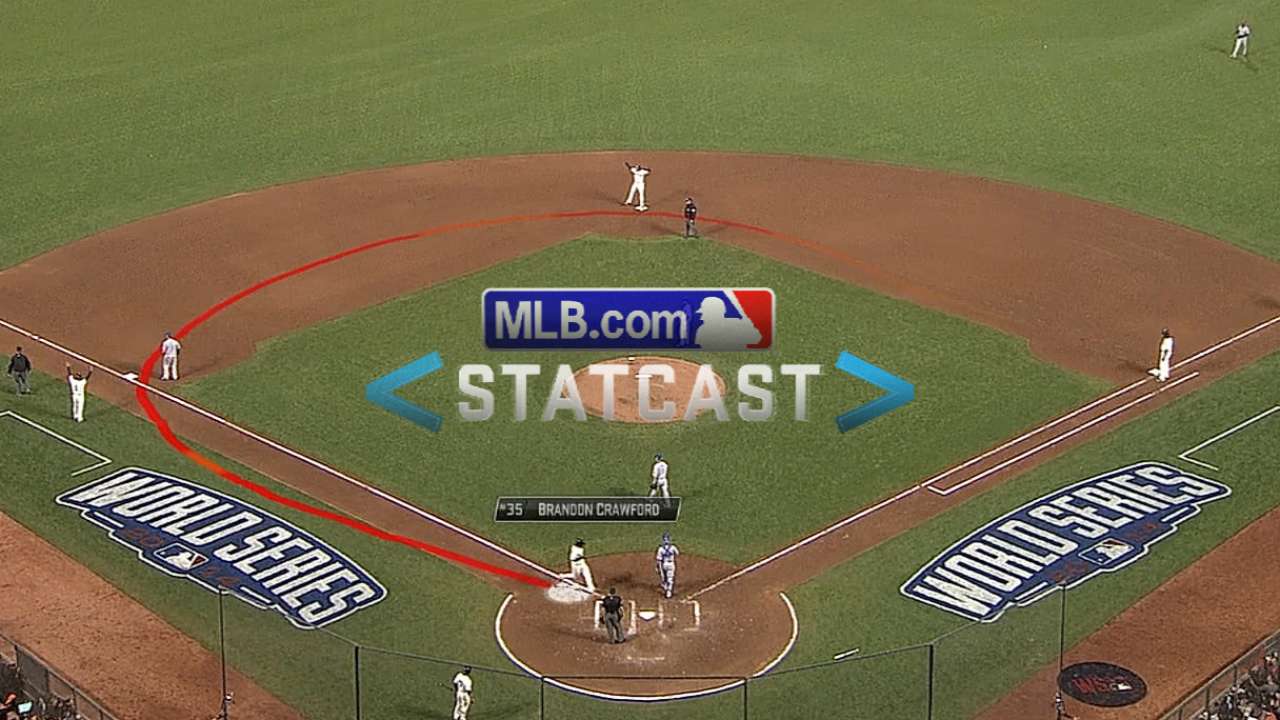 Statcast highlights from earlier in the postseason
World Series Game 1: Royals' slick relay throw
With runners on first and third and one out in the first inning, Pablo Sandoval smoked a James Shields breaking ball into Kauffman Stadium's right-field corner. Blanco scored easily from second. Buster Posey, stationed at first, took an initial nine-foot lead and extended it to 14 feet at contact. Traveling at a top speed of 18.4 mph, Posey got the wave toward home, but the risk didn't pay off, as Royals right fielder Nori Aoki deftly played the carom off the wall and zipped a throw to cutoff man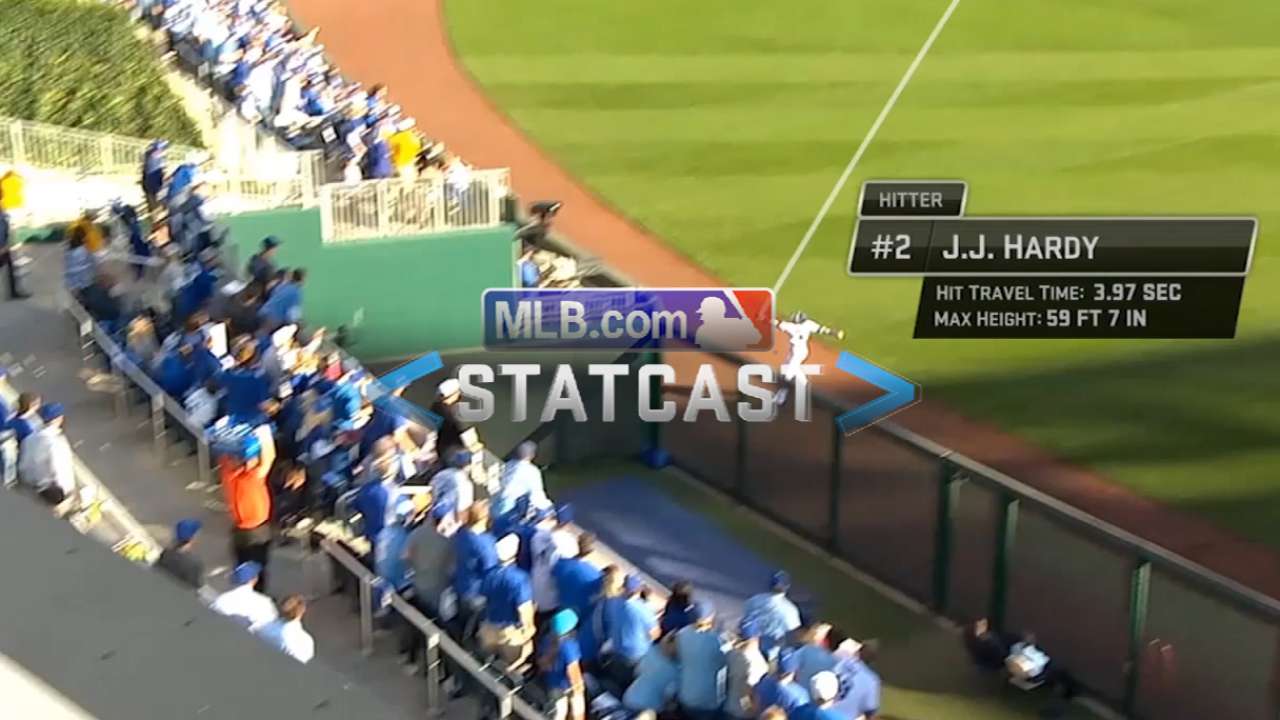 ALCS Games 1 and 2: Dyson gets caught ... twice
Counting the postseason, Dyson entered the ALCS 121-for-141 (85.8 percent) as a basestealer in his career, including 71-for-84 (84.5 percent) over the past two seasons. Yet he started the series 0-for-2 against Baltimore, marking only the second time he was been caught in consecutive games. In Game 1, Dyson took his first step in 0.27 seconds and accelerated to a top speed of 20.1 mph in 2.2 seconds. He slid in ahead of a 70.1-mph throw from catcher Nick Hundley, but second baseman Jonathan Schoop kept his tag on Dyson's left leg as it came off the bag, possibly applying the pressure that made Dyson's leg stray.
No such tactic was necessary in Game 2, with Andrew Miller. This time, Dyson reached a higher top speed (22.3 mph), but the pitch was high, giving Joseph a good opportunity to throw. Joseph, who threw out 40 percent of attempted basestealers during the regular season, made a perfect throw to shortstop Hardy, on the first-base side of the bag. Hardy put the tag down on Dyson's left shoulder just before he reached the base.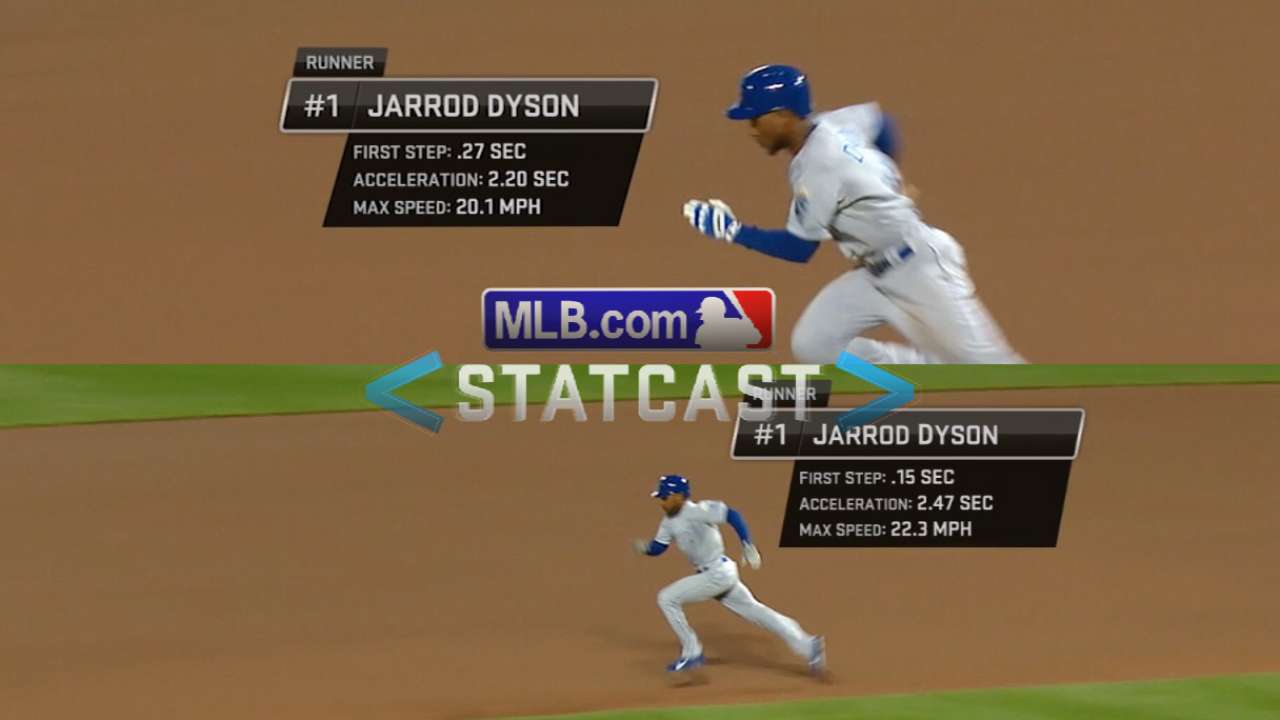 ALCS Game 2: Cain sprints, lays out to rob Hardy
Cain tormented the Orioles defensively. Hardy led off the sixth inning with a drive that traveled about 350 feet into the right-center-field gap off Yordano Ventura. It looked like an extra-base hit off the bat, but Cain had other ideas. From his position in center, he took his first step toward the ball in less than a quarter of a second, accelerating to a maximum speed of 21.2 mph in 3.74 seconds. But to make the play, Cain needed more than pure speed. Statcast measured his route efficiency at 99.7 percent, meaning he traversed a nearly optimal path from his original location to the spot where he dove to snag Hardy's shot. That allowed his long strides to cover 82 feet of outfield in only 3.65 seconds.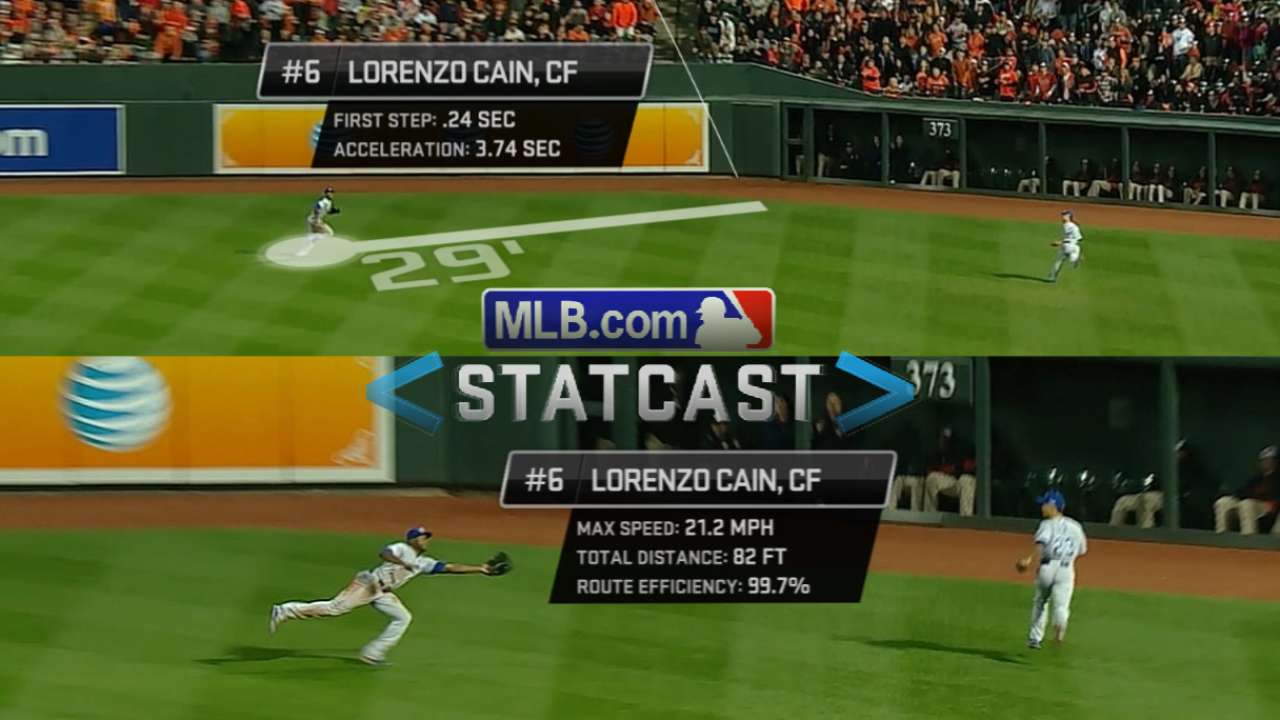 ALCS Game 1: Hundley's crazy scoop
With the game tied at 5 in top of the ninth, Orioles reliever Zach Britton walked the first three batters he faced, but then got bailed out when Hosmer hit a weak grounder to first base. Escobar, the runner on third, had a secondary lead of 13 feet, 9 inches, but got an understandably slow start, as he wanted to be conservative with no one out. (He ultimately reached a top speed of 20.3 mph, which is impressive.) First baseman Steve Pearce charged Hosmer's grounder and made a clean scoop, but his throw came in low, and it took an incredible scoop by catcher Hundley to record the out, with the ball beating Escobar by just .17 seconds.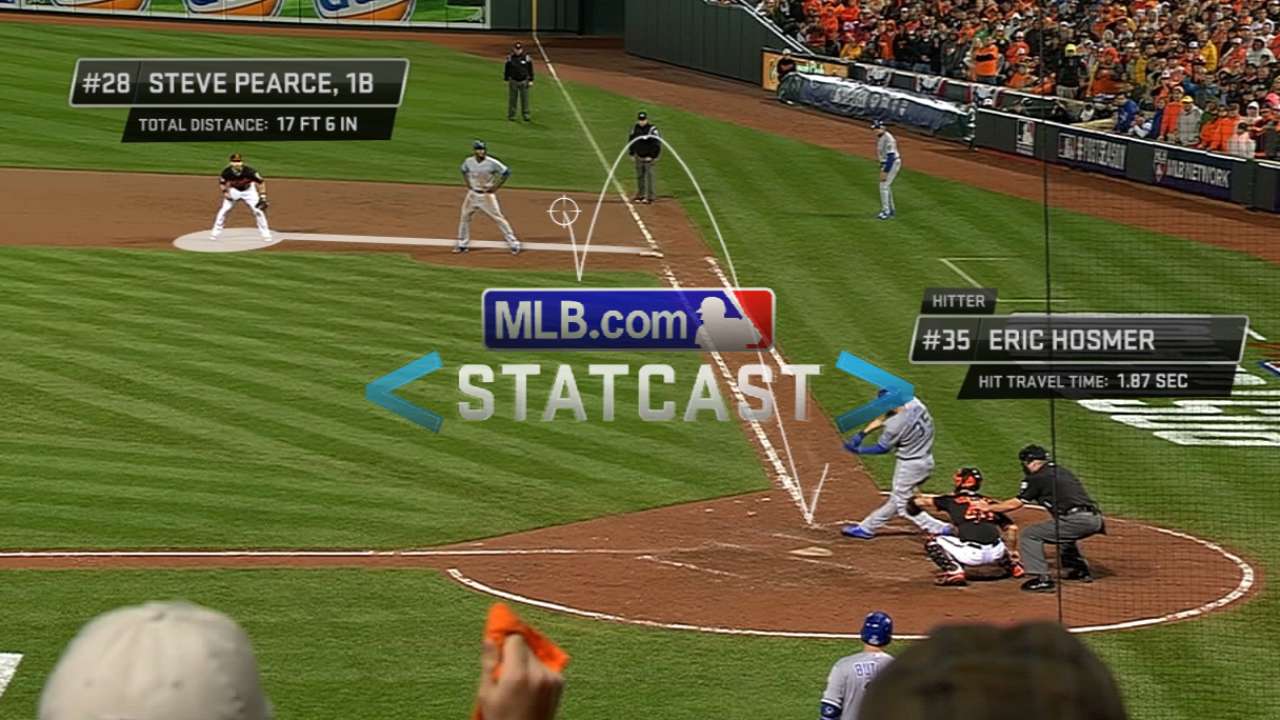 Andrew Simon is a reporter for MLB.com. This story was not subject to the approval of Major League Baseball or its clubs.