Hudson's World Series debut doesn't lack intensity
SAN FRANCISCO -- Tim Hudson had toiled through 16 big league seasons to finally get the opportunity to throw his first pitch in a World Series game.
On Friday night at 5:10 p.m. PT the Giants right-hander finally got his wish as he uncorked a 91-mph fastball. In the blink of an eye Alcides Escobar smacked the pitch off the left-field wall for a double.
So much for a storybook beginning.
"I'm always aggressive when I get to the batter's box for my first turn," Escobar said after the Royals 3-2 win gave them a 2-1 Series lead. "I know he's going to throw me fastballs. He isn't going to throw me a changeup. And I'm going to put a good swing on it to try to hit it hard."
Instead of easing into things and maybe savoring the moment just a bit, Hudson found himself in a jam. It was an "ambush," Giants manager Bruce Bochy said, but one Hudson, in retrospect, said he should have seen coming.
"Well, it's the first pitch of the game," Hudson said. "I mean, normally pitches don't get swung at first pitch of the game too often, but you know what I mean? It's a pitch in the ballgame that can get hit and you still have to make decent pitches in the first pitch of the ballgame. You've got to give him credit. He could have popped it up just as easy as he doubled it, but he didn't pop it up, he hit a double and they got me in a jam right there off the get-go."
Hudson did a nice job of limiting the damage, as back-to-back groundouts by Alex Gordon and Lorenzo Cain brought home Escobar, but the Royals would get no more in the inning.
One inning later, Hudson again was in trouble when Mike Moustakas singled and Omar Infante walked, but again he stiffened when he needed to and retired the side without a run scoring.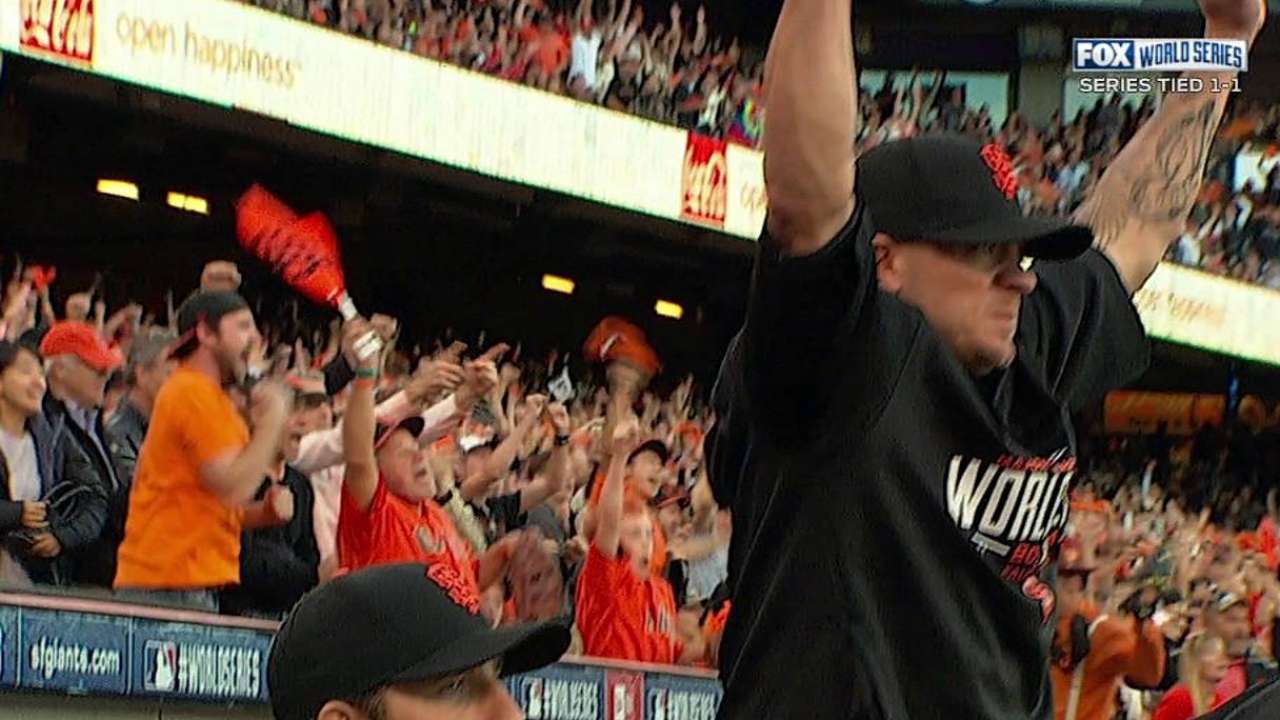 From there, Hudson seemed to find his rhythm, retiring 12 straight hitters and keeping the score at 1-0 through five innings.
"I thought he had great stuff and was keeping the ball down, good movement on his pitches," Bochy said. "I thought he did a really nice job. He gave us what we were hoping and a chance to win, and that's all you can ask for from your starters. I thought he got better and better as the game went."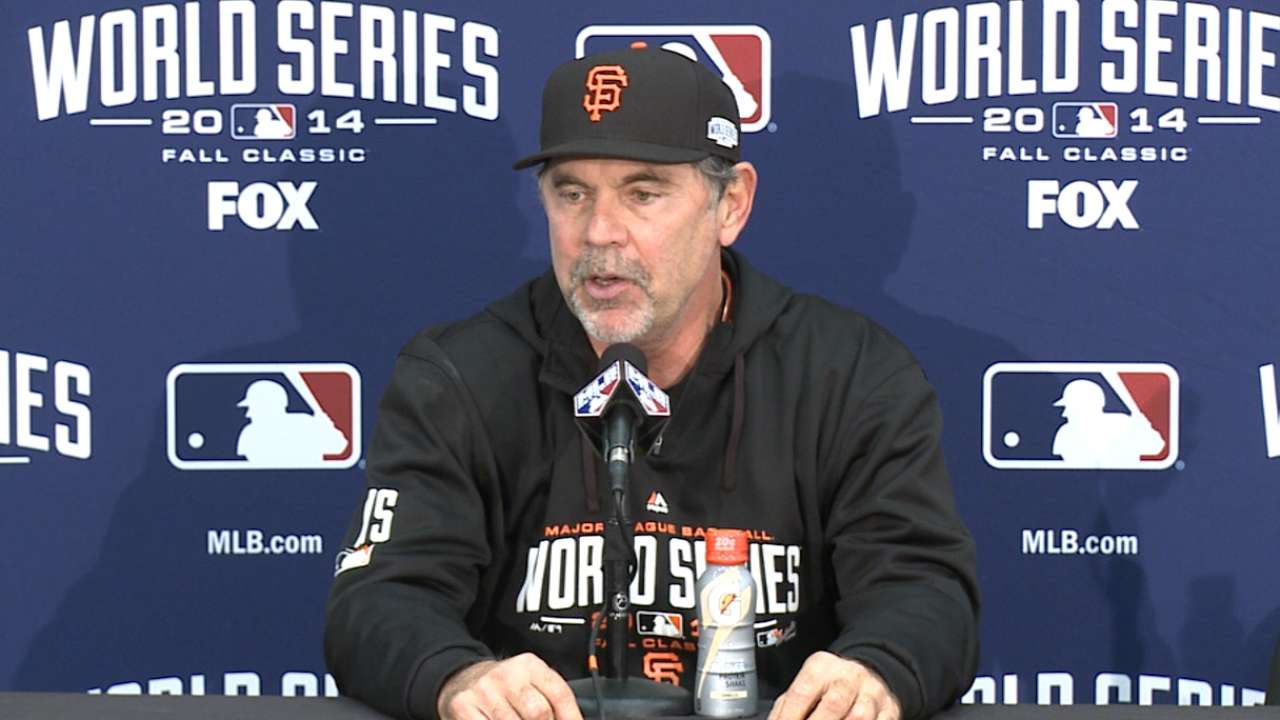 After retiring Jeremy Guthrie to start the sixth, Hudson allowed a single to Escobar and an RBI double to Gordon. After retiring Cain, Bochy elected to go with the left-hander Javier Lopez, who wound up allowing one of Hudson's runners to score and the Giants trailed, 3-0.
"Felt like we had a pretty good groove right there in the middle innings and Buster called a great game," Hudson said. "They managed to scratch and get a couple of runs and got a third run on us there in that sixth inning that at the time seemed like it was going to be tough for us, but you know our guys came back and put up two in the bottom of that inning and made a game of it."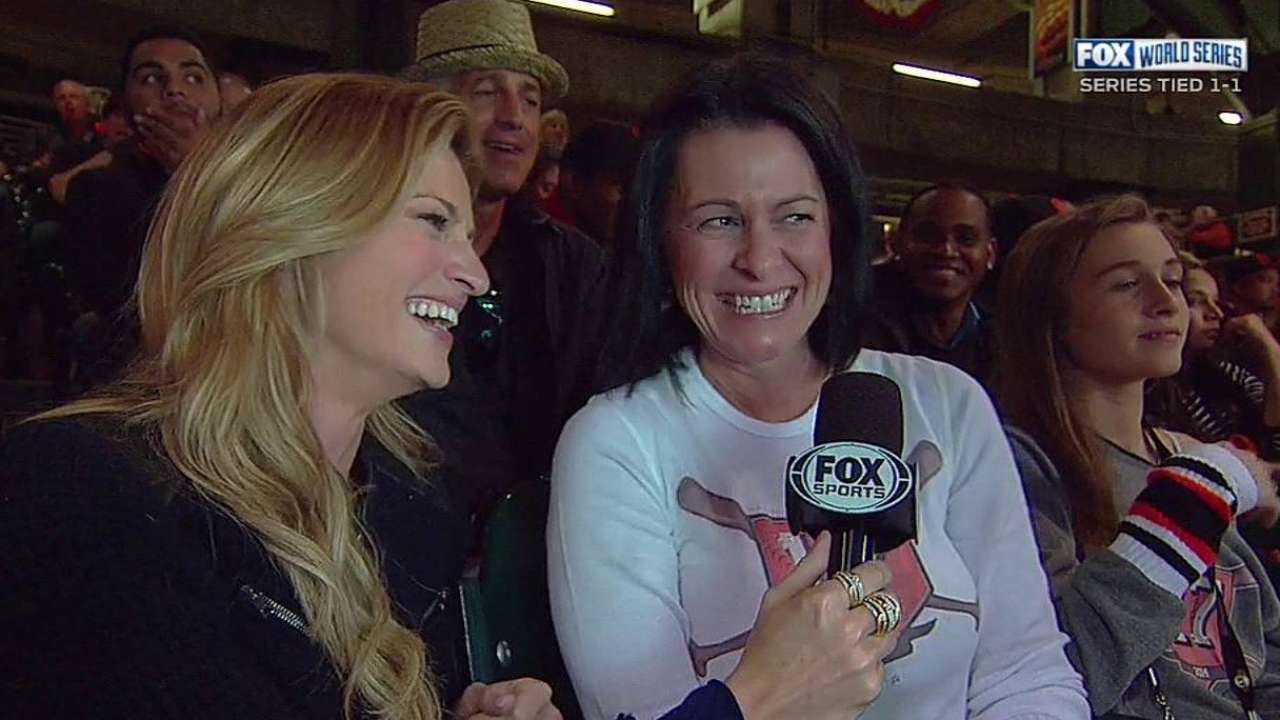 As he walked off the mound, frustrated by what had just transpired, Hudson saw the sellout crowd come to its feet to give him a standing ovation.
It was an acknowledgement of how long his journey to this moment had been. Hudson had thrown 3,003 regular-season innings and another 68 1/3 in the postseason before getting to his first World Series. At 39, he is the third-oldest pitcher to make his World Series debut.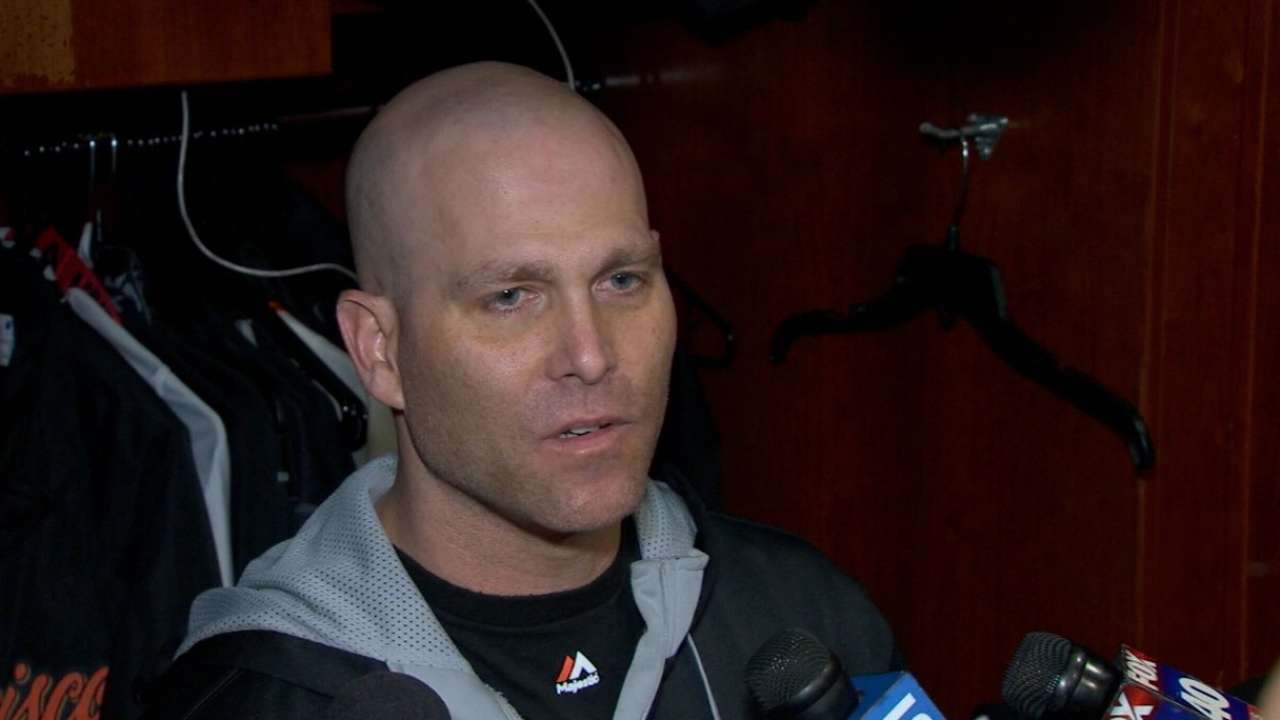 After the loss, which puts the Giants in a 2-1 hole heading into Saturday's Game 4, Hudson was asked if he was able to enjoy the game after falling behind so early.
"You're out there competing. I don't know if enjoyment is a word you can say," Hudson said. "I mean, I was excited to be out there and excited to go out there and compete and hopefully give us a chance to win. It was a great experience. Obviously I wish we would have won the ballgame. We've still got a lot of baseball left."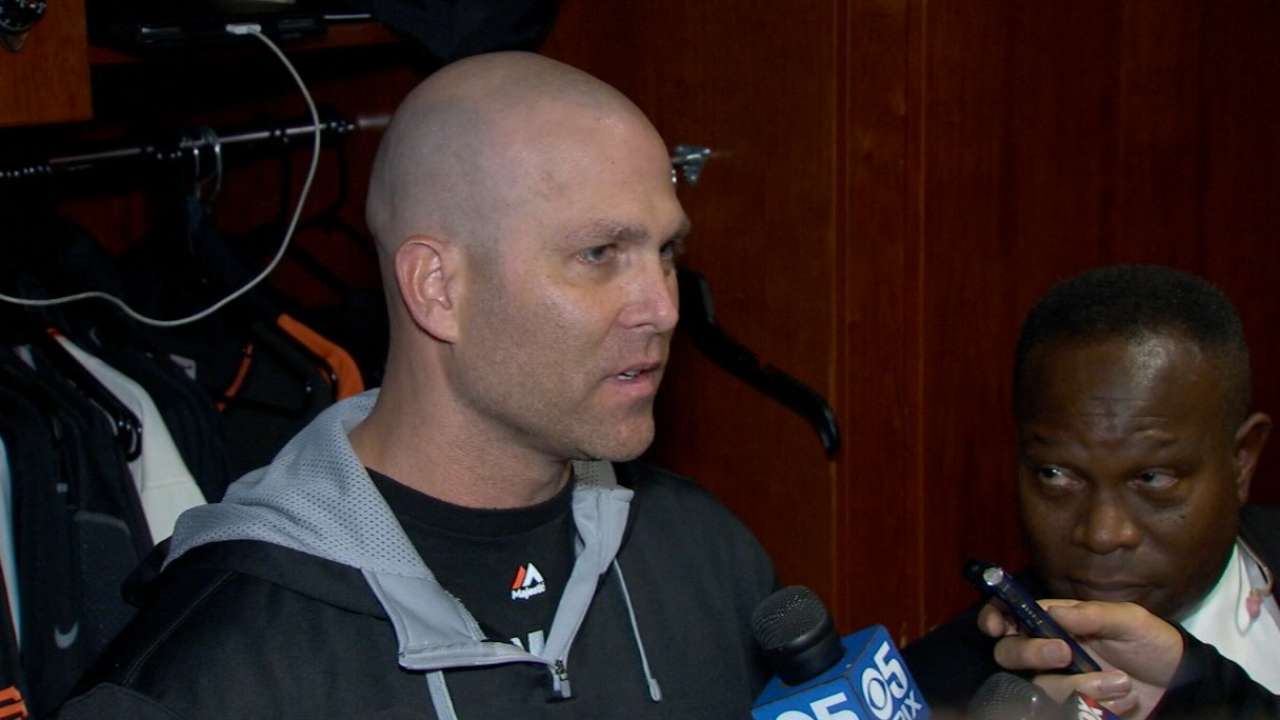 If the Series goes the distance, Hudson would be in line to start Game 7 in Kansas City, but while he waited a long time for his first World Series start, it would be just fine by him if it's his only one this year, as long as the Giants win the title.
"Well, I hope that we win the next three games and I don't have to, I'm going to be honest with you," Hudson said. "If I do have the opportunity to pitch again, it's something I'll definitely be looking forward to and I'll be prepared just like always."
Steve Gilbert is a reporter for MLB.com. Read his blog, Inside the D-backs, and follow him on Twitter @SteveGilbertMLB. This story was not subject to the approval of Major League Baseball or its clubs.