Game 3 Did you know: Holland ties postseason saves record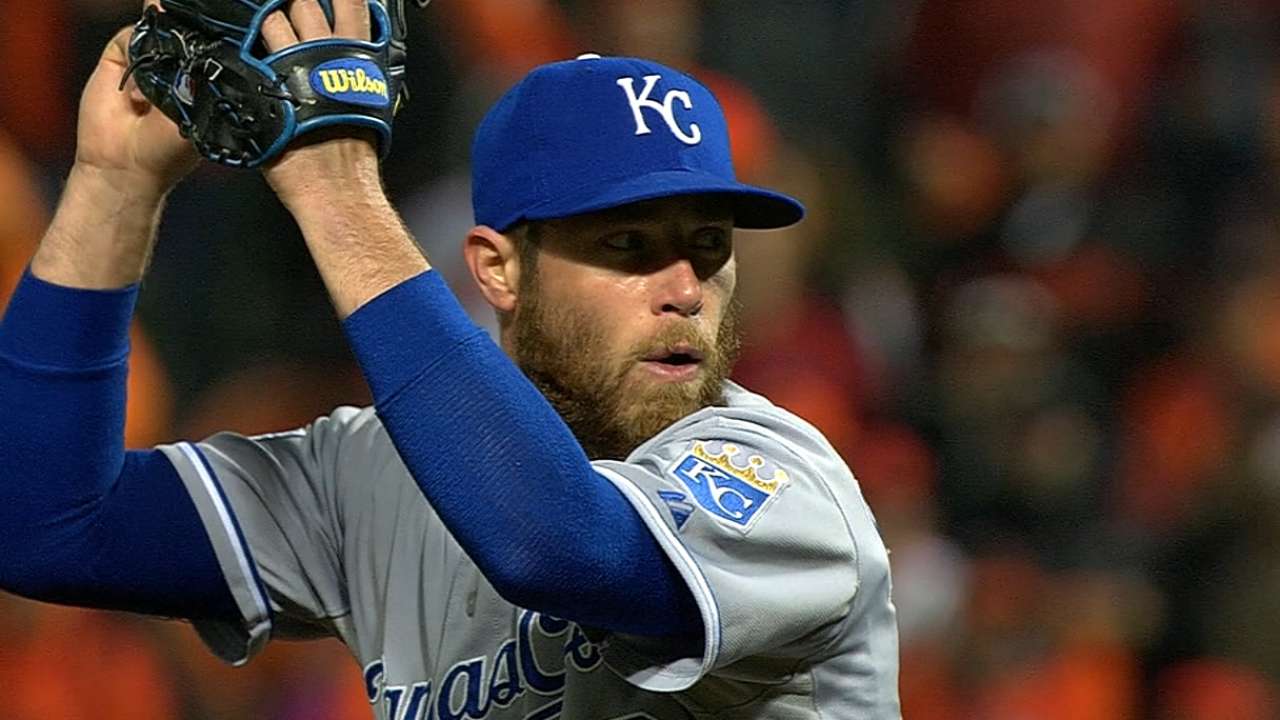 The Royals held off the Giants for a 3-2 victory on Friday night in the pivotal Game 3 of the 2014 World Series.
Here is a look at a number of interesting facts and figures from Friday night's Game 3, including just how important a Game 3 victory is when a Series is previously tied 1-1 and how Royals starter Jeremy Guthrie now finds himself in the same company as -- Babe Ruth?
Super savers
Most saves in one postseason
| Player | Team | Year | IP | SV |
| --- | --- | --- | --- | --- |
| Greg Holland | K.C. | 2014 | 10 | 7 |
| Koji Uehara | Bos. | 2013 | 13 2/3 | 7 |
| Brad Lidge | Phi. | 2008 | 9 1/3 | 7 |
| Troy Percival | Ana. | 2002 | 9 2/3 | 7 |
| Robb Nen | S.F. | 2002 | 9 | 7 |
| John Wetteland | NYY | 1996 | 12 1/3 | 7 |
| Neftali Feliz | Tex. | 2011 | 11 1/3 | 6 |
| Brian Wilson | S.F. | 2010 | 11 2/3 | 6 |
| Mariano Rivera | NYY | 2000 | 15 2/3 | 6 |
| Mariano Rivera | NYY | 1999 | 12 1/3 | 6 |
| Mariano Rivera | NYY | 1998 | 13 1/3 | 6 |
| Rich Gossage | NYY | 1981 | 14 1/3 | 6 |
• Royals closer Greg Holland notched his seventh save this postseason, tying the single-postseason record held by five other pitchers. Holland pitched a perfect ninth inning in Game 3 to join Koji Uehara (2013 Red Sox), Brad Lidge (2008 Phillies), Troy Percival (2002 Angels), Robb Nen (2002 Giants) and John Wetteland (1996 Yankees) atop the record books.
• This was the 15th one-run game of the postseason, which extended the single-season record. Both the 2011 and 2013 postseasons featured 13 one-run games.
• Guthrie became just the fifth starter in World Series history -- and first since 1960 -- to earn a win without the help of a single strikeout. The only other starters to win a World Series game with zero strikeouts on the night were Bob Turley (1960 Game 2), Hugh McQuillan (1924 Game 3), Tom Zachary (1924 Game 2) and Ruth (1918 Game 4). McQuillan would not have even been eligible for the victory under current rules, as he pitched only 3 2/3 innings.
• Guthrie also became the first starter in World Series history to pitch at least five innings without striking out or walking a single batter. The Pirates' Ed Willett pitched 6 1/3 innings without striking out or walking a batter in Game 3 of the 1909 Fall Classic, but he did so in relief. Guthrie and Willett are the only two pitchers to do so in the Series.
• Royals reliever Brandon Finnegan became the first player ever to pitch in the College World Series and the MLB World Series in the same year.
• With his inning-ending strikeout in the seventh, Finnegan also became the youngest relief pitcher with a strikeout in the World Series since the Angels' Francisco Rodriguez tallied 13 over four appearances in 2002 -- also against the Giants.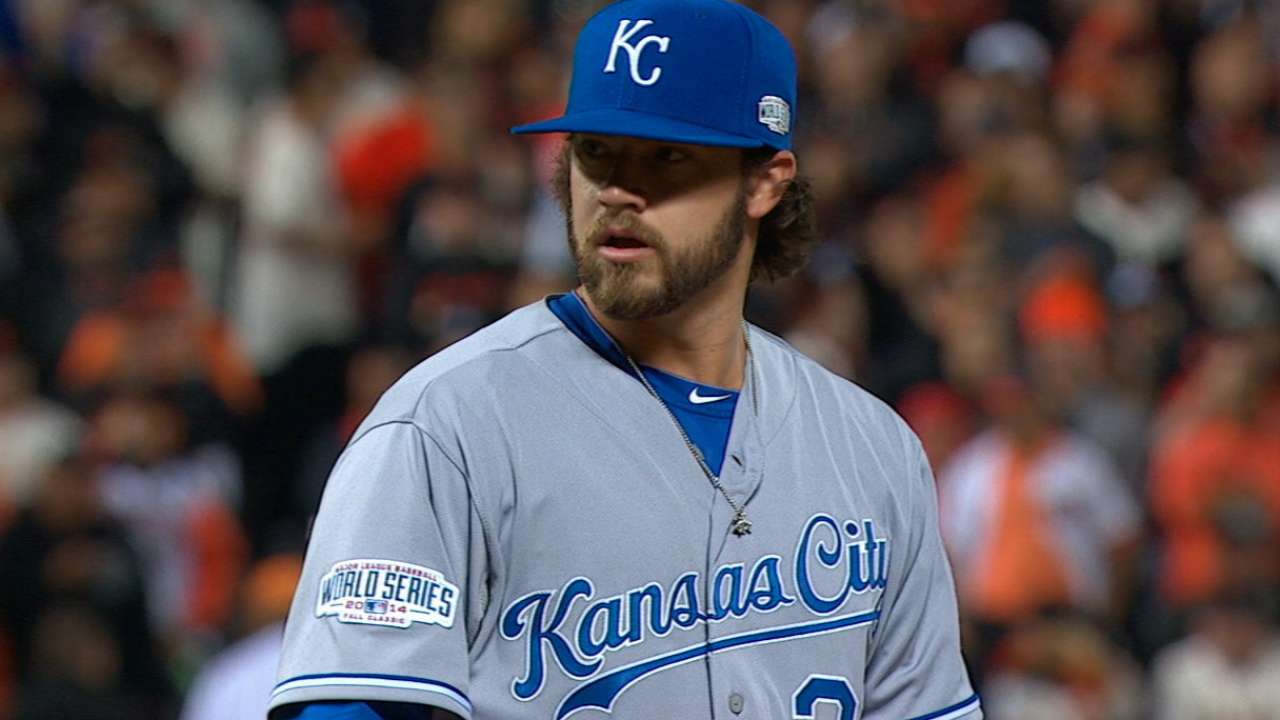 • Royals first baseman Eric Hosmer picked up his first career World Series hit -- and did so on his 25th birthday. With his RBI single in the sixth inning, Hosmer became the first player with a World Series RBI on his birthday since Rafael Belliard in 1991. He's just the sixth player overall with a run-scoring base hit in a World Series game played on his birthday.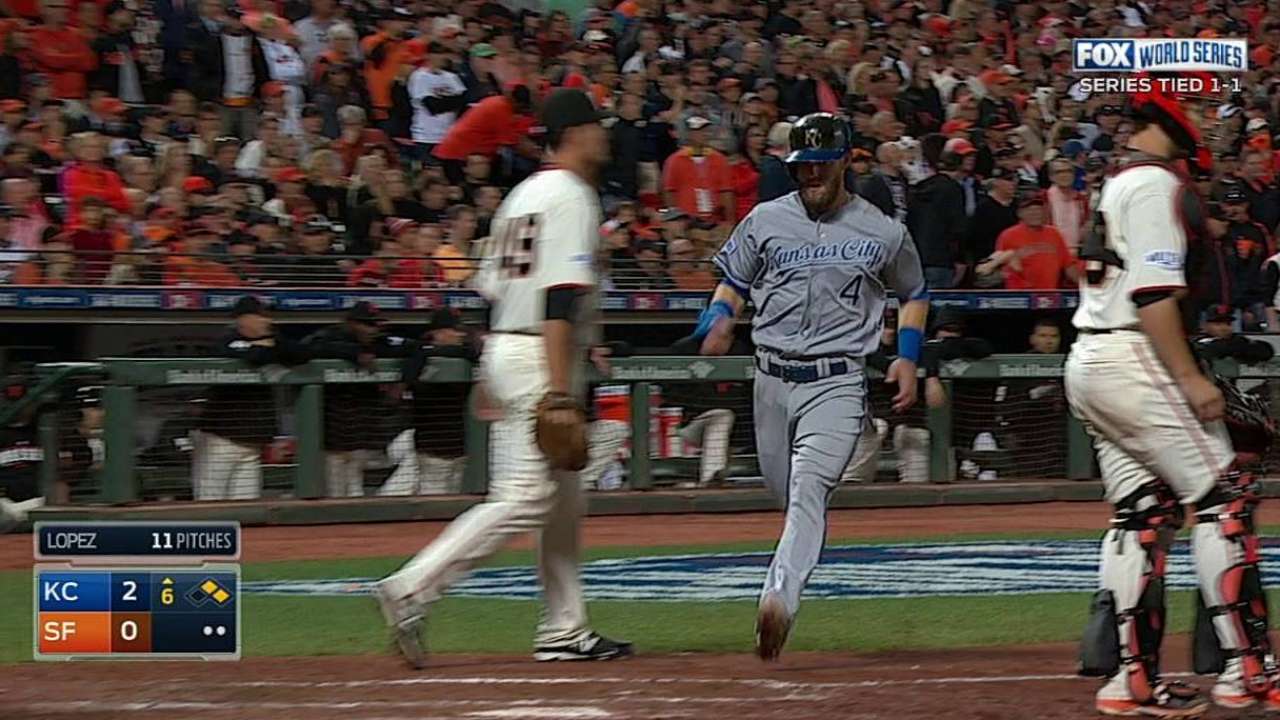 • The run that scored on Hosmer's sixth-inning hit also proved to be the game-winner, making him the first player in World Series history to record a game-winning RBI on his birthday.
• The Royals did all of their damage against Giants starter Tim Hudson in the first and sixth innings -- two frames in which Hudson really struggled during the regular season. He had a 4.06 first-inning ERA and a 6.53 sixth-inning ERA, his two worst for any of the first seven innings.
• Hudson's season-long struggles the third time through the batting order also continued into Game 3 of the World Series. Two of the three Royals' hitters who faced Hudson a third time collected a hit, including Alex Gordon's run-scoring double that pushed the score to 2-0 in the sixth. During the regular season, Hudson allowed batters to hit .303 when facing them for a third time after limiting them to .259 and .258 averages in their first and second plate appearances, respectively.
• The Giants continued to get some strong relief work as well, particularly from Jeremy Affeldt. He turned in his 20th consecutive scoreless postseason appearance on Friday night, marking the second-longest streak in postseason history behind only Mariano Rivera's string of 23 straight scoreless games, which began on Sept. 29, 1998, and ended on Oct. 13, 2000. Remarkably, fellow Giants relievers Santiago Casilla and Javier Lopez also extended their consecutive scoreless postseason appearance streaks to 19 and 18 games, respectively.
• Another Giants reliever, Sergio Romo, entered Friday's game at the start of the seventh inning -- the earliest he's pitched in a game all season. Romo faced only one batter prior to the eighth inning all year, retiring Colorado's Josh Rutledge for the final out of the seventh inning on Sept. 2. Romo went on to strike out three batters over 1 1/3 innings in Game 3.
• The Royals continued the series trend of the visiting team jumping out to an early first-inning lead. There has been at least one run scored in the top of the first inning in all three games so far, marking just the fifth time that has happened in World Series history. It also happened in 1997 (Indians-Marlins), 1977 (Yankees-Dodgers), 1954 (Indians-Giants) and 1932 (Yankees-Cubs).
• The Royals had little trouble adapting to National League rules during the regular season, going 8-2 in games played at NL ballparks. The Giants, too, played well in these situations, posting an identical 8-2 record when hosting American League teams. The first such game of the postseason, however, went in the Royals' favor.
• In best-of-seven World Series that were tied 1-1, the team that wins Game 3 has gone on to win the series 38 out of 54 times, including 11 of the last 13. In the most recent case, however, the Red Sox rallied from a 2-1 deficit just last year to win the World Series.
Paul Casella is a reporter for MLB.com. Follow him on Twitter @paul_casella. This story was not subject to the approval of Major League Baseball or its clubs.