Yost's faith, sixth-inning moves work for Royals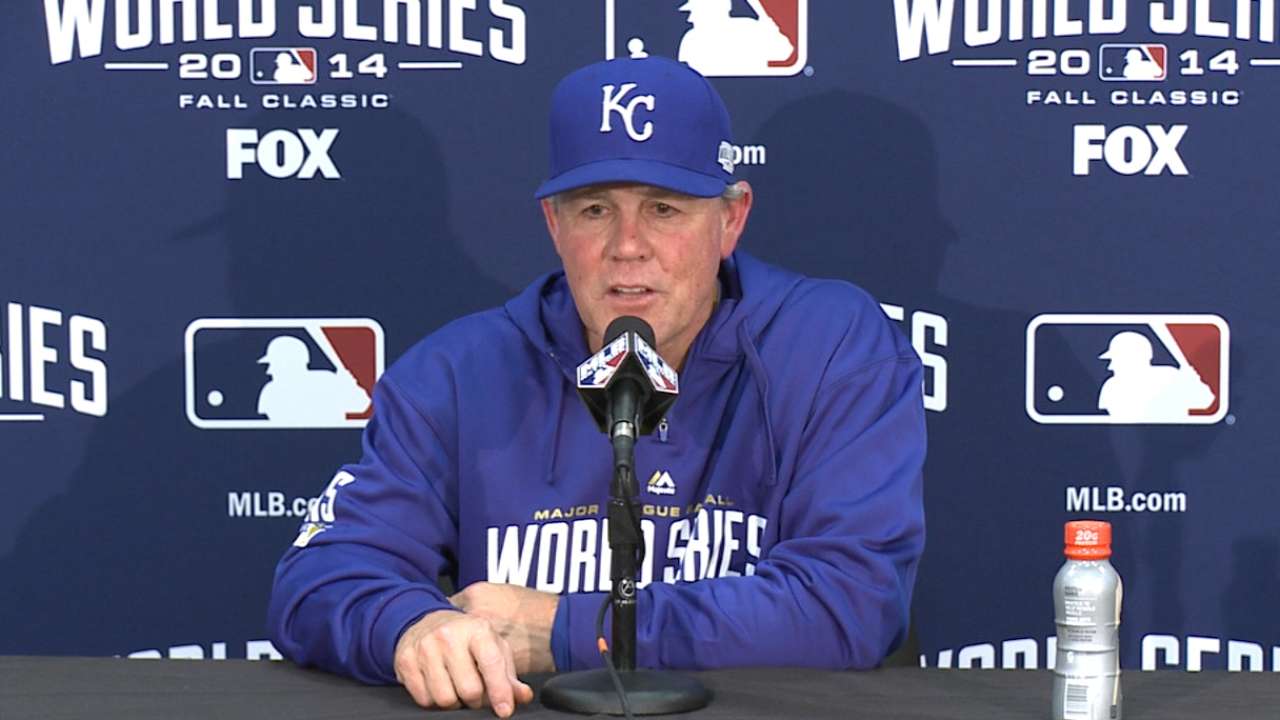 SAN FRANCISCO -- Royals manager Ned Yost knows that baseball games aren't won in the sixth inning. And he vows that his team will never lose one at that late-but-not-too-late point of the game, either, not if there's anything he can do about it.
"My mind-set is that I'm not getting beat in the sixth inning with the bullpen I've got," Yost said on Friday after his team let the Giants back into the game in the bottom of that frame but choked off the rally and held on to win, 3-2, at AT&T Park. The victory allowed Kansas City to take a 2-1 lead in the best-of-seven series.
Within that simple philosophy, of course, are forks in the road that require decisions. The Royals managed to navigate through that maze, but it wasn't easy.
Starter Jeremy Guthrie had retired 10 straight batters until Giants shortstop Brandon Crawford led off the bottom of the sixth with a single to right. So Yost's first decision was how much rope to give Guthrie.
Kansas City had scored twice in the top of the inning to expand its lead to three runs, so this was clearly a crucial juncture. If Guthrie could give the Royals one more inning, Yost would be able to bring in his turn-out-the-lights bullpen trio of Kelvin Herrera, Wade Davis and Greg Holland -- for just one inning each -- to lock down the game.
In the end, Yost played it as if it were a crucial game in the World Series. Because, you know, it was. After pinch-hitter Michael Morse delivered an RBI double, Herrera came out of the bullpen.
"Guthrie threw the ball extremely well through the first five innings," Yost said. "Crawford [got] a little base hit through the four-hole, and then Morse. I think it was a changeup that [Guthrie] kind of got out over the plate a little bit.
"I just wasn't going to take any chances. It's a big game. It's a pivotal game, in my mind. I was going to go with my bullpen."
It was an eerie echo of the bottom of the sixth in Game 2, when the Royals foiled almost every move that Giants manager Bruce Bochy made while breaking open the game with a five-run outburst. This time it was the Giants who got something going and the Royals who managed to shut them down just in time.
With the left-handed-hitting Gregor Blanco at the plate representing the potential tying run, Yost had options. He had three lefties (Brandon Finnegan, Danny Duffy, Tim Collins) available. Herrera, who had thrown 1 2/3 innings in Game 2, walked Blanco on four pitches.
"I've got all the confidence in the world in Herrera," Yost said. "You bring him in, you're not anticipating him struggling with his command."
Herrera said he wasn't tired.
"This is not a time to be tired. I'm ready," Herrera said. "I was just trying to be too fine the first couple of pitches. That's what happened, but I found myself again."
Yost isn't sure if Herrera, who has thrown 59 pitches over his last two outings, would be available for Game 4 on Saturday night.
After the walk, Herrera got second baseman Joe Panik to ground out to first baseman Eric Hosmer, with Blanco and Morse advancing to second and third, respectively. Catcher Buster Posey then grounded out to second baseman Omar Infante, scoring Morse -- to cut the lead to one run -- and advancing the potential game-tying run in Blanco to third.
That brought switch-hitting third baseman Pablo Sandoval to the plate and presented Yost with another decision. Yost left Herrera in to face Sandoval even though Sandoval batted .317 with an .824 OPS against right-handers this season, compared with .199/.553 when facing a lefty.
"We got Finnegan up, but [Herrera] ended up settling down really nicely," Yost said.
Sandoval ground out to Hosmer to end the inning.
Herrera batted for himself -- his first Major League at-bat -- and faced two batters in the seventh before Finnegan came in to finish the inning.
Another consideration for Yost would have been to use Finnegan in the sixth and then extend Davis, who usually pitches the eighth, to two innings.
"[Davis] can do that, but I'd prefer not to," Yost said. "The reason why is that Herrera's arm bounces back a little better. When you go out and throw an inning and then have to come in and sit down and then get it cranked up again, it's easier on Kelvin to do it than Wade.
"Wade can do it, and I will do it if I need to do it. We've done it a number of times this year. But [on Friday night] I felt like I had enough to get us through that seventh inning to get us to Wade with a clean eighth."
Baseball games are never over until the final out is recorded. But the Royals have now won two in a row, two contests that pivoted on what happened in the sixth. One in which Bochy's moves backfired, the other in which just enough of Yost's worked out.
Paul Hagen is a reporter for MLB.com. This story was not subject to the approval of Major League Baseball or its clubs.