Escobar pounces quickly, providing spark for Royals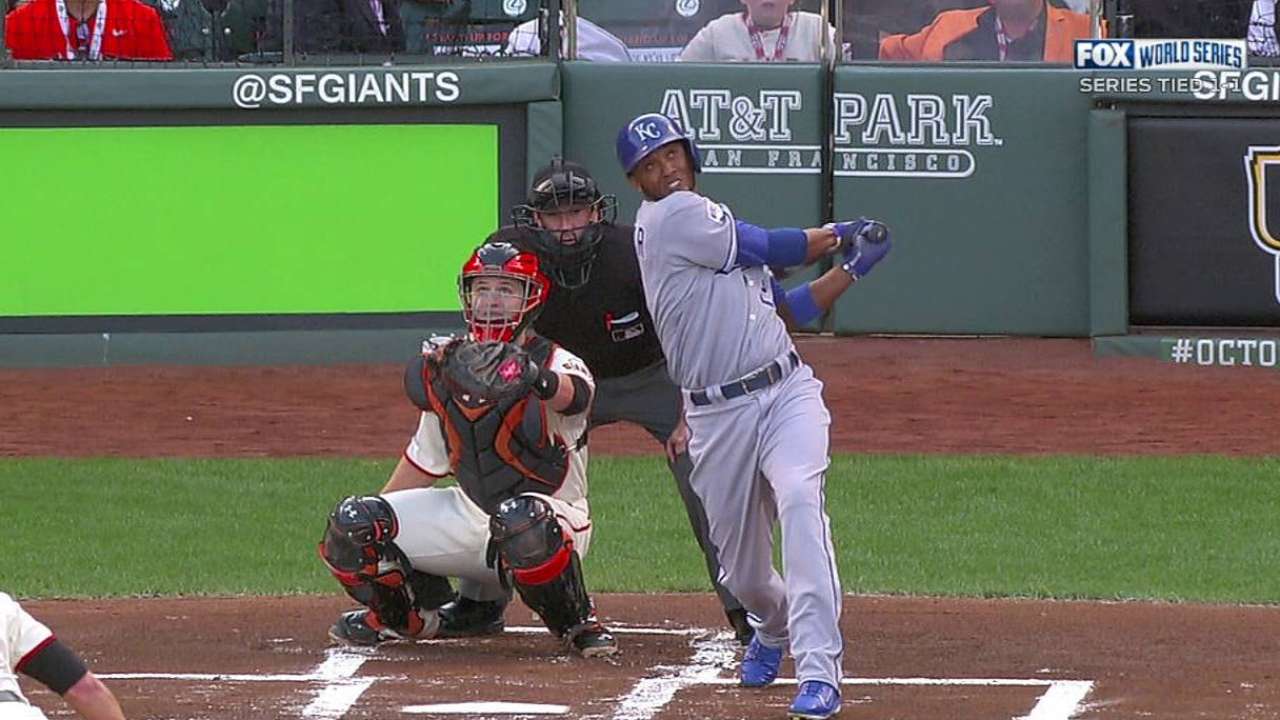 SAN FRANCISCO -- Giants manager Bruce Bochy called it an ambush. The Royals felt it was a tone-setter.
Before some fans at AT&T Park had even finished taking their seat, Royals shortstop Alcides Escobar hammered the first pitch of the game from Tim Hudson off the base of the wall in left field for a double. He scored later in the inning on a groundout by Lorenzo Cain to give the Royals a lead they'd never surrender in their 3-2 victory in Game 3 of the World Series on Friday.
"When I walk to home plate, I'm ready," Escobar said. "You throw me a fastball right down the middle and I'll swing, no matter what."
"He's ready from the first pitch strong, that's how we've got to be up in there," center fielder Jarrod Dyson said. "We've got to be ready to attack, stay on the attack."
Hudson, making his first appearance in the World Series after 16 seasons in the Majors, certainly was not expecting his 91-mph fastball to be pounced on so quickly.
"Well, it's the first pitch of the game. I mean, normally pitches don't get swung at [on the] first pitch of the game too often," Hudson said. "You've got to give him credit. He could have popped it up just as easy as he doubled it, but he didn't pop it up. He hit a double, and they got me in a jam right there off the get-go."
Escobar finished the game 2-for-4 with a pair of runs and has now hit safely in eight consecutive postseason games dating back to Game 3 of the American League Division Series. It's the fourth-longest streak in Royals history, behind Amos Otis (11, 1978-80), George Brett (nine, 1977-80) and Freddie Patek (nine, 1976-77).
Escobar has hit safely in 10 of Kansas City's 11 games this postseason and is batting .313 with four doubles and a home run, scoring seven runs and driving in four.
"I'm feeling good. I feel really comfortable," he said.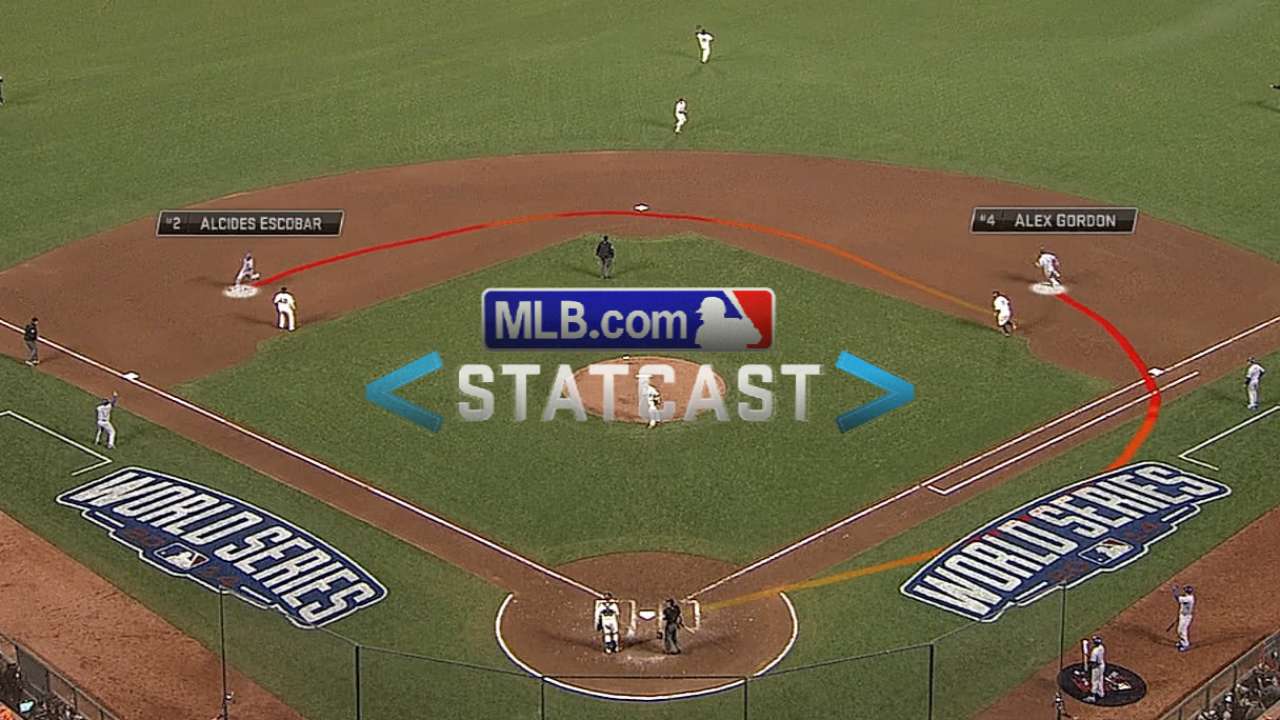 Escobar does not fit the model of a typical leadoff hitter. He doesn't take a lot of pitches and hardly ever walks -- just 23 free passes in 620 plate appearances during the regular season.
"I would say we don't have a traditional leadoff batter on this team," Cain said. "He's probably the best thing that we have. ... So far that he's been up there, he's been definitely getting it done."
Escobar was inserted into the leadoff role in mid-September during a series against the Red Sox in a move designed to help spark the Royals' struggling lineup. He had spent most of his time in the Minors leading off or batting second, but the Royals used him primarily as a No. 9 hitter.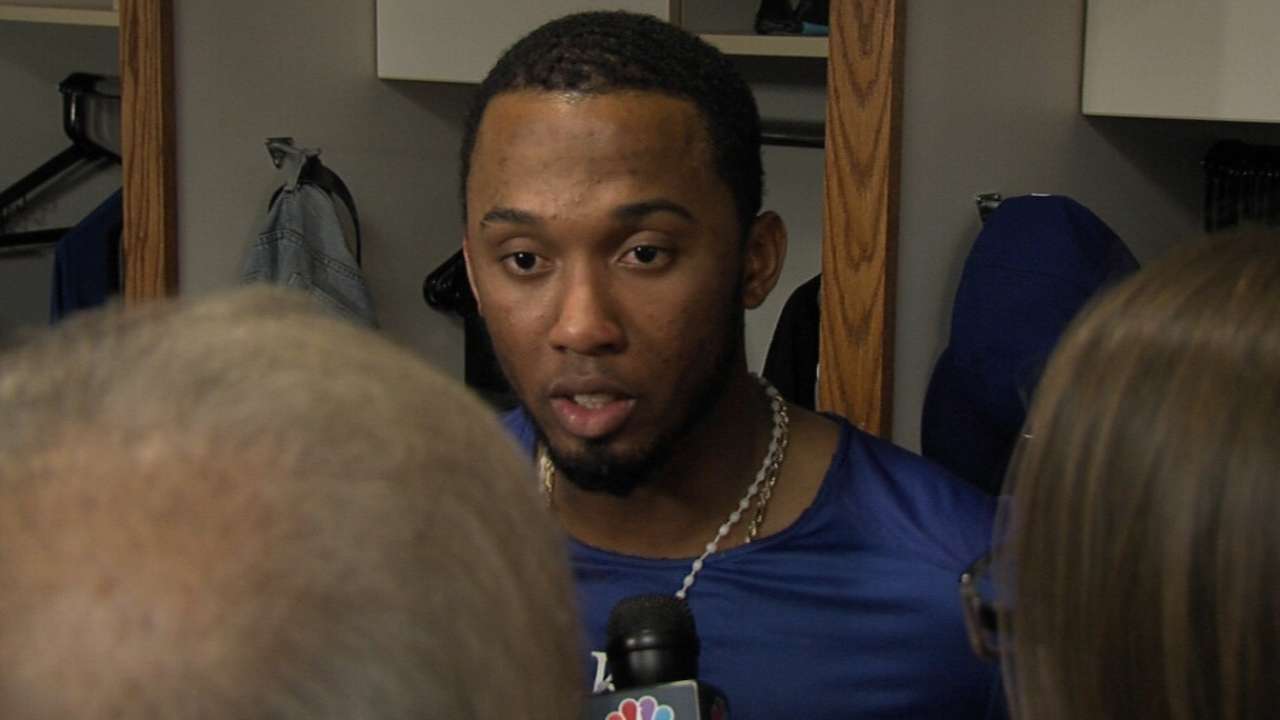 When Yost told Escobar on Friday that he was hitting leadoff, he responded, "Thank you, I like it."
Over his final 16 regular-season games as the leadoff hitter, Escobar batted .362 with a .397 on-base percentage, and he has continued his hot streak during the postseason.
Escobar does not approach hitting leadoff any differently than he does hitting anywhere else in the lineup, so if he gets a first pitch to hit, he is not going to waste any time waiting.
"I'm always aggressive when I get to the batter's box for my first turn," he said. "I know he's going to throw me fastballs. He isn't going to throw me a changeup. And I'm going to put a good swing on it to try to hit it hard."
Jamal Collier is an associate reporter for MLB.com. This story was not subject to the approval of Major League Baseball or its clubs.