Guthrie delivers Royals a postseason gem by the Bay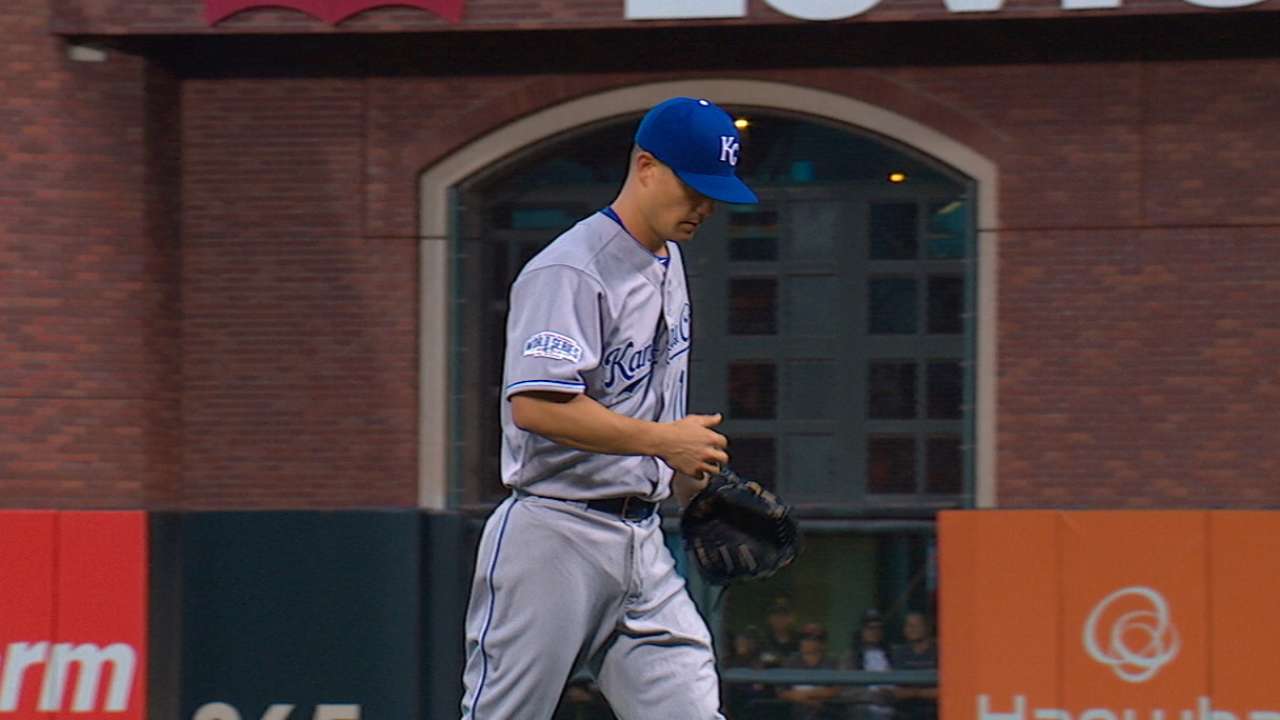 SAN FRANCISCO -- The events of that final day of May 2002 are still something of a legend around these parts, where Jeremy Guthrie bloomed as a college pitcher, only to return on Friday trying to deny the Bay Area a third World Series championship in five years.
It was a Friday night back then as well, under the lights at Sunken Diamond, some 36 miles from this World Series stage at AT&T Park. Guthrie, then 23, drew the opening start for a Stanford club hosting Cal State Fullerton in an NCAA Regional. The game would last nearly four hours, totaling 13 innings and becoming the second-longest postseason game in school history.
Guthrie finished it, too, throwing, as he recalled this week, 147 pitches to lead Stanford to a victory just five days before the Indians made him a first-round Draft pick. It was the signature start of his postseason career, but perhaps no longer. The one the folks in California will chew on now is the five-inning performance in Game 3 that helped Kansas City to a 3-2 win and 2-1 World Series lead over San Francisco.
"It felt like I was doing something that I didn't even dream of," said Guthrie, who, following his stay in Stanford, made professional stops in Cleveland, Baltimore and Colorado before advancing to his first Major League postseason. "A lot of people say they dreamed of playing in the World Series. I don't think I had that dream. But now, to live it, it feels right, and it feels like a moment that I'll never forget."
It could well turn out to be the tipping point of the Series, too, as the last 19 World Series to feature a split of the first two games have seen the Game 3 winner go on to hoist the championship banner 16 times.
"He pitched pretty good tonight," batterymate Salvador Perez said. "He didn't get behind in the count, which is a big part to his game. He got ahead in the count, used both sides of the plate."
Guthrie wasn't as dominant as he was in that Regional start some 12 1/2 years ago, but he was good enough while becoming the first pitcher from the Stanford pipeline to start a World Series game since Mike Mussina (2003). Guthrie opened with five scoreless innings, facing only one batter over the minimum before consecutive hits by the Giants to start the sixth initiated a move by manager Ned Yost.
In that regard, this would be far different from that 13-inning affair, during which head coach Mark Marquess approached Guthrie every half-inning beginning in the ninth with the same message: "You're going to keep going."
The Royals didn't need Guthrie to go the distance on Friday, but rather hoped that he would pitch them through the sixth so as to leave no gap between him and the dynamic late-inning trio of Kelvin Herrera, Wade Davis and Greg Holland.
Instead he became the seventh straight Kansas City starter to exit before securing an 18th out, this time after allowing a pair of hits to begin the sixth inning. In four of those games, the starter opened the sixth but couldn't finish it, a reflection of Yost's ever-evolving managerial aggressiveness.
"I mean, my mind-set was, I'm not getting beaten in the sixth inning with the bullpen that I've got," Yost said after Friday's win. "Guthrie threw the ball extremely well through the first five innings. I just wasn't going to take any chances. It's a big game. It's a pivotal game, in my mind. I was going to go with my bullpen."
Herrera allowed an inherited runner to score, muddying Guthrie's final line but not the final result. That line was also odd in that there was nary a strikeout, nor a walk, making Guthrie the first starter in World Series history to win without at least one of either. Only four pitchers had previously earned a World Series victory without at least one strikeout. It last happened in 1960 (Bob Turley of the Yankees).
"I would have loved to get more strikeouts," said Guthrie, whose last zero-K performance came in 2013. "But [I'm] pleased I was able to throw strikes for the most part, and stay ahead of the hitters and make them hit my pitch."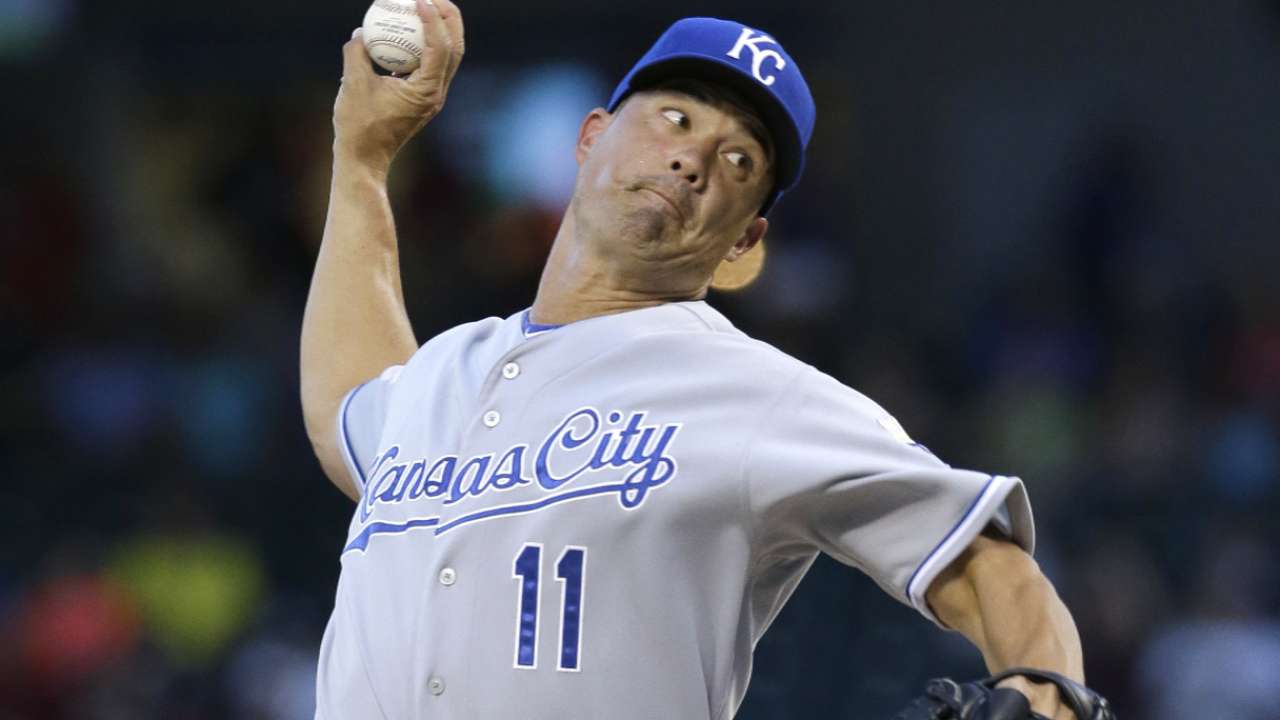 Guthrie was not hesitant about going to any of his four pitches on Friday. He recorded an equal amount of outs in the infield as he did in the outfield and threw first-pitch strikes to 11 of the 18 batters he faced. He benefited, too, from exceptional defensive coverage by his outfield.
"What you saw tonight is what I've seen just about every time he goes out on the mound in the last three years," Yost said. "He does his homework. He's prepared physically. His work ethic is tremendous. He's a tremendous competitor. He's not scared when he steps on the mound."
There was also the added wrinkle of familiarity on Friday. For although this may have been the first World Series start of Guthrie's career, he's plenty experienced in pitching under the Bay Area's brightest lights.
"I took a moment to try to soak in the moment as best I could before focusing on the first hitter," he said. "Who knows how many more chances I'll have, both by how long I'll play, plus the teams. You've got to get this far. So I tried to take the moment to do that, and then separate and get back to the focus moment."
Jenifer Langosch is a reporter for MLB.com. Read her blog, By Gosh, It's Langosch, and follow her on Twitter @LangoschMLB. This story was not subject to the approval of Major League Baseball or its clubs.