Drastically different lineup comes through for KC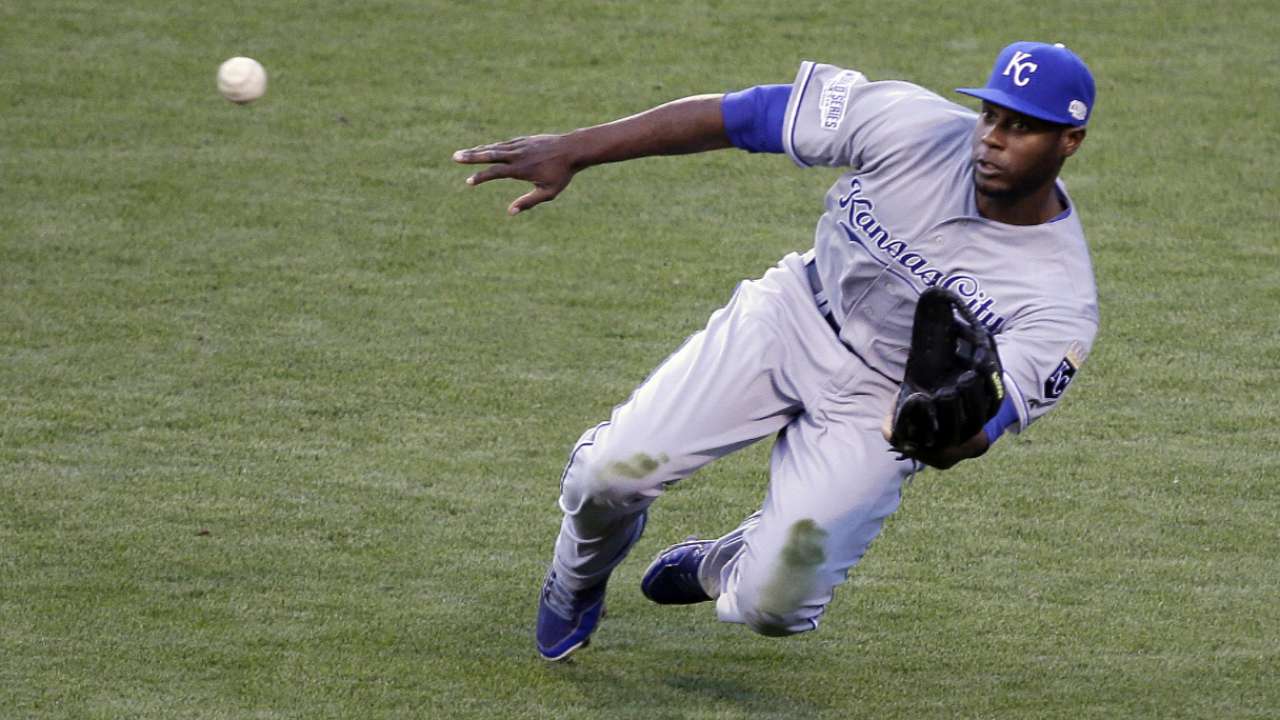 SAN FRANCISCO -- Royals manager Ned Yost often has said that he doesn't care how the outside world views his perpetually polarizing decisions because, as he put it on the eve of World Series Game 3 on Friday, "I'm not a dope, but I'm not the smartest guy on the face of the earth, either."
Then Yost adapted to National League rules with a drastic lineup change, and after his Royals pulled out the 3-2 win that gave them a 2-1 advantage in this Fall Classic, only one word could accurately depict him:
Genius.
Alex Gordon batted second, even though he entered the game 0-for-the-World Series, and he came through with a big RBI double in the sixth inning.
Back-to-back lefties were stacked against a Giants team that has two very capable situational lefties, and
Eric Hosmer
drove in what ended up being the winning run against one of them. Center fielder
Jarrod Dyson
started his first postseason game, a move that bumped
Lorenzo Cain
to right and
Nori Aoki
to the bench, and Cain responded by making two sliding catches in the first two innings.
"It's a unique park; it's a big outfield," Yost said. "We're going to put our best defensive outfield out there."
Cain played only 388 1/3 regular-season innings in right field, primarily the result of the late-game defense that puts Dyson in center, yet he still notched an Ultimate Zone Rating of 7.5. That's how athletic he is, how well he reads balls off the bat.
Early in Friday's game, Cain made two inning-ending plays that Aoki probably would not have, sliding to his right to snare a Buster Posey liner in the first and sliding to his left to field a Travis Ishikawa liner in the second.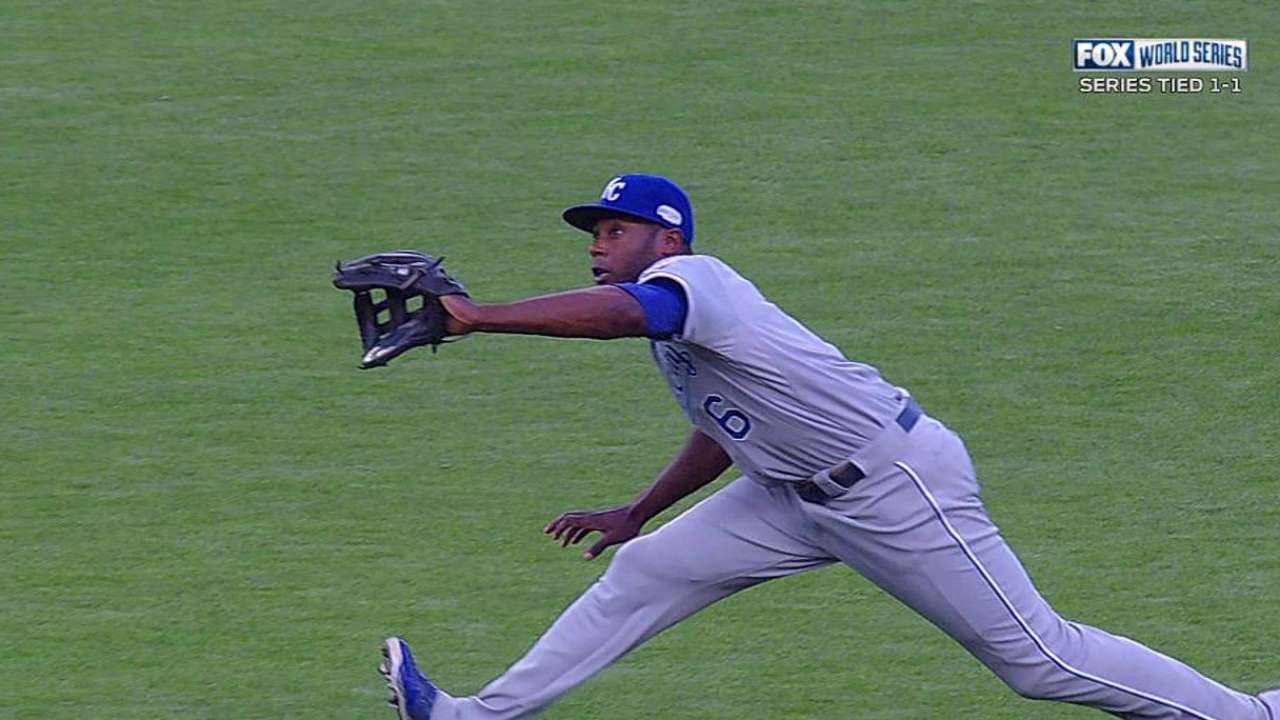 "I will admit, it's not easy," Cain said of the transition from center to right. "The ball definitely gets on you quicker in right. For me it's more of a comfort thing. Right field is something I've played a good bit of this year. The more I play it, the more comfortable I feel."
Gordon hadn't looked comfortable for a while. He entered Game 3 in an 0-for-7 rut and had notched three hits in 19 at-bats since the American League Division Series. But Yost moved him from sixth to second, hopeful that he'd see more fastballs with the middle of the order directly behind him.
Then came a fastball from Tim Hudson with one on, one out and the Royals leading by one in the top of the sixth, and Gordon smoked it to deep-enough center field.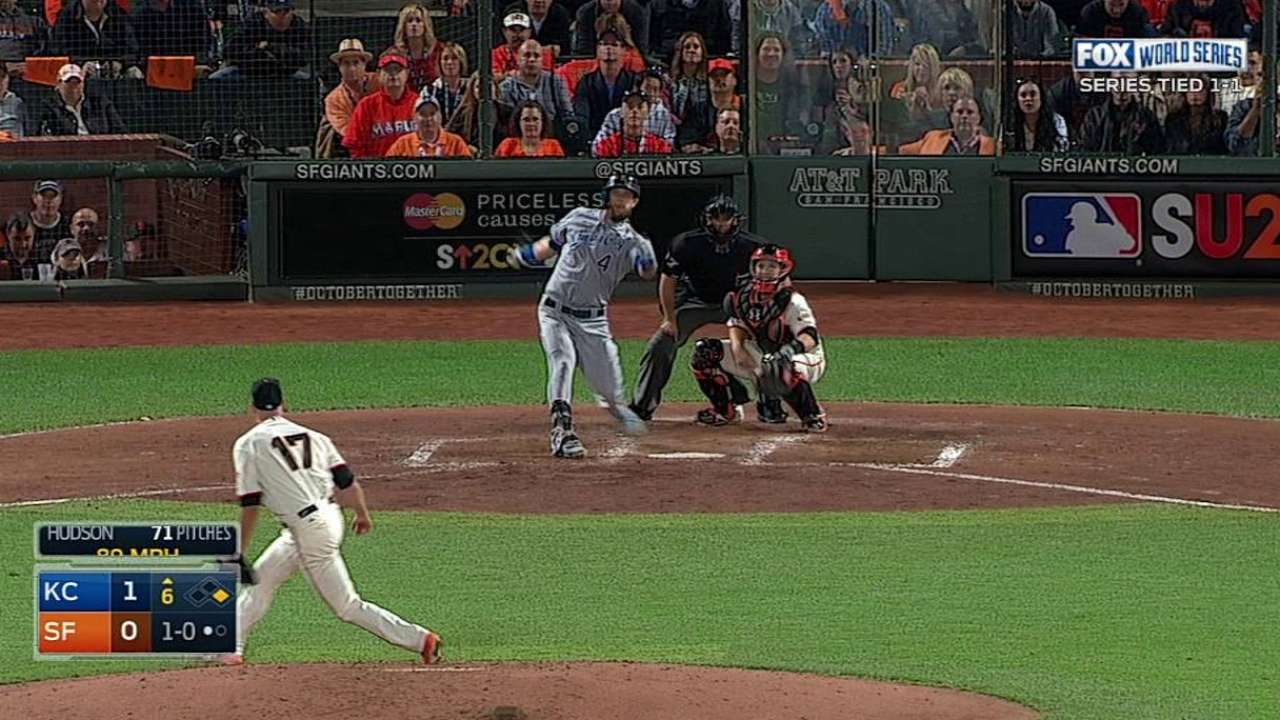 "Ned came up to me during the workout and mentioned that Dyson might be out in center field and I might bat two-hole," said Gordon, who now has 10 postseason RBIs. "He came up to me and told me not to change anything, stick with my approach and what I've been doing. And it was kind of nice to hear that from him."
Yost could have moved Hosmer around, too, but he kept him in the cleanup spot despite an 0-for-6 showing to start this World Series. In fact, Yost batted another lefty behind Hosmer in Mike Moustakas, a lineup construction tailor-made for Giants manager Bruce Bochy to match up in crucial spots.
Once Cain followed Gordon's big hit with a groundout, that's exactly what Bochy did, replacing Hudson with sidearm-throwing lefty Javier Lopez, and Hosmer put together the biggest at-bat of his young career, on his 25th birthday.
"It was a big at-bat," Hosmer said. "It definitely was."
Hosmer, with a .671 career OPS against lefties, fell behind, 0-2, to Lopez, who limited same-side hitters to a .538 OPS this season. Then Hosmer fouled off back-to-back breaking balls, took a fastball for a ball, fouled off another fastball, took a fastball in the dirt, fouled off back-to-back sliders, watched a cutter land out of the zone and lined another cutter up the middle, culminating an 11-pitch at-bat with what proved to be the winning single.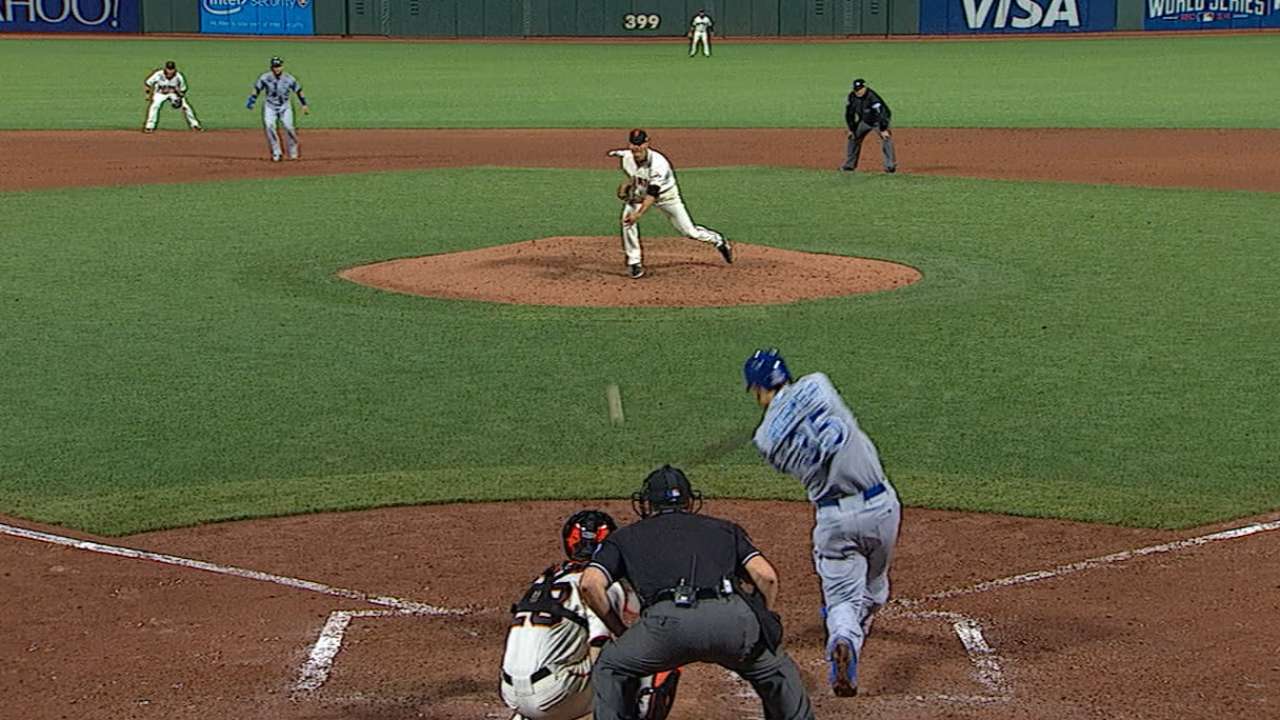 "I fouled off some good pitches," Hosmer said. "You definitely get more comfortable as the at-bat goes on. The more balls you see off a guy, it really does lock you in there a little bit."
Yost's lineup magic was evident from the very first pitch of Game 3; a snapshot of the Sept. 13 lineup change that sparked the Royals down the stretch and carried them here. It was a leadoff double by his shortstop, Alcides Escobar, who has batted .348 since moving from last to first with two regular-season weeks remaining.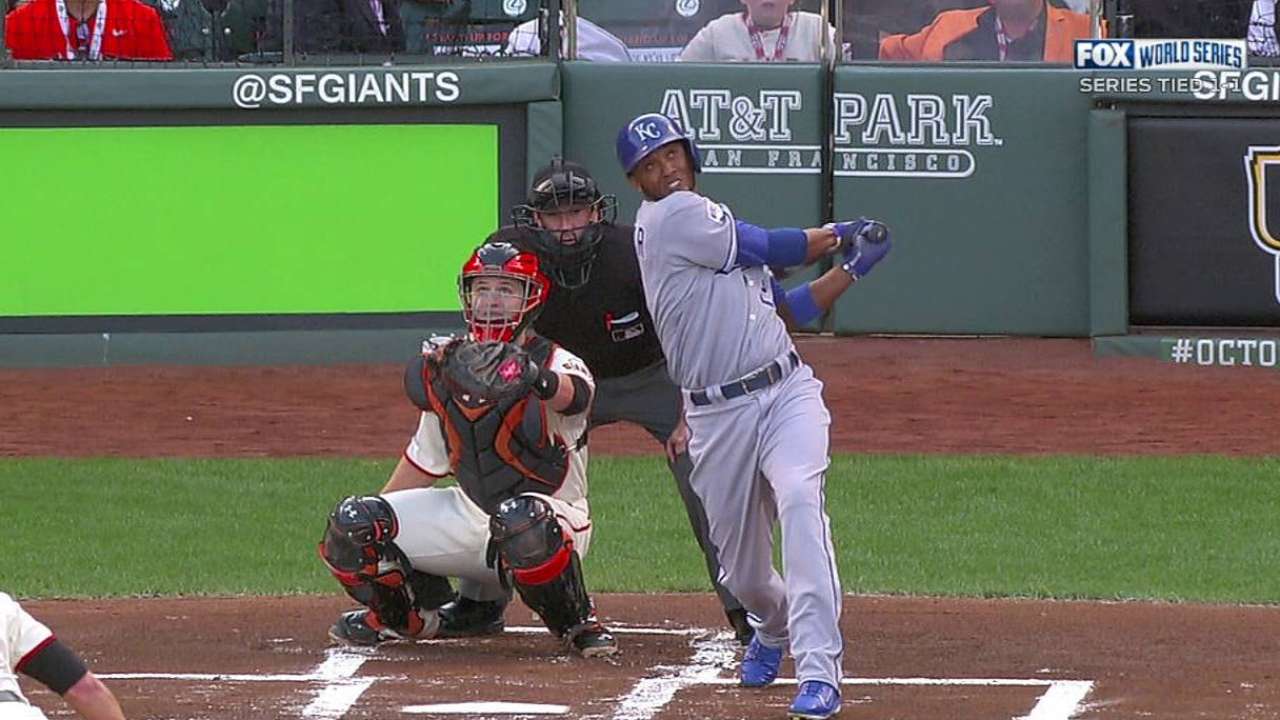 Since then, Yost can do no wrong.
Well, at least with his lineup.
"He's very familiar with his team," Cain said. "He knows all of his players, and he's willing to put guys in big situations. Once he changed the lineup, moving me to the three-hole and moving Esky up and just changing things completely, he showed confidence in all of us. We're just trying to go out there and prove him right, that we can get it done."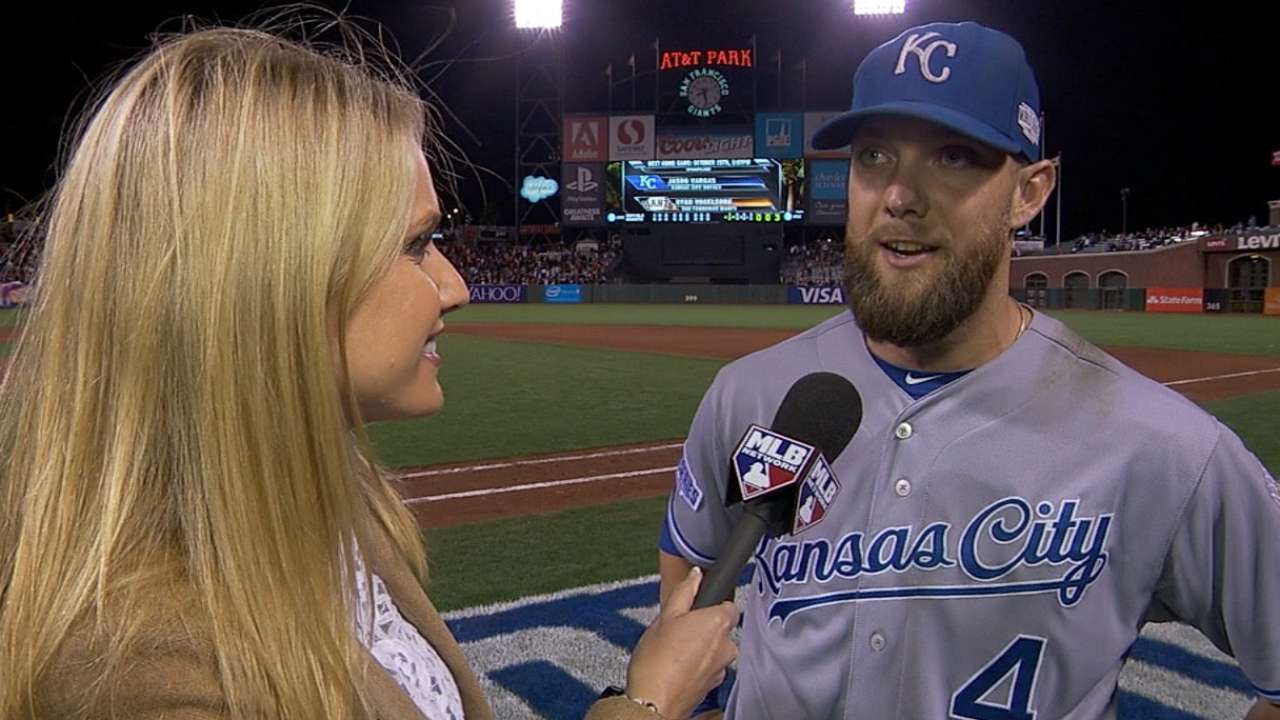 Alden Gonzalez is a reporter for MLB.com. Read his blog, Gonzo and "The Show", and follow him on Twitter @Alden_Gonzalez. This story was not subject to the approval of Major League Baseball or its clubs.