Oct. 24 Bruce Bochy postgame interview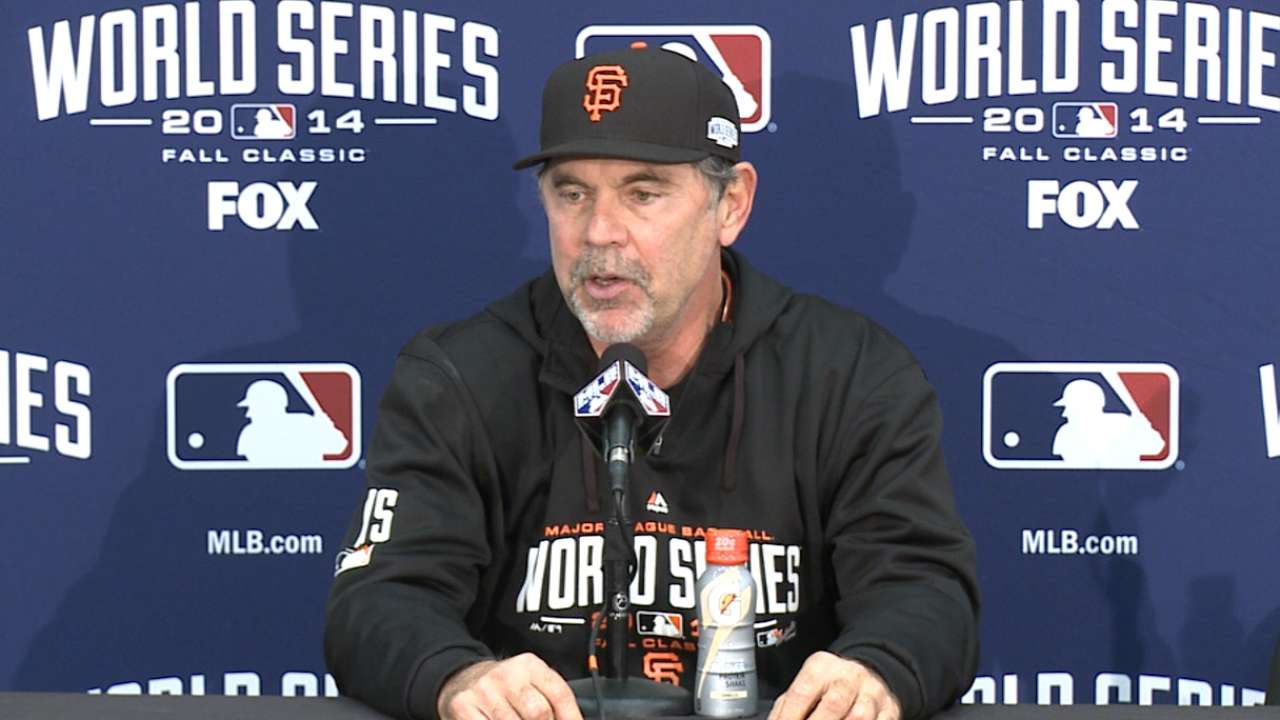 Q. Vogelsong definitely tomorrow and then Bumgarner Game 5 or is there any thought to move Bumgarner up? And what are your thoughts in that whole area?
BRUCE BOCHY: Well, Vogelsong's going tomorrow. He's done a pretty good job for us, so he's going to have his start tomorrow. Sure, we talked about other options, but there is a confidence we have in Vogey. So he's set to go tomorrow.
Q. Is some of that decision just wanting to keep things so your players aren't feeling you're changing things up because you're down in the World Series?
BRUCE BOCHY: No, not at all. It's confidence in Vogey, and I've talked about we had pushed Madison pretty good here. It's been a long postseason, and he's had a lot of starts. So we're going to keep things in order and go with Vogey. He has experience. He's pitched great in the postseason, and he had one little hiccup, but it's all about ‑‑ we have confidence in all these guys, including Vogey.
It was a good ballgame tonight, but we're not going to change things because we lost.
Q. Tonight Hudson's performance, he had some difficulty there in the first two innings and then settled down. Do you think he had some nerves first World Series or what do you think about his performance?
BRUCE BOCHY: No, I thought he threw the ball well, very well. The first pitch got away from him. He got ambushed there. But, no, I thought he had great stuff and was keeping the ball down, good movement on his pitches. I thought he did a really nice job. He gave us what we were hoping and a chance to win, and that's all you can ask for from your starters.
But you look at their pitching, and they did a great job; they shut us down. We couldn't do too much off of Guthrie. He pitched great, and their bullpen did a good job. But as far as Huddy, I thought he got better and better as the game went.
Q. Can you say how hard Madison might have pushed to pitch tomorrow? He was up before the game or after the game or both?
BRUCE BOCHY: He's going to say he's available. That's who he is. It's not like he pushed real hard. If Madison pitched tomorrow, we're going to have to pitch somebody the next day. But getting back to what I talked about, it's our confidence in the guy we have going tomorrow. I don't think at this point we should push Madison either. Then you're going to ask him to go on another three days.
So we're keeping things in order because of how well all of our starters have thrown.
Q. How difficult is it to get through the end of their bullpen? It seems like they've done a good job of shortening games when they've had leads.
BRUCE BOCHY: Well, it's a pretty good bullpen. It's the reason why they're here. You get late in the ballgame and you're going to face those guys, you have your work cut out. We know that. Still you hope to find a way to score off of them, but it's a very good pitching staff. The starter did a great job. Of course their bullpen, you get your hands full when they come in. I don't know if there's a better bullpen, because that 7th, 8th, and 9th inning, and you get a tough go when you're facing those guys.
But hopefully you get some runs early, but Guthrie did a great job on us.
Q. Posey and Sandoval came up a couple of times in key situations; did not give a lot. Is it just that their pitching is so overpowering or are they maybe not hitting as well?
BRUCE BOCHY: Well, I think you have to give credit to their pitching. Like I said, they pitched very well. They made pitches when they had to. Sandoval and Buster both are great hitters. When you're facing this type of staff, you're hoping to put a little pressure on them, and hopefully the heart of your order comes up with men on base.
We had the one inning because of Morse. He got us back in the ballgame. We had the tying run there on third with Sandoval up, and Buster, he put the ball in play and he got another run in. That's a productive out. That's what you want.
But, again, you've got to give credit to their pitching. They did a great job tonight. We got four hits, and we'll wash this off and come out and be ready to go tomorrow.
Q. Conversely your bullpen for the second straight night did great except for Lopez letting up what turned out to be the game‑winning run.
BRUCE BOCHY: I thought our pen did a great job. Lopez had him 0‑2, and give their hitter credit. He ran into a full count. That's a good piece of hitting. Pen did a great job. That's a good ballgame. Tight ballgame, and both sides pitched well. They pitched a little bit better than we did, and that was the difference in the game.
Q. You mentioned Morse, especially with the lefty going tomorrow, are you going to have to seriously consider getting him in that starting lineup again, maybe even at first base?
BRUCE BOCHY: I probably won't put him at first base. Belt's done a great job. It's a pretty nice weapon to have come off the bench, too. You don't forget that, and he hasn't played a lot in left field. So more than likely Perez will be out there.
Now I'll sit and think about it tonight. It's not etched in stone, but, again, what Morse has done off the bench, that's valuable, too. In fact, he was too sick to play today anyway. He was running a pretty good fever, so he did a great job of going up there and getting us a double.
Q. American League teams have had trouble in the last five or so World Series playing in National League parks. But does tonight's game kind of show this Kansas City team is set up more like a National League‑type team?
BRUCE BOCHY: Well, I think if you look at their pitching, you can say, well, they might not need the DH. That's how well they threw the ball. But I agree. It's more like a National League team. Very well‑balanced speed. They do the little things well. Their defense played very well. We hit some balls hard. We couldn't find one to fall in. Cain made a couple of nice plays out there, but it always comes down to pitching. I don't care if you're in the National League or American League. If you pitch well, you probably have a chance to win the game.
Q. Does this kind of game indicate how well these teams are matched up?
BRUCE BOCHY: I think so, yeah, yeah. I think they're similar teams.