Herrera's first MLB at-bat comes in World Series
Royals reliever's plate appearance ends with strikeout, but Royals win Game 3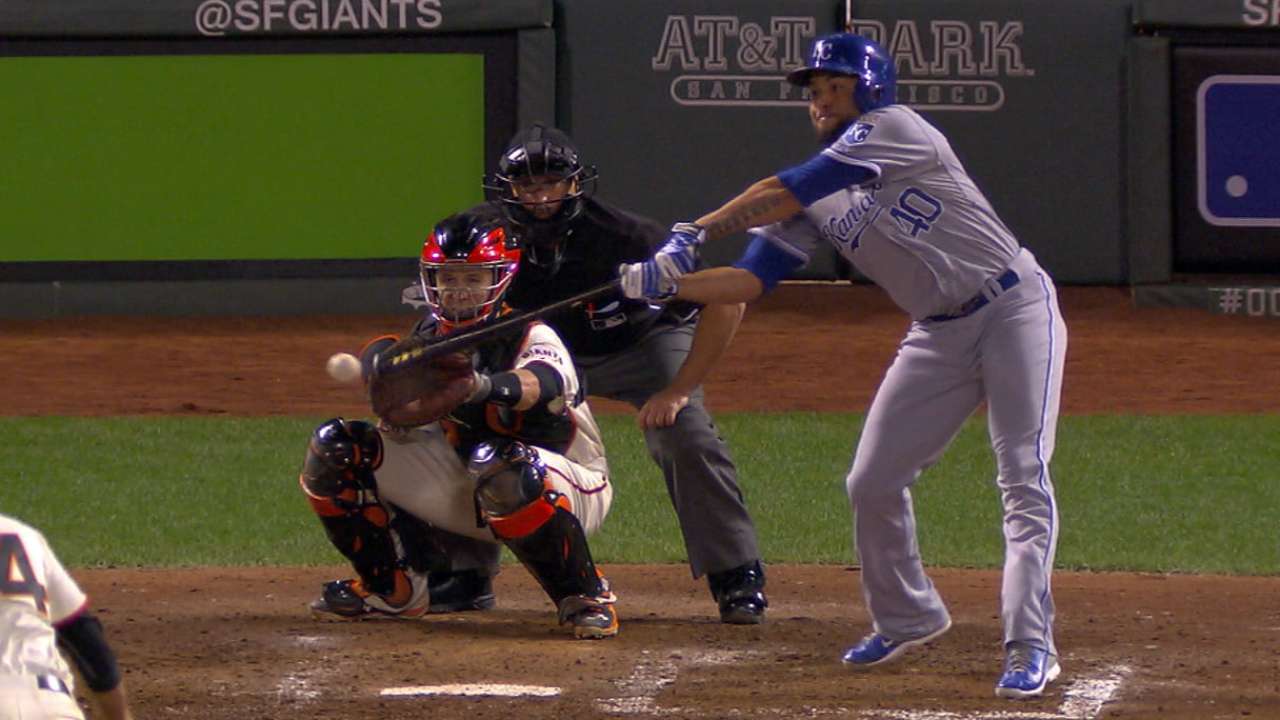 SAN FRANCISCO -- Kelvin Herrera was 16 years old the last time he stepped into a batter's box in a competitive baseball game. The Royals' flame-throwing right-hander hadn't yet signed a professional contract and he was simply playing a local game in his hometown of Tenares in the Dominican Republic.
And yet, there Herrera was on Friday night, eight years removed from his last cuts, called upon to bat in a one-run game in the World Series. He promptly struck out on three pitches, but not before fouling off a Sergio Romo fastball.
"Yeah, I was excited," said a grinning Herrera, after the Royals' 3-2 victory over the Giants gave them a 2-1 lead in the Series. "It's my debut as a hitter -- in the World Series."
That Herrera even got a chance to swing is further evidence of the Royals' firm devotion to run prevention. Manager Ned Yost wanted Herrera pitching both the end of the sixth and the seventh, and he didn't want to sacrifice the glove of Mike Moustakas in a double switch to do so.
If that meant handing the bat to a guy who last swung competitively around the same time he was learning to drive, so be it.
"That was one of those decisions that's tearing you apart," Yost said. "... But I felt that sending Kelvin out for the seventh inning was going to be more important than trying to add a tack-on run, with our bullpen."
Yost was nearly spared having to make that decision when the first two Royals hitters each made outs in the seventh. Herrera's spot was due up fourth in the frame, after he had recorded three consecutive ground-ball outs to end the sixth.
But sure enough, Jarrod Dyson smashed a single up the middle and wasn't able to get a jump and attempt a steal of second, possibly negating Herrera's at-bat.
"Actually, I was hoping Dice would make an out there, but he steps up and foils my plan and gets a hit," Yost said. "That's the way the National League game works."
So Herrera came to the plate, sporting Alex Gordon's batting gloves and Billy Butler's helmet, with Alcides Escobar's bat in tow -- "a good combination," Herrera said.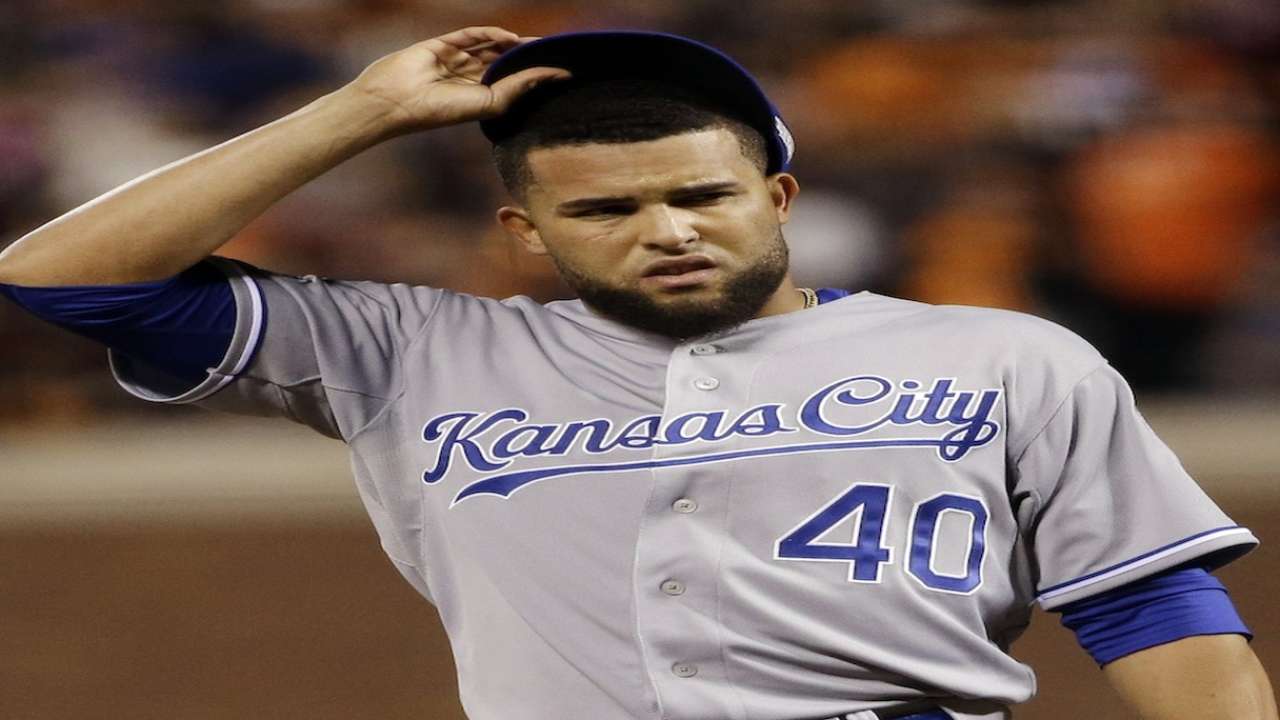 Yost wanted to save Butler, his DH in American League parks, for a potential pinch-hit situation later in the game. He also wasn't willing to go to Nori Aoki or Josh Willingham, because of his confidence in Herrera in two-inning spots.
Ultimately, Herrera wasn't able to make it through the seventh, and he was bailed out by Brandon Finnegan, who recorded the final two outs, before Wade Davis took over in the eighth.
"Herrera's arm bounces back a little bit better than Davis' does," Yost said of his decision not to pinch-hit for Herrera and give Davis the two-inning role instead. "When you go out and throw an inning and then have to come down, sit down, and then get it cranked up again, it's easier for Kelvin to do it than it is Wade. Wade can do it, and I will do it if I need to do -- we've done it a number of times this year. But right now, I felt like I had enough to get us through that seventh inning, to get us to Wade with a clean eighth."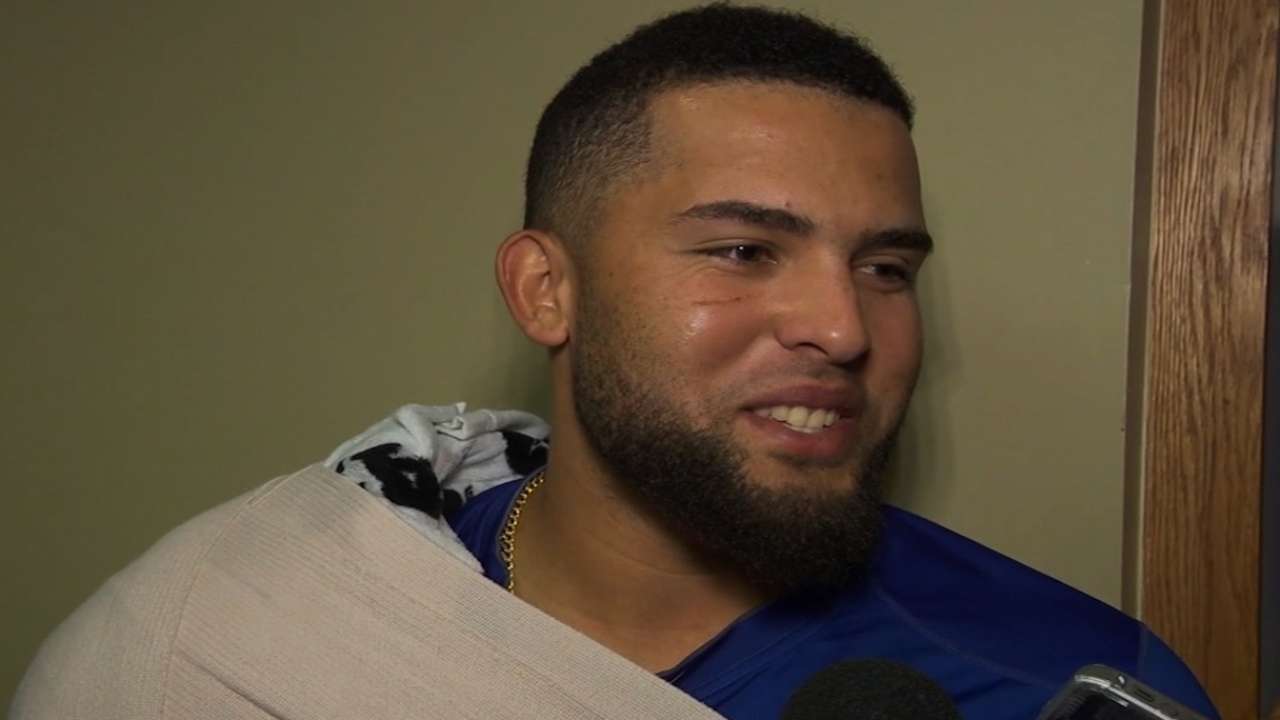 Davis, a former starter, said he's always ready to pitch more than one inning -- which he's already done in two pivotal situations this postseason.
But with three games in three nights, the Royals' goal was to preserve their firepower as much as possible.
"We've got three games in a row," Davis said after pitching an unblemished eighth. "It could have been me or Kelvin today, [going two innings]. But you don't know what happens tomorrow. You don't know who's going to be a little bit sore here and there. You want to be able to have somebody available, and if Kelvin ends up being a little bit tired tomorrow, we're still fresh for him."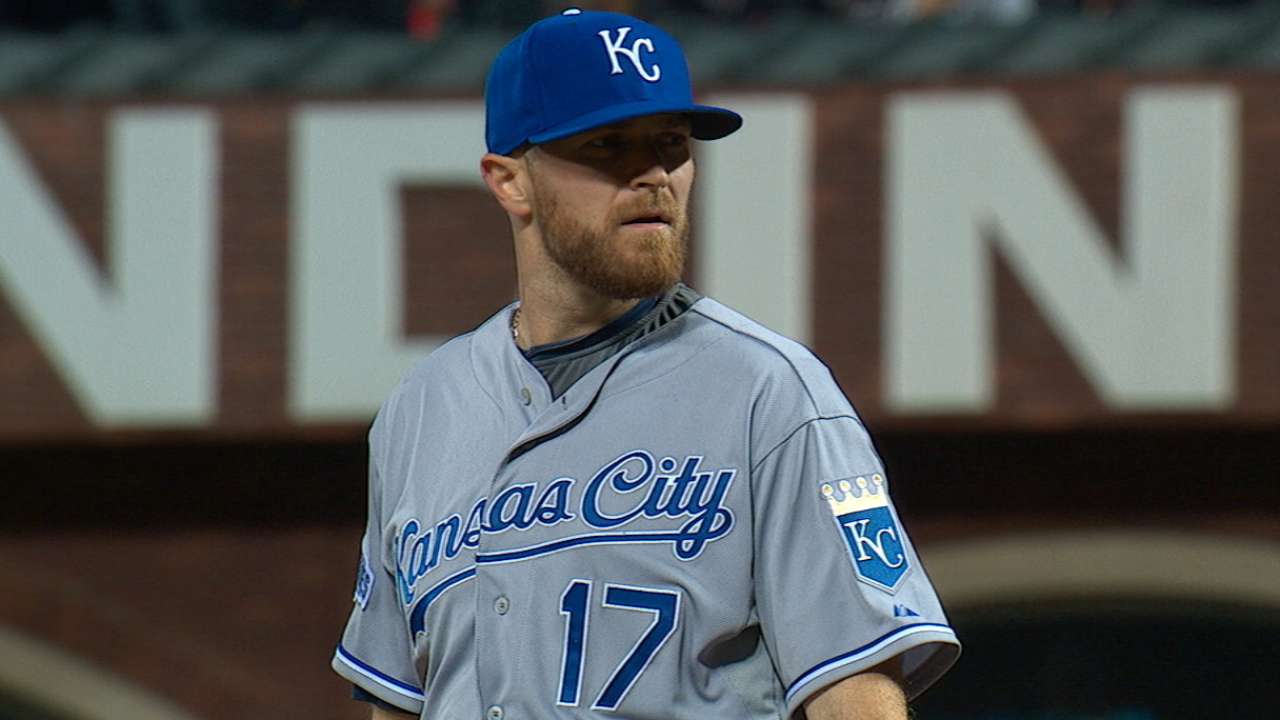 But what about the at-bat itself? What did Herrera's teammates think?
"I didn't see it, I was down stretching in the tunnel," Davis said. "I knew he was going out there. And I don't think I wanted to look."
Said birthday-boy Eric Hosmer: "I was just hoping he didn't get hit in the hand. That's all I was thinking."
But at least two fellow Royals came away relatively impressed.
"Good stance," starting pitcher James Shields said with a wry smile. "He fouled one off, real nicely."
"His swing was pretty good on the fastball," said catcher Salvador Perez.
So given Friday's exploits, does Herrera want any future consideration at the plate?
"Am I ready to DH?" Herrera asked rhetorically, pausing a second for dramatic effect while a smile crept onto his face. "Nah. I'm a pitcher."
AJ Cassavell is a reporter for MLB.com. Follow him on Twitter @ajcassavell. This story was not subject to the approval of Major League Baseball or its clubs.