Kivlehan keeps hits coming after giving up football
Mariners' No. 6 prospect shines in AFL following strong Double-A debut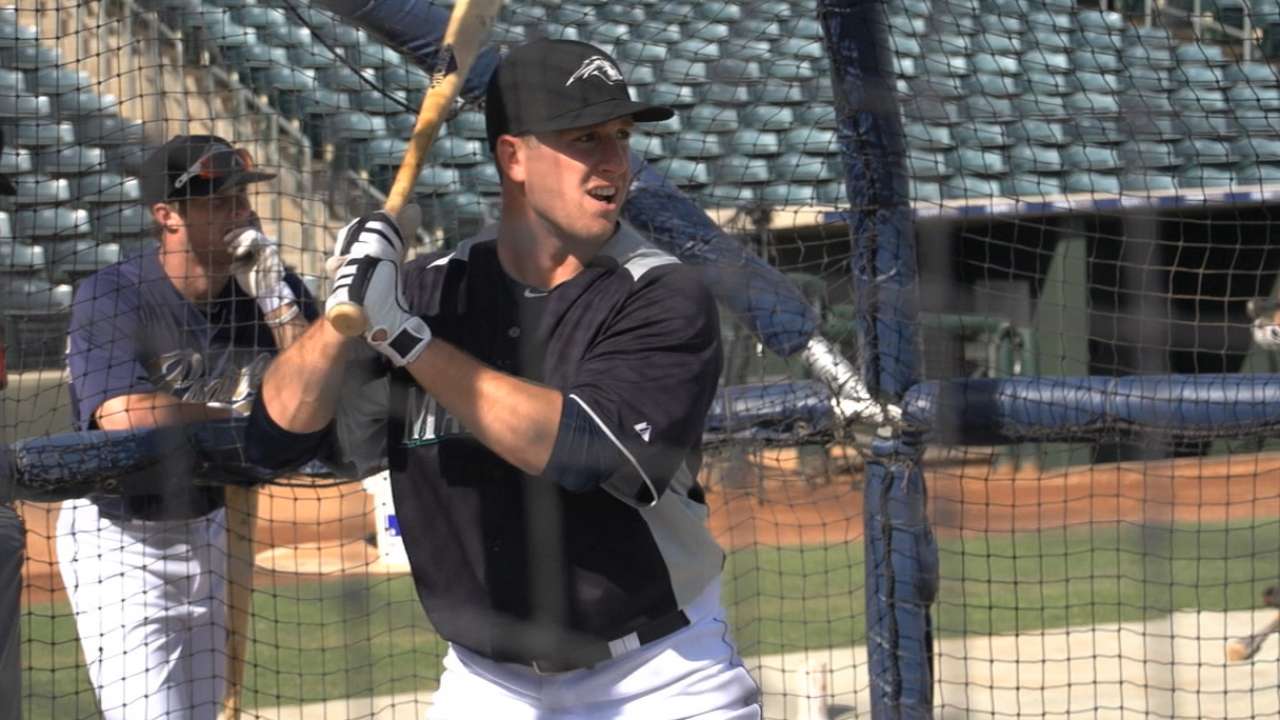 SCOTTSDALE, Ariz. -- So far, the greatest challenge in Patrick Kivlehan's baseball career has been finding a position. Kivlehan, the No. 6 prospect in Seattle's organization according to MLBPipeline.com, has hit at every stop of the Minor Leagues and has made up for lost time spent playing football.
Kivlehan has primarily played third base during his Minor League apprenticeship, but he moved into a utility role last year that saw him play first base and the outfield. The 24-year-old said Friday that third base is no longer his best position, but he also said he's willing to play anywhere on the field.
"I like being able to play every position," Kivlehan said Friday. "I think first base and outfield are my best positions now. I really don't play that much third base any more. But that's fine with me."
And if he keeps hitting the way he's hitting, it will probably be fine with Seattle. Kivlehan, coming off a strong season at Double-A Jackson, is tied for the Arizona Fall League lead in both home runs (four) and RBIs (13), but he got a day off in Friday's game against the Scottsdale Scorpions.
Kivlehan, playing for the Surprise Saguaros, is making his second run through the AFL, an assignment that usually only comes once in a prospect's career. But for Kivlehan, who played just one year of college baseball at Rutgers, there's nothing wrong with extra repetition.
The former defensive back played four years of football for Rutgers, and he only played baseball in his senior year. Despite his time off from baseball, he enjoyed a phenomenal season and became the first player in the history of the Big East to lead the conference in all of the Triple Crown categories.
"I didn't play any baseball," he said of his early college years. "The only time I played was when my buddies needed an extra guy on their summer softball team. But I really wanted to get back into it, and when the opportunity presented itself, I tried out and made the team and did pretty well."
Kivlehan, a native of West Nyack, N.Y., wound up as a fourth-round selection of the Mariners in the 2012 First-Year Player Draft, and his success continued in the lower levels of the Minor Leagues.
He was named the Most Valuable Player in the Class A short-season Northwest League in 2012, and he made it onto the Double-A Southern League's postseason All-Star team this season. Kivlehan was also named as the Southern League's best utility player after spending time at five different positions.
And in an interesting paradox, his baseball success leads to a pretty common question.
"Everyone says, 'Where do you think you'd be if you'd just played baseball?' I really don't know," said Kivlehan of his college career. "But I'm definitely happy and thankful that I played football. It helped me grow up. It physically matured me, and it helped me mentally because of the weekly grind."
Kivlehan can also thank his football career for putting him in contact with an inspirational figure. Kivlehan was a member of the same recruiting class as teammate Eric LeGrand, who was paralyzed in a 2010 game for Rutgers but has since regained movement in his shoulders and feeling in his arms.
LeGrand's recovery has been well documented, and he was presented the Jimmy V Award at the ESPY Awards in 2012. LeGrand was also named the most influential person in New Jersey sports by the Newark Star-Ledger, and Kivlehan has learned precious perspective from him.
"You can only learn from how positive he is," Kivlehan said. "Any time you want to feel down on yourself, you really can't, because you see him and he's always positive despite his situation. You follow him on Instagram or Twitter and everything is always positive. He's a great guy."
Kivlehan batted .300 with 11 home runs for Double-A Jackson last year, and he admits to being excited at potentially being a hot streak and a phone call away from the Major Leagues. But as he looks around at the talent he's playing with in the AFL, he knows how difficult it is at baseball's highest levels.
And with just 104 games under his belt at Double-A, he knows he still needs seasoning. Kivlehan said Friday that the higher levels of the Minor Leagues are mostly about sharpening your mental game.
"I think that's what the Minors is all about: how to be professional and how to stay consistent," he said in the hours before Surprise's game at Scottsdale Stadium. "If you can hit in A ball, you can probably hit in the bigs. But it's all about being consistent on a day-in and day-out basis."
Kivlehan, a .299 hitter in the Minor Leagues, hasn't hit any roadblocks yet in his baseball career, and his positional odyssey underlines the many ways he may be able to help the Mariners. For now, though, Kivlehan just wants to keep getting better every game and every season he's on the field.
"I've definitely faced adversity, but I think that playing football and having failures there taught me how to deal with it and get over it and move on," said Kivlehan. "I didn't have the best football career and I definitely had my struggles there. Being there and going through those kind of helped me in baseball, because when I did struggle, I knew how to help myself get out of it and how to move on."
Spencer Fordin is a reporter for MLB.com. This story was not subject to the approval of Major League Baseball or its clubs.