MLB.com Columnist
Megan Zahneis
Panik's effort, attitude make him a perfect fit with Giants
Fellow second baseman Dustin Pedroia calls him "a winning player," according to Boston's NESN.
Teammate Gregor Blanco deems him "the guy we were missing" in an article on SB Nation.
Giants catcher
Buster Posey
had this to say to The San Jose Mercury News about his teammate: "To me, he's a baseball player. He does the little things right. He's going to give you a solid at-bat, he's a solid defender and just is a good teammate."
Giants hitting coach Hensley Meulens told The Sacramento Bee that "his overall demeanor and the way he plays the game [is impressive] -- he's calm, cool and collected. Nothing ever seems to rush him at all, at any point during the game. Maybe it does, but he never shows it."
Makes sense, then, that people call him Joe Cool. He never panics.
(Yes, that's two puns in one.)
If you don't know by this point in the story who I'm talking about, you should.
It's Joe Panik, the Giants second baseman who needed precisely 83 games in The Show (only 73 of which came in the regular season) to reach the pinnacle of any big league career: the World Series.
Panik debuted on July 21 of this year with a pinch-hit walk and then made his first start the next day, going 2-for-4 with an RBI double.
He'd go on to finish the regular season with a .305 average and 82 hits in 73 games and 269 at-bats.
Not too shabby for a humble, workaday guy from Yonkers, N.Y.
"It's been an incredible ride, honestly," Panik said. "It started when I got called up to now. Playing in the World Series, as a kid, this is what you want to do your entire life. To get to this point, to actually be able to do it my rookie year, has just been unbelievable."
He wouldn't have been able to do it without the support of the entire Giants organization, which has stood behind Panik as its starting second baseman.
Second base had been a bit of a revolving door for San Francisco, as an injury to Marco Scutaro saw the likes of Joaquin Arias, Ehire Adrianza, Brandon Hicks and Dan Uggla filling in.
Panik is quick to acknowledge the vote of confidence the Giants gave him, from manager Bruce Bochy to his teammates on the field.
"Yeah, it was great, especially when I first got called up and went through early-season struggles," he said. "It helped for the manager to have confidence in you. Bochy's been around for so long, he's had so much success. For him to stick with me and have confidence in me meant a lot to me. It really helped me go forward."
His clubhouse compatriots offered Panik some words of wisdom, too.
"Yeah, I just remember guys telling me to just be yourself, be the player that you were in the Minor Leagues," Panik recalled. "Don't change who you are when you're up here, don't try to do too much. And I really kind of took that to heart and that's really where I started to take off."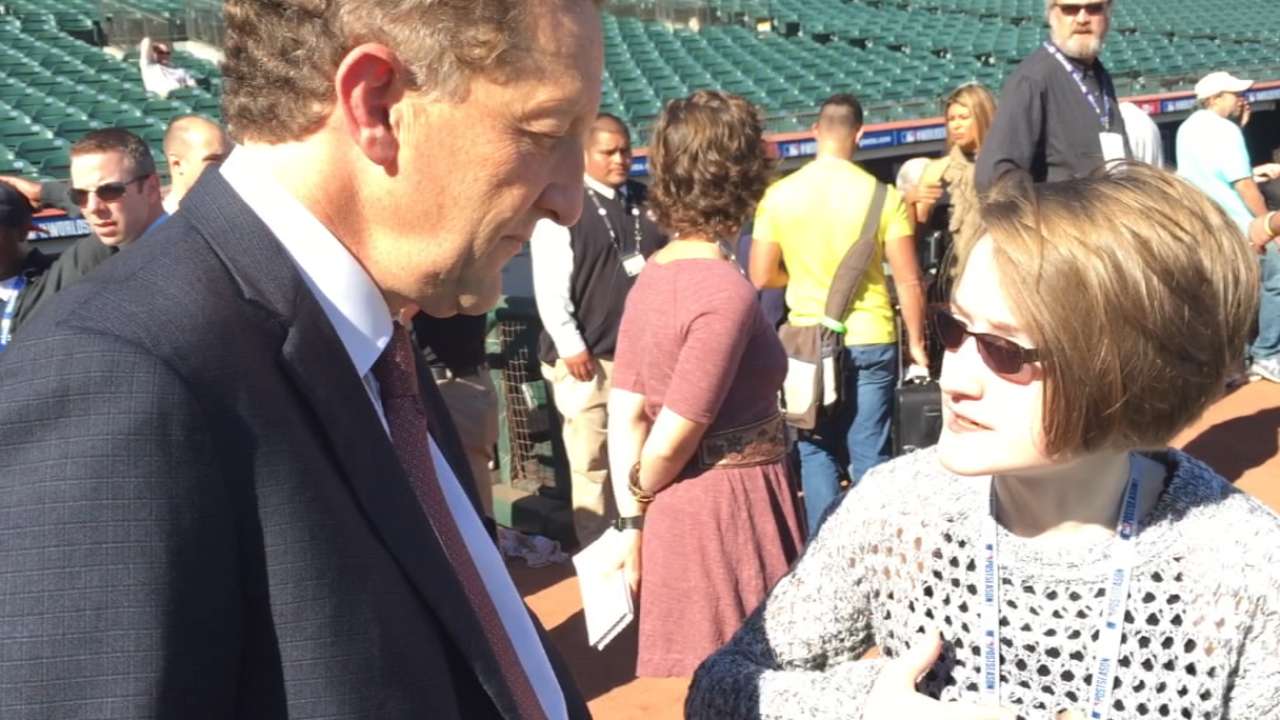 And take off Panik did.
It's a pretty good feeling, as you might imagine.
"I just put in a lot of work. I remember back in high school, this is where I wanted to be, this is what I dreamed of myself, pictured myself doing," Panik said. "And just to actually put in the hard work and for it to pay off and to be in this moment right now, is just very satisfying for me and my family. Just very special.
"I really never gave up. Being from New York and the cold weather and everything, I never had any doubts. I was just like, you know, just keep pushing forward, keep working hard, it's going to pay off some day. I just never gave up and kept working hard."
Right now, it's all about staying grounded and reaping the benefits of years of hard work.
"Honestly, I'm able to stay in the moment here and not try to do too much. We have a great clubhouse, a lot of guys with experience that kind of rub off on you. They've been in this situation before, they don't let everything get too big. And I've really thought that's what helped me through the postseason so far to kind of stay calm and relaxed."
Is the reality measuring up to the dream?
One can only imagine so.
Meggie Zahneis, winner of the 2011 Breaking Barriers essay contest, earned the job of youth correspondent for MLB.com in the fall of '11. This story was not subject to the approval of Major League Baseball or its clubs.