Seasoned Vogelsong ready for first clash with Royals
Game 4 starter getting boost from adrenaline, extra rest in playoffs
SAN FRANCISCO -- Prior to this week, Royals pitcher Jason Vargas -- who will start World Series Game 4 tonight (4:30 p.m. PT air time/5:07 p.m. first pitch on FOX) -- had only attended the Fall Classic as a fan. His successful outings in the American League Division and Championship Series represented his first sniff of October baseball.
Compare that to Giants Game 4 starter Ryan Vogelsong, who at age 37 has experienced just about every professional baseball situation that a pitcher reasonably can. Vogelsong once earned his paychecks as a reliever. He spent years struggling as a starter. He pitched overseas. He resurrected his career back home. And he performed with great success in the playoffs two years ago, earning his first ring with the Giants.
Even though Vogelsong has never started a game against the Royals, there is little they can throw at him in Game 4 that he has not already seen.
"It's definitely a situation where you have to be locked into the game and your thoughts need to be on the game," said Vogelsong, who will look to even the best-of-seven series at two games apiece. "I think the experience factor is just knowing how to deal with the emotions, slowing the game down like you do every game. Each game brings its own emotions. The big thing is just knowing how to curb them."
It was partially out of faith in Vogelsong that Giants manager Bruce Bochy decided not to bring Game 1 Madison Bumgarner back on short rest for Game 4, which he was considering. The move would have allowed the Giants to start Bumgarner in Games 1, 4 and 7, but the club is also plenty confident in Vogelsong, another hero of the 2012 postseason.
"He's been unbelievable in the postseason," outfielder Michael Morse said. "We're going to give him some runs and play hard."
Added Bochy: "We're not going to change things because we lost."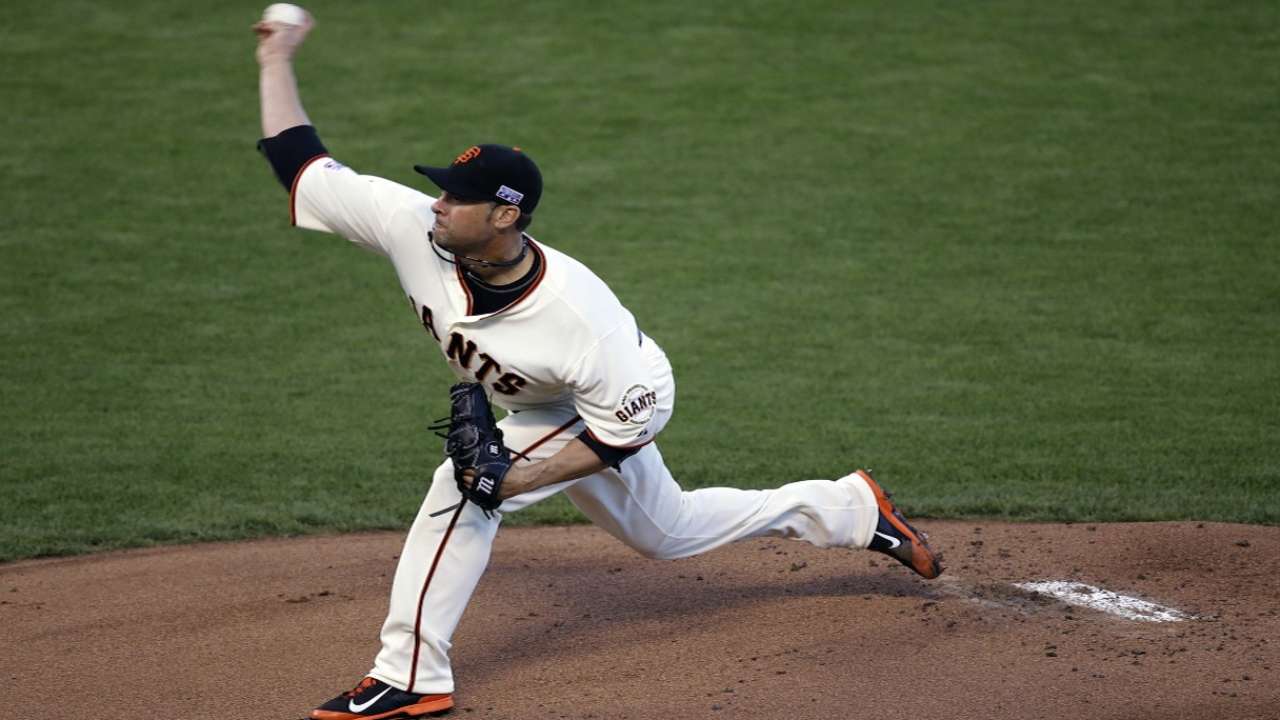 For Vogelsong, success could be a matter of velocity. Consider this: In his final start of a forgettable September, Vogelsong averaged merely 91.6 mph on his fastball, touching a max of 93.5. Eleven days later, in his first playoff outing, Vogelsong increased both figures by nearly 2 mph -- a jump he attributed largely to adrenaline. The right-hander held on to most of those gains in his second postseason start against the Cardinals one week later.
"It's going to make you throw harder and do some things that you probably don't do on a normal Sunday afternoon in Milwaukee or Colorado," Vogelsong said of that October energy. "It's definitely a different adrenaline when you're in this stadium in a postseason game. It's different than an everyday regular season game."
The other reasons behind his velocity jump, Vogelsong said, were a mechanical adjustment and a long layoff between starts. Like Vargas, Vogelsong will again be on nine days' rest when he takes the mound for Game 4. Unlike Vargas, he has experienced mixed success with the extra rest, holding the Nationals to one run over 5 2/3 innings in the NLDS but giving up four runs in three innings last time out against the Cardinals.
"You just kind of try to make that a part of your routine," Vargas said of the rest. "You know the postseason is going to be different than the regular season."
Vogelsong understands that as well as anyone. It was just two years ago that he pitched to a 1.09 ERA over four playoff starts, including two critical NLCS performances that played major roles in sending the Giants to the World Series. He is a different pitcher now, leaning less on his sinker and more on his slider, and struggling a bit more frequently than he did in 2012.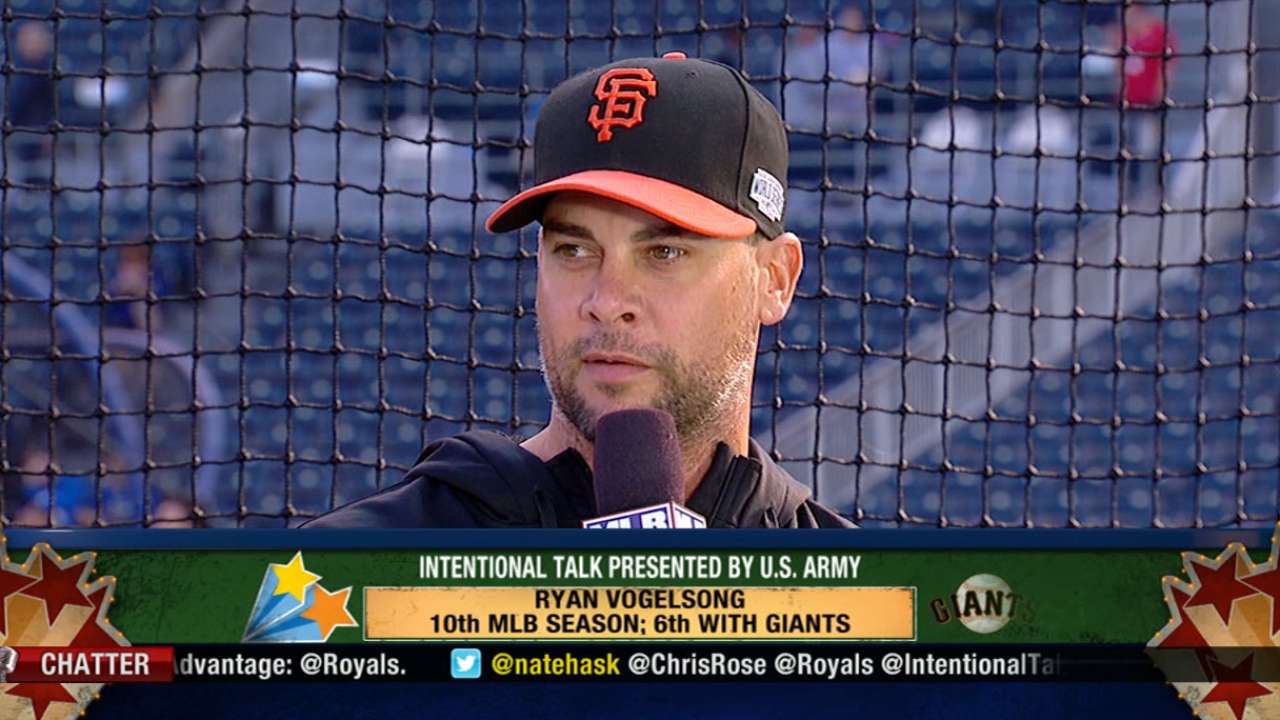 But with Bumgarner idle, the Giants feel Vogelsong has more than enough experience and adrenaline to boost him in his first start against the Royals.
"The fact they put the ball in play a lot doesn't really change the way I'm going to pitch," Vogelsong said. "There are times in a game where you need to strike somebody out or the situation calls for it. But I'm not that guy anyway. So it's not going to change how I do things."
Anthony DiComo is a reporter for MLB.com. Follow him on Twitter @AnthonyDicomo. This story was not subject to the approval of Major League Baseball or its clubs.